What is NYU Shanghai Reads?
NYU Shanghai Reads is a program to bring the NYU Shanghai community together around a single common text chosen to spark intercultural dialogue among members of our diverse community. While serving as a key theme for first-year orientation, the whole university community is also welcome to participate through a series of events throughout the academic year.
2021-2022: Shark's Fin and Sichuan Pepper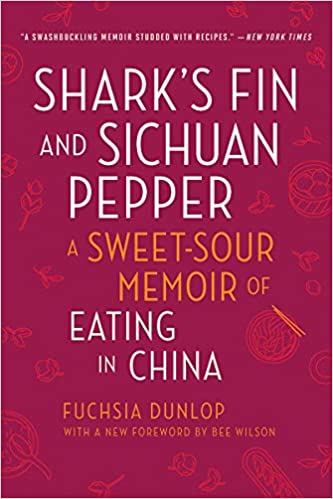 Shark's Fin and Sichuan Pepper: A Sweet-Sour Memoir of Eating in China by Fuchsia Dunlop is the NYU Shanghai Reads Selection for the 2021-22 academic year.
In this vivid and lively memoir, English writer and chef Fuchsia Dunlop reflects on her time spent in Sichuan and other parts of China learning varied styles of Chinese cookery. Through a variety of food-filled anecdotes, Dunlop takes the reader on a sensory and cultural journey through Sichuan and beyond.
Along the way, Dunlop explores her own evolving relationship to Chinese food and culture. She notes the many ways in which her contact with (and embrace of) 'the foreign' has changed her, and at times even made her feel as if she were a foreigner in her own home culture. Dunlop's story urges us to consider how our relationship with food often works to enforce the boundaries between the familiar and the foreign, and how culinary experiences can destabilize those boundaries -- if we are brave enough to let them.
Accessing the Book
All members of the NYU Shanghai community are encouraged to join us in reading this book and participating in campus-wide programming. You can purchase an e-copy of Shark's Fin and Sichuan Pepper through the Amazon Kindle store, or borrow a copy of the book from our library. This book is available in English and Chinese.
This book might inspire you to explore additional resources on the subject of Chinese cooking, eating, and food culture. We've compiled a list of books, DVDs, web resources, and online videos for you to explore. Click on any title that looks interesting to find a brief abstract of the item. Web resources will include a URL that links you to the resource; we've also included a call number for any DVD or book that is available in our library.
Resources and Support
Shark's Fin and Sichuan Pepper contains descriptions of animal butchery that may be disturbing to some readers. If you need emotional support while reading Shark's Fin and Sichuan Pepper, our professional counselors are available to talk through the Wellness Exchange hotline 24/7 at +86-21-2059-9999 or +1-212-443-9999. You can also contact the Student Health Center at shanghai.health@nyu.edu.
Upcoming Events
NYU Shanghai Reads hold panels and events open to the whole community throughout the academic year. Please find information on upcoming events below. Should you have any questions about NYU Shanghai Reads, please contact us at shanghai.reads@nyu.edu.
Video Project
Have a favorite food you want to share? We'd love to hear about it! The NYU Shanghai Reads Program is collecting videos from community members, highlighting your traditional foods or foods from another culture that you love. Steve Iams, from the English for Academic Purposes Program, shares his experiences eating Sichuan cuisine in Ohio in the video below. Read more about the project to enter your own video:
nyu_shanghai_reads_video_project.docx
Past Events
Identity Through the Lens of Others
Members of the NYU Shanghai community met online last week for an online panel talk, Identity Through the Lens of Others. The event was co-sponsored by Diversity Initiatives and the NYU Shanghai Reads Program. Four panelists were in attendance, Teresa Arboled, NYU Shanghai '24, Carly Siuta, Student Health Center, Jiannan Shi, NYU Shanghai '22, and Ilaf Elard, Assistant Professor of Practice in Economics. The talk was moderated by Joyce Tan, of Diversity Initiatives.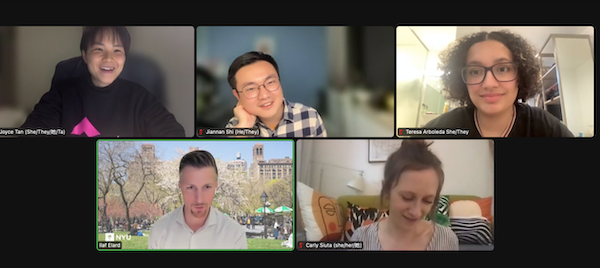 Using the work of this year's NYU Shanghai Reads author, Fuchsia Dunlop, as a starting point, the panelists will considered how Dunlop's experience living in China, described in her memoir Shark's Fin and Sichuan Pepper: A Sweet-Sour Memoir of Eating in China, resonate today. The panelists were joined by 20 audience members who engaged in a Q&A, reflecting on what the panelists said and also sharing their own experiences.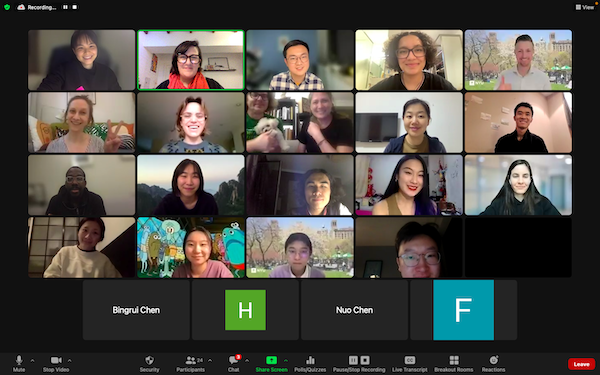 Wet Market Adventure Amongst Skyscrapers (Organized by the CEL Office)
Led by Xiaoyan Kong (Class of 2021), the visit was a one-of-a-kind visit to a traditional Shanghai wet market that persisted amongst the skyscrapers of Lujiazui. Students learnt about the history of wet markets in Shanghai and the lives of vendors while exploring the market environment, interacting with local people, and shopping for fresh food. 
Eating Our Way to a Sustainable Future
NYU Shanghai Reads is happy to present a lunch-hour salon discussion about food consumption in China. During this event, we welcomed two presenters who gave talks on the topic of sustainable food: Shiyin Wang, a Shanghai-based chef and creator of Kaixin Cooking and Valtero Canepa, the Convivium Leader of Slow Food Shanghai. Both discussed current trends and challenges in food sustainability, with an emphasis on China. The talks were followed by a Q&A, allowing NYU Shanghai community members to engage deeper on the topic.
Engage Your Community (New York Campus)
What does it mean to be a community ally? Panelists Sebastian Cherng (NYU Steinhardt faculty), Kelsey Louie (NYU Silver faculty and CEO of The Door), and Kristen Glinton (NYU Shanghai alum) discussed their work in community engagement, with critical reflection on what needs to be considered before, during, and after community engagement projects. The panel is tied to a number of food security volunteer service opportunities and a walking tour of foods in Chinatown co-facilitated by Professor Steve Iams and Professor Xiaoyue Huang. During the tour, the professors engaged topics from the panel, volunteer experiences, and Fuchsia Dunlop's book to explore the tension between celebrating food in potentially food insecure settings.
Food and Sociality
Inspired by the author Fuchsia's experience and thought of how food brings people together and comforts people's hearts in the book Shark's Fin and Sichuan Pepper, the lively bilingual panel discussion on Food and Sociality was organized by World Languages & EAP Social Committee, in partnership with NYU Shanghai Reads. The speakers were from UnTour Foods, Social Supply, and NYU Shanghai. Participants met and shared about food and culture with people from around the world.
Ally Week: You Are What You Eat?
We all eat, but sometimes we don't think too much about what we eat. Have you ever been curious about your favorite food's origin, history, culture--who chooses it, who likes it, who hates it, or who doesn't know anything about it...? This interactive, thought-provoking, and delicious fair about food centered around topics of culture, history and identity, 
Time for Tea: Tea Tasting Event and Discussion
Led by Professor Jing Chai and fellow student Bongani Ntsakani Musikavanhu, it was an excellent opportunity for students to get hands-on experiences with tea-tasting, tea ceremony performance, as well as a good time talking with each other and sharing their experiences regarding the tea. The event drew on themes from Fuchsia Dunlop's book, Shark's Fin and Sichuan Pepper.
Ecology and "New Village Life" in Qingpu
Located in western Shanghai, Qingpu district is the municipal water reserve and has a well preserved ecology. Surrounded by water and farm fields, Cenbu village attracted many new villagers from the city, who have taken up various ventures from organic farming, running cafes and hostels to coaching kayaking. On this collaboration trip between the CEL Office and NYU Shanghai Reads Program, students immersed themselves in the village life in Cenbu through exploring the village ecology and interacting with local people.
A Taste of Xinjiang: Stories of Food in Kashgar
In this talk, NYUSH professor and food historian Shuang Wen narrated the stories behind the foods discussed in the chapter "Journey to the West," of Shark's Fin and Sichuan Pepper, this year's NYUSH Reads text. Professor Wen discussed the history of dishes such as nan, samsa made in a tandoor oven, polo (or pilaf as an alternative spelling), and springy pulled noodles, and more. Some of the dishes were provided as refreshments for guests to try out! With photos taken by herself in Xinjiang, Prof. Wen invited students to think deeper about the history of crop cultivation and food technology transfer between China and Central/West Asia.
New Student Orientation (NSO) Summer Reads Session
Have you ever thought about the stories behind the foods that taste like home to you? How did these dishes and their variations come about? What is the history behind their ingredients and preparation?
To kick off this year's NYU Shanghai Reads Shark's Fin and Sichuan Pepper, incoming first-year students shared their stories and findings on their taste of home through BrightSpace over the summer. During New Student Orientation in late August 2021, first-year students took part in small group discussions centered around the theme of "encountering cultures." Facilitated discussions encourage students to reflect on, experience, and understand diversity both within and outside of their own communities through the lens of food.
Movie Night: A Chef's Voyage
This film follows Chef David Kinch and his team's journey from their 3 Michelin Star in California on a one of a kind 'four hands' collaboration with three legendary chefs at their iconic restaurants in Paris, Provence and Marseille. This story of cultural encounters in the world of elite chefs features mouth watering descriptions of French cooking and insightful explanations of cooking processes and the history behind them.
A Night with Fuchsia Dunlop
An evening of discussion with author Fuchsia Dunlop about the experience of writing her memoir, Shark's Fin and Sichuan Pepper: A Sweet-Sour Memoir of Eating in China. Dunlop joined virtually from her home in the UK. She engaged in a panel discussion with NYU Shanghai students, followed by a Q&A with both our in-person and virtual audiences.