Mission
​​The NYU Shanghai Global Writing and Speaking Fellowship enables accomplished individuals with a passion for teaching to provide academic support and enrichment to the students who make up NYU Shanghai's multicultural student body.

Apply for the Fellowship
Learn more about this 10-month teaching and professional-development fellowship.
Info Sessions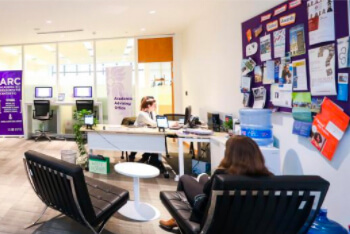 Info Sessions on Writing and Speaking Fellowship will be held at the following times:
Monday, November 28, 9:00 AM (Beijing Time) / Sunday, November 27, 8:00 PM (Eastern Standard Time)
Tuesday, December 13, 9:00 PM (Beijing Time) / Tuesday, December 13, 8:00 AM (Eastern Standard Time)
Interested in joining an info session? Please sign up no later than 24 hours in advance before each session. We will email you a Zoom link prior to the start of the session.
Application Deadline
Regular Deadline: 11:59 PM, January 2nd, 2023 (Beijing time, GMT+8)
Extended Deadline: The application deadline for the fellowship is now extended and the recruitment will be on a rolling basis. You are strongly advised to submit all application materials as early as possible. Please also coordinate with your recommenders to submit reference letters no later than two weeks after your submission of the application. For requirements and instructions for submission, please refer to the "Applications Instructions" section on the NYU Shanghai Career Site page.
Due to the constraints of the visa application timeline, international applicants (i.e. applicants of non-Chinese nationalities) should submit all application materials by the end of February. If you are unable to submit your application by then, we strongly encourage you to apply for the AY 24-25 cycle. Information about the AY 24-25 cycle will be updated on this website in late October or early November.
Please email shanghai.writing.fellowship@nyu.edu if you have any questions.