Writing and Speaking Learning Assistants (WSLAs) are a small cohort of undergraduates who tutor writing and speaking. They are mentored by the Global Writing and Speaking Fellows and provide support throughout the writing process.
Eligibility
To be eligible for consideration for the WSLA program, at time of application, you must:
Be a current sophomore student at NYU Shanghai;
Have received an A- or better in prior writing courses;
Have completed at least 30 credit hours at NYU Shanghai with a minimum GPA 3.0 by the end of semester preceding the start of the job;
Be enrolling at NYU Shanghai as an undergraduate student for the upcoming semester.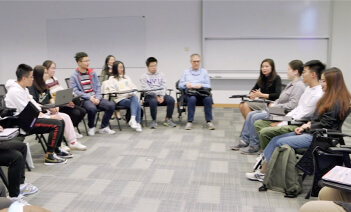 New WSLAs are hired midway through the fall semester. Check the Academic Affairs Weekly Newsletter and the ARC official WeChat for information.
After the spring training semester, WSLAs can apply to come back as returning WSLAs.
Click here to download the full Job Description.