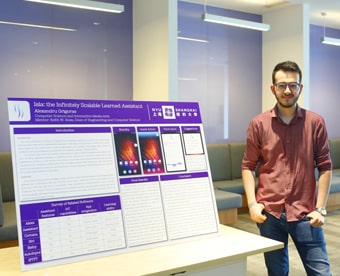 The NYU Shanghai Undergraduate Research Symposium is a university-wide celebration of research which showcases work from graduating seniors spanning the arts and sciences, engineering and business. The Symposium features recently completed projects by Major Honors students, as well as research papers and creative work by graduating students for their Capstone Projects, Independent Study Courses and as part of the Dean's Undergraduate Research Fund (DURF).
Visitors will have the opportunity to cast a vote for the project that most impresses them, and a panel of NYU Shanghai faculty and judges invited from local universities and enterprises will select winning presentations.
Spring 2020 Undergraduate Research Symposium
Due to the COVID-19 outbreak, the Spring 2020 Undergraduate Research Symposium will be moved online to provide you a platform to exhibit your exciting research achievements to the NYU Shanghai community. 
Instead of a poster presentation, participants will share a three-minute video on the webpage from May 16 to May 23 for reviewing and voting by judges, faculty, and peers. The final evaluation will be made based on the quality of both your research project and the video presentation. The NYU Shanghai community will also be able to cast a vote online for their favorite project. Winners of the Best Research Project and the Most Popular Research Project will win a 100USD Amazon gift card or 700RMB JD gift card.
Important Dates
Applications Open: April 10th, 2020
Application Deadline (Extended): May 3rd, 2020
Finalists Announced: May 8th, 2020
Presentation & Voting Period: May 16th - May 23th, 2020
(Voting ends at 12:00 pm, May 23th, 2020 )
A Look Back
Winning Presentations from Previous Years
Programs from Previous Years
Photos from Previous years