To book an hour-long consultation appointment with a Global Writing & Speaking Fellow, you can log into WCOnline. Click here for more information about online-specific resources.
Location:
Open in SpreadsheetHours:
9am to 8pm, Monday - Thursday
            9am to 5pm, Friday
Contact:
shanghai.arc@nyu.edu

Schedule an Appointment
Who We Are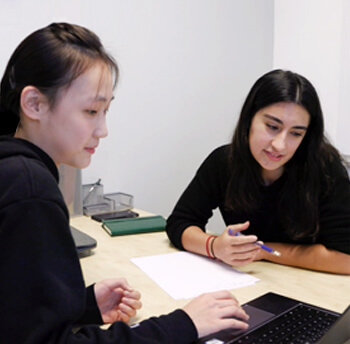 NYU Shanghai Global Writing & Speaking Fellows provide academic support and enrichment for the students at NYU Shanghai. Fellows provide support in writing, speaking, and general academic skills. They work closely with faculty, and they tutor, teach, and collaborate with different university departments to spearhead projects and initiatives that enrich the student academic experience and university community at large. Fellows also have the opportunity to work on their own writing and research projects over the course of the academic year. Learn more about the cohort of AY 2023-2024 Global Writing & Speaking Fellows.
Where We Are
Writing & speaking consultation appointments take place in person on the New Bund Campus or online. In-person appointments may take place in individual consultation rooms on the 3F and 4F of the East Block (E305, E306, E308, E407, E408, E409) or the tutoring space in the ARC (W523 on the 5th floor of the West Hall). Please refer to this spreadsheet within half an hour prior to your appointment to access the location of the Writing & Speaking tutor. You may ask the Information Assistant (IA) at the front desk outside of the ARC for assistance if you can't find your appointed Writing & Speaking Fellow.