Make an Appointment
Note: Library walk-ins will be temporarily suspended upon further notice.
To book an hour-long consultation appointment with a Global Writing & Speaking Fellow, you can log into WCOnline. Click here for more information about online-specific resources.
Location:
Open in SpreadsheetHours:
9am to 8pm, Monday - Thursday
            9am to 5pm, Friday
Contact:
shanghai.arc@nyu.edu

Schedule an Appointment
Who We Are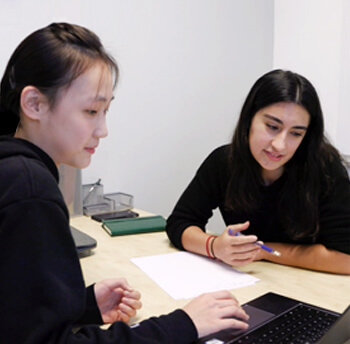 NYU Shanghai Global Writing & Speaking Fellows provide academic support and enrichment for the students at NYU Shanghai. Fellows provide support in writing, speaking, and general academic skills. They work closely with faculty, and they tutor, teach, and collaborate with different university departments to spearhead projects and initiatives that enrich the student academic experience and university community at large. Fellows also have the opportunity to work on their own writing and research projects over the course of the academic year. Learn more about the cohort of AY 2022-2023 Global Writing & Speaking Fellows.
Where We Are
All writing & speaking consultation appointments take place online during the first phase of the New Bund Campus and then in the ARC, Room W523, New Bund Campus after the second phase of the building is complete. You may ask the Information Assistant (IA) at the front desk outside of the ARC for assistance if you can't find your appointed Writing & Speaking Fellow.