Living in the NYU Shanghai Residence Halls and participating in residence-based activities with classmates from around the world is central to the NYU Shanghai experience. The NYU Shanghai Residence Halls strive to create a community that enables students to live independently and transition smoothly into a new environment away from home.
At NYU Shanghai, living in on-campus housing is mandatory for all first-year, sophomore, and Study Away students. NYU Shanghai juniors and seniors may choose to live off-campus in accordance with the Off-Campus Housing Policy, which is listed in the NYU Shanghai Community Standards Guide or are welcome to live on-campus among our large residential student community.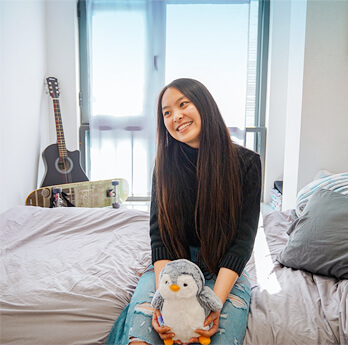 Living on campus fosters overall academic success and a sense of belonging. By living on campus, students develop a variety of life skills, character, values, and maturity. Residential students are more involved on campus and take advantage of campus resources. In addition, by living on campus, students meet peers from diverse backgrounds, are exposed to a wide range of ideas, cultures, and learn cross-cultural communication skills. Living on campus supports holistic student development and links academic learning with co-curricular learning.
About the Halls
The Jingyao Residence Halls support our vision for an engaged, interactive and inclusive student community with a focus on living and learning. The Jingyao Residence Halls are located at 533 Jiming Road in the Houtan area (Line 7). The halls are located in the Shanghai Expo Center area of the Pudong district, on the eastern side of the Huangpu river. The NYU Shanghai New Bund Campus is 3 kilometers away or about a 10-minute drive. There are convenient commuting options to campus including shuttle bus, public transportation, and cycling.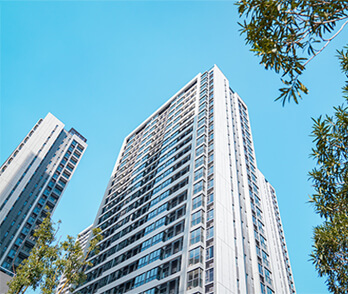 Students are housed in three high-rise towers in a modern complex with seven additional towers. Jingyao Hall offers students apartment-style living in five room types: triple studio, double studio, double in suite, single in suite, and premium single. Each apartment is equipped with furniture (bed, closet, desk and chair), NYU Shanghai wi-fi, air conditioning, private kitchen (fridge, water filter, kettle, cooktop), private bathroom, and washing machine.
The Residence Halls have 24/7 NYU Shanghai Public Safety services and a Resource Center in Tower 5 (open 9 am-9 pm)* to provide various student services (purchase bedding, borrow supplies, general assistance etc). We also have around 30 Resident Assistants and 8 full-time professional staff living in the Residence Halls for student support. The first floor of Tower 5 has a large common space for studying, relaxing, or hosting events.
*Summer/Winter Break operation hours: 9 am-6 pm
Residential Education and Housing Team
The central Residential Education and Housing team consists of nine professional staff members and approximately 30 student staff members or Resident Assistants (RAs). The Residential Education and Housing team serves as a resource and support system to students as they navigate the university environment. The Residential Education and Housing team is responsible for maintaining an environment that supports every student's academic goals and personal interests.
The team designs residential programming to promote learning outside the classroom, cultural appreciation, and a sense of community among students. The team is also responsible for upholding a high standard of conduct and safety in the residence halls.
For more information about residential life, please email shanghai.reslife@nyu.edu.