Career Fairs
Hosted twice a year, NYU Shanghai's career fairs give students an opportunity to meet a large number of organizations recruiting for internships and full-time positions. Representatives from various industries provide information about their organization, their workplace culture and employee profiles, and the jobs they're seeking to fill.
Check out our Career Fair Guide to prepare.
On Campus Recruitment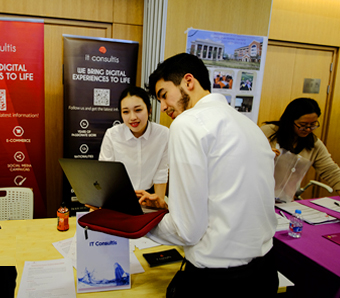 The On-Campus Recruitment (OCR) Program is a series of one-hour information sessions held at NYU Shanghai. The Center for Career Development (CCD) regularly invites employers from various industries and sectors to talk about their organizations, share what they are looking for, and network with NYU Shanghai students.
OCR sessions are a great way to meet employers and get first-hand information about specific industries. Log onto the Handshake and click "Events" to see a presentation schedule for upcoming OCR sessions.
Preparing for OCR and the Career Fair
Students participating in OCR Employer Presentation Sessions are encouraged to take advantage of the CCD's career coaching and job search resources. An impressive resume, an engaging cover letter, and polished interview and networking skills will help you succeed in your job or internship search.

---
By participating in the OCR program, I agree to the following:
All information found on my resume, unofficial transcript, NYU Shanghai Handshake profile and other social media platforms is up-to-date, truthful and accurate.
I will not share my login information with other individuals from NYU and peer institutions.
I give permission to OCR to provide my resume and other job search documents to prospective employers.
I will honor all interview and employer commitments.
I will sign up for on-campus or off-campus interviews with only those employers for whom I am interested in working.
I will exercise professional conduct during any and all recruitment related activities, including interactions with the NYU Shanghai staff.
I will notify the employer on a timely basis of acceptance or non-acceptance of an offer, either verbally or in writing. I will withdraw myself from the recruiting process after accepting an offer by notifying OCR immediately.
Jobs listed in NYU Shanghai Handshake may not be shared with another recruiting entity or posted to another job site.
I accept that failure to adhere to the OCR honor code may result in the termination of my interview privileges.

---
Students may accept only one offer found through NYU or NYU Shanghai Handshake. If the secured job offer is in the United States and is contingent on obtaining a visa, students may continue to search for non-US based positions through NYU Shanghai Handshake. However, your original US-based offer must be void before you accept any other offers.
Students who accept multiple offers from NYU or NYU Shanghai Handshake leads are required to meet with the Dean of Students. Students who accept multiple internship offers will have their access to NYU Shanghai Handshake suspended until the end of the semester. Students who have accepted multiple full-time offers will lose access to NYU and NYU Shanghai Handshake for the remainder of the academic year. Additionally, all relevant stakeholders will be notified.

---
Over the years, the CCD has worked closely with potential employers to establish trust and build up the reputation of our students in the job market. That is why we encourage students to carefully consider internship or job offers before accepting them.
Students who find it necessary to renege on an accepted offer are required to meet with the Dean of Students. Students who renege on an internship opportunity will have their access to the NYU Shanghai Handshake suspended until the end of the current semester. Students who renege on a full-time opportunity, will lose access to NYU Shanghai Handshake and all OCR sessions for the remainder of the academic year.