Career Coaching
Career coaches at the CCD can help you figure out where you want to go and how to get there. Visit the CCD to talk about your career and academic concerns, and obtain guidance about your career decisions.
An appointment with a career coach can help you:
Identify and explore career interests, strengths, and skills
Take an active role in your career and organize the process
Set professional goals and develop an individual timeline
Effectively search for internships and jobs, and identify helpful resources
Develop an effective resume and cover letter
Help you prepare for interviews
Make decisions about and prepare you for further education and a career
Gain another perspective on your career exploration
Empowering you for success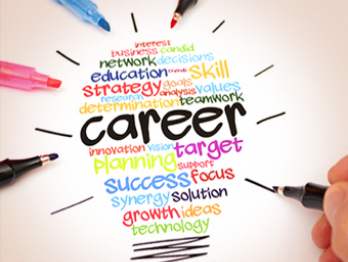 A career coach can't tell you what you should do with your life, or what decision is the best for you. In these life decisions, you know what feels right, and what matters most to you.
Career coaches understand the career decision-making process, and can provide you with effective strategies and resources. Our coaches will also support and listen as you sort through the complexities of figuring out a career path.
We can't give you all the answers, but we help you find them.
Graduate School Advising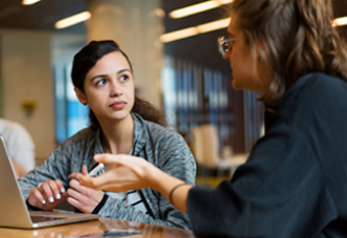 Students interested in pre-professional and graduate study should also meet with a career coach to identify degree options, obtain guidance, and access resources. We also encourage students to contact Academic Advising and faculty to prepare academically for a graduate degree. Students interested in medical school or law school should read through Pre-health Advising and Pre-law Advising for specific advice about these fields.
Students who have questions about writing a personal statement or obtaining letters of recommendation should review graduate and professional school resources, and then schedule a coaching appointment for answers to specific questions.
How should I prepare for my appointment?
Take some time list your questions, what you already know, and your experience so far. Bring relevant background documents, such as career and graduate school pamphlets, a resume and/or cover letter, or a job/internship/company description.
10 questions a career coach can help you answer
What's the best major for me, given my career interests?
What can I do during the summer after my

freshman

year if I don't have much work experience?
My parents really want me to major in A, but I'm interested in B. What should I do?
How can I find out more about this particular job or industry?
What kind of internship should I do?
What are my career options and prospects if I haven't done well in school?
I have no idea what I'm interested in! How do I get started?
How can I connect with

alumni

?
Should I go to graduate school or start working?
Can you help me with my resume, /cover letter, or /interview?