What is the 2023 I AM LIMITLESS Conference?
The I AM LIMITLESS Conference is an annual event hosted by the Center for Career Development. This year's I AM LIMITLESS Conference featured a total of ten events. In addition to career exploration sessions and social impact panels featuring professors and current students, the conference brought two high-profile industry professionals to campus. Dr. Polly Ng, the founder of Global Women Connect and BWS Group, led a discussion on being a social change leader while Dr. Peter Qiu, the founder of the Center for Globalization Hong Kong and a former television commentator at Phoenix Satellite Television, shared insights into future career prospects for college graduates. The conference culminated with an international talents career fair, in which students were able to interact with representatives from over 40 companies and learn about nearly 200 job opportunities. Through this conference, we hope to support NYU Shanghai students to kick start their career path, to strengthen leadership skills and make a multidimensional social impact!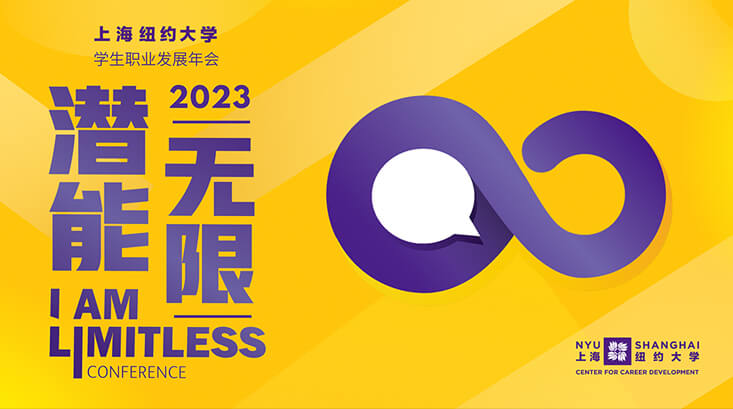 Social Impact Panel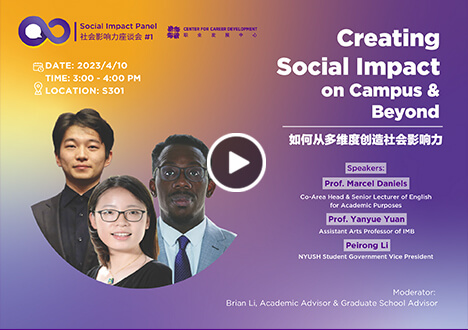 This panel is an excellent opportunity to learn about exciting initiatives in academic engagement, community-facing workshops, and Student Government projects that create social impact through multiple dimensions.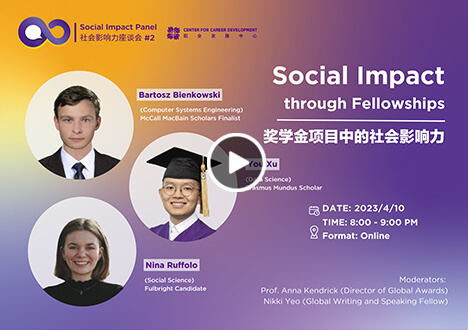 This panel is a great opportunity to learn NYU Shanghai students past and present with backgrounds in computer systems engineering, social science and data science as they share their experience in applying for exciting global awards opportunities such as the Fulbright English Teaching Assistantship, McCall MacBain Scholars and Erasmus Mundus Scholarship.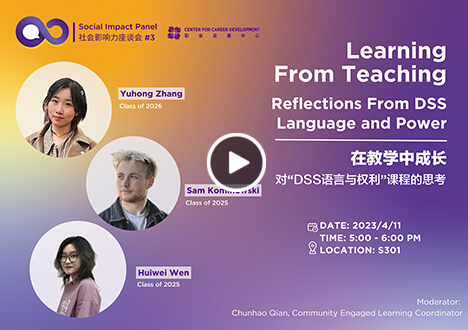 Three NYU Shanghai students shared their experiences from the Fall 2022 and Spring 2023 Dean's Service Scholar: Language and Power course . They taught migrant children English with Shanghai NGO Stepping Stones and studied applied linguistic topics related to language and power in class. Each of them comes into the experience with unique perspectives and has engaged in in-depth reflections. The topics they shared include observations of the schools and migrant children, challenges in volunteering and reflections on the meaning of community service.
Conversations with Industry Professionals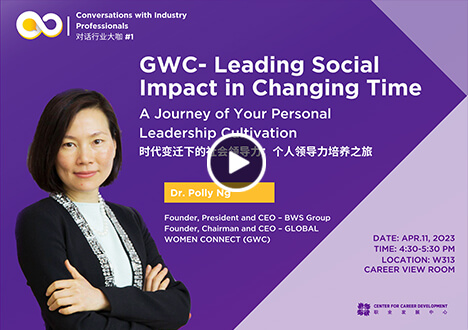 Dr. Polly from Global Women Connect (GWC) shared with us about her own life journey in creating social impact from two perspectives — NGO/social service and career in tech. You'll learn from Polly's gain and challenges in the changing times over the past years, and her experiences in taking leadership and making an influence in the industry, especially as a woman.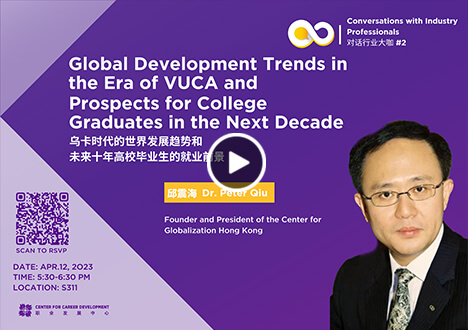 The Centre for Globalization Hong Kong focuses on geopolitical research and finds that in today's era of great turmoil, the bigger the careers of wealth and corporate people, the more concerned they are about the political factors behind the economy and the global environment behind the nation states. In this context, college graduates need to play their pivotal role to best participate in this changing time. Not only do we require professionalism but also now the need for a more comprehensive vision and interdisciplinary perspective to be ever more adaptable to this era.
Career Exploration Session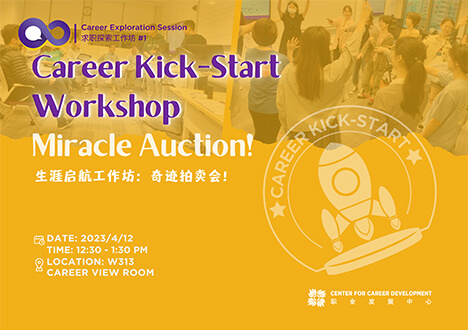 Career Kick-Start Workshop 生涯启航工作坊:奇迹拍卖会
The Career Kick-Start Workshop is specially designed for NYU Shanghai underclassmen (freshmen and sophomores) who are willing to explore career interests, link interests to short-term career goals, and set detailed action plans accordingly.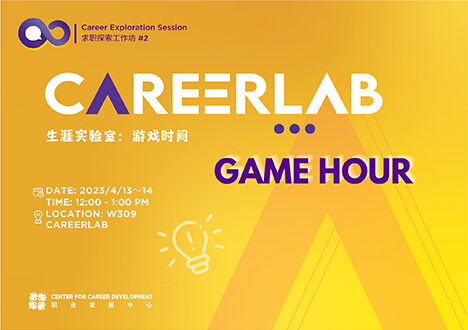 CareerLab Game Hour 生涯实验室:游戏时间
CareerLab is an innovative center which takes advantage of the digital and technological power to support your learning and practicing in career development, regardless of time and place.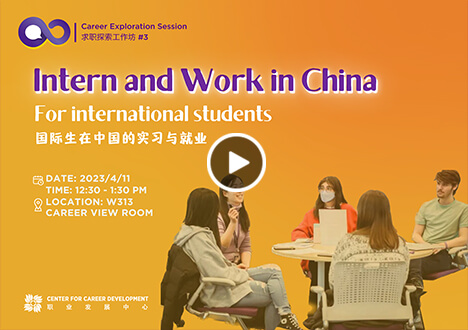 This session is specifically designed for international students who have a strong interest in working and interning in China. You could learn about the essential skills required by the Chinese employers, the latest policies and resources to support your internship and job application. You could also benefit from the sharing of previous students to help build up your experience during your four-year study in China.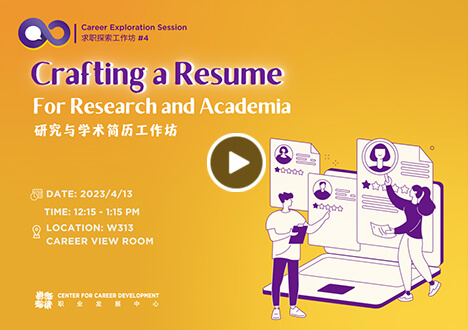 This workshop is designed for students looking to build up research experience and integrate previous research work into their resumes for future endeavors.
Career Fair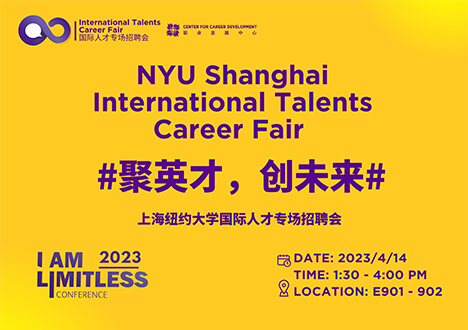 NYU Shanghai International Talents Career Fair #聚英才,创未来# 上海纽约大学国际人才专场招聘会
Together with the Pudong New Area Human Resources and Social Security Bureau, Center for Career Development held the International Talents Career Fair, in which students were able to interact with representatives from over 40 companies and learn about nearly 200 job opportunities from various industries, including manufacturing, finance, internet and IT.
Learn more about I AM LIMITLESS CONFERENCE