Moving into your study away site can be both exciting and overwhelming. In order to make your arrival as smooth and stress-free as possible, it is important to be prepared.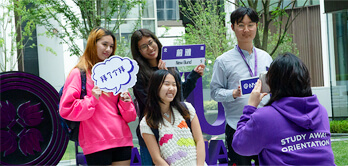 This section provides important information on how to prepare before you arrive on campus and what to expect once you have made NYU Shanghai your home. Please go through the pre-arrival checklist carefully before you embark on your journey to Shanghai.
Pre-Arrival Checklist
How can you prepare for your arrival at NYU Shanghai? Follow the links below to make sure you've got all the information you need:
Important Contact at NYU Shanghai
At NYU Shanghai we have various departments that provide support for study away students. If you have specific questions, it is often more effective to contact the office directly. Check below the list of contacts of important offices for study away/visiting students. If you don't know who to ask, you can always reach out to shanghai.studyaway@nyu.edu.
NYU Shanghai Study Away Programs (W645)
Email: shanghai.studyaway@nyu.edu
General inquiry
Semester extracurricular activities, language peer mentor, excursion, etc.
NYU Shanghai Academic Advising(W532)
Email: shanghai.advising@nyu.edu
Course registration and enrollment
Residential Education and Housing (W640)
Email: shanghai.reslife@nyu.edu
Housing application, housing assignments, and housing exemption
Residence programming
Residence hall safety
Community standards
Student Health Center (4th floor West Building)
Email: shanghai.health@nyu.edu
Health insurance
Counseling Services
Health Promotion Programs
Wellness Exchange 24/7 hotline: (021) 2059-9999
NYU Shanghai IT Services Center (N525)
Email: shanghai.it.help@nyu.edu
VPN connections
Equipment loan
Click here to find other student services departments contact information.