What is the I AM LIMITLESS Conference?
The I AM LIMITLESS
Conference is an annual conference held by the Center for Career Development. This year, the conference theme was "Social Impact + X", and events focused on how to make a social impact at college and within the industry. From March 1 to March 12, 2021, 750 students and community members attended keynote speeches as well as events from our new collection of three distinct series: social impact industry talks,
alumni
dialogues, and social impact panels. Through engaging in inspiring conversations with creative problem solves, industry leaders, and NYU Shanghai young
alumni
working in tourism, social media, healthcare, social enterprises, this conference helped students strengthen their connection to the current world, cultivate resilience to thrive in times of uncertainty and embrace various career possibilities.
Notes: The Recorded videos are accessible for the NYU community.
Industry Talks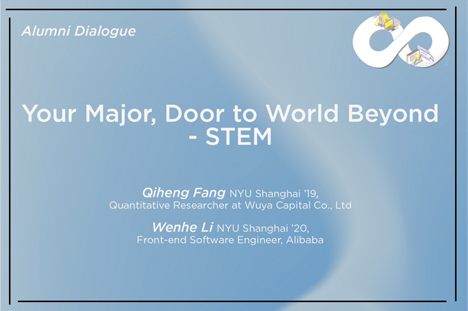 Your Major, Door To World Beyond - STEM
Social Impact Panels
Organization Info Sessions