What is the room equipped with?
Every room comes with a bed frame, mattress, desk, chair and closet per student. Each room also has an air conditioner, washing machine, and waste baskets.
What are the kitchen supplies available?
All kitchens are equipped with a cooktop, water dispenser, kettle, and fridge. All other kitchen supplies need to be purchased by the students. Students may purchase kitchen appliances as long as: 1) the total wattage of all appliances does not exceed 3000W, 2) the appliance is not an open-flame device and 3) the use of the appliances does not require power strip/extension cords.
Do I need to bring a voltage adapter?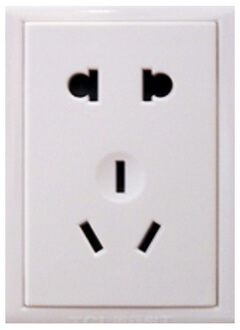 Regarding electronics, the first thing to check is the voltage in your country. China runs on 220V and you can Google search your own country's voltage to check. If your country's voltage is lower than 220V and you plan to bring an appliance from your home country, you may need a voltage adapter. However, it is recommended that you buy that specific appliance from Shanghai when you arrive, if possible.
China also uses a specific outlet which, if you plan on bringing electronics from your home country, might require an outlet adapter. Although it is possible to buy some here, it's recommended to get one before you arrive here if possible.
Where can I get a sim card or cellphone?
To get a sim card with a student discounted package cell phone plan, you can visit China Unicom located on No.470 Haiyang Road. Please bring your passport with you. They are open between 9 am-8 pm everyday.
How do I open a bank account, and what bank account do you recommend?
To open a local bank account, you will first need a local cell phone number. There are many different banks around the residence hall/campus. You can choose one from the following options:
1. ICBC: No.399 Dezhou Road
2. Bank of Shanghai: No.488 Yaohua Road
3. Bank of China: No.277 Dongyu Road
What do I do if I run out of medication during the school year?
Before you come to China, you should plan on bringing enough medication to last the entire semester. Most foreign medicine brands are not sold in China, but you may contact the Student Health Center to assist you.
Where can I buy groceries and other items for my room?
HeMaXianSheng 盒马鲜生: No.333 Changli Road (10 minute bike); No.168 Shangnan Road (12 minute bike)
Carrefour: No.1111 Chengshan Road (20 minute taxi ride)
Ikea: No.1728 West Nanjing Road (15 minute metro ride)
What should I do if something breaks in my room?
For routine requests, please submit a Work Order using the NYU Shanghai WeChat Enterprise Account (Facility Service → Request → New Request). You can also submit a request by emailing shanghai.facility@nyu.edu (expect a longer processing time). In case of an emergency, please talk to the Tower 2 Campus Safety Officer on duty.
What should I do if I need help with an emergency?
Led by a team of experienced security professionals, NYU Shanghai Department of Campus Safety operates 24 hours a day, seven days a week, 365 days a year. A bilingual guard is stationed at the NYU Shanghai residence halls (Tower 2), for in-person assistance. Students may also contact the Department of Campus Safety Central Command Center at 021-2059-5500.
For Spring 2024, students can start moving in on Sunday, January 21, 2024.