Move Into Jingyao Residence Hall
Move-In Day: Sunday, August 20, 2023
Move-In Day is one of the most highly anticipated days of the university experience. After spending an entire summer preparing for your journey to NYU Shanghai, you will finally arrive to pick up your room key, and open the door to your new home.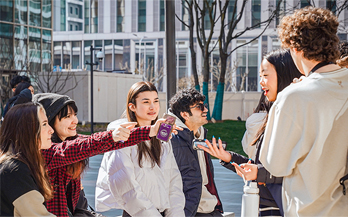 All NYU Shanghai first-year students live with someone of a different nationality, participating in an exchange of knowledge, culture, and ideas. To help you navigate this busy time, we will provide you with a packing list of suggested items in one of the summer newsletters, and give you more details about your housing assignment.
NYU Shanghai will start the fall semester on Monday, August 28, 2023. Students will move into their residence hall on Sunday, August 20, 2023 and join a week-long orientation before classes start. 
Welcome Table
Our staff, Residence Assistants, Orientation Ambassadors and welcome leaders will be on site to welcome you from 9 AM to 9 PM on Move-In Day. When you arrive at the residence hall, please go to the Resource Center located at the 1st floor in building No.5 first, to pick up your room key and welcome package. If you arrive after 9 PM, you can still pick up your room key and welcome package at the Public Safety desk.
NYU Shanghai Airport Pickup Service & Arrival Transportation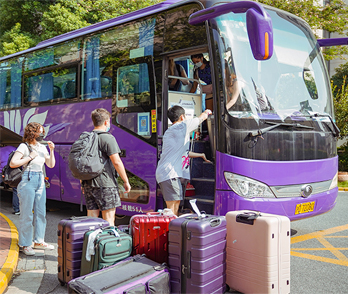 On Move-in Day, August 20, 2023, NYU Shanghai will arrange airport pickup services to help students get to the residence hall from the Pudong International airport, Hongqiao International airport and Hongqiao Railway Station. Detailed arrangement will be announced in one of the summer newsletters.
If you are not able to take the airport shuttle buses, you can refer to the below information to arrange your own transportation to the residence hall.
Arrival Transportation
Bilingual Address Cards
Get Familiar with the Campus and the City