All first-year students will live in the Jinqiao Residence Halls at Green Center Towers. To learn more about residential life at NYU Shanghai, please explore the following pages:
Fall Move-In Day: Sunday, August 28, 2022
Move-In Day is one of the most highly anticipated days of the university experience. After spending an entire summer preparing for your journey to NYU Shanghai, you will finally arrive to pick up your room key, and open the door to your new home.
All NYU Shanghai first-year students live with someone of a different nationality, participating in an exchange of knowledge, culture, and ideas. To help you navigate this busy time, we will provide you with a packing list of suggested items to bring in one of the summer newsletters, and give you more details about your housing assignment.
NYU Shanghai will start the fall semester on Monday, September 5, 2022. Students will move into their residence hall on Sunday, August 28, and join a week-long orientation before class starts. For International students, please start preparing for your Visa, and get vaccination as early as possible, and be prepared to arrive at lease 2-3 weeks earlier than the move-in date to complete a 14-day government managed quarantine (policy might change).  
Welcome Table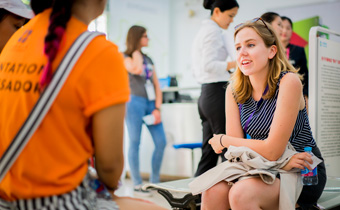 Our staff and Orientation Ambassadors will be on site to welcome you from 9 AM to 9 PM on Move-In Day. When you arrive at the residence hall, please come to the Resource Center where you can pick up your room key and welcome package. If you arrive after 9 PM, you can still pick up your room key and welcome package at the Public Safety desk.
NYU Shanghai Airport Pickup Service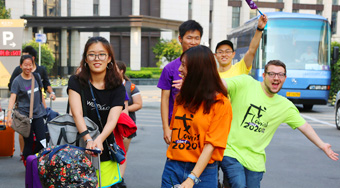 We are still working on the airport pickup arrangement, and will announce the schedule in one of the summer newsletters once we finalize the plan. 
Shanghai Airports and Railway Stations
---
There are two airports in Shanghai:
Both airports have two terminals, and are connected by Metro Line 2. Taxi rides to the Jinqiao Residence Halls from both airports take about one hour.
---
There are three main railway stations in Shanghai:
Traveling from the Airport
*Note: If you arrive from abroad (including Hong Kong and Taiwan), you will be assigned a quarantine hotel based on the availability at the Pudong International Airport directly after you complete the covid-19 test at the airport. 
Airport Bus-Image
Airport Shuttle Bus Service
BORDER DO NOT TOUCH
There are several shuttle buses running from Pudong International Airport to various locations throughout Shanghai. Shuttle bus Line 5 (terminal station: Shanghai Railway Station) has a stop at Century Avenue/South Pudong Road, which is the closest stop to the campus of NYU Shanghai. Tickets cost less than 25 RMB (four US dollars), and buses typically operate from 6:30 AM to 11:00 PM.
BORDER DO NOT TOUCH
Metro line 2 runs from both of Shanghai's international airports to Century Avenue, and the fare will cost 6 RMB or less. If you take the metro from Pudong International Airport, you will need to get off, and board another train at Guanglan Road Station. When planning your arrival, please be aware that it may be inconvenient to carry large amounts of luggage with you on the metro.
BORDER DO NOT TOUCH
Taking a taxi is the most convenient way to get from the airport to the residence hall or campus. When you enter the arrival hall after your flight, look for signs leading you to the taxi queue. Make sure you have the address of your destination ready in Chinese, since most taxi drivers do not speak English.
The cost of the fare to campus usually costs around 120 to 150 RMB (19-24 USD), depending on traffic at your time of arrival. More advice about using taxis can be found in the NYU Shanghai Online Pre-Arrival Orientation, which will be emailed to you during the summer.
Bilingual Address Cards