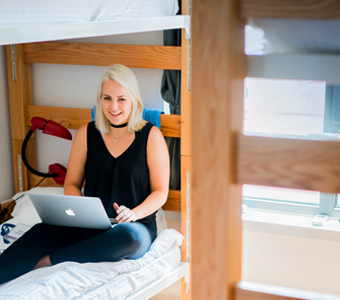 NYU Shanghai has a wide range of housing options available to students. Students should expect to live in university housing during their first and second years. Multicultural integration and understanding is a fundamental aspect of the NYU Shanghai educational mission. Therefore, all students will live with someone of a different background, with every room having at least one international student and one Chinese national student. Depending on which housing option you choose, you will be assigned either one or two roommates.
Currently, NYU Shanghai has two residence halls, Green Center Towers and Pusan Road. All are an approximate 25 minute shuttle ride away from campus. In addition to shuttle buses, public transportation is readily available, with metro stations and bus stops connecting students to the greater Shanghai municipal area.
For more information about facilities, transportation, and logistics, please see the FAQ.
Common Spaces
Every two floors of the residence halls form a Residential Community. Within the community, students will share kitchens, bathrooms, and showers. In addition to the many common spaces in the NYU Shanghai campus building, each of the residence halls is equipped with study, meeting, and leisure spaces.