NYU Shanghai is a university with a global reach but is also in and of the City of Shanghai. The Office for Community Engaged Learning seeks to enhance the global education of our students by increasing and deepening their engagement with our surrounding community in reciprocal relationships that help students understand China more deeply, and make a positive impact on local needs.
Community Engaged Learning initiatives combine meaningful academic learning with community research and service. We work to establish collaborations and build bridges across the university, working with students and faculty who wish to incorporate "real world context" into their teaching and learning, piloting new models for both credit and non-credit opportunities.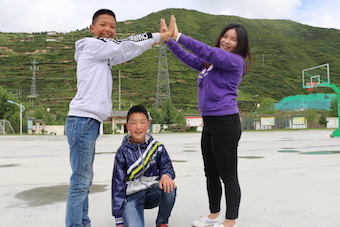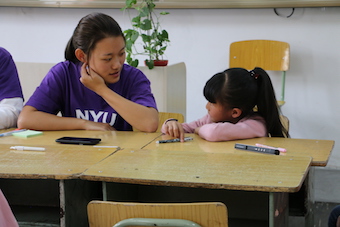 Deans' Service Scholars Program
The 2018-19 Deans Service Scholars Program will study the phenomenon of community libraries in China, and the role they play in local education and community development.
Is a library just a place for holding books?
How do children and adults in China use libraries in lesser developed regions?
What power can a community library have to build culture and develop social bonds?
If you are interested in studying these questions and how they apply outside of the big city of Shanghai, consider applying to join CEL-SHU 10 Community Development & Service-Learning. The course will include weekend service trips to Zhejiang Province to work in a community library and mentor local middle school students in improving the library.
The program provides an excellent opportunity for students to engage with local people to learn about education in China, project-based learning pedagogy, and the work of community NGOs in promoting educational equality in less developed regions of China. Through regular reflections, students will also critically think about and discuss the meaning of service, community, and leadership.
Eligibility to Apply: Students of all years who can commit to the below requirements and have passed or placed out of Intermediate Chinese 2 are eligible to apply. The language requirement is intended to facilitate communication with local people at the service site who do not speak much or any English. There is a one-time RMB 2,000 program fee per student that goes towards the costs of trip travel and accommodations.
Course Requirements: CEL-SHU 10 is run as a letter-graded course taught by Professor Bruce Carroll, spanning the second 7 weeks of the fall semester and the first 7 weeks of the spring semester. Scholars earn a total of 4 credits overall (2 credits per 7-week stage) and are required to commit to both the fall and spring because the spring course and service builds on the fall experience. The course begins the week of October 29, 2018 and ends the week of March 25, 2019 with winter break in between. In the fall, the course meets on Wednesdays from 4:30 - 7:30 pm. There will be no in-class meetings on the weeks immediately following a service trip.
Service Trip Dates: There are 4 mandatory weekend service trips. Scholars will take a 3-hour train ride to Tiantai, Zhejiang leaving Shanghai early Saturday morning and arriving back in Shanghai on Sunday evening. Please check that you are available on the below dates before applying.
November 10-11: First Weekend Service Trip
December 1-2: Second Weekend Service Trip
February 23-24: Third Weekend Service Trip
March 16-17: Fourth Weekend Service Trip
​​​Your responsibilities on the trips will be to work as a mentor with a team of middle school students and come up with a project to help improve the library.
​​Application Instructions: Please fill out the application form by Sunday, September 16 at 11:59pm. You're encouraged to attend the DSS Information Session on Friday, September 7, from 4:30 - 5:10 pm in room 1514. Questions? Email Program Coordinator Calvin Zhao at calvin.zhao@nyu.edu.