The voices of children echoed through the halls of NYU Shanghai's New Bund campus last month as the Office for Community Engaged Learning (CEL) welcomed students in grades 5 to 7 to a free summer camp. 42 Shanghai-based migrant youth attended the College and Career Lab (NYUSH CCL), in its second year. The camp was run in collaboration with Taiyanghua, a nonprofit organization providing extracurricular education to Shanghai's migrant children for over a decade, and Sanlin New Residents Life Center.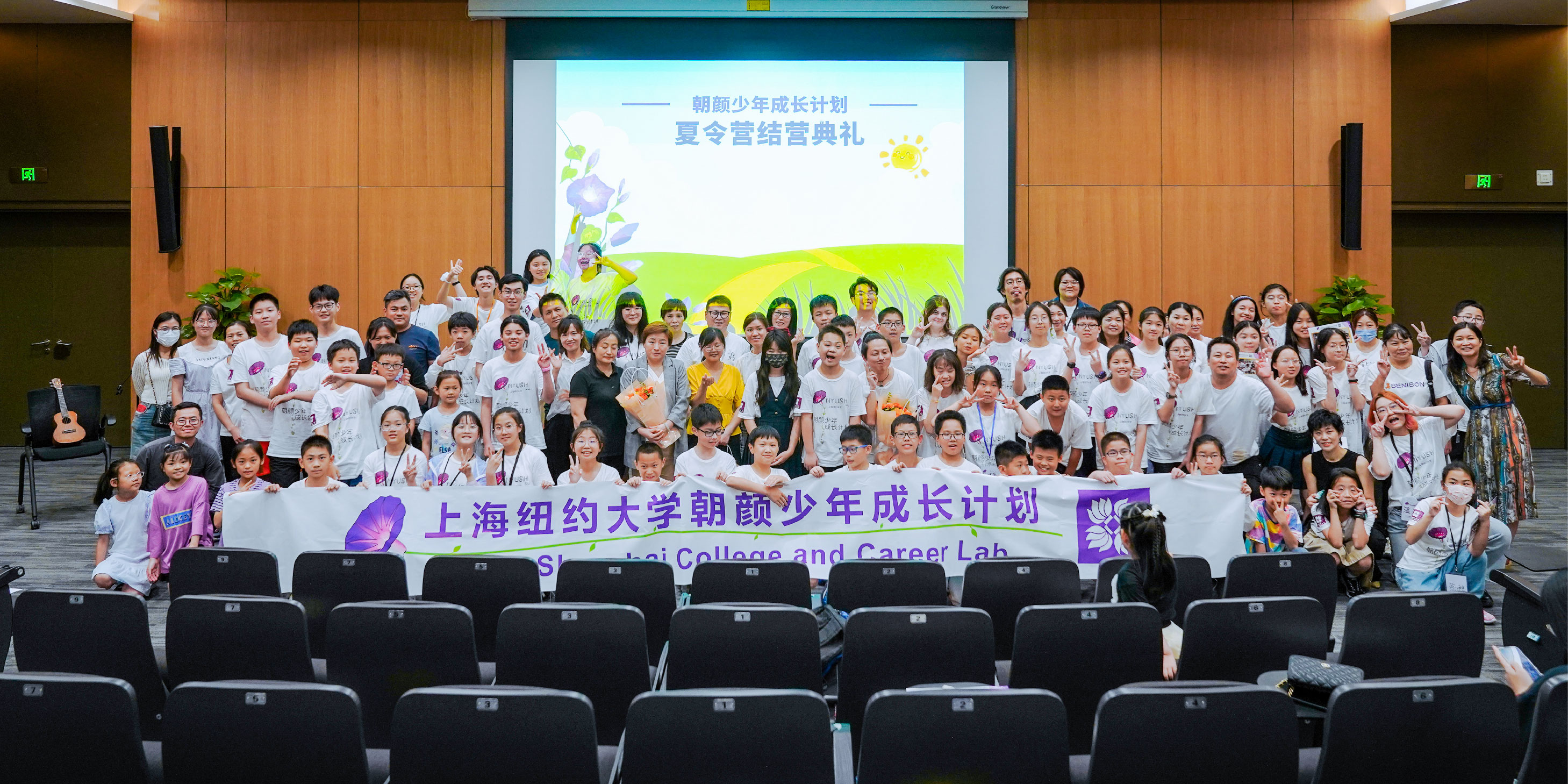 NYUSH CCL closing ceremony.
The summer program was organized by NYU Shanghai's Office for Community Engaged Learning and NYU Steinhardt School of Culture, Education and Human Development Associate Professor Hua-Yu Sebastian Cherng, a founding team member of NYU's College and Career Lab in New York whose scholarly and community-based work focuses on the social lives of marginalized youth from migrant populations in the US and China.
The NYUSH CCL camp aims to expand children's social-emotional skills, said CEL Coordinator Qian Chunhao. He added it also broadens their horizons and introduces them to possible career paths. This year's campers were able to participate in activities including drama classes, a visit to the Interactive Media Arts Lab, talks by career professionals, city walks, outdoor education, and even a trip to Disneyland.
Fourteen NYU Shanghai undergraduates served as counselors for the children, with each counselor working closely with three children. Diane Geng, Assistant Provost for Academic Affairs and CEL Director, said the camp is one way NYU Shanghai can address the needs of China's migrant youth, who often must return to their parents' hometown for continued education and exams because of China's household registration system. "CCL helps us explore how we could contribute to the surrounding community by offering a unique educational opportunity for migrant youth in Shanghai," she said.
Drama education played a large role in the camp, as counselors encouraged the campers to explore their emotions in a fun way. Drama instructor Xiao Hua used masks to help the students feel more comfortable. He asked the campers to draw the emotions they wanted to show on their masks, and then put on the masks to perform in front of others. "The mask is equivalent to a shield," he explained, "so the children can use their body to express and explore their inner voice."
"When I wear a mask, I'm more relaxed," 12-year old camper Zhang Zexi. "In order to highlight my emotions, I have to really exaggerate my body movements."
Kids are giving their performances with masks on.
Camp counselor Zhang Yaqi '23, who graduated this year with a degree in Social Science, said that wearing the masks enhanced the drama activities for the children, who may feel difficulties expressing themselves in daily life. "Wearing a mask increased their sense of security, and made them feel that everyone is in the moment," she said. "[With the masks on,] they are all the same, and feel they will be treated fairly."
Assistant Professor of Psychology Cui Lixian, who helped plan the camp activities, said that drama can help migrant adolescents who are going through a critical stage of their social and emotional development as they discover their identity. He added that the camp targets this age range because it is important for teenagers to meet different people, have new experiences and observe the world around them. They are "finding who they are and what they want to do in the future," he said.

Left: Counselor training at the Pudong Sanlin Town Migrant Worker Service Center with Director Yi Liying (fifth from the right, front row), Cui Lixian (fourth from the right, front row) and Diane Geng (first from the left, back row).
Right: Student counselors with Diane Geng (first from left, back row), Xiao Hua (second from left, back row) and Qian Chunhao (first from right, back row).
The NYU Shanghai undergraduates who served as camp counselors said they also learned important lessons from the experience. Yu Morui '25, who is studying psychology, said that being a camp counselor allowed her to not only better understand the challenges faced by migrant families, but also get to know them as people. "It's important to really connect and get to know each individual child."
Social Science major Zhu Ziyi '25 recalled a camper who shared her experience of returning to her hometown and her academic and social struggles there. "I think she showed a lot of courage to tell her own story," she said. "The campers can encourage each other and motivate each other to keep going."
Zhang Yaqi, who is heading off to Harvard University in the fall to pursue a master's degree in education, said that hosting the summer camp at NYU Shanghai reflects the university's identity and values. "NYU Shanghai students work very hard, but beyond our own academic development, we feel we have some responsibility to society," she said.
"[In class], we often discuss issues in China from an abstract point of view," said camp counselor Aevyn Lan '24, who hails from the US and is studying Global China Studies and Humanities at NYU Shanghai. "I believe learning should include both a conceptual focus and hands-on experience," she said. "I think it is important for me to connect with and develop relationships with people living here who are in different circumstances than me."

Left: Counselors Yang Luyi '26 and Tang Jiapeng '25 help campers design their masks. 
Right: Campers learn about laser cutting during a visit to the Interactive Media Arts lab.
The CEL says they hope to make this summer camp an annual program and there are discussions in place to create a summer course for the student counselors. CEL Coordinator Qian Chunhao says that the summer camp has an integral role in helping NYU Shanghai engage with community organizations and helping NYU Shanghai  students engage with the world. "Learning in the classroom is also a part of integrating into the world, which itself is a cyclical process," he said. "The summer camp is a platform that allows us to work together with like-minded partners."
—
NYU Shanghai student counselors:
Zhang Yaqi '23
Bao Yucheng '24, Aevyn Lan '24, and Sun Ruoming '24
Ji Jinyu '25, Qu Yuanting '25, Qu Ziran '25, Tang Jiapeng '25, Wen Huiwei '25, Xu Zihan '25, Yu Morui '25, Zhang Yuxuan '25, and Zhu Ziyi '25
Yang Luyi '26