NYU Shanghai Students Explore Qiantan Neighborhood through "Food and Design"
Feb 23 2023
A group of NYU Shanghai students visited Dongming Road sub-district near the New Bund campus on February 17 to gain a deeper understanding of the local people's life. Under the guidance of a social organization called "Jumingxin (聚明心)", they communicated with food vendors and shops and visited neighborhood renovation projects on foot. The event was organized by the Academic Affairs Office for Community Engaged Learning (CEL).

Cao Mei, co-founder of Jumingxin (聚明心) kicked off the event by introducing the history of Dongming Road sub-district and how the organization is working with local residents and community planners to revitalize the neighborhood. She also invited NYU Shanghai students and faculty members, in the future, to participate in their community development projects through volunteers, internships, and partnerships.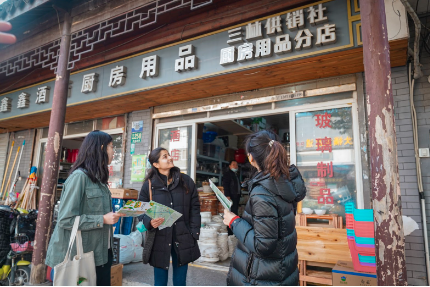 (From left to right) Zhu Ziyi '25, Hansa Mirpuri '24, and Senior Language Lecturer of Chinese Language Program Bi Jinghong visit local shops during the free exploration part of the event
Social science major Hansa Mirpuri '24 said she enjoyed the walk and learned a lot about the neighborhood and local businesses. "It was surprising to see some shops that have been there for forty years."
"While reading pieces or hearing others talk about Shanghai is one way to know the city, you may discover something different by talking to people living there," Zhu Ziyi '25 said.

Left: The shoe repair stall, owned by this grandpa, that students designed the poster for; Right: Zhu Ziyi '25 and Hansa Mirpuri '24 explaining their design concept
After the free exploration, each group brainstormed how they can promote local businesses. Mirpuri's team designed a poster for a neighborhood shoe repair stall. They used different colored paper and made a shoe collage to reflect the work of fixing a shoe. "Nowadays when things are broken, people may often buy new ones instead," said Zhu. "A different lifestyle that would have the patience to repair things is more sustainable, resilient, and worth our respect."

Data Science major Tengis Otgonbaatar '24 from Mongolia tasted buns and fried dumplings at local shops with his group and designed a poster for a steamed bun shop. "I am glad that we had the chance to meet the local business owners and add our diverse perspectives to the growth of local businesses," he said.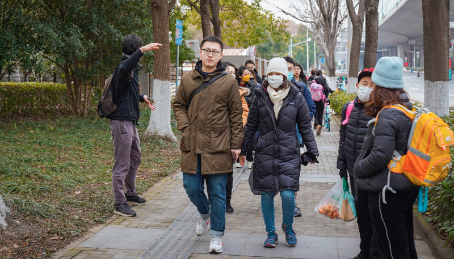 "The CEL Office works with local partners to design and implement experiential learning programs that are educational, inclusive, and community-based," CEL Coordinator Qian Chunhao said. "This event offered with Jumingxin offers insights on community development from an NGO's point of view, from which students can draw connections to their academic learning and gain a broader view of the local society." 
More such opportunities will be offered soon. This week, CEL will hold several events including an ecology tour of parks along the Qiantan riverfront and a screening of a socially-relevant film, "Like Father And Son" at Taikoo Li Mall to help students know more about the Qiantan neighborhood. Stay tuned for more highlights.