Won't You Be My Neighbor?: Exploring Qiantan with CEL
Mar 30 2023
Moving to a new campus means meeting the neighbors, and that's exactly what a series run by the Office for Community Engaged Learning (CEL) is helping the NYU Shanghai community to do. Through its Qiantan expedition series, CEL aims to help NYU Shanghai students, faculty, and staff familiarize themselves with the local community near the New Bund campus. So far, the series has included a trip to a coffeehouse run by hearing-impaired and autistic people, a movie screening followed by a Q&A with the director, birdwatching at a nearby park, and a tour of a community development NGO based in Qiantan.
Two Fridays ago, members of the NYU Shanghai community gathered for a coffee at LiLi Time, a cafe in the Taikoo Li mall in Qiantan that employs individuals who are hard of hearing or autistic. Ian Huang, Director of Business Development at LiLi Time, shared the cafe's origin story and explained its daily operations to a group of attentive staff and students.
The group met the baristas and tried an assortment of pour-over gourmet coffee, with flavors ranging from chocolate to strawberry to tomato.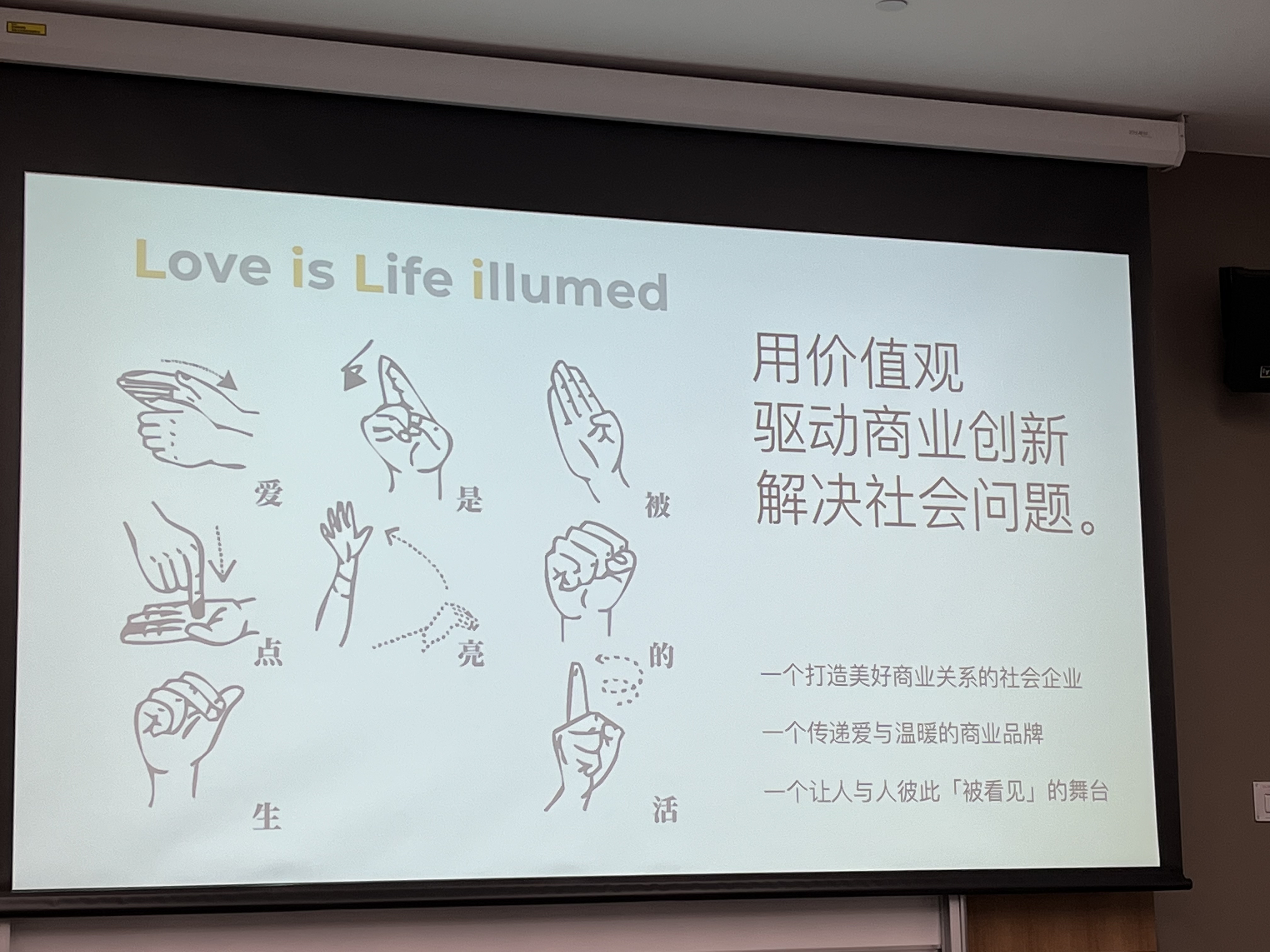 Event attendees learned how to sign in Chinese, including "爱" ("love") and "生活" ("life").
Another popular CEL event brought 45 NYU Shanghai students, faculty, and staff to the MOViE MOViE theater — also located in Taikoo Li  — for a screening of Like Father and Son, an award-winning film about "left-behind" children in rural China, followed by a Q&A with the film's director Bai Zhiqiang.
Afterwards, Korrina Poindexter-Benbow '25 led a reflection activity that she originally designed in her IMB Experience Studio. She invited attendees to share their experience watching the film. Using blank tickets as their canvas, participants wrote down meaningful quotes from the film, created drawings to represent their emotions, and even signed each other's tickets.
"I love getting involved with my community, so this was a perfect opportunity for me to do so," said Poindexter-Benbow. "The event also showed me that there are many niche places around the Qiantan neighborhood that are waiting to be explored."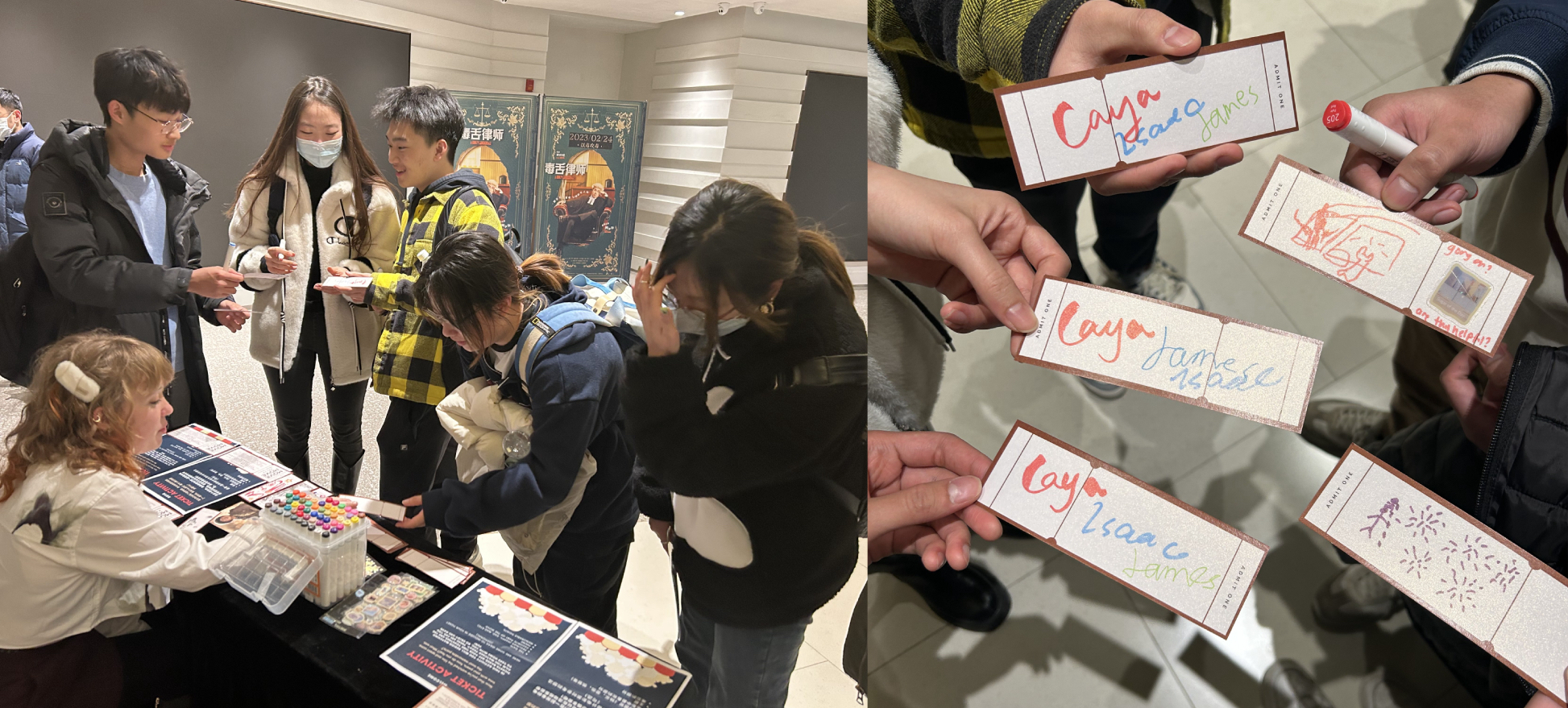 Left: Poindexter-Benbow leads students in her self-designed reflection activity. Right: Students display how they decorated their tickets.
CEL has also brought the NYU Shanghai community to explore the natural spaces near the New Bund campus. Jane Meihua Shen, a popular science writer and wildlife expert, led a tour of Qiantan's waterfront parks. Shen brought the group for a walk by the Huangpu River, telling them about the river's history and pointing out the different bird and plant species that make up its ecosystem.
Shen said that it's important for NYU Shanghai students to be engaged with the nature around them. "When people care about their surrounding environment, they can do something really meaningful and make a difference," she said.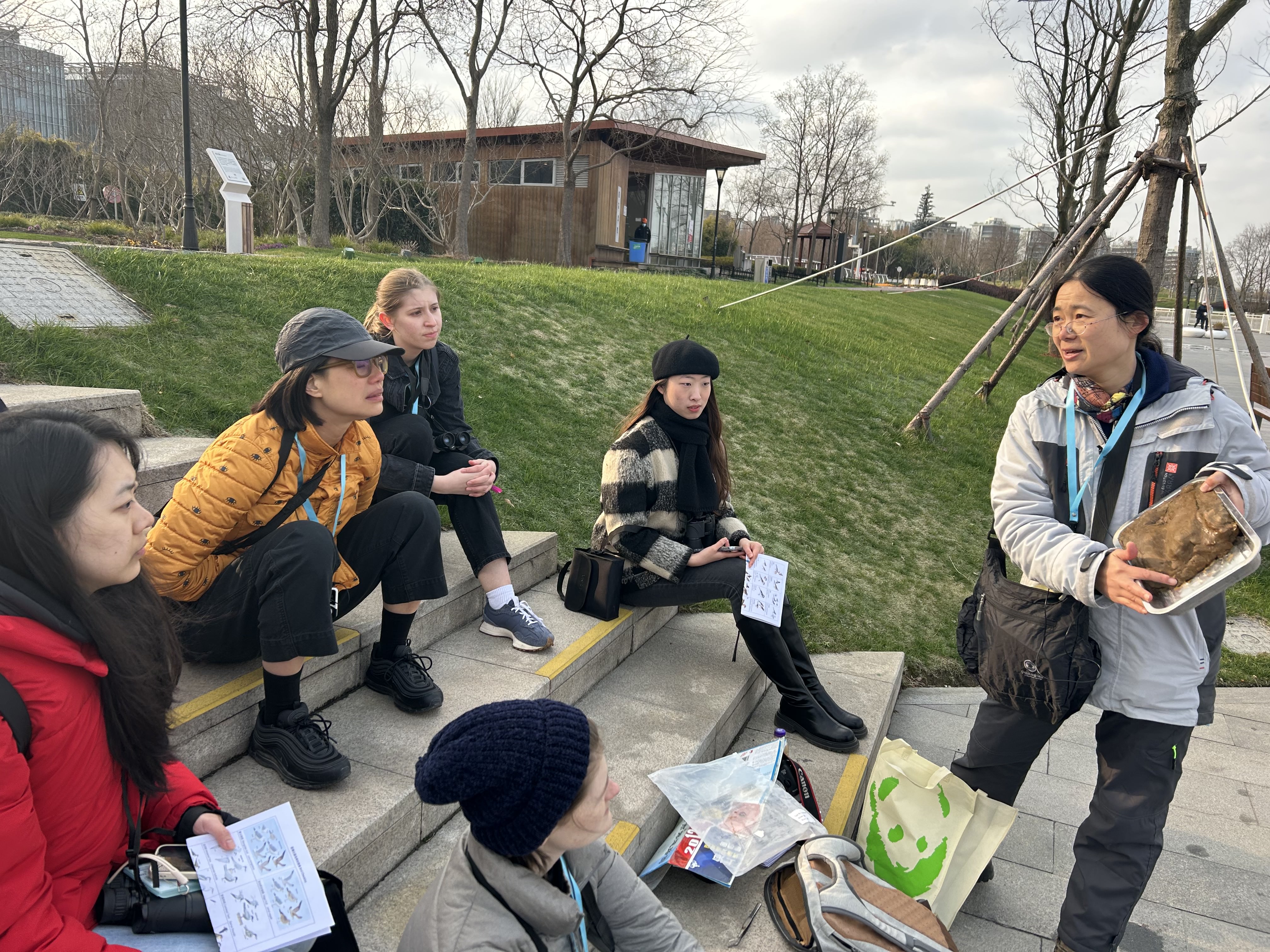 Shen (right) explains the formation of the Huangpu River to students and staff using a clay model.
CEL has also set its sights beyond the Qiantan neighborhood and encouraged members of the community to venture out into the greater Shanghai area. Other events from this semester have included walks in historical areas such as Zhapu Road, and an immersive learning trip focusing on food and sustainability in Chongming Island.
CEL Coordinator Chunhao Qian says that connecting the community to resources outside of campus is an essential part of experiential learning. "We are glad to see that these programs have brought awareness to the people and issues of interest that are close to our new campus," he said. CEL has more plans for expeditions throughout the Qiantan neighborhood and Shanghai following Spring Break, starting with a walk in the North Bund on April 15.