Spring Semester Kicks off at the NYU Shanghai New Bund Campus
Feb 3 2023
After over three years of anticipation, the NYU Shanghai New Bund campus has finally been unveiled for the 2023 spring semester. The campus is located at 567 West Yangsi Road with the unique design of four interlinked buildings surrounding a spacious courtyard. "It is truly thrilling to finally be able to move into our new, permanent home." Vice Chancellor Jeffrey Lehman said.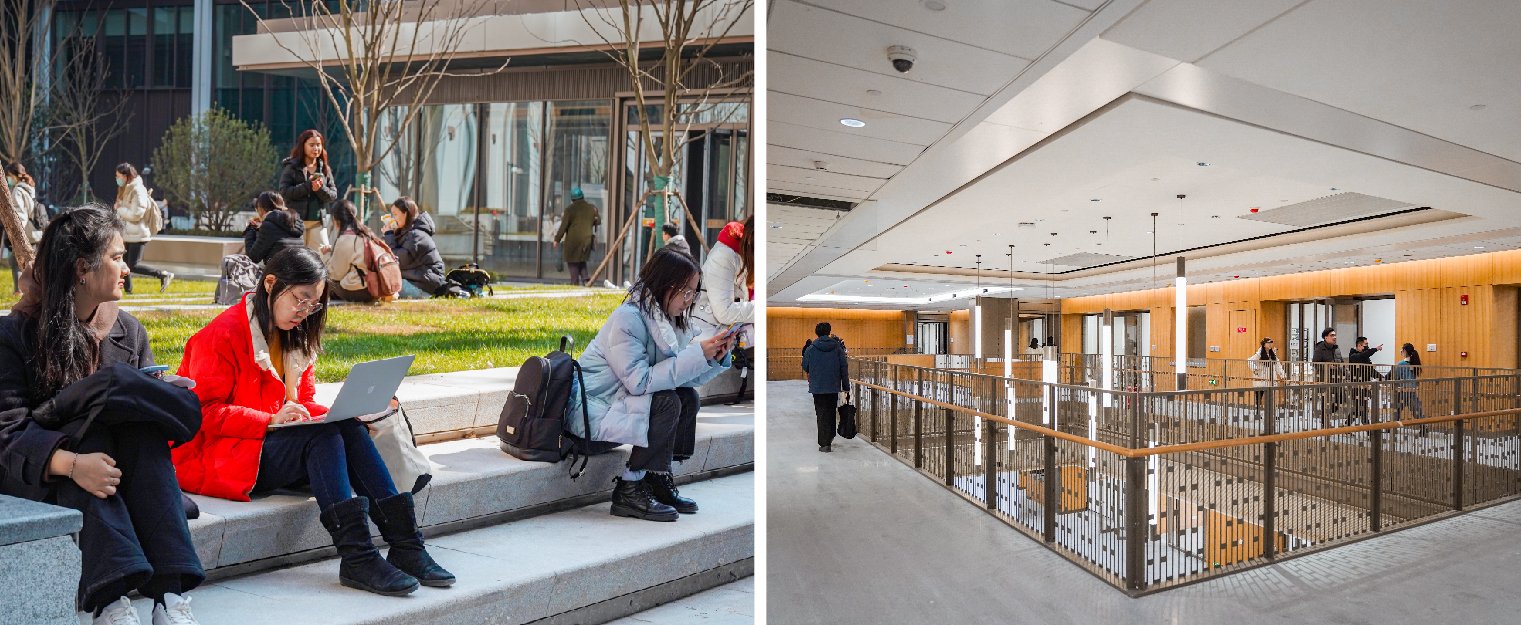 Left: Students hanging out in the courtyard; Right: B1 corridor
The campus houses many new facilities to support the academic, social, and cultural growth of the community, including a 200-seat performing arts recital hall, a black box theater, two indoor gymnasiums equipped to host basketball, volleyball and badminton games, and a two-story reading room adjacent to the library.
For the first week of the semester, the majority of classes were held in person, and students were welcome to study and hang out in the Library, located in the North Wing, and in common spaces.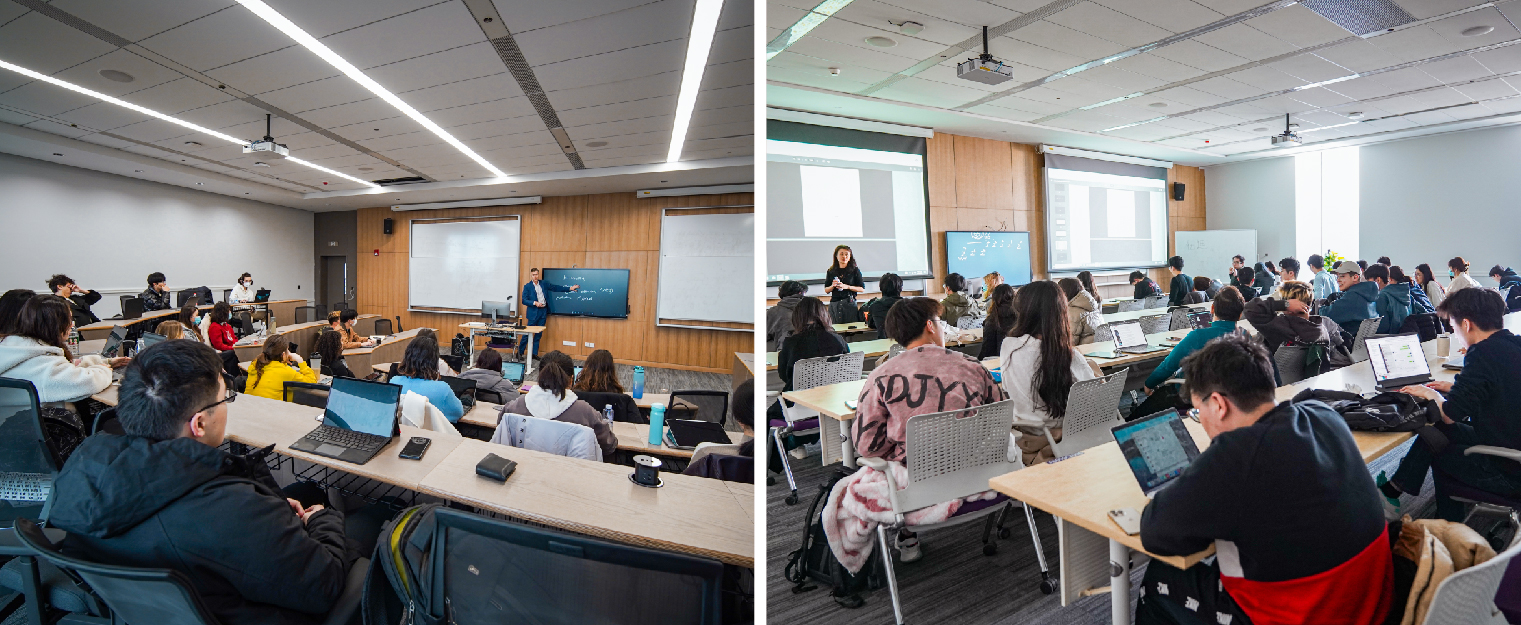 Students taking courses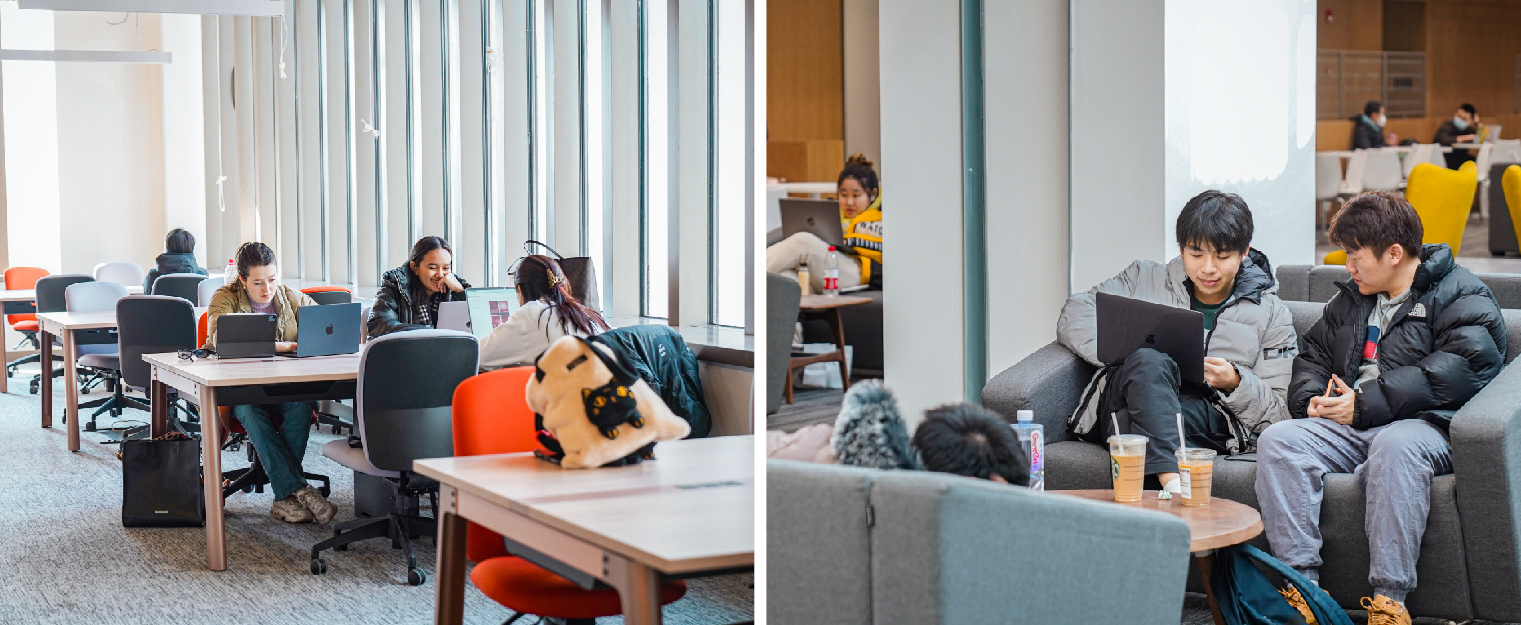 Students studying in the Library and common areas
While the work on the cafeteria is being finalized, the school has been providing grab-and-go lunches that offer both meat and vegetarian options that cater to diverse dietary needs. Coffee was also served on the side.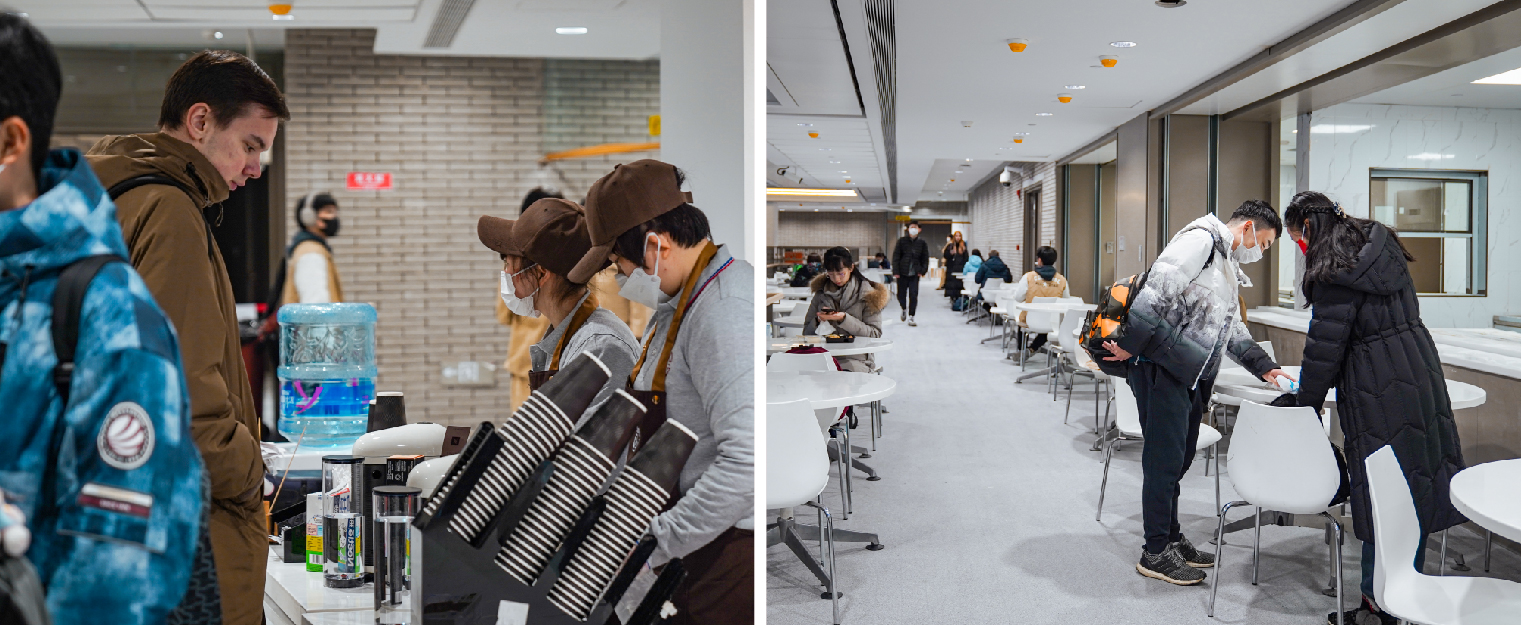 Community members picking up their lunches and dining at the B1 cafeteria
Students are also encouraged to step outside of campus and explore the city and New Bund community. In addition to trips to the China Art Museum, some students also visited the nearby Sanlin Old Town this week to celebrate the Lantern Festival and experience traditional customs with local residents. More cultural events, such as  porcelain carving, embroidery sessions, and tours to the Shanghai History Museum and the Shanghai Urban Planning Exhibition Hall have been planned to further immerse students in local culture.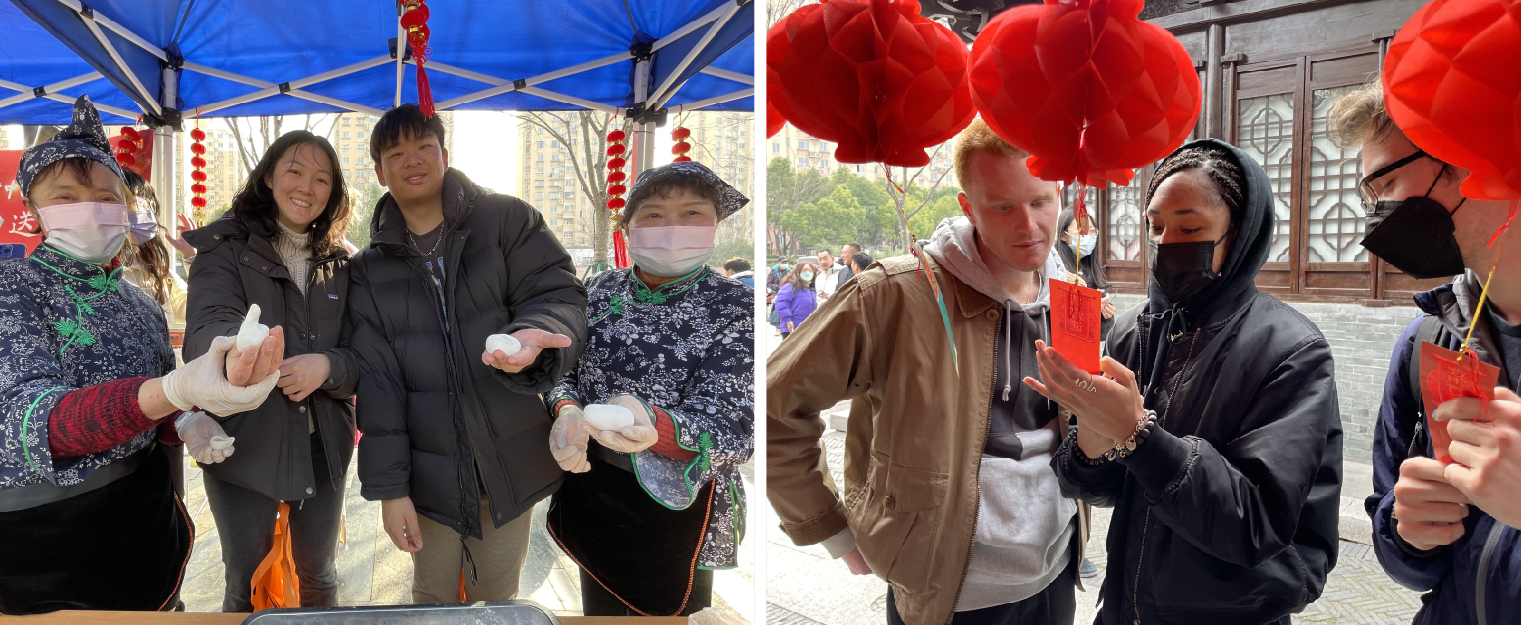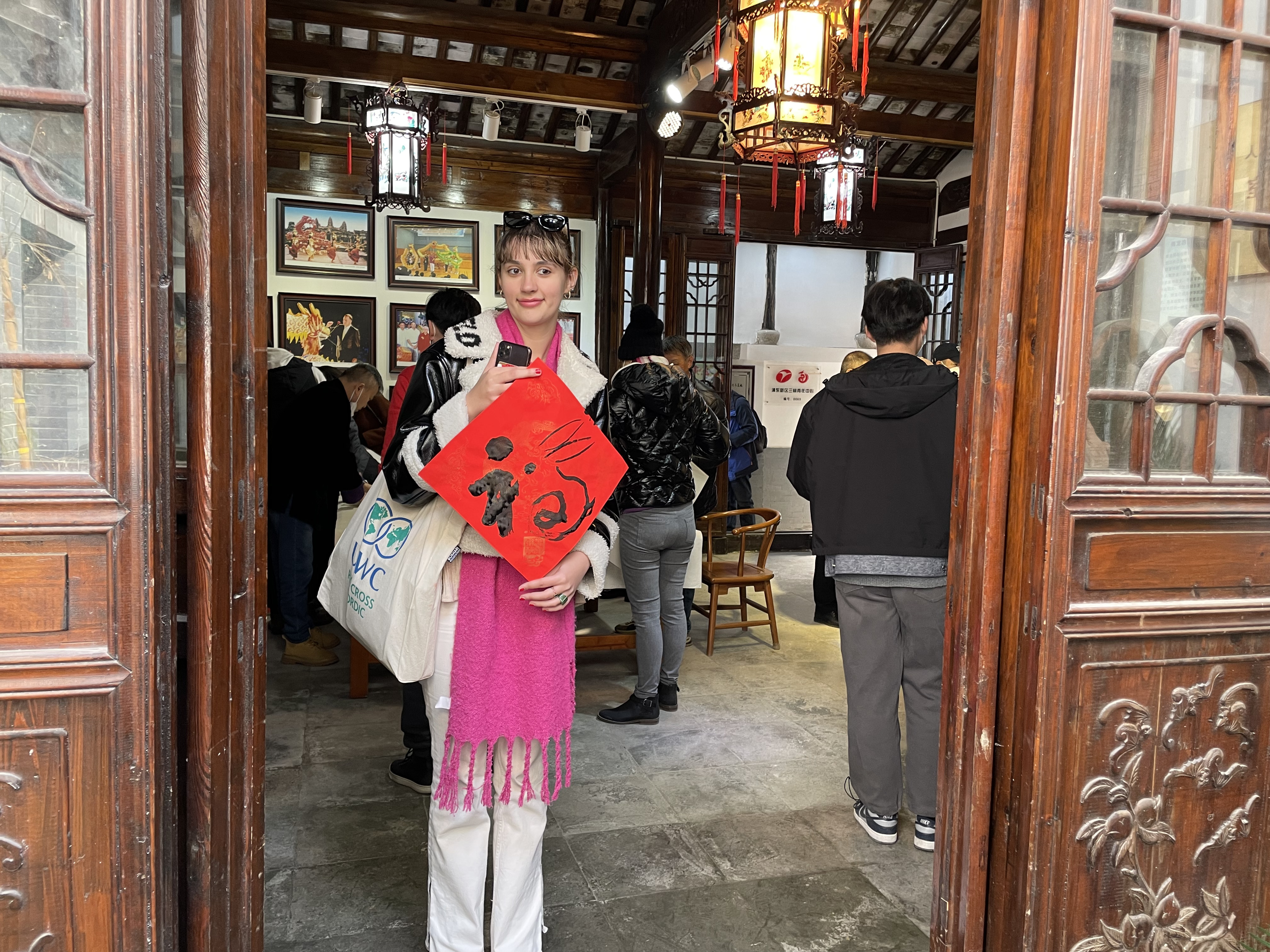 Students made sweet dumplings, guessed lantern riddles, and wrote Spring Couplets at Sanlin Old Town
As the first phase of the move to the new campus has ended, the second phase to complete the move is now in full swing. In response to concerns expressed by the parents of some students and at the advice of the local authorities, the school has decided to move classes online through February 17, so that the phase two work can be expedited.
"The NYU Shanghai New Bund campus has finally gone from blueprint to reality!" said Chancellor Tong Shijun. "This reality comes with improvements in the making, but the NYU Shanghai community, together with the workers, are making it better day by day, like a metaphor for our school and our lives."