NYU Shanghai Global Writing & Speaking Fellows provide academic support and enrichment for the students at NYU Shanghai. Fellows provide support in writing, speaking, and general academic skills. They work closely with faculty, and they tutor, teach, and collaborate with different university departments to spearhead projects and initiatives that enrich the student academic experience and university community at large. Fellows also have the opportunity to work on their own writing and research projects over the course of the academic year. Find out more about how to apply to be a Global Writing & Speaking Fellow.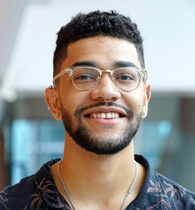 Ethan Kostishak
Lead Global Writing & Speaking Fellow
Pomona College, BA - Anthropology
Ethan graduated from Pomona College with a B.A in Anthropology and a minor in French. They are particularly interested in material and discursive transnational dynamics and wrote their thesis on how grassroots movements in the Middle East are affected by international NGOs. Their tutoring style focuses on allowing students to have ownership over their own work while simultaneously guiding students through the styles and conventions of academic, professional, and creative genres. As an academic researcher and a participant in several fellowships, they especially enjoy working with personal applications, social science writing, and creative works. Last year, Ethan also worked closely with the EAP department to provide workshops on listening & speaking skills.
Isabelle St. Clair
Senior Global Writing & Speaking Fellow, Coordinator for Tutoring and Academic Skills
Wellesley College, BA - Peace and Justice Studies and Asian American Studies
Isabelle St. Clair graduated from Wellesley College in 2017 with a degree in Peace and Justice Studies and Asian American Studies. At Wellesley, Isabelle worked as a writing tutor at the Writing Center and as an assistant for the Writing Program Department. She also served as a First Year Mentor for incoming college students and as a tutor for elementary school students in Boston's Chinatown. Her senior thesis explored topics of race, gender, and class in the Asian American adoptee community. After graduating, Isabelle moved from New York City, her hometown, to Hualien, Taiwan, where she taught for two years as a Fulbright English Teaching Assistant. While in Taiwan, Isabelle volunteered at the local community center to read English books to preschoolers, studied Chinese at the local university, and traveled extensively around the island. She now serves as a Senior Writing and Speaking Fellow, as well as the Coordinator for Tutoring and Academic Skills at the ARC.
Fiona Xu
Senior Global Writing & Speaking Fellow
Barnard College, BA - Art History
Fiona grew up in Hangzhou, a city south of Shanghai. After high school, she studied at Barnard College and graduated with a major in Art History and a minor in English. Academically, Fiona is interested in postmodern art and writings, especially those from the late-twentieth century. Her senior thesis focused on Nam June Paik, the founder of television and video art, and interpreted some of his works as possible fetishization of the female body. In college, Fiona also developed a passion for teaching. In addition to two years of working as a Writing Fellow at the Barnard Writing Center, she also served as a teaching assistant for courses on art history at the Jinan University Summer Session. Outside of her academic interests, Fiona loves Korean food and culture, and is currently in her fifth year of learning Korean. Fiona loves to work on visual analysis, and enjoys brainstorming and outlining with students.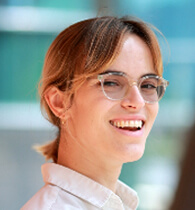 Isabel Floyd
Senior Global Writing & Speaking Fellow
Haverford College, BA - Philosophy
Isabel grew up in Maine and graduated from Haverford college with a Philosophy major and a Computer Science minor. While at Haverford, Isabel worked as a peer tutor at the Writing Center and also served as a philosophy teaching assistant. Her senior thesis examined different readings of Nietzsche's views on self and proposed a reading of the Nietzschean self as a process of self-inheritance. Her fellowship scholarship project last year expanded on this thesis topic and explored connections between Nietzsche and Japanese philosopher Nishitani Keiji. As a tutor, Isabel enjoys working with students as they develop their 'big picture' ideas, and she particularly enjoys a good brainstorming session. She is excited to read papers from all disciplines, and is especially thrilled to receive students working on philosophy papers. Her favorite activities in Shanghai include attending improv shows and concerts, eating scallion oil noodles, and taking full advantage of her beloved Hellobike subscription to cycle all around the city.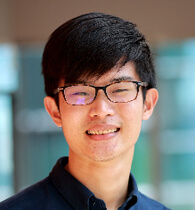 Ren Jie Kan
Senior Global Writing & Speaking Fellow
Yale-NUS College, BA - Literature
Ren Jie is thrilled to return to NYU Shanghai for a second year, as a Senior Global Writing and Speaking Fellow. He graduated from Yale-NUS College in 2020, with a major in Literature and a minor in Arts and Humanities (Creative Writing). For his capstone project, Ren Jie examined the portrayal of selfhood in the works of Virginia Woolf and Ling Shu Hua, and was awarded the 2020 Tan Sin Meng Prize in Chinese Studies. Ren Jie also enjoys writing creatively, with poems recently published in The Temz Review, Barzakh Magazine and Spittoon Monthly, among others. In his previous year at NYU Shanghai, Ren Jie enjoyed working with students on various writing and speaking assignments in their various courses, while also strengthening the creative writing community by organizing regular workshops and new literary platforms. He is excited to continue working with students on any aspects of their writing and speaking, in both critical and creative domains.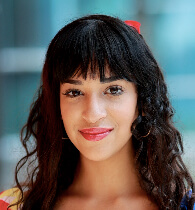 Sabrina Marie Vera
Senior Global Writing & Speaking Fellow
Pomona College, BA - Politics with minor in International Law
Sabrina graduated from Pomona College with her B.A. in Politics as a first-generation student and Bill Gates Millennium, Chicago Posse, Gilman, Coca-Cola scholar, and the National Latino Bar Association's 2019 Prelaw Scholar of the Year. At Pomona, Sabrina worked as a Head Writing Partner, math tutor for first-gen youth, Vice President of the Mock Trial team, and an editor for the Claremont Journal of Law. For her senior thesis, "How the Marginalized Mobilize," Sabrina explored the political theory underpinnings of disability rights activism for which she was awarded the Fred Krinsky prize for most exemplary student in international and comparative politics. Sabrina also received the Ted Gleason prize, awarded to a senior who persevered through hardships like illness and exhibited kindness and leadership in the Pomona community. Outside of academics, Sabrina enjoys weight lifting, dancing, all things science fiction, and finding cool new places in Shanghai to take pictures! After her time at NYU, Sabrina will be the first in her family to attend law school and plans to practice impact litigation in the field of health law.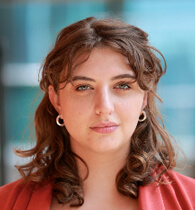 Alice Berry
Global Writing & Speaking Fellow
Bryn Mawr College, BA - Anthropology and Music
Alice graduated from Bryn Mawr College with a degree in anthropology and music. Her anthropology thesis explored the relationship between nonprofit programming, neoliberalism, and community knowledge production. She worked at the Bryn Mawr Writing Center for three years and advanced to Assistant Director following her graduation in 2019. In her immediate post-graduate years, she also worked in nonprofit fundraising and development while trying to maintain her vocal performance skills. In Writing Center work, Alice's interests include anti-racist and feminist writing pedagogy and writing as social justice. She especially enjoys working through tricky pieces of the writing process like brainstorming and refining arguments.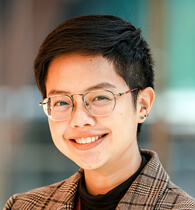 Ants Chua
Global Writing & Speaking Fellow
Yale-NUS College, BA - Anthropology with minor in Arts and Humanities
Ants graduated from Yale-NUS College in Singapore, where they majored in Anthropology with a minor in Arts and Humanities, focusing on creative writing. At Yale-NUS, they worked as a Peer Writing Tutor for two years and crafted an innovative, interdisciplinary capstone which presented original ethnographic research in the form of a creative lexicon. An Associate Artist of Checkpoint Theatre, Ants writes, directs, and perform in various mediums. They take being silly very seriously, and aim to incorporate a healthy dose of nonsense into anything they do. They are particularly eager to work with students on creative projects, essays in the humanities and social sciences, and multidisciplinary writing. Ants looks forward to working with students at any and all stages of the writing process.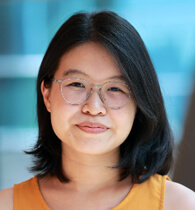 Cheng Mun Chang
Global Writing & Speaking Fellow
Bryn Mawr College, BA - Anthropology and East Asian Languages and Cultures
Cheng Mun graduated from Bryn Mawr College, where she majored in Anthropology and East Asian Languages and Cultures, and wrote senior theses on community engagement in arts organisations and independent Chinese documentaries. While at Bryn Mawr, Cheng Mun worked for three years in the Writing Center. She also provided academic skills support to her fellow students as a Peer Mentor and facilitated sections of THRIVE, Bryn Mawr's first-year transition and life skills course. After graduating, she moved home to Singapore, where she worked first in an arts organisation and then in public health research. She has recently begun to write art and film criticism, and won ArtAsiaPacific's Young Writers Prize in 2020. Cheng Mun is excited to meet with students at all stages of the writing process, and particularly loves helping students work with ethnographic data and visual sources.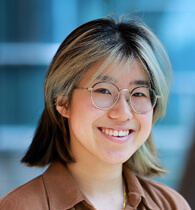 Cindy Zeng
Global Writing & Speaking Fellow
Brown University, BA - Applied Mathematics and History
Cindy graduated from Brown University with a joint B.A. in applied mathematics and history, with a specialization in modern intellectual history. While at Brown, Cindy worked as a writing fellow at the Writing Center for three years and served as a Residential Peer Leader for first-year students. Since graduating, she has worked on projects that seek to mitigate the harms of technology, such as countering influence operations and combatting disinformation. Outside of work, she likes taking photos, going on hikes, building community, and reading nonfiction and poetry. Cindy enjoys working with students on creative writing projects and personal statements. Come find her for help with any stage of the writing process, especially when restructuring essays or refining argumentation!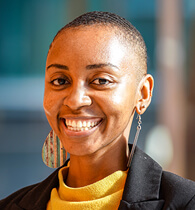 Ima Odong
Global Writing & Speaking Fellow
Occidental College, BA - Critical Liberation Studies and Praxis
Ima graduated from Occidental College with a degree in Critical Liberation Studies and Praxis. Her thesis centered 20th century Nigerian women's activism and African/diasporic feminisms. She is interested in African diasporic political solidarity, Black creative expression, and the role of memory to rewrite the past and imagine the future. She activates these interests in her poetry and in her work organizing community-based arts programming. As a peer writing tutor and embedded fellow at Occidental, Ima learned to work collaboratively with students, and to encourage them to find their own voice. Now at NYU Shanghai, she brings values of honesty, empathy, reflection and creativity as she supports students to develop a process-oriented approach to writing. Ima looks forward to partnering with students at all stages of their writing, but particularly loves refining research questions and deepening analysis with students.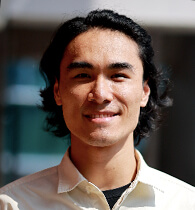 Jiaming Zhou
Global Writing & Speaking Fellow
Shanghai International Studies University, BA - English
Jiaming graduated from Shanghai International Studies University with a degree in English Literature. He earned a full scholarship to study abroad at Waikato University in his junior year, graduated in 2020, worked as an Assistant Academic Associate at NYUSH for six months, and has now returned as a Global Writing & Speaking Fellow. Jiaming loves nature and writes stories. His thesis examined trauma in the novella Rain by Kirsty Gunn, a contemporary New Zealand writer who is greatly influenced by Katherine Mansfield. He enjoys exploring different styles of academic writing and reading, and would love to help students find their own voices in the process of writing.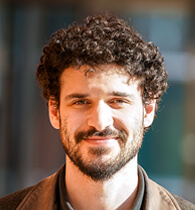 Julius Kochan
Global Writing & Speaking Fellow
University of Oxford, MPhil - Modern Chinese Studies
University of Cambridge, BA - Modern and Medieval Languages
Julius did his undergraduate degree at the University of Cambridge, where he read Modern and Medieval languages - with a focus on Russian and French. The courses that he took spanned literature, translation, film, linguistics, and philosophy, and he wrote undergraduate theses on the short stories of Anton Pavlovich Chekhov, which he analysed with recourse to semiotic theory, and on the films of Andrey Arsenevich Tarkovsky. He graduated from Cambridge with a starred First and came top of his subject area, winning academic prizes in each year. With the support of an Ertegun scholarship, Julius then went to Oxford, where he recently completed an MPhil in Modern Chinese Studies. His dissertation, for which he received the faculty prize for best in cohort, examined Russian and Chinese travel writing through experimental linguistic theories. Julius is interested in foreign languages and cultures, the analysis of cultural artefacts, and thinking creatively about art and the humanities. He is excited to work with students at NYU and is particularly looking forward to bringing out the creativity and individuality in their writing, both academic and creative. Outside of his work, Julius cannot wait to immerse himself in the culture of Shanghai.
Lin Zhu
Global Writing & Speaking Fellow
University of Colorado Boulder, MA - Human Geography
Sarah Lawrence College, BA – Human Geography, Anthropology and Filmmaking
Lin holds an MA in Human Geography from the University of Colorado Boulder and a BA from Sarah Lawrence College. Broadly, she is interested in the political economy and political ecology of Global China. Her recent work interrogates Chinese mining investment in Central Peru through an ethnographic lens, looking specifically at the localized social and economic impacts. At CU Boulder, Lin worked as a graduate research assistant for the China Made Project at the Center for Asian Studies and as a graduate teaching assistant at the Geography Department. Before joining NYU Shanghai, she was a contributor to The People's Map of Global China, a bottom-up, collaborative research initiative that aims to bring forward voices that are usually silenced and marginalized in discussions of China's global impact. She is thrilled to join NYU Shanghai this year and look forward to mentoring students in areas such as critical thinking and academic writing. She is especially passionate about working with ESL students in all aspects of higher education.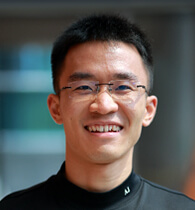 Qilin Lancelot Zhang
Global Writing & Speaking Fellow
NYU Shanghai, BA - Economics with minor in Linguistics
Qilin is a proud graduate of NYU Shanghai with a B.A. in Economics and a minor in Linguistics. Beyond being comfortable with models and quantitative analysis, he has a particular interest in economic history and decision-making. He carries a passion for phonetics and speeches. He also has an unyielding taste in visuals and presentations. At times, Qilin can be possessed by the beauty and power of words, yelling and slapping as he reads magnificent lines. Moments else, he immerses himself in thoughts and senses, gazing and murmuring as he uncoils entangled ideas. As a first-generation to speak English and attend university, Qilin would like you to know that he's been there and he'll be there for you. He's looking forward to learning the way you see the world and helping you find your voice in speaking and writing.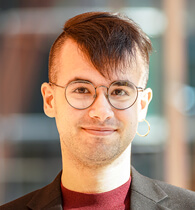 Robbie Spratt
Global Writing & Speaking Fellow
Haverford College, BA - Anthropology and French and Francophone Studies
Originally from the suburbs of Baltimore, Robbie graduated from Haverford College with a double major in anthropology and French and Francophone studies. Their senior theses respectively examined queer community formation as seen through practices of astrology, tarot, and healing crystals, and the politics of silence and identity in Parisian AIDS autofiction. Passionate about many topics in literature and social sciences, Robbie is thrilled to be joining the NYU Shanghai community and is looking forward to working with students on their writing. They are excited to meet with students at any stage of the writing process, and they particularly love brainstorming sessions with students. Outside of the classroom, they can be found exploring the city, honing in their cooking skills, or singing in their bedroom.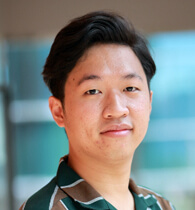 Shawn Hoo
Global Writing & Speaking Fellow
Yale-NUS College, BA - Literature with minor in Philosophy
Shawn graduated from Yale-NUS College with a major in Literature and a minor in Philosophy. His senior thesis, "Stage Directions: HIV/AIDS in Singapore Theatre (1989–2015)", was awarded the Outstanding Capstone in Literature Prize. In AY 2020–21, he was a Teaching Assistant Trainee for the Department of English Literature at the National University of Singapore. As Assistant Editor for Asymptote—a journal for world literature in translation—Shawn works with a global team of editors, writers, and translators. His poems are published in journals such as New Delta Review and Queer Southeast Asia, and he is working on a chapbook manuscript. He enjoys exploring cinemas, theatres, bookstores, museums, parks, and cities. Shawn especially welcomes students who are interested in working on their creative writing, reading and writing skills in the humanities, and writing for a general public.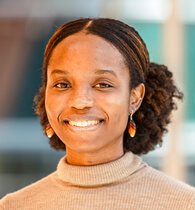 Victoria Oliha
Global Writing & Speaking Fellow
University of Oxford, MSc - Applied Linguistics and Second Language Acquisition
Columbia University, BA - History and Linguistics
Victoria holds an MSc in Applied Linguistics and Second Language Acquisition from the University of Oxford and a BA in History and Linguistics from Columbia University. As an undergraduate student, she gained teaching experience working as an academic fellow, a teacher for an educational outreach group, and as a volunteer teacher while studying abroad in Nanjing. Her masters dissertation focused on identity negotiation among dialect speakers in foreign language classrooms. While she has a linguistic and literary background in English, Victoria is eager to foster a community where different languages interact through writing. She especially enjoys helping students explore how to maintain voice across different genres.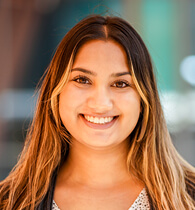 Wafa Abedin
Global Writing & Speaking Fellow
Occidental College, BA - Diplomacy and World Affairs with minor in Economics
Wafa graduated from Occidental College with a degree in Diplomacy and World Affairs and a minor in Economics. During her time at Occidental, Wafa worked as a peer writing tutor and wrote her honors thesis on the failings of contemporary development in Rwanda. Wafa's research interests largely revolve around sustainable development, which she has translated into internships with the Los Angeles Mayor's Office of International Affairs and the Permanent Mission of the UK to the United Nations. Wafa believes that writing is not only a useful skill but also a powerful communication tool. She particularly enjoys working with students on brainstorming ideas, strengthening arguments, and navigating writing across the disciplines. Wafa hopes to demystify academia and help students find joy in the writing process.