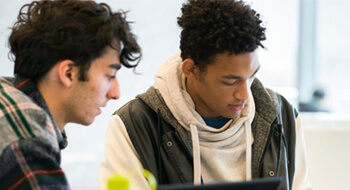 In addition to Writing and Speaking Consultations, the ARC's Writing & Speaking Fellows can help you sharpen your academic skills in a variety of areas, some of which are listed below. Drop in or schedule a one-on-one Academic Skills Coaching appointment with a Writing & Speaking Fellow on WCOnline by clicking on the Appointment button above.
*Please note: Only Global Writing & Speaking Fellows can facilitate consultations on academic skills. Please be certain you have booked a Fellow and not an undergraduate Writing & Speaking Learning Assistant by checking the tutor's biography on WCOnline or by checking the list of fellows here.
Why might you book an academic skills consultation?
You are struggling to take detailed enough notes in your classes
You frequently find yourself turning in your assignments at the last minute or late
You pull all-nighters to finish assignments
You don't know how to prepare for your tests
You want to bring your grades up but aren't sure where to begin
You don't know how to talk to your professors
You find it difficult to keep up with or contribute to class discussions
You feel you are struggling with procrastination
Fellows can work with you on the following academic skills (and more):
Note-taking
Goal-setting
Exam preparation
Time management
Communication with professors
Class participation
Please refer to the Writing and Speaking Consultation Policies when making an Academic Skills Coaching appointment.
Unable to book an academic skills consultation or need a quick refresher on major topics? Click here to access a folder of academic skills coaching resources.