There are 7 components to the NYU Shanghai Core Curriculum: Social Foundations, Cultural Foundations, Writing, Mathematics, Science, Algorithmic Thinking, and Language. Upon arrival, each student's needs in these areas will be assessed, and a program of study will be developed to address them.
Fall 2020 core curriculum course offerings can be found below. The course list is not finalized. A complete list of courses will be published and announced soon.
1 & 2 | Social and Cultural Foundations
Courses in the Social Foundations and Cultural Foundations sequences will provide students with a thematic framework within which to study influential works of diverse cultures, from the beginnings of history to the present, and from global and interdisciplinary perspectives. Students will reflect on fundamental and enduring questions about what it means to be human and how we as individuals live in society.
3 | Writing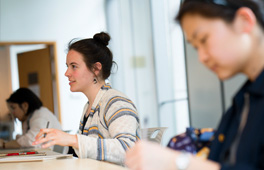 NYU Shanghai writing courses serve as an introduction to academic writing and inquiry at the university level. Students learn how to read academic, argumentative, and narrative texts closely, how to provide an interpretation supported by evidence, how to build logical arguments and develop research questions, and how to adapt their writing to different genres and audiences.
4 | Mathematics
Considered by many to be the "universal language," mathematics provides logical and analytical tools necessary for tackling many of the important problems of our time. Quantitative skills are essential for work in the sciences and the social sciences, and have applications in the humanities. They are also critical to one's ability to function and thrive in today's increasingly complex world.
5 | Science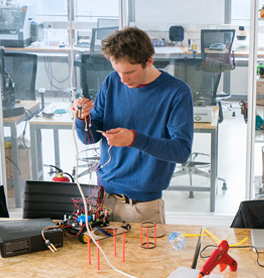 Scientific knowledge and inquiry are central to human society, and science and technology play an increasingly important role in our lives. At the heart of the natural sciences is a quest to understand the universe and who we humans are. The special feature of science is that its hypotheses can be tested under controlled conditions by appealing to evidence external to the inquirer. Thus, science provides a consistent framework for proposing ideas and testing potential answers to these questions. NYU Shanghai students will become conversant with the intellectual methods and analytical techniques that define modern science.
6 | Algorithmic Thinking
These courses have a hands-on programming component and cover basic programming concepts. All students must complete at least two credits of Computer Science courses from the Algorithmic Thinking category, either as part of, or in addition to, the course(s) they take to fulfill the Core Curriculum Science requirement.
7 | Language
Language study is central to the educational mission of NYU shanghai. All NYU Shanghai students will be expected to become fluent in academic English, the language of instruction, as is expected for undergraduates in the world's top liberal arts universities.
Your high school exam scores may be used to wholly or partially fulfill Core Curriculum requirements. Click here to see what they fulfill.
Core Curriculum Requirements 2019-2020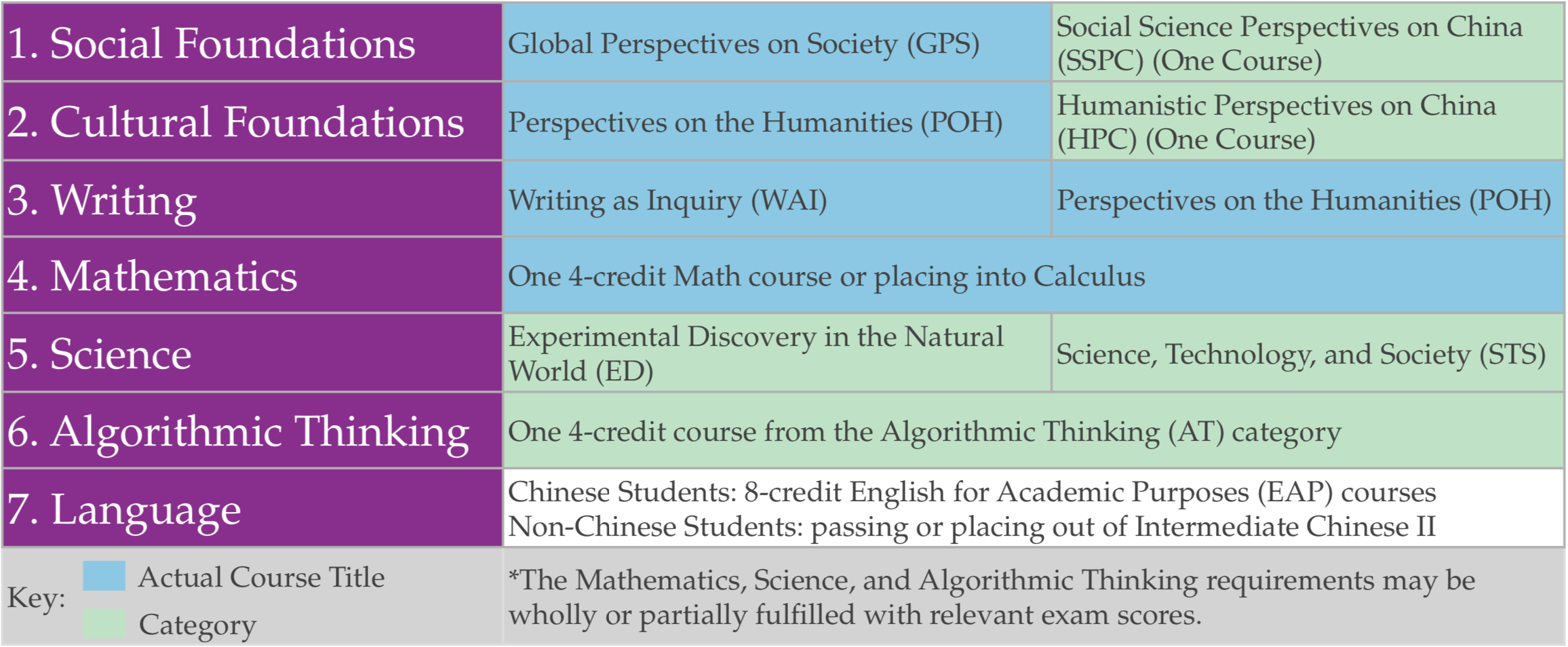 Fall 2020 Course Curriculum Courses
Note: This course list is not finalized. A complete list of courses will be published and announced soon.
Humanistic Perspectives on China/China Arts (HPC/CA)
GCHN-SHU 110 The Concept of China
GCHN-SHU 255 Eat, Pray, Ponder: Chinese Intellectual Culture through the Ages
HUMN-SHU 229 Masters of Asian Cinema
HUMN-SHU 366 Shanghai Stories
PHIL-SHU 105 Introduction to Chinese Philosophy
CCCF-SHU 128/ART-SHU 9077 Contemporary Art & New Media in China
HIST-SHU 145 Food in Chinese History
HIST-SHU 312 China Encounters the World
SOCS-SHU 254 Ethnographies of Change in China
Social Science Perspectives on China (SSPC)
ECON-SHU 238 History of Modern Economic Growth: Exploring China From a Comparative Perspective
GCHN-SHU 275 Memory Politics in China
SCA-SHU 9634 Global Connections: Shanghai
SOCS-SHU 133 Urbanization in China
SOCS-SHU 236 The Chinese Family
SOCS-SHU 254 Ethnographies of Change in China
SOCS-SHU 272 The U.S. Constitution: Is It Relevant to China?
SOCS-SHU 275 US-China Relations
SOCS-SHU 341 Cross-Strait Relations
Experimental Discovery in the Natural World (ED)
CCEX-SHU 1 Introduction to Biology & CCEX-SHU 3 Explore the Cell: from Gene to Protein
BIOL-SHU 123 FoS Biology Laboratory (2 credits)
CHEM-SHU 125 Foundations of Chemistry I & CHEM-SHU 127 FoS Chemistry Laboratory I
PHYS-SHU 11 General Physics I & PHYS-SHU 71 FoS Physics Laboratory
PHYS-SHU 91 Foundations of Physics I Honors & PHYS-SHU 71 FoS Physics Laboratory
CCEX-SHU 203 Energy and the Environment
CENG-SHU 201 Digital Logic
INTM-SHU 222 Introduction to Robotics
PSYC-SHU 101 Introduction to Psychology
Science,Technology, & Society (STS)
BIOL-SHU 30 Genetics
BIOL-SHU 261 Genomics and Bioinformatics
NEUR-SHU 265 Neural Bases of Speech and Language
NEUR-SHU 303 Introduction to Linguistics: The Science of Human Language
CENG-SHU 352 Emerging Technologies for Smart Cities
HIST-SHU 302 History of Water
SOCS-SHU 135 Environment and Society
SOCS-SHU 170 Introduction to Global Health
Algorithmic Thinking (AT) Courses
CSCI-SHU 11 Introduction to Computer Programming
CSCI-SHU 101 Introduction to Computer Science
INTM-SHU 101 Interaction Lab
INTM-SHU 103 Creative Coding Lab
Hear from Our Students About the Core Curriculum