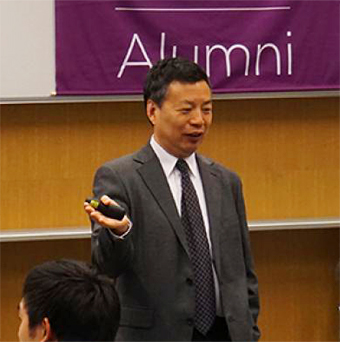 After surveying students about how they wanted to connect with NYU alumni, the CDC and the NYU Global Alumni Programs office designed the "Distinguished Alumni Speaker Series" to provide students with cutting edge industry updates from eminent professionals and develop in-depth engagement between alumni and students.
Each semester, we invite distinguished alum to speak to NYU Shanghai students about their industry experience and their career paths.
Previous Events
Session Speakers:
James Chang (Stern '01), China Consulting Leader, PwC China
Sherry Zhuang (NYUSH '17), Senior Consultant, PwC China
Callum Li (Tandon Ma '12), China Service Manager, Airbnb
Sam Chen (NYUSH '18), Analyst, Bytedance
Peng Jin (Stern BS '98), Partner, Keytone Ventures
Ronald Chan (Stern BS '02), Chief Investment Officer, Chartwell Capial Limited
Walter Tong (Stern MBA '93, Undergraduate '89), Greater China Managing Partner for Key Accounts, Ernst & Young
Wayne Lee (Stern MS '03), Business Director, Daton Securities Co., Ltd.
Will Hsieh (Stern MBA '00), Head of Regional F2P Publishing, Operations & Strategy, Electronic Arts Computer Software
Woody Wu (Stern PhD '92), Professor, School of Accountancy, Chinese University of Hong Kong