Program Background
The NYU Global Alumni Programs and NYU Shanghai's Center for Career Development (CCD) launched this program in 2014. The goal is to build up a vibrant alumni-student mentorship program that recognizes our alumni's professional achievement while helping current NYU Shanghai students get knowledge, information and perspectives from the real world and receive guidance from mentors on their future career plans.

Highlights
Increase specific industry knowledge and enhance professional communication skills by interacting with executive-level mentors from various industries such as financial services, entrepreneurship, legal services, technology, media and communication.
Broaden real-world culture perspectives and improve understanding of workplace including Mainland China, Hong Kong, Singapore, New York and others.
Gain peer support from a thriving alumni network and a community of mentors and mentees from across the Globe.
Empower personal journey and cultivate potential for career aspirations in APAC's dynamic landscape.
Program Structure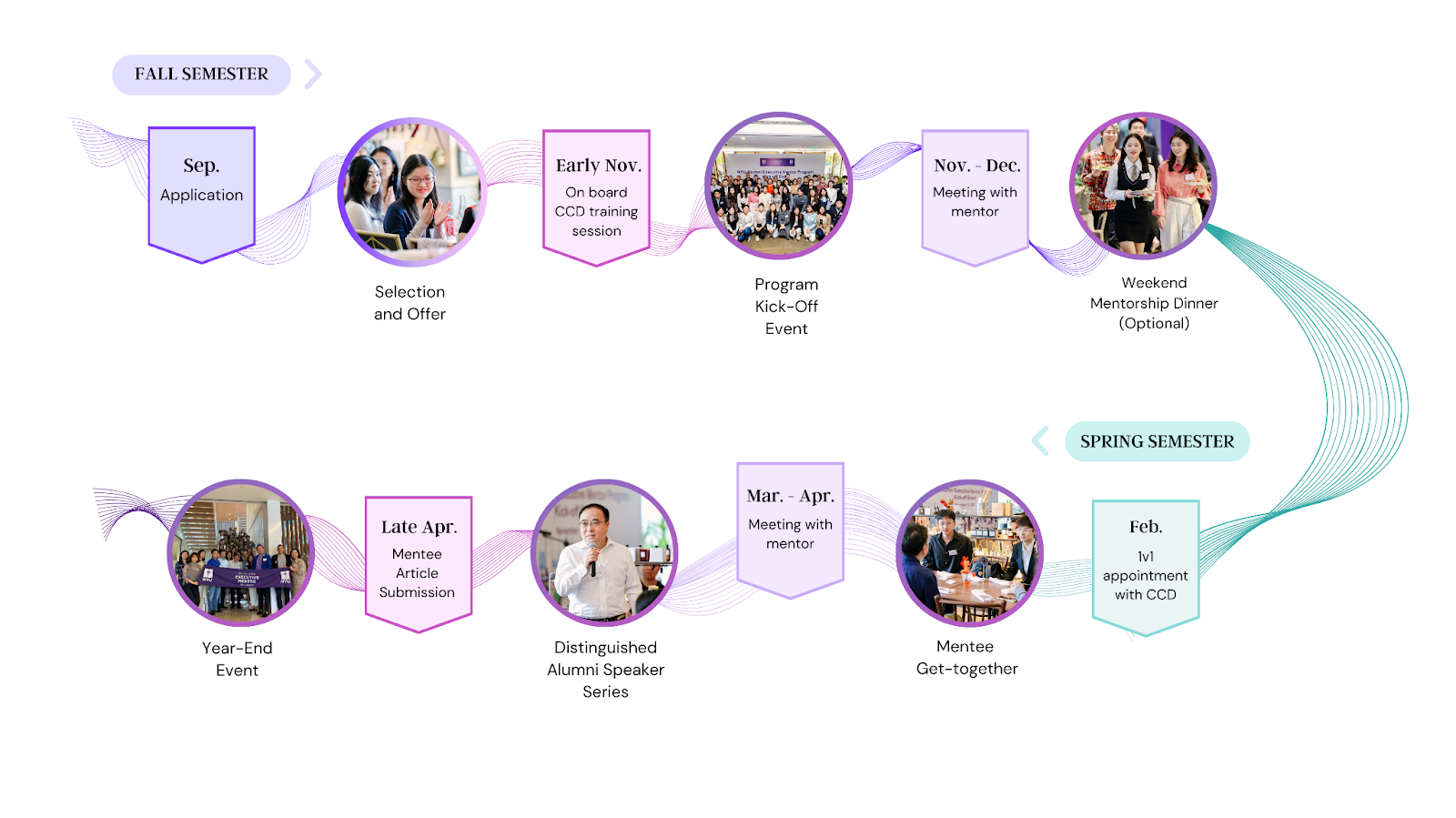 Mentee Application
Who can apply

NYU Shanghai Sophomores
NYU and NYU Abu Dhabi Students currently Studying Away in Shanghai for the whole academic year (Fall Semester + Spring Semester)

What to prepare

One-page English Resume
Personal Statement (Maximum 500 words to state mainly about your program motivation and career aspirations)
Application Form including your mentor choice and reasons (link and mentor bios will be given in September)

How to apply
Application starts in September. Applicants need to complete the online application form. Please stay tuned to CCD emails (shanghai.careerdevelopment@nyu.edu) and WeChat (ID: NYUShanghaiCDC). Successful applicants will be selected for the program and introduced to their alumni mentor via email by late October.
Mentee Experience Sharing - Mentee Storybook
Interested in participating as an alumni mentor?
Alumni can submit a one page introduction of yourself, including your name, a photo, NYU graduation school and year, current job title and employer, area of expertise, and a short professional bio. Send the above introduction to xin.wei@nyu.edu.
Thank you so much to our previous and current

Alumni

Mentors. We are extremely grateful for their generosity and support to our student mentees!
Adam Xu, Stern MBA '05
Alan Li, Stern MBA '06
Alfred Wong, Stern MBA '94
Anabela Mok, CAS '00
Andy Xia, Stern '12
Ang Zhu, CAS '04
Callum Li, Tandon '12
Carol Zhou, Stern '03
Crystal Gao, Stern '00
Daniel Li, Stern MBA '04
Danny Bao, Stern MBA '01
Derrick Miu, Stern MBA '03
Eddie Chen, Tandon '95
Edward Hsu, Law '05
Fan Zhang, Wagner '17
Felicia Li, Stern '95
Feng Ye, Stern MBA '96
Gloria Song, Stern MBA '07
Guoyao Wu, Tandon '10
Jack Huang, Stern EMBA '12
James Chang, Stern MBA '01
Jeff Wang, Stern MBA ' 02
Jesse St. John, Stern MBA '13
Jialei Wang, Courant '09
Jie Zhu, Law '06
Joshua Fu, Tisch '10
Joshua Kurtzig, Stern MBA '04
Julliet Pan, Tisch '04
Junliang Huang, GSAS '11
Lei Yao, Stern '15
Lisa Chang, Stern '99
Mark Yang, Courant '99
Michael Mi, Stern MBA '00
Michael Qi, Law '96
Peng Jin, Stern '98
Peter Koo, Stern MBA '95
Ray Lu, Stern '11
Robin Cheung, WSC '85
Shisuo Du, Post Doc
Sixin Zhang, Courant '16
Stephanie Tang, Law '04
Sydney Lai, Stern '97
Theodore Low, Stern '03
Walter Tong, Stern MBA '03
Wayne Lee, Stern '03
Wei Gu, GSAS '02
William Hsieh, Stern MBA '00
Yang Xia, Stern MBA '03
Yi Lu, Stern MBA '21 
Yimin Liu, Law  '07
Yun Zhou, Law '01
Zhen Ji, Courant '97