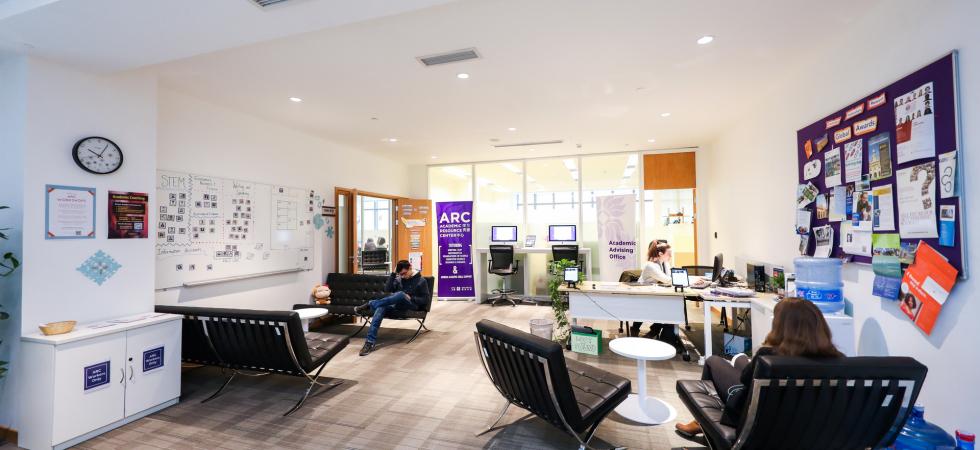 Writing and Speaking Fellowship
The NYU Shanghai Writing and Speaking Fellowship enables accomplished individuals with a passion for teaching to provide academic support and enrichment to the students who make up NYU Shanghai's multicultural student body.
Useful Links
Learn more about this 10-month teaching and professional-development fellowship.
Info Sessions
Info Sessions on Writing and Speaking Fellowship will be held at the following times:
Monday, November 29, 8:00 AM (Beijing Time)/Sunday, November 28, 7:00 PM (Eastern Standard Time)

Monday, December 13, 9:00 PM (Beijing Time)/Monday, December 13, 8:00 AM (Eastern Standard Time)
Anyone interested should sign up no later than 24 hours in advance and will receive the link to join before the session.
Frequently Asked Questions
What is the Fellowship?
The NYU Shanghai Writing and Speaking Fellowship enables accomplished individuals with a passion for teaching to provide academic support and enrichment to the students who make up NYU Shanghai's multicultural student body.
The primary responsibility of the Fellow is to provide academic tutoring and support. In addition, Fellows develop their leadership, project management, and intercultural communication skills by providing curricular and co-curricular support. This might include mentoring student groups, developing support for students pursuing careers/graduate school, or launching new initiatives that contribute to intellectual life on campus. Fellows are immersed in a pioneering model of international higher education. Fellows are also invited to complete an independent writing project over the course of the academic year, with mentorship from a member of the NYU Shanghai Faculty.
Who is the ideal Fellow?
The Fellowship is designed for high-achieving young professionals from a variety of disciplines with an interest in education, leadership and cross-cultural communication. Fellows have a demonstrated dedication to student learning and achievement and an interest in teaching. For more information please see the biographies of current Fellows here.
What are the application materials?
To apply for NYU Shanghai Global Writing & Speaking Fellowship, candidates need to submit the following six application materials:
Cover Letter
Resume (A resume is sufficient even though the application portal Interfolio may ask for a CV.)
Three letters of reference (two should be from faculty or research supervisors - Letter writers can still submit recommendation letters after the application deadline, but please encourage recommenders to submit as early as possible.)
Transcript (Bachelor's and, if applicable, Master's - Unofficial transcripts are accepted during the application phase; official transcripts will be required if admitted.)
Five-page sample of recent academic writing (may be an excerpt from a longer paper)
Essay responses with regard to teaching, English as a second language, professional development, etc. (Please see details here.)
What sorts of professional development opportunities does the Fellowship offer?
Fellows hone professional skills through a rigorous training and orientation program prior to the start of the fall term and ongoing professional development throughout the year. By working closely with faculty members, Fellows have the opportunity to deepen their knowledge in a particular subject area and develop their skills as teachers. During the program, Fellows are given dedicated time to pursue a personal project with faculty mentorship. Projects can range from research to creative writing to program initiatives that help meet a need in the university.
Fellows have gone on to pursue a variety of educational and professional paths. For example, some have attended graduate programs at institutions such as NYU, Columbia University, Harvard University, UC Berkeley, and Yale University. Others have been inspired by their experience and have chosen to pursue careers in higher education administration at NYU and beyond.
Are there any other additional requirements?
Under the regulation of Chinese Laws, candidates can be Chinese citizens or native speakers of English. The admission of the Fellowship is subject to the Chinese Local Immigration Policy.
It's ideal a non-Chinese candidate will obtain a physical diploma by the end of May 2022. If not, the immigration process may be delayed by two months.
Accepted candidates with fewer than two years of continuous formal teaching experience may be required to complete TEFL training prior to the beginning of the Fellowship. Expenses related to certification will be reimbursed by NYU Shanghai. If you have any questions, email shanghai.writing.fellowship@nyu.edu .
What is the application process and timeline?
| | |
| --- | --- |
| Time | Events |
| January 9th | Application submission deadline |
| Early February | First round interviews with the ARC professionals |
| Late January to mid-February | Second round interviews with faculty |
| Mid-March | Applicants notified regarding selection |
Finalists will be notified after second-round interviews have been held.