NYU Shanghai Celebrates Graduation of Class of 2019
May 30 2019
NYU Shanghai returned to the Shanghai Oriental Arts Center May 30 to hold its third commencement in a ceremony that was livestreamed to audiences around the world. 270 graduating seniors hailing from 27 countries, including 140 Chinese students from 26 provinces across China, received both bachelor's degrees from NYU and NYU Shanghai diplomas.
Commencement speaker and Co-Founder of E-commerce China Dangdang, Inc, "Peggy" Yu Yu, Stern '92, encouraged the new graduates to take advantage of their youth and explore the world.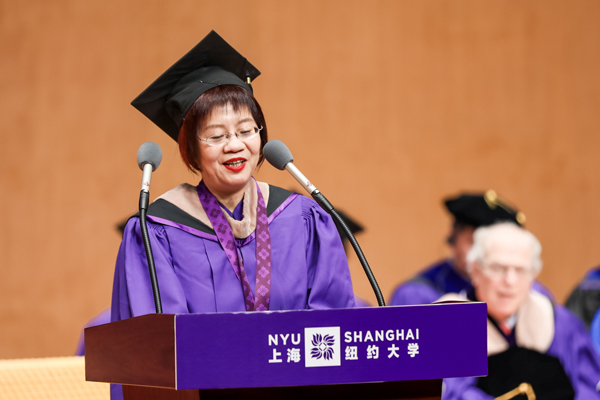 "There is an English expression that says 'Youth is wasted on the young.' But in my mind, youth is meant to be wasted on the young," Yu said. "Spend time wandering around, reading, observing, accumulating knowledge, and capabilities. Allow yourself to be confused and allow yourself to make mistakes."
Led by banner bearer, Hu Wenqian '19, and torch bearer, Liu Tianwei '19, the Class of 2019 entered the hall to cheers from family, friends, faculty, and fellow students.
Student representatives Anthony Comeau '19 and Qu Jiayun '19 reflected on their four years as NYU Shanghai students.
"We went to Guizhou and Cambodia with [the Dean's Service Scholars] program to help the local students and teachers. During our study away, we interned at NGOs, providing English classes for local elementary schools and speaking up for journalists suffering from difficulties," Qu said, underscoring her classmates' commitment to public service and social justice. "We are world citizens, and we are ready to go to every corner of the world with NYU Shanghai's pioneering and all-inclusive spirit."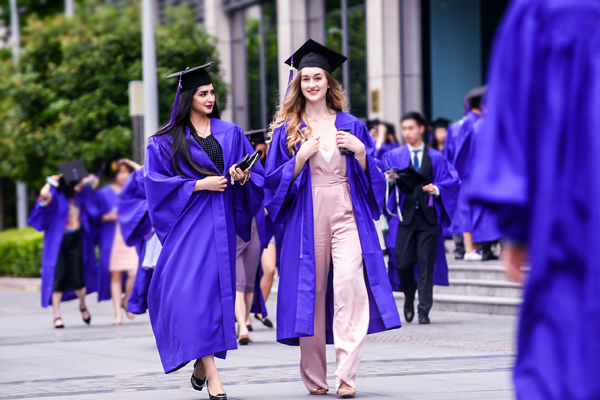 Students walking to Shanghai Oriental Arts Center
Comeau recalled the collective memories he has shared with his fellow graduates, from ordering bubble tea together to learning a new language from each other. He shared a Chinese phrase he learned in class, "玉不琢,不成器,人不学,不知义", which means "if jade is not polished, it cannot become useful; if people do not study, they will not know their duty to others."
Comeau said, "For us, living out the values of a 21st century liberal arts education has meant polishing ourselves in and beyond the classroom. And NYU Shanghai's particular goal of global understanding has meant questioning the very idea of 'the other'."
As he concluded, Comeau exhorted his fellow graduates "to find a golden mean between the individual and the collective; to carve for and out of ourselves a beautiful piece of jade, and to take the interpersonal connections of NYU Shanghai and let them guide us in becoming lifelong learners for ourselves, our nations, and the world."
Members of the Class of 2019 will be headed to work or continue their studies all around the world. They have won highly-competitive scholarships such as the Knight-Hennessy Fellowship, the Yenching Scholarship, and the Princeton in Asia Fellowship. Others are joining the workforce - in multinational companies such as Citibank, Proctor & Gamble, Baidu and Alibaba or non-governmental organizations such as the Institution of New Economic Development in Chengdu.
Following the students' speeches, Chancellor Yu Lizhong praised the graduating class for being the pioneers in their generation.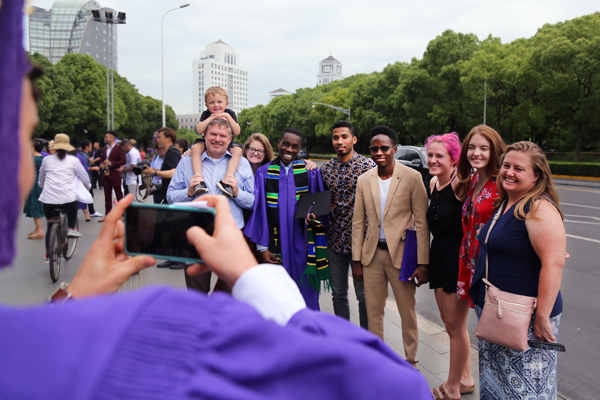 Families and friends came from all over the world to support their graduates.
He reminded the young graduates what he said when they first arrived in Shanghai four years ago: "What I would expect more from you is that you could connect [your] 'dream' with the 'dream of human beings' and the 'dream' of the world. By doing so, you will make your own dream more meaningful and influential."
Yu also thanked Shanghai Municipal Education Commission and Pudong Government for their generous support and help.
One thing special about the class of 2019 is that it is the last class of NYU Shanghai students to whom Vice Chancellor Jeffrey Lehman taught NYU Shanghai's signature course, Global Perspectives on Society (GPS). Lehman revisited a question they discussed in their final GPS class two months ago, "what makes a life worthy, purposeful, and flourishing?" and proposed eight things students could do to lead flourishing lives of worth and purpose after graduation.
"May you know enough bad weather that you never take sunshine for granted, and enough weather like today that your faith in the coming of spring is never shaken," he added.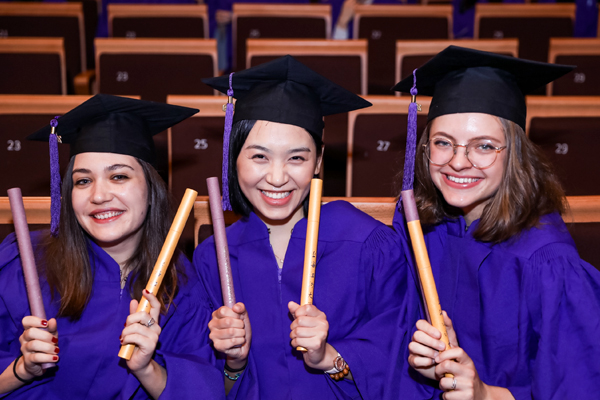 Krista Bolton '19, Miki Bin Xue '19, Savannah Billman '19 hold up their bachelor's degrees from NYU and NYU Shanghai.
Before joining Chancellor Yu Lizhong to confer the degrees, NYU President Andrew Hamilton congratulated the class of 2019. "NYU Shanghai has grown into one of the most exciting universities in China. With rigorous academics; a unique blending of Chinese, American, and international cultures and traditions; a liberal arts curriculum that helps develop nuanced and well-rounded leaders; world-class faculty and top-notch research centers -- NYU Shanghai contributes enormously not only to NYU, but also to cultural understanding across the globe," he said.  
Quoting both Mao Zedong and John Keats, NYU Shanghai Provost Joanna Waley-Cohen acknowledged the contradictory feelings the graduates likely felt at the ceremony - and reassured them of NYU Shanghai's continuing role in their lives. "Today marks the dreaded yet much anticipated end of your four years at NYU Shanghai, at the same time as it marks the dreaded yet much anticipated beginning of the next phase of your life…. [NYU Shanghai] will go with you... wherever you are and whatever you do."
On the evening of May 29, Shanghai's iconic landmark--the Oriental Pearl Tower, was once again lit up in violet in honor of NYU Shanghai's class 2019. The ritual mirrors the same ceremony that takes place each year at the Empire State Building to salute NYU's graduates. Three cruise ships on Huangpu River were also dressed in violet light to celebrate the joyous occasion from May 28 to 30.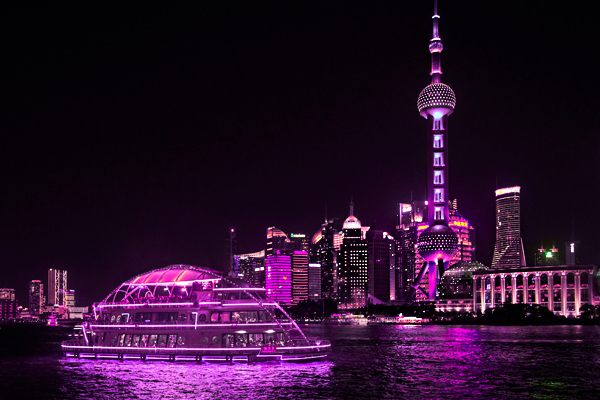 --
Watch: Class of 2019 Tribute Video,  Congratulations, Class of 2019
​See: Photos from Class of 2019 Graduation Day
Graduation Speeches:

Vice Chancellor Jeffrey Lehman
Chancellor Yu Lizhong
Provost Joanna Waley Cohen
NYU President Andrew Hamilton
Peggy Yu Yu, Commencement Speaker
Anthony Comeau '19
Qu Jiayun '19
Senior Spotlights:
Anthony Comeau '19,  Muddassar Sharif '19,  Shirley Zhao '19,  Victoria Rusu'19,  Savannah Billman '19, Honey Lera '19,  Huang Qi '19,  Yang Xiaohan '19, Jackie Hu '19
Senior Awards:
First NYU Shanghai Student Awarded Knight-Hennessy Fellowship
NYU Shanghai Senior Selected as 2019 Schwarzman Scholar
NYU Shanghai Senior Wins Yenching Scholarship from Peking University