Qu Jiayun '19 at Commencement 2019
Jun 3 2019
Chancellor Yu, Vice Chancellor Lehman, President Hamilton, distinguished guests, families, friends and our one and only NYU Shanghai Class of 2019! 
Dobrý den! Hola! Ciao! Bonjour! What's up! Dajiahao!
You all seem a little bit tired, so let's start with a trivia question to get some energy back. Here we go! NYU Shanghai Class of 2019 Commencement Ceremony question number one: How many different languages were there in my greeting just now? 3...2...1…. The answer is: Six.
For everyone seated here, this questions should have been a piece of cake. After three years of study at NYU Shanghai and one year of study away, many of us have more or less become familiar with hearing foreign languages, even if it's just a simple hello. We are no longer afraid to communicate with individuals from other countries, even if we are just speaking simple Czech or Spanish aided by gestures. We are from countries all over the world, and we are bound for unexplored lands around the world.
Today, I hope to review with you the experiences we have shared over the last four years, and look back at the memories that we have created together at NYU Shanghai.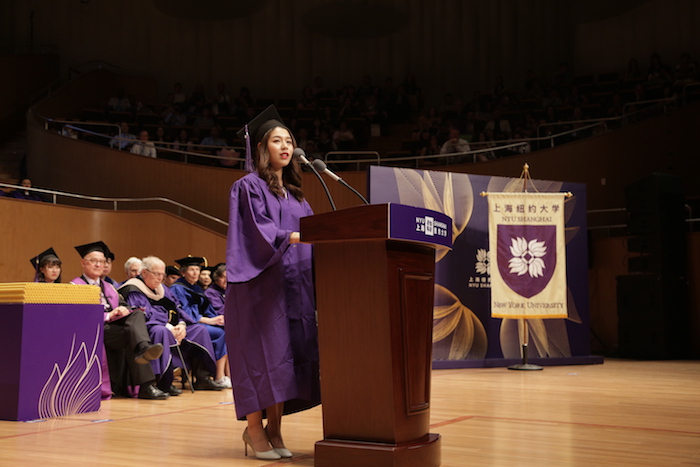 Four years ago, "Make the World Your Major" was just a lofty slogan for us. "Cosmopolitan" was a concept we had never heard of before--a difficult and incomprehensible concept, and probably one of the most important chapters that we covered in GPS.
Right now, we are not only familiar with the meaning of these concepts, but also have practiced "personal responsibility for the world" through our actions, and made the world our classroom.
We went to Guizhou and Cambodia to plant trees, build playgrounds, and help local students and teachers through the Dean's Service Scholars program. We interned at NGOs while we studied away, providing English classes for local elementary schools and speaking up for journalists. We are world citizens, and we are ready to go to every corner of the world with NYU Shanghai's pioneering and all-inclusive spirit.
Four years ago, "For Class" assignments were one of the most troublesome items on our weekly "To Do List", but at the same time, they were a bond to promote academic exchange. "Gao Wenzhong wants a bowl of beef ramen," was the first elusive Chinese sentence to learn for our international roommates, but also marked the beginning of the cross-cultural communication. In the blink of an eye, we have become the last class of students taught by Vice Chancellor Lehman in GPS. And as the first class to live in the Jinqiao dormitories, we are about to graduate.
4 years ago, we 听不懂 [Translation: Couldn't understand] what was taught in Elementary I Chinese or EAP (English for Academic Purposes). Four years later, we have a command of Chinese and can talk fluently with 师傅s [Translation: Drivers] and 阿姨s [Translation: Cleaning ladies], and even ask Eleme guys "您是在世纪大道这个门吗?" [Translation: Are you at the Century Avenue entrance?]
Four years later, we have mastered video editing techniques and debating skills. We have made it through probably the most arduous four years in our life thus far, but simultaneously we've achieved things that can make ourselves and NYU Shanghai proud.
From The Brain [a Chinese scientific reality and talent show] to the Stanford Knight-Hennessy Scholarship, from the Bain Cup National Final to the Unilever FLL Global Final. While we are adding color to our own life experiences, we are also telling more people about our school and adding to the history of NYU Shanghai.
Four years of college life have finally come to an end. Soon, we are going to embrace the beginning of a new chapter. Thanks NYU Shanghai, for offering us the opportunities and challenges that enabled us to experience both the joy of creating success and the hardship of solving difficulties. We have experienced changes and innovations while growing together with this university, and we have come to realize our own value through the process of trial and error. Thanks NYU Shanghai, for giving us the courage and confidence to move forward fearlessly towards our future.
In that future, if we return to Shanghai, perhaps our university will no longer be "triple-six," the 6th station from Jinqiao, Line 6, Exit 6. However, I believe that whenever we are, NYU Shanghai will be our eternal home, providing us with support and encouragement, and illuminating the way forward. Wherever we are, we will always carry the spirit of NYU Shanghai. We will not be afraid of hardships, we will encourage each other, and create the future we want to see.
I hope that in the days to come, when we look back on these four years, we will forget about the tiring schoolwork, the always crowded shuttle buses, and long queues for the hallal line during lunch. But instead, we will still remember the violet lights shining on the Century Avenue over the long nights we spent in the academic building, the laughter we shared at the BBQ stand and grilled fish restaurant outside the Jinqiao dormitories, and all of our classmates, friends, professors and staff who have supported and accompanied these last four years.
For many of us, the four years spent in NYU Shanghai have been the most splendid four years in our life so far, but I also believe that we can continue to find splendor in our lives. We will take the shining lights of this school and this city with us, and use them to light way towards the future.
Congratulations to the Class of 2019! Happy graduation, we made it. Thanks everyone!
--
More speeches from the ceremony:
NYU President Andrew Hamilton
Chancellor Yu Lizhong
Vice Chancellor Jeffrey Lehman
Provost Joanna Waley Cohen
Peggy Yu Yu, Commencement Speaker
Anthony Comeau '19