Chancellor Yu Lizhong at Commencement 2019
Jun 3 2019
"Dear graduates, family members, faculty and staff, distinguished guests:
Once a year, this is the third commencement at NYU Shanghai. Class of 2019 graduates are going to leave school soon and will work or keep studying in various places to discover a world of new opportunities. First of all, I would like to extend my congratulations to you, graduates of Class 2019. At this moment, as an old man who has accompanied you for 4 years, I am getting emotional. I am proud of the achievements you have obtained, and at same time I feel sentimental for your leaving. Actually, something I really want to repeat is: "We are making the history together," no matter in the past, at present or in the future. NYU Shanghai is an experiment of international cooperation on higher education in the era of globalization. It is a proactive exploration for educational reform and innovation at present. Whether it is successful? Whether it has achieved the expected goals? To answer these questions depends on you, our graduates, on your insights into life upon graduation, on your contributions to our society in the future.
Although you are the third class of NYU Shanghai, to my point of view, you are also a group of pioneers—you are willing to take risks and explore possibilities. To study and live in a multi-cultural environment and become a member of global community, almost everyone was confronted with so many difficulties and challenges. Some students had never left their home countries or even hometowns when they came to study here. Most of you did not have the chance to get along with schoolmates from diverse cultural backgrounds, to communicate with them on various topics. Most of you did not have such enriched learning experience until you came here.
Studying and living in the multicultural environment of NYU Shanghai, you have learned to deepen your understanding of the world. Breaking down the cultural barriers, seeking common ground while reserving differences, building trust and cooperation, you have established profound friendships among each other and become the bond connecting China with the rest of the world.
Being encouraged, inspired and guided by your professors, you have not only mastered professional knowledge and skills, but also fostered academic integrity, independent thinking and humanistic spirit. You have broadened your horizon, improved the ability to learn and make choices, developed global competencies, and discovered the goals and paths in your life.
You have made use of every chance to fit into the society, to explore and learn in practice, to proactively participate in various scientific researches, internships, social services, and volunteer services. During the process, you have proved your talent, earned honor and enhanced your sense of responsibility and mission.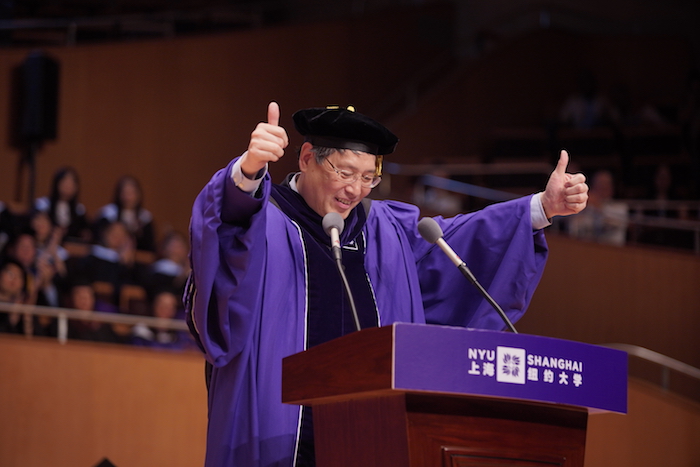 Now it's time to say goodbye to your college life. We all have mixed feelings. Four years passed by so fast, you may feel reluctant to leave your school and classmates. Although we are even more reluctant to part with you, we know it is the right time to let go for you to find your way in the world. I believe that you will be remembered and missed by all faculty and staff and your junior schoolmates. We will miss you not only for your excellence but also for your braveness in exploring new possibilities and willingness in taking risks. By living up to your ideals and ambitions, you have embodied the concepts, quality and standards of NYU Shanghai.
Everyone has their own beliefs and values. And we hope all of you could lead your life with positive attitudes, and shoulder the responsibility to promote the advances and continuous development of human civilization. About one month ago in Boston and a few days ago in New York, I met quite a number of alumni of NYU Shanghai. Some of them are still studying their postgraduate programs. Some already graduated and found a job there. When they recalled their college life here, they felt emotional and the memories were still vivid before their eyes. The global education they received here makes them more capable of handling various situations on the journey to realize their life values. And for all of you, I believe no matter where you will be and what job you will take, you will continue to be part of NYU Shanghai's history, and continue to create the glorious history of your own. Your experiences of growth are the vivid cases for the transformation and development of higher education.
We are living in a rapidly changing world. The world needs a number of creative talents with global vision, who understand multi cultures and who prefer and good at cross-cultural communication and cooperation. We wish you could carry forward NYU Shanghai's academic spirit of independent thinking, innovation and creativity as well as its cultural spirit of openness and inclusiveness. We expect that you could make contributions to the advance of human beings and our society, to realize your value and shoulder your responsibility. Therefore, the value of NYU Shanghai's explorations will be recognized by more and more people.
On behalf of NYU Shanghai, I would like to extend our most sincere congratulations to our Class of 2019 graduates. I would also like to thank each and every parent for your high sense of recognition with our university and full support for your kids, thank the faculty and staff of NYU Shanghai for your devotions, thank Shanghai Municipal Education Commission and Pudong Government for your support and help, thank the philanthropists and entrepreneurs for your generous donations and our thanks to all who made contributions to creating this unique university. NYU Shanghai will give back to the society with remarkable achievements.
Graduates, think back to 4 years ago, do you still remember my best wishes for you on your opening ceremony? Here I would like to repeat my words at that time: "I hope all of you have a wonderful dream, to make every effort for your dreams, and to connect your own dream with the dream of human beings and the dream of the world!"
Today, I could say for certain that you are now having a beautiful dream and you will make every effort for your dream. And what I would expect more from you is that you could connect your "dream" with the "dream of human beings" and the "dream" of the world. By doing so, you will make your own dream more meaningful and influential.
Congratulations, Class of 2019!"
--
More speeches from the ceremony:
NYU President Andrew Hamilton
Vice Chancellor Jeffrey Lehman
Provost Joanna Waley Cohen
Peggy Yu Yu, Commencement Speaker
Anthony Comeau '19
Qu Jiayun '19