NYU Shanghai Senior Selected as 2019 Schwarzman Scholar
Dec 5 2017
NYU Shanghai senior Nofar Hamrany has been named a 2019 Schwarzman Scholar, an honor that will support her further study for a master's degree at Tsinghua University in Beijing.
Mandy Tan, a 2015 graduate of NYU Abu Dhabi with a bachelors in Economics, Alex Kamath, a 2013 graduate of NYU with a bachelors in politics, Anthony Wang, a 2015 graduate of NYU Stern School of Business and Fei Peng, a 2017 MBA graduate of NYU Stern School of Business, are also among the 142 chosen from an applicant pool of over 4,000 candidates this year.
Schwarzman Scholars, founded by Blackstone Chairman, CEO, and Co-Founder Stephen A. Schwarzman, selects an annual cohort of Chinese and international students for a year of study and cultural immersion in Beijing, developing a better understanding of China. The Scholars are selected on the basis of academic aptitude, intellectual ability, leadership potential, entrepreneurial spirit and other attributes that demonstrate the desire to understand other cultures, perspectives and positions. The Class of 2019 is comprised of students from 39 countries and 97 universities with 41% from the United States, 20% from China, and 39% from the rest of the world.
Hamrany, a 25-year-old from Israel, is majoring in economics and minoring in Chinese language at NYU Shanghai. Her interest in China and political leadership burgeoned and grew from 2011-13, while she was serving in the Foreign Relations Division of the Israel Defense Forces, responsible for coordinating military activities with foreign forces to resolve incidents along the Israeli-Egyptian border.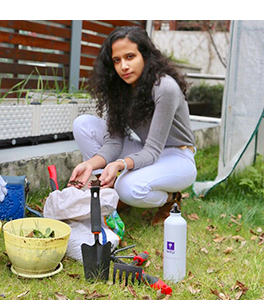 "During my military training, I learned about China's role in the Middle East and its growing relations with Israel. I wanted to understand more about this rising global leader. That's why I chose to attend NYU Shanghai, and I am looking forward to learning more as a Schwarzman Scholar," she said.
An environmental enthusiast, Hamrany has been leading Green Shanghai, an active environmental organization of the University, and has co-founded GoGreen Week, an annual series of environmental events on campus that encompasses the first Sustainable Development Conference at NYU Shanghai. She is currently a research intern at Shanghai's Alliance for Water Stewardship.
"As president of Green Shanghai, I was able to establish long-lasting and meaningful initiatives on campus, in China and around the world to not only raise awareness, but act to solve issues that affect the life of every human being," said Hamrany, who was also among the 12 finalists for this year's Israel Rhodes Scholarship.
Drawing together environmental, military and political perspectives, Hamrany aims to bring questions of scarcity, international relations, and technological innovation to the forefront of conflict resolution and security efforts in the Middle East - research that she plans to continue with the Schwarzman program at Tsinghua University.
Last year, two graduates of NYU Shanghai's inaugural Class of 2017, Roxanne Roman and Jacko Walz, were also awarded the coveted scholarship.
Please click here to view the full list of Schwarzman Scholars and find this year's official press release here.
An Interview with Nofar
The Gazette spoke to Nofar shortly after the announcement of the 2019 Schwarzman Scholarship; see how she responded to the wonderful news:
-What does the winning of the Schwarzman Scholars fellowship mean to you?
I first heard about the Schwarzman Scholars program two years ago, and I knew it was made for me. I spent two years planning, four months working on the application, one month waiting for notifications and preparing for interviews, and two weeks awaiting a final decision. Receiving the Schwarzman Scholarship for me was about setting a goal and achieving it. And by achieving it, I now have the program's outstanding resources to gain the skills I need for pursuing my life goal: resolving conflicts in the Middle East.

-How do you foresee this opportunity contributing to your personal development, future goals and broadening your perspectives?
Being a Schwarzman Scholar will provide me a unique opportunity to explore environmental security and develop a concentration of Global Environmental Politics under the International Relations track. In combination with the leadership-focused core curriculum, the Schwarzman program will help me become the Israeli environmental and political leader I aspire to be.
-Has your experience at NYU Shanghai equipped you with the qualities exemplified by the Schwarzman Scholarship, and how?
NYU Shanghai gave me the opportunities to lead and shape our university and community. As president of Green Shanghai, I was able to establish long-lasting and meaningful initiatives on campus, in China and around the world. Taking advantage of studying abroad in Washington, D.C., I polished my leadership skills through the Global Leadership Scholars program through examining leadership case-studies and interning at the Hudson Institute. Returning to Shanghai this year, I started interning for the Alliance for Water Stewardship, with the help of the Career Development Center, creating and implementing programs to protect water resources in China. NYU Shanghai has equipped me with the tools and experiences that enable me to see the importance of China in every field and thrive as a leader - what Schwarzman Scholars is all about.