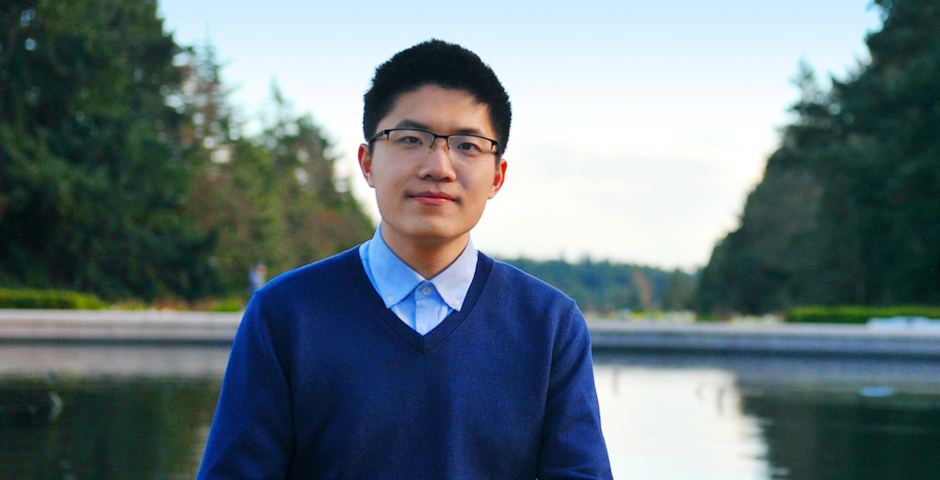 Guangzhou native Huang Qi '19 almost missed the deadline to apply to NYU Shanghai. With just a week until the application deadline, Huang's mother, who worked at a university in Guangzhou, found out about this new Sino-US university in Shanghai and suggested he apply.  "It was a bit of a slapdash affair," Huang says. "I started researching everything I could about NYU Shanghai, and was finally able to turn in my application on time."
Four years later and preparing to graduate with a degree in data science later this month, Huang says he's very grateful he made the deadline. When he applied, he knew he wanted to find a "road less traveled" for his journey into higher education. "For most Chinese students, it feels like there's a clearly marked path ahead--step one, score high on the entrance exams, step two, choose a popular major at a well-ranked university, step three, find a good job. But that's not what I wanted. I wanted to find my true passions, and to try everything."
At the time, Huang was also thinking about attending university in Hong Kong, but he chose NYU Shanghai because of "the friendly, accepting, and vibrant people I met on Candidate Weekend. It gave me great expectations for the possibilities I would find at this school. After that weekend, I knew, if NYU Shanghai accepted me, I would go."
The English environment at NYU Shanghai was one of Huang's greatest challenges during his freshman year. "I spent massive amounts of time on reading and speaking during that first semester," says Huang, remembering how much he grappled with an elective course about the relationship between government and religion, taught by then-NYU President John Sexton.
Huang says the course explored the First Amendment of the US Constitution, which establishes freedom of religion, as well as the separation of church and state. "It was a rigorous course. [Sexton] asked us to read court rulings on cases involving religion from the 1940s to the 21st century, and then asked us to write our thoughts," says Huang. "So we were reading around 300 pages a week, and writing 1,500 word essays." Huang says the pressure made him grow. "I learned how to read critically, and look at an issue objectively, from different perspectives. I learned how to raise questions, and seek evidence for my assertions."
Huang says his most treasured memory of the course came on the last day. "Each of us had to go to the front of the class, and engage in a minute and a half debate with President Sexton himself." Huang said, "He had written an essay titled 'Toward a Constitutional Definition of Religion,' for the Harvard Law Review, and we were tasked with finding a point of disagreement, and defending our argument." Huang says he will always be proud to say he debated John Sexton - and won.
In his first weeks at this university, Huang says he made a promise to himself to speak more English. The half international, half Chinese student body, as well as his international roommate made it easy to meet his goal.
"My roommate Luca Conti was from Rome, Italy, and I happen to be fascinated with history and international relations. I had read many books on European history, so I used that as a conversation starter." Later, Huang says he and his roommate became fast friends, and their conversations ranged beyond history, to every topic under the sun.
After their third years studying abroad, the two have spent their senior years as roommates once more. "You find your perspectives being constantly challenged, with your roommates and your classmates. You end up reflecting, constantly," Huang says. "I came to understand that it's normal to have different ideas and experiences when you come from different cultures, but the most important principles are equality, mutual understanding and respect, and acceptance."
Huang is a data science major and a computer science and mathematics double minor. He says it wasn't easy to arrive at this unique "configuration."
"I thought I liked business. Also, I wasn't quite sure how economics and finance were different, so I chose to major in economics in my second semester here. Then I took some finance classes, and switched to finance in my sophomore year." After deepening his studies, Huang realized he wasn't passionate about finance.
Huang had taken an Introduction to Computer Science course with Professor of Computer Science Zhang Zheng, and decided to explore the discipline further by doing research with Professor Zhang. Finally, in the second semester of of his sophomore year, Huang settled on a major in data science. "NYU Shanghai doesn't make you choose a major [right away], which gave me room to make mistakes. If I had attended a Chinese university, it would have been nearly impossible for me to keep experimenting to discover my true academic interests."
Besides sampling courses from various majors, Huang says his research, internship, and extracurricular experiences also helped him find his way. After graduation, he will pursue a master's in computer science at the University of Texas at Austin.
"Since my sophomore year, I and several of my classmates started doing research with Professor Zhang Zheng," says Huang. "I'm so grateful for the direction and support he gave me."
After Huang returned to Shanghai for his senior year, Zhang, who is now also the Director of Amazon Web Services' (AWS) newly-opened Shanghai Artificial Intelligence Lab, gave Huang an opportunity to continue supporting his research at AWS. "He let me write models for the deep learning framework he was developing, which I find deeply fascinating."
Outside of the classroom, Huang put himself up for every internship and practical experience he could find. During his sophomore year, he helped organize the 24 hour hackathon "HackShanghai," and managed the budgeting and financing for the event. In 2016, Huang also led a five-person team to victory in the "Design a Toilet Hackathon" co-sponsored by Kohler and Collective Responsibility.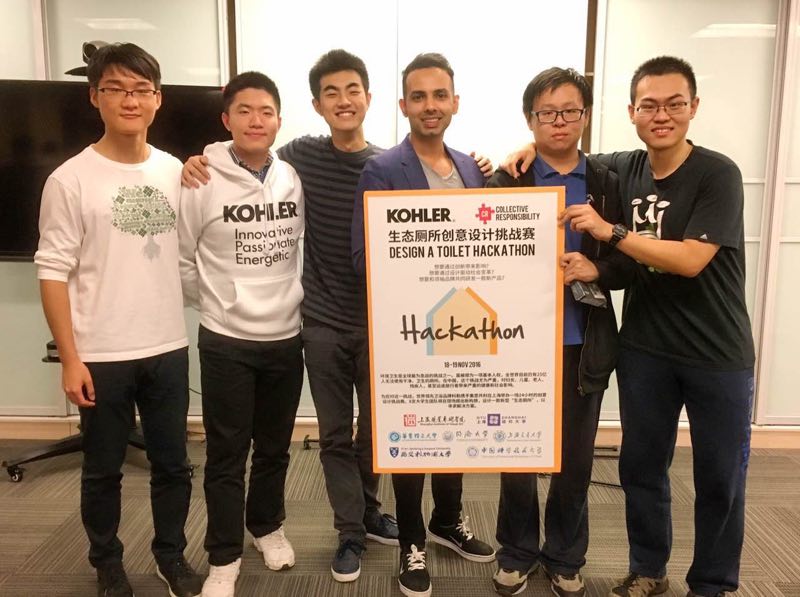 In 2016, Huang Qi led a five-person team to victory in the "Design a Toilet Hackathon" competition.
During his year away in New York, Huang attended a career fair organized by NYU Tandon School of Engineering. "I knew the odds of finding an internship as a newly arrived international student were slim, so I went without too many expectations, just to give it a try," say Huang. In the end, the fair connected him with an internship at GPU and system on a chip manufacturer, Nvidia.
Huang thinks he locked down the internship because of the efforts and training that had been built into his education in Shanghai. "I learned to express myself in class, learned to live in a diverse environment, and learned how to apply knowledge to practice. All of these things taught me how to convey who I am in a short period of time, and also gave me the courage to speak to people from different backgrounds," says Huang.
"If it hadn't been for a gradual accumulation of soft and hard skills, I don't think I could have spoken so freely on that day at the career fair."
Last summer, Huang joined Nvidia's autonomous driving research team in New Jersey. "My fellow interns were from Canada, India, South Korea, and other countries. It felt like I was back at NYU Shanghai, so there wasn't much to get used to, and it was easy to put myself in their shoes and think from their perspective," Huang said.
Before studying away in New York, Huang says he had never left China. "It was a year of rapid growth for me. I learned to live on my own, and I made a lot of friends at NYU. We went out together and studied together. Through them, I attended a coding competition at Google."
Huang says he never would have chosen the University of Texas at Austin if his horizons had not been expanded so remarkably in his four years of undergraduate study. "UT is not a name that's bandied about in Chinese circles," says Huang. "The four years at NYU Shanghai have really turned me into something of a 'global citizen,' in that, I know I'll be fine wherever I go so I'm not limited by location. I know how to explore, and I know how to appreciate, so I can adapt to life anywhere."
--
Meet other Class of 2019 seniors: