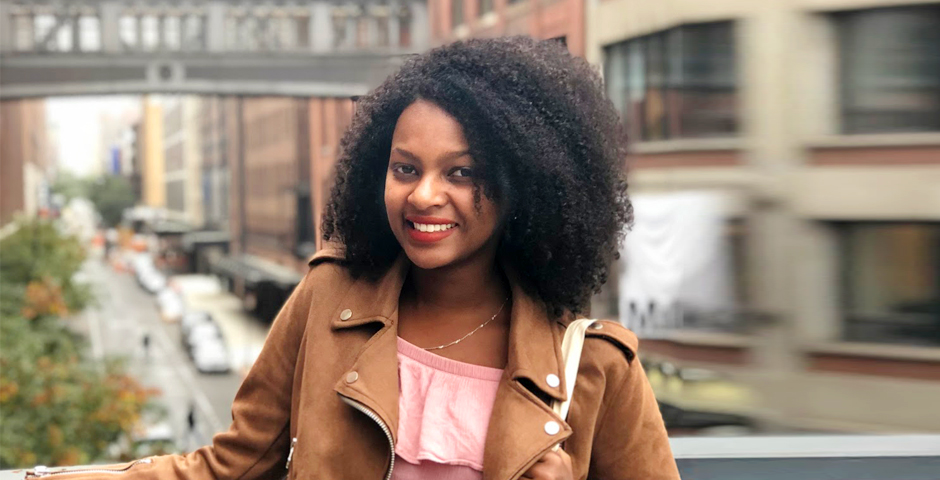 Since the age of three, Honey Lera '19 has traveled far from home in pursuit of a better education. This fall, after four years at NYU Shanghai, she'll be journeying even further, as she pursues graduate studies in cancer and tumor biology in the United States.
But home has always been at the forefront of her mind. Since high school, Lera has been set on studying medicine overseas, with the goal of returning to Ethiopia as a doctor.
"I want to do research in cancer, because there is a lot more to be done. Not only are chemotherapy and radiotherapy very detrimental to the human body, but when it comes to the developing world, access to these treatments is very difficult, if not impossible," she says. "In Ethiopia, the go-to solution is surgical removal of the affected organ or area, which is very problematic when it comes to brain cancer or leukemia. So I want to find better ways to reduce the risk of cancer, learn about the genes that cause tumors and how to manipulate them."
Lera, a biology major, was born in the town of Wolaita Sodo, Ethiopia. By the time she turned three, her parents decided to send her 150 km away to live with family in the city of Hawassa and attend better schools.
"My parents traveled every weekend to see [me and my sister]. My dad still commutes every weekend," says Lera. "They would tell me, 'you are here for educational purposes,' so I have always kept striving for opportunities to better my learning."
Lera says she felt limited by teaching methods employed at home.
"I want to study abroad because education in Ethiopia is mostly rote memorization," says Lera, "We don't have a lot of research programs where you ask open-ended questions and search for answers."
When NYU Abu Dhabi admissions officers visited Lera's high school, she was intrigued. "I thought, 'Wow, NYU really wants to diversify their student body,' so I applied to both NYU Abu Dhabi and Shanghai, and got accepted here," she says.
As soon as she learned more about NYU Shanghai, Lera realized that this was the place for her. Lera says she was curious to learn more about China--a country she compared to Ethiopia for its rich ancient history, diverse languages, and rise as a developing country. "In Ethiopia, we would always learn how China managed to change its economic trajectory in thirty years, and how Ethiopia wants to model its economic development after China," she says.
"Both Ethiopia and China have really long histories and used to be trade partners. They both have ancient civilizations, so there's always that connection," says Lera. "I wanted to see for myself what China did right, and what it did wrong."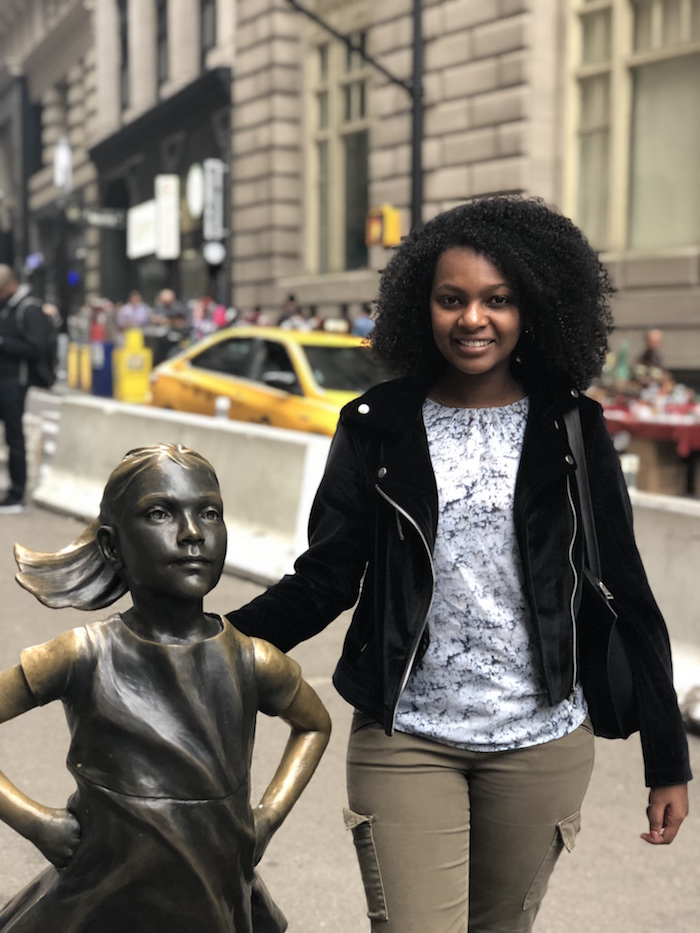 On Wall Street in New York City, fall 2018

Reflecting on her first semester at NYU Shanghai, Lera says she loved biology, but struggled with Foundations of Science (FoS) courses, which encompass physics, chemistry, biology, and laboratory work.
"It was difficult, because in your first year, you're just trying to figure out what you want to do--extracurricular activities, maybe you need to get a job, 18 credits, quiz after quiz, assignment after assignment--it's nonstop." Lera says. "Unless you have a very rigorous work habit, if you're not used to that system, you really have to adapt."
Lera says she dropped her FoS courses in her first year, and shifted focus to computer science, math, and an IMA course. After finding her bearings, she returned to FoS during the second semester of her sophomore year with a new game plan.
"I decided to focus my learning on research methods and laboratory techniques," says Lera. "Group work, studying together--I also never had any experience or habits to do this, but I learned how to communicate in a team, and how to collaborate with others in science."
To expand her research experience, Lera decided to study away at NYU in New York, where she took courses on topics such as genetics and environmental health. While in New York, Lera landed a competitive research internship at NYU Langone's Neurology Department. There, she spent 12 hours a week working with graduate students and interns getting ready for medical school. Lera worked on compiling data about using transcranial direct current stimulation (tDCS) to stimulate nerves in patients with multiple sclerosis.
"It was my first time seeing MS patients, because it's rare in Africa," she says. "Some of them at the most advanced stage could not even move, much less walk. It was a hugely rewarding experience for me, because I was participating on something that could reduce tremors, and make their lives better."
In New York, Lera also had the opportunity to connect with the local Ethiopian community, attended an Ethiopian church on 5th Avenue, and was active with NYU's Ethiopian Students Association. "Our most popular event was 'Injera 101,' which was named for the Ethiopian bread that is eaten with everything," she says.
Amid the excitement of the Big Apple, and the traces of home she uncovered within the city, Lera found herself missing NYU Shanghai. "I sat down in my General Chemistry 2 class with 500 other students, and I realized, wow, I miss being able to know my classmates, and professors who know you by name." Lera said. "I never really understood how important that was to me until I went to New York."
In Shanghai, Lera had also volunteered in the Shanghai Children's Hospital's neurology department post-op ward, spending time with children from one to five years old who had been in the ward for months.
"They were alone, and some of them couldn't even visit the playroom because they were so sick," says Lera. "We would visit them, and they would get very excited to see people other than the doctors and nurses."
Lera says it was difficult for her to see the helplessness and loneliness of the children. "Maybe I cannot work with children because I was so sad to see them," says Lera. "But some people have recommended I should work in this area, because I feel so strongly...I don't know, we'll see."
As she has traveled around the world and learned more about biology and medicine, making connections has been part of a greater lesson for Lera. She says being at NYU Shanghai has changed the way she approaches people and communicates across cultures.
"Some things that are fine in your culture might be offensive to another's culture," says Lera. "I had to adjust to saying 'please' and 'thank you' with my friends here, because in Ethiopia, you don't have to say please or thank you to your friends. In Amharic, the word 'please' is usually reserved for begging, and you only say that to strangers. If you say that to your friend, they would respond with, 'Am I not your friend?'"
"I notice that now, when I go back to Ethiopia, people tell me, 'You know, you are very different now.'" Lera said, "the way I speak has changed, my perspective on things has changed. They say I've changed in a positive way."
Currently, Lera is weighing graduate school offers at Drexel University or Georgetown University.
"I am excited about these opportunities, because I will be able to go into cancer research, to learn more about cancer prevention and drug development," she says. "Most importantly, I am really looking forward to applying the knowledge I have gained in a research setting."
--
Meet other Class of 2019 seniors: