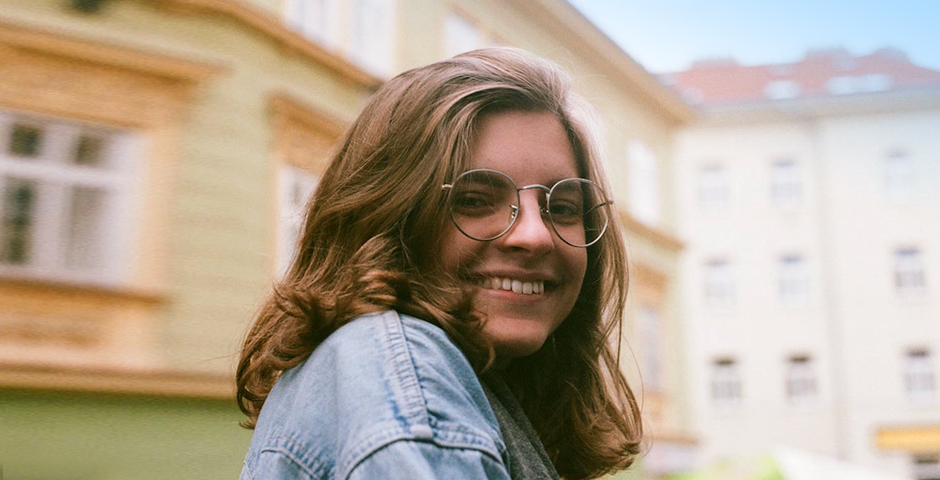 At Home in Shanghai
Savannah Billman's favorite intersection in Shanghai is at the corner of Xinzha Lu and Wanhangdu Lu, just north of Jing'an Temple. During the summer of 2017, she lived in an apartment nearby, and each evening, when she arrived at the intersection and saw her favorite fruit stand  and the ayis on the plaza dancing to Destiny's Child, she knew she was home.
That intersection is one of Billman's touchstones in this megacity. When asked about her favorite places in Shanghai, she sighs a little. There are too many to name, she says, but  lists Wuyuan Lu and Wukang Lu, the Yuz Museum and the West Bund with its grassy lawn and climbing walls.
Billman discovered many of these spots during the summer after her freshman year at NYU Shanghai, when she interned at Reuter Communications' Shanghai office. She says she spent much of her free time wandering the city, exploring corners of Shanghai she'd never ventured to. It was the first time she truly felt at home here.
"Once I started seeing all that was out there, everything the city had to offer, the totally different communities, not just the NYU Shanghai dorms to academic building bubble, that's when I really started to appreciate living here," she says. "Like I was leading a limitless life, like truly anything was possible in a place this big and diverse."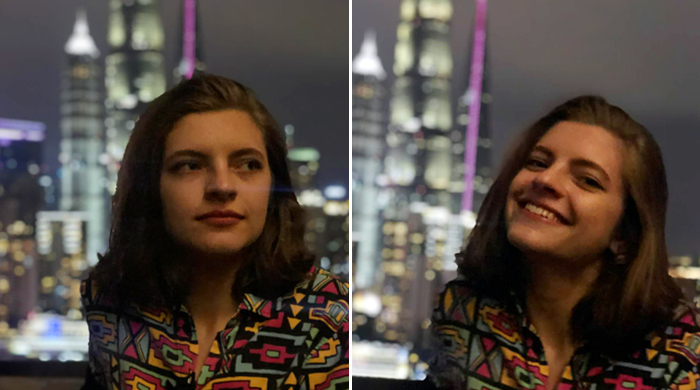 Billman in front of Shanghai's Lujiazui Financial District

Shanghai is a far cry from Billman's hometown in Boiling Springs, Pennsylvania, a small town two hours outside of Philadelphia. Billman, a Global China Studies major and Chinese and Journalism minor, said that while she had traveled internationally with her family as a child, building a home in such a far-away place has been a big step. Before college, the furthest she could imagine living was somewhere like New York or Washington, D.C. Now, Billman says she could go anywhere.
"Because the circles that I run in now, the expats in Shanghai, the Chinese people and students, we all have a lot of international experience and are really globally minded," she says. "Those are things that weren't as big of a part of my life back in the U.S.... This idea that you weren't limited by geography in whatever you wanted to do."
Life at NYU Shanghai has changed not only the way Billman said she sees the world, but the way she sees herself.
"Around my sophomore year, I started reflecting on who I was in my freshman year and even in high school, and I just seemed so far away from that. I didn't even recognize myself anymore," she says. "Things like trying to fit in, people liking me, these more insecure concerns, I wasn't really worried about [them] anymore."
Next year, Billman will expand her global mindset further, when she begins graduate school at the Yenching Academy of Peking University in Beijing. Billman will be one of 125 fellows in the school's Master's program in China Studies.
Graduate school is the next step in what's been a lifelong passion for the Chinese language; she started learning Chinese when she was eight.
At NYU Shanghai, Billman delved deeper into learning the language, using opportunities such as an internship at Sixth Tone, where she conducted interviews in Chinese every day, to improve her language skills. She also took on challenging coursework, including Assistant Professor of Global China Studies Zhao Lu's Classical Chinese Writing course last fall.
Zhao says he was impressed with Billman, not only for her ability to pick up new Chinese grammar rules, something he said many American students struggle with, but also for her enthusiasm to collaborate with her Chinese classmates in the course.  
"Savannah was very eager to reach out to the other two students and try to make a group out of it," he says. "Not only in terms of assignments, but in terms of group activities, doing the assignments together. Mainly because of her at the end of this class, the three students [had] actually formed a very strong study group."
Zhao is also now advising Billman's thesis on the Han Dynasty diplomat Zhang Qian and his connections to the Silk Road. In particular, Billman's thesis looks at the ways in which history has lauded Zhang for opening up China to international trade on the Silk Road, and how the diplomat is currently perceived in connection to the new Belt and Road Initiative.
"The project has a spin both on history and journalism," he says. "So she's been very successfully combining these two big interests of hers."
The project has been a further testament to Billman's language skills, Zhao said, as Billman has needed to use her ability to read classical Chinese to study historical texts, while also employing her Mandarin skills to read current modern Chinese newspapers and to understand the sensitivities of the current initiative.
"That's something you wouldn't really expect from an undergrad or even a grad student sometimes," Zhao says.
Outside of class, Billman has spent much of her last four years getting involved on campus. During her sophomore year, she was editor-in-chief of NYU Shanghai's student newspaper "On Century Avenue." Over the last year, she has also taken on a leading role in the effort to raise awareness of sexual misconduct on campus, working with student government to host a town hall on the university's policies, and provide information about where students can go for help.
"I've definitely really tried to make myself somebody who will speak out on behalf of others," she says. Getting involved on campus is easier at NYU Shanghai, she says, since "the layers of bureaucracy are thin."
"Compared to other places, [and] other college experiences, if you put in the work at NYU Shanghai, it's easier to see results very quickly. It challenged me to push myself," Billman says.  
Billman says she hopes to continue this leadership in Beijing.
"I know that I have the tools to be an effective communicator and organizer, so where do I want to apply those skills? I want it to be really worthwhile, I want it to help people."
--
Meet other Class of 2019 seniors: