NYU Shanghai Senior Named 2019 Princeton in Asia Fellow
May 9 2019
Safia Kariapper '19 has been named a 2019 Princeton in Asia (PiA) Fellow and will serve as a science, technology, engineering and mathematics (STEM) instructor at a university in Bishkek, Kyrgyzstan starting September.
The Princeton in Asia fellowship brings 150 graduates to 22 countries and regions in Asia each year to fill local needs in education, public health, environmental sustainability, economic development, and social work.
"I am thrilled to get this year-long opportunity to teach, which is what I am truly passionate about," said Kariapper, who will graduate later this month with a degree in Chemistry and a minor in Business. "I also believe this experience will become a stepping stone towards success in my career."
A native of Colombo, Sri Lanka, Kariapper said she has wanted to be a teacher since her sophomore year at NYU Shanghai. For two semesters, she tutored her peers in calculus and precalculus as a learning assistant in the Academic Resource Center (ARC). Kariapper racked up more than 70 tutoring hours that year and even put in her personal time during the lead-up to spring semester finals.
"She was dedicated, patient, and motivated. Most of her tutoring students attended her office hours repeatedly," ARC Director Cydney Delia said. "During her unused office hours, she would hand write short notes summarizing course lectures as a study supplement for them. I know she will be a strong leader and collaborator as a PiA teaching fellow."    
Kariapper says that her experience at the ARC made her fall in love with teaching, which gave her "a sense of accomplishment and satisfaction." In the summer and winter of 2017, she decided to explore education further, by returning to her Sri Lanka high school to volunteer as a part-time teacher.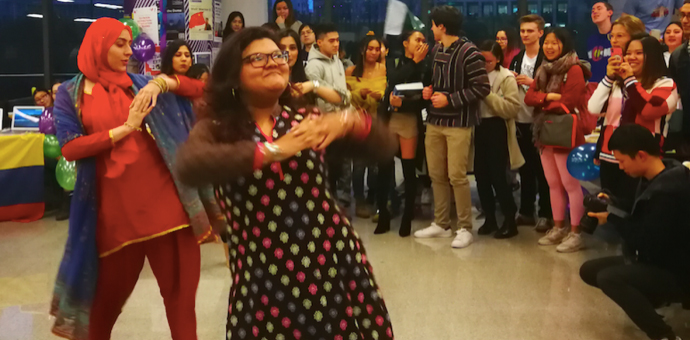 Kariapper dancing at the Cultural Expo in February 2019.
Kariapper says she is looking forward to the adventure ahead with excitement and slight trepidation - she has never been to Bishkek or Central Asia. "It's not easy to live in an unfamiliar country like Kyrgyzstan alone, and I will surely face challenges ahead." Kariapper said, but she said her experiences at NYU Shanghai have prepared her well.
Four years ago, when she enrolled at NYU Shanghai, Kariapper had never before left home. At the time, she was intimidated by the unfamiliar language and food. Now she says she feels fearless, "studying at NYU Shanghai has shaped my sensitivity and confidence, and I know I will be able to adapt to a new community and culture."
"NYU Shanghai students have a deep familiarity with China but also the humility to realize how much more of Asia there is to know," said Director of Global Awards Anna Kathryn Kendrick. "I am excited that Safia will continue working toward education and mentorship, and be a model for young women in STEM, across national, cultural, and religious contexts."
----
Read about 2018 PiA fellows Alhan Fakhr '17 and Branden Taylor '18's work in Malaysia and Mongolia and 2017 PiA fellow Krista Young '17's work in microfinance in Myanmar. For information and advice on applying for external scholarships and fellowships during or after your time at NYU Shanghai, contact the Office of Global Awards: shanghai.global.awards@nyu.edu