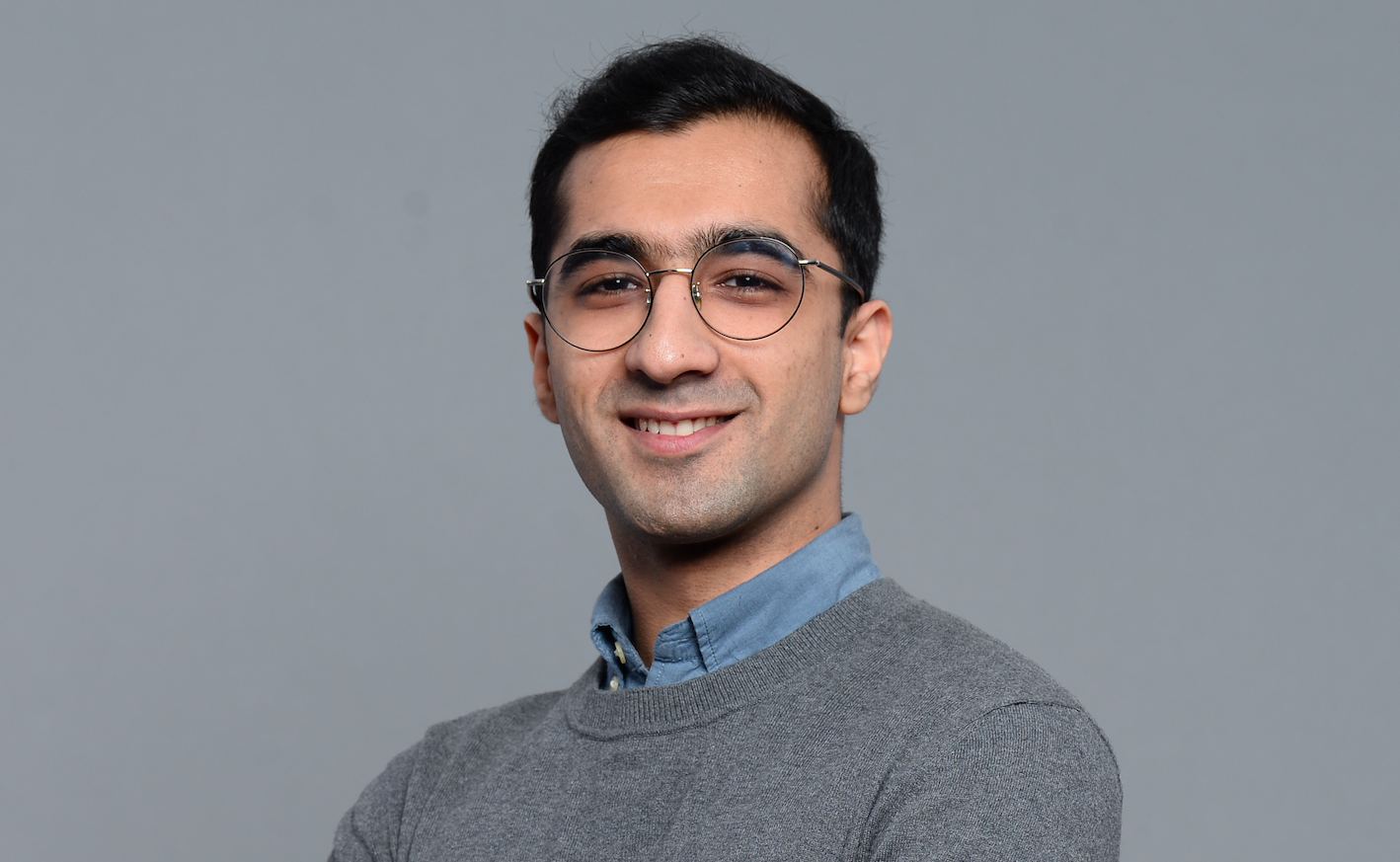 It took two years and seven failed businesses before Muddassar Sharif '19 and his co-founder, Raheel Ahmed '18, launched their data consulting firm, mltrons, in the summer of 2017. Two years of building artificial intelligence software, learning about clients, finding capital, and ultimately, learning about how to come back from failure.
"The only way of finding out the truth is by trying and testing again and again and again," Sharif, a data science major, says. "You don't learn how to swim from books, you only learn how to swim if you jump in the pool. The more you try the more you fail, but hopefully you learn how to improve what you have."
Today, Mltrons provides client retail companies with "virtual data scientists" to help more effectively predict sales and data trends. Sharif says his entrepreneurial spirit is born from a lifetime learning from his family about how to build— and rebuild—a business.
In his hometown of Lahore, Pakistan, Sharif's mother Amna Naeem was one of twelve children, who together with their parents, had built what Sharif called an "empire" of a steel company in Lahore, Pakistan. But twenty years ago, the company came crashing down, Sharif says. Growing up, he watched his family members rebuild their livelihoods with new businesses and ventures in steel, tech, and real estate.  
"The last 20 years in the entire family was a journey from top to bottom and then once again rising," he said. "Going through that as a child is the main reason that inspired me to start from scratch, [and showed me] how things can start from scratch."
Since his freshman year, Sharif has been starting his own data businesses. A data science major, Sharif is passionate a harnessing data to help the world.
"We've seen that in the last ten years the role of data [has] exploded. They have data but people in companies are not so equipped to handle decisions with the data. Every year they have more data, they need more expertise to find solutions to their problems," Sharif says.  He founded Mltrons to provide that expertise and give companies predictive analytic information about their future sales.
Sharif in New York
After graduation, Sharif will go from operating Mltrons on campus to finding an office space for the company and working there full-time. The company, which now has a team of six and is serving five local Shanghai clients, is headed to Asia's biggest tech conference, RISE, in Hong Kong in July, where Sharif said they hope to show off a major breakthrough in their software. Clients will now be able to easily input data using voice or text, rather than manually inputting data, to receive back forecasting information. Sharif called the new software "Siri for businesses."
Last year, Sharif spent his study away working in NYU's New York campus, at the Mark and Debra Leslie Entrepreneurs Lab, where he had the chance to learn from successful CEOs and conduct research about how major companies, such as Nike, use their data. When he returned to Shanghai this fall, he and Ahmed dove head-first into building Mltrons.   
"[In New York], I was exposed more to the entire science of entrepreneurship, how to do interviews, talk with people more, learn about their pains and gains and values, how to come up with a solution that can help people solve their problems," he says,
The willingness to take risks and tackle a new idea is one of the qualities that Assistant Professor of Practice in Computer Science Ratan Dey, who taught Sharif in his databases course and served as his capstone adviser, says most impressed him about Sharif. For one of the first projects in Dey's class, he assigned students a project and provided sets of data, but Sharif approached him and asked to use his own databases from his startup.
"He was trying to do something different from others, because from a regular course project I can give him a lot of guidance, but when you have a different problem I'm not sure. That's very challenging, but I found that he's not afraid to take on the challenge," Dey said.
On campus Sharif was also able to draw on the help of faculty to connect with others in the city. Sharif said Chancellor Yu Lizhong in particular helped to connect him with Shanghai government officials, so that Mltrons could take advantage of Shanghai's special free trade zone.
"I am quite happy to see students have this kind of idea and have the confidence to do something by themselves," Yu said. "So I think I should do my best to help them. It's a good time to try in Shanghai [to start a business]."
One of the most critical things that NYU Shanghai did for Sharif was to challenge his assumptions about the world. He says he went from assuming that all people would view ideas in the same way to better understanding the complexities of people's differing perspectives. This knowledge is one of the skills that he said has best prepared him to tackle problems in the world now as an entrepreneur.
"When I came here I learned that everyone has different ways," he says. "Which is why solving problems that affect diverse communities is really hard, because you have to come up with a solution that fulfills the values of a diverse community because we all see the world around us a different way. Learning that skill was really important."