Returning Home: NYU Shanghai Makes History with First Alumni Reunion
Mar 6 2023
As a part of NYU Shanghai's 10th anniversary celebrations, 223 undergraduate and graduate alumni, spanning from the class of 2017 onward, reunited at the New Bund Campus for the University's first-ever Alumni Reunion. They spent the day reconnecting with former classmates, friends, mentors, and professors and even found themselves in yet another Global Perspectives on Society (GPS) lecture delivered by Vice Chancellor Jeffrey Lehman. Among NYU Shanghai's alumni community of over 2,000 members, close to 1,000 reside in China, including 400 who have made Shanghai their home.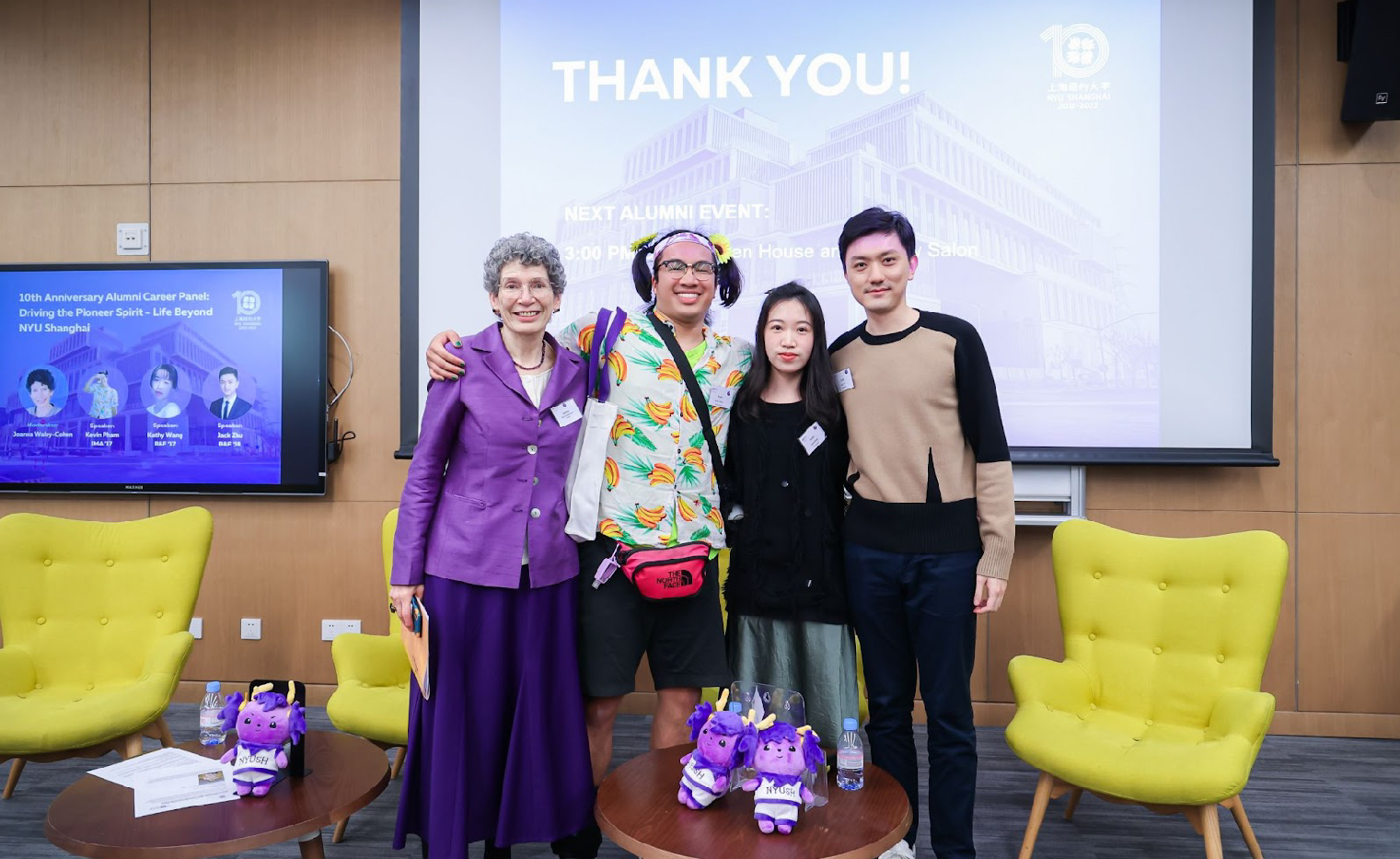 Provost Waley-Cohen alongside speakers Kevin Pham '17, Kathy Wang '17, and Jack Zhu '18, from NYU Shanghai's first two graduating classes.
Three alumni kicked off the afternoon by sharing their post-graduation academic and career experiences in a panel discussion titled "Driving the Pioneer Spirit: Life Beyond NYU Shanghai." Kevin Pham '17, Kathy Wang '17 and Jack Zhu '18 opened up about life after graduation in a conversation with Provost Joanna Waley-Cohen before an audience of fellow alumni and current NYU Shanghai students.
Pham said it was a humbling moment to be able to return to NYU Shanghai on its 10th anniversary and see the new campus. He said attending the reunion helped him understand the importance of having an alumni network, which as a member of the University's first graduating class, he didn't get a chance to benefit from. "The next generation of students can make it on their own, but if we have the tools to help provide encouragement, laying down the tracks for them to follow…shouldn't we do that? We all have a responsibility to ourselves and each other to push forward, for everyone's benefit," he said. "Yes, NYU Shanghai needs alumni. But to be honest, the alumni also need NYU Shanghai. The push needs to happen from both sides and is incredibly necessary."

Alumni also attended GPS Once More, a special lecture delivered by Vice Chancellor Jeffrey Lehman that took them back to their very first semester of Global Perspectives on Society, a foundational humanities course that every first year NYU Shanghai student must take. The course, originally designed by Lehman, exposes students to the great thinkers of the past and present and introduces diverse approaches to thinking about and understanding the world.
At the evening Cohort Reunion, Vice Chancellor Lehman, Provost Waley-Cohen, Chancellor Tong and Chancellor Emeritus Yu were invited to say a few words. Chancellor Emeritus Yu spoke encouragingly about the power of the University community. "NYU Shanghai is highly recognized by society, the government, and by everyone, and this is because of your support and your contributions," he said.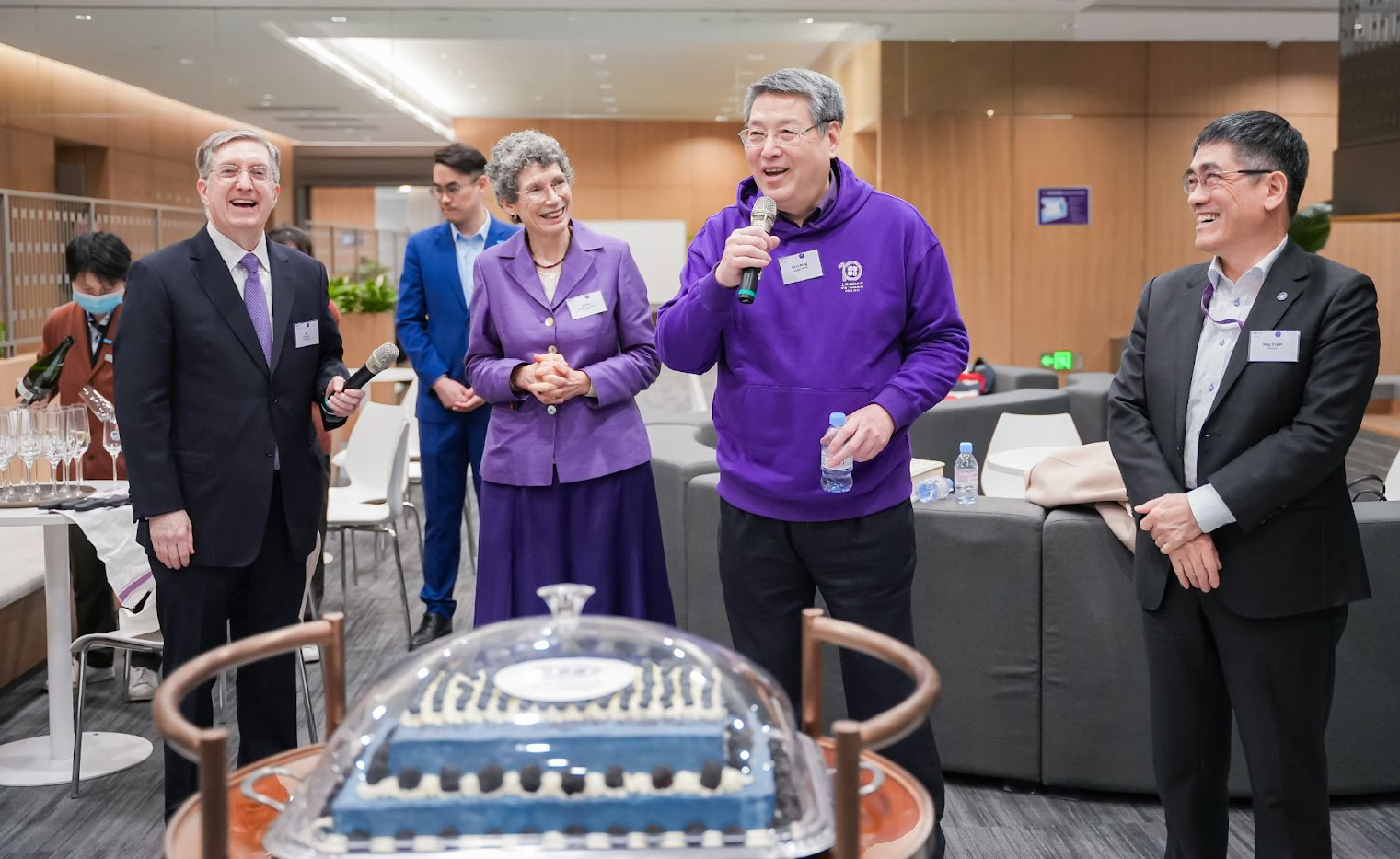 "It is truly wonderful to see so many familiar faces here today," said Provost Waley-Cohen. "In a sense it's a 10th anniversary for all of you too. You are so much a part of what has made this university what it is, even though you were only here for four of the ten years, these ten years have been so important. You really are a part of the community in all of our hearts. Welcome back."
Chancellor Tong spoke of the importance of being a NYU Shanghai community member. "I like this term very much. NYU Shanghai is a community and this includes staff, faculty and students, and more people," he said. "Generation by generation, NYU Shanghai students leave campus and come back as more mature, more successful, and more experienced. They bring our community happy news of their excellent achievements," he said, adding that each of them strengthen the community.
Vice Chancellor Lehman thanked the alumni community for building up NYU Shanghai's reputation throughout the world, recalling the number of times he has met employers who praise NYU Shanghai graduates as "the best employee we ever had." "Over and over again, I am meeting people who say,  "It makes such a difference," he said. "It has actually built up our reputation as an institution, changing it from a source of potential into now a sense of realized potential in society."

Vice Chancellor Lehman, Provost Waley-Cohen, Chancellor Tong and Chancellor Emeritus Yu partake in the most spirited NYU Shanghai cake-cutting to date.


Alumni network at three parallel sessions at the Dean's Open House and Faculty Salon. Dean of Arts and Sciences Maria Montoya, Dean of Business Chen Yuxin and Associate Dean of Arts and Sciences Olivier Marin led the sessions.

Alumni commemorate the celebratory moment with group photos.
Nearly 100 NYU Shanghai graduate alumni joined in the reunion celebrations at the Graduate Alumni 10th Anniversary Homecoming Gala organized by the Office of Graduate and Advanced Education.

Dean of Graduate and Advanced Education Eric Mao said it was a thrill to welcome so many alumni, from virtually every graduating class of PhD, masters and Go Local programs. "On this celebratory occasion, we also recognize all of the partners, both within and outside our university, in Shanghai and New York, who made these successes possible," he said. "During today's Homecoming Gala, we look back and look forward to the goal of an ever more vibrant and united community around graduate education at NYU Shanghai."

Faculty who shared remarks included Affiliated Assistant Professor of Social Work Minchao Jin, Assistant Professor of Practice in Business Analytics Ming Liao, Capstone Director of the MS in Quantitative Finance (MSQF) Han Shen Lin, and Professor June Bu. Director of TESOL Program Kentei Takaya and Director of the Master of Arts Program in Interactive Media Arts (IMA) Craig Protzel sent greetings by way of pre-recorded video messages. The graduate alumni then concluded their evening with a tour of the new campus.
NYU peer schools also sent their greetings."Congratulations on the opening of the New Bund campus, and on a successful 10 years despite so many challenges—here's to a great future ahead!" said Dean of NYU Stern School of Business Raghu Sundaram in his message, one of the many congratulatory messages the University received. "Stern is proud to be a part of this journey, and we look forward to our continued collaboration in the years to come."
Stephanie Anderson '23, president of Student Government, said the Alumni Reunion was an opportunity to build tighter connections with current students, reconnect with friends she hadn't seen since 2019, meet her student-body president predecessors, and network with her mentor from the CCD's NYU Alumni Executive Mentor Program, who she'd been in touch with over the past two years.


1. Stephanie Anderson '23 with NYU Alumni Mentor Wei Gu NYU '02 (left) and NYU Shanghai Director of University Communications Jiang Hua (right). 2. With former student body presidents Michael Liu Qichen '22, Rudy Song Yuanchu '19, and Lyndsey Qu Jiayun '19.
"We have a great relationship," Anderson said of her mentor Wei Gu, who is director of PR at Apple. "This was the first time I've seen her in two years, and after telling her I was doing a communications internship at Disney, she connected me with an alumni from NYU Stern who used to be Disney's director of communications. I also got to see classmates and students that I hadn't seen in four years, so it was very refreshing to see familiar faces," she said.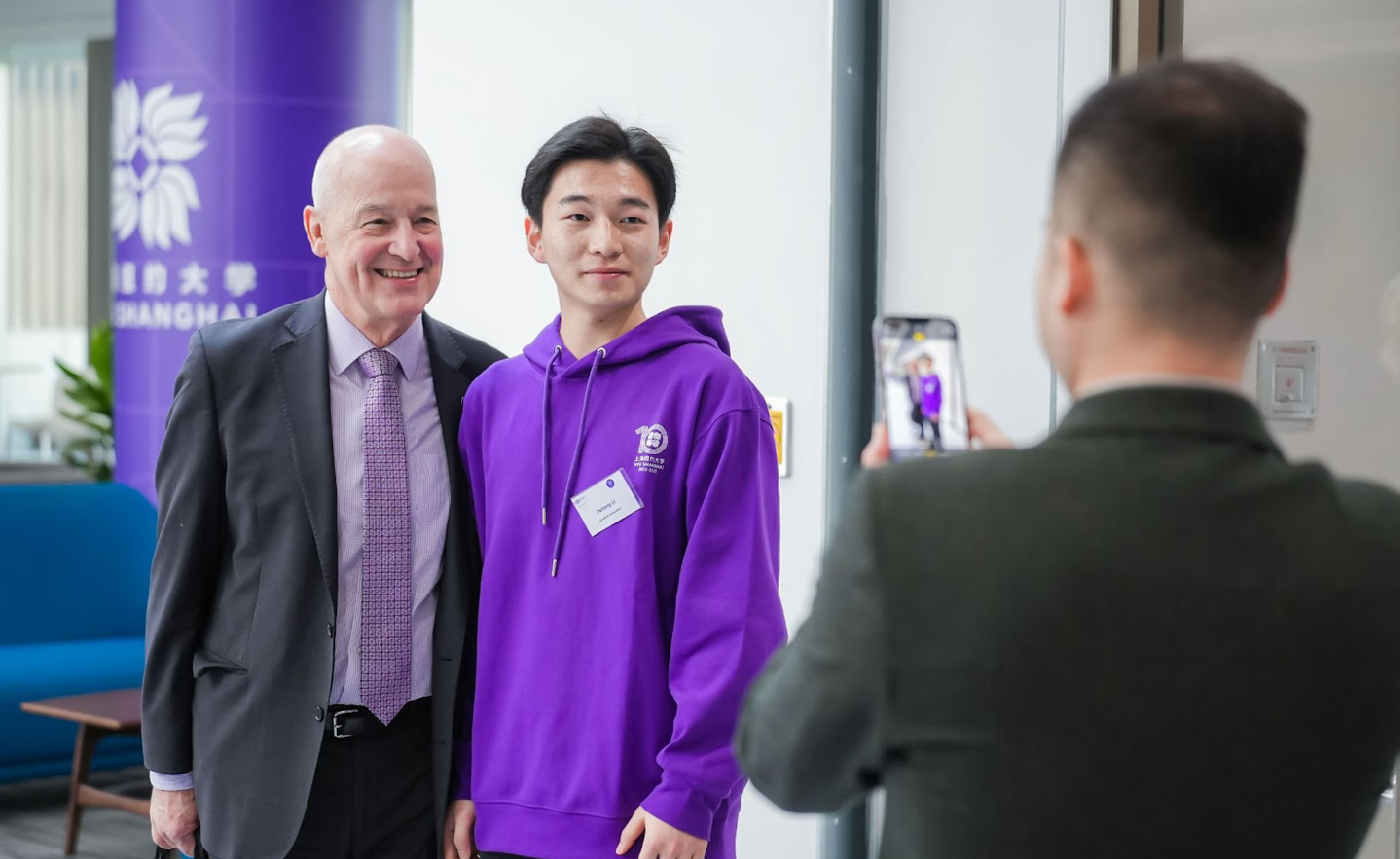 NYU President Andrew Hamilton also made an appearance at the celebrations. "Looking toward the future, I think about the potential of global education, about cross-cultural learning, scholarship, and exchange at NYU Shanghai, NYU Abu Dhabi, and New York," he said. "I think about how our work together at NYU Shanghai is creating a new generation of globally-minded graduates who are better equipped to take on the challenges and opportunities in an internationally connected world."
The University will continue its 10th anniversary celebrations with a series of forthcoming recitals and concerts on and off campus while current Class of 2023 senior students look forward to their upcoming 88-Days party, counting down to their graduation this May.