NYU Shanghai Holds First In-Person Commencement of the COVID Era
May 25 2021
Nearly 300 members of NYU Shanghai's Class of 2021 hailing from 35 countries celebrated four years of achievement and perseverance on May 25, in the university's first in-person undergraduate commencement ceremony since the start of the COVID-19 pandemic. A total of 226 students processed across the Shanghai Oriental Art Center stage to receive their degrees, while an additional 69 students joined remotely in the livestreamed ceremony, watched by hundreds of viewers around the globe.
NYU Shanghai's graduates were also joined in person by 101 members of NYU's Class of 2021 who are participating in the university's "Go-Local" program. Over 40 members of the NYU Shanghai Class of 2020 – who last year were forced to celebrate their own graduation online – were among the live audience in the Oriental Art Center to cheer on their classmates, alongside limited numbers of friends and family members.
Commencement Speaker and Director of the Department of Infectious Disease at Huashan Hospital affiliated to Fudan University Dr. Zhang Wenhong, one of China's leading infectious disease researchers and head of the medical advisory group that has successfully led Shanghai's COVID-19 pandemic control efforts, filled the theater with laughter as he shared humorous observations from his own life before imparting the lessons he learned from managing the pandemic. For his leadership in challenging times, Zhang was awarded the NYU Shanghai Chancellor's Medal of Honor during the ceremony.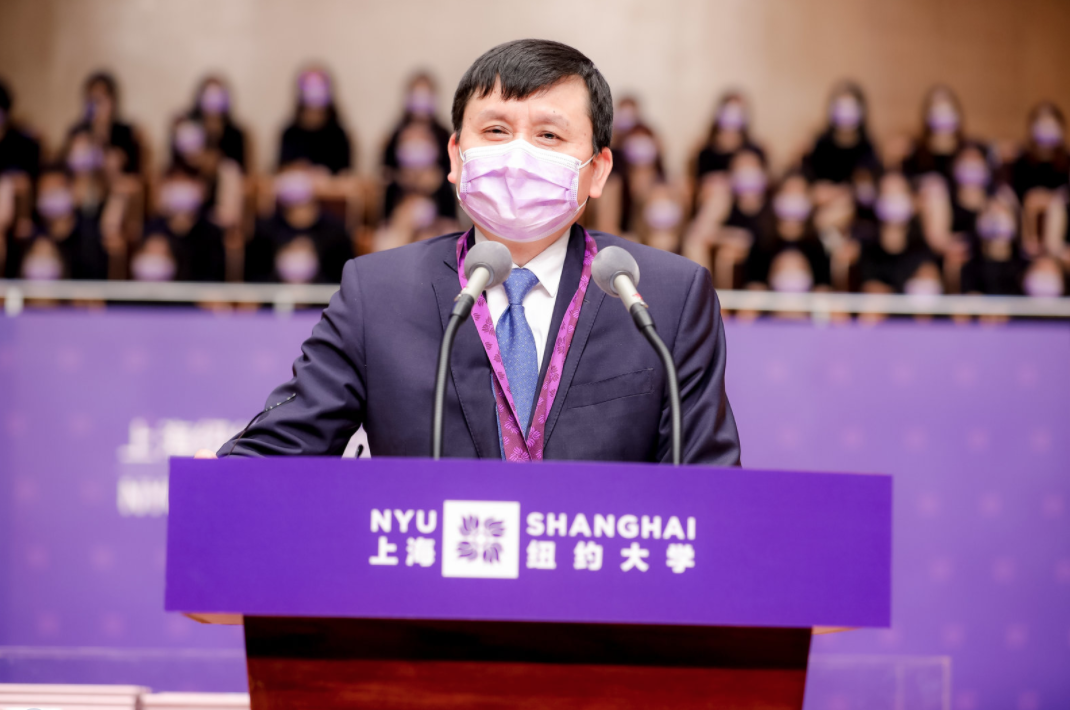 Dr. Zhang speaks to graduates onstage at the Oriental Art Center, wearing the NYU Shanghai Chancellor's Medal of Honor presented to him by Chancellor Tong Shijun and Vice Chancellor Jeffrey Lehman.
Zhang recounted how his hospital sent four groups of doctors to Wuhan in January 2020 at the pandemic's start. "They were both ordinary doctors – and heroes. When they first went to Wuhan, the situation was very bad, but the power of teamwork finally defeated fear and uncertainty," Zhang recalled. 
"Cooperation and sacrifice are still our weapons to overcome all difficulties. The spirit of cooperation and teamwork cultivated by New York University Shanghai will become the fundamental power for you to overcome all difficulties in the future," he said, noting that the ongoing challenges of inequality in access to vaccines and medical supplies will require global cooperation to overcome.   
"I believe that the future of humans depends on whether the young people of the world can finally come together."
 

Graduates pose with classmates as they walk down Century Avenue from the campus's Academic Building to the Oriental Arts Center before commencement begins.
Check out more photos from Commencement 2021.
Chancellor Tong Shijun – who attended commencement for the first time in his role as university chancellor – praised graduates for their resilience, saying, "Today's heroes and heroines have arrived at this stage after standing exceptionally tougher tests than students of many other classes."
Quoting American philosopher John Dewey, Tong reminded students that their persistence throughout the pandemic has taught them to focus not on the tribulations of the moment, but instead on what is possible, even when those possibilities are ever-changing.
"In this world full of uncertainties, the best mentality is to see uncertainties as possibilities, to look for ideals in possibilities, and to work for our ideals, including our ideals of personal excellence and communal well-being, with creativity and perseverance," Tong said.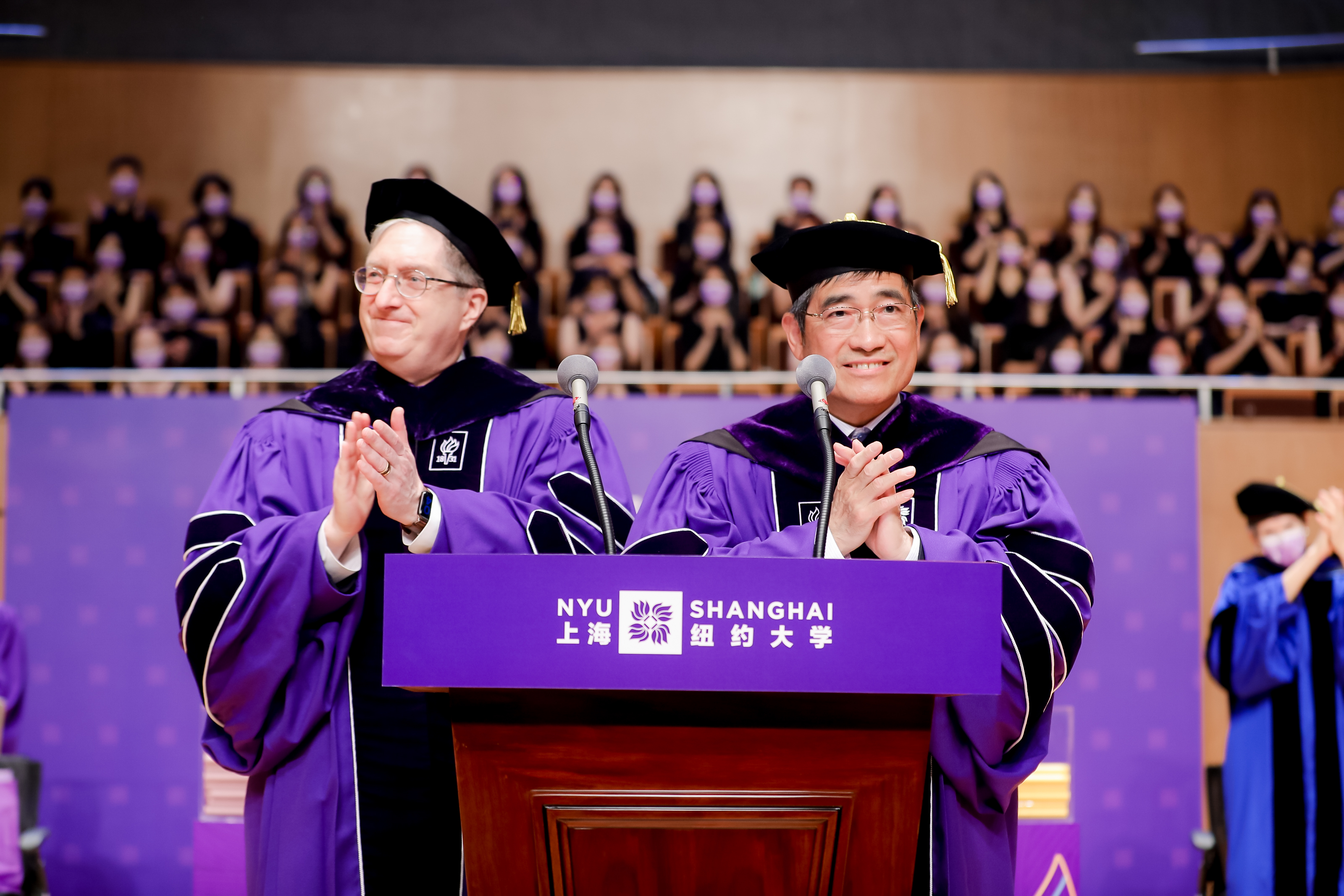 Vice Chancellor Lehman (left) and Chancellor Tong (right) welcome graduates and their families to Tuesday morning's ceremony. 
Despite a host of challenges, NYU Shanghai's Class of 2021 have indeed succeeded in finding promising next steps. This year's graduates have earned placements in Master's and PhD programs at universities around the globe, including Harvard University, University of Oxford, Yale University, the Massachusetts Institute of Technology, Columbia University, Johns Hopkins University School of Medicine, and Princeton University. Two Class of 2021 students have been named Schwarzman Scholars at Tsinghua University, and one has been named a Yenching Scholar at Peking University. Students joining the workforce have received offers from some of the world's most influential companies, including J.P. Morgan, Alipay, Tencent, Microsoft, and Unilever.
In light of these achievements, Vice Chancellor Jeffrey Lehman asked students to be thoughtful in how they define success now that the pandemic has shifted each of our perspectives on the brevity and value of our lives.
"Flourishing has never been about meeting someone else's definition of 'success' ... To flourish you must fill your life with a collection of activities that you feel lucky to be doing. ... [A]nd recognize that to flourish, you must deal well with your own failures," Lehman said.
"During the pandemic, we have all been failing more seriously and more frequently than ever before.... People who flourish know how to get back up, dust themselves off, ask forgiveness if their mistake hurt somebody else, and move ahead."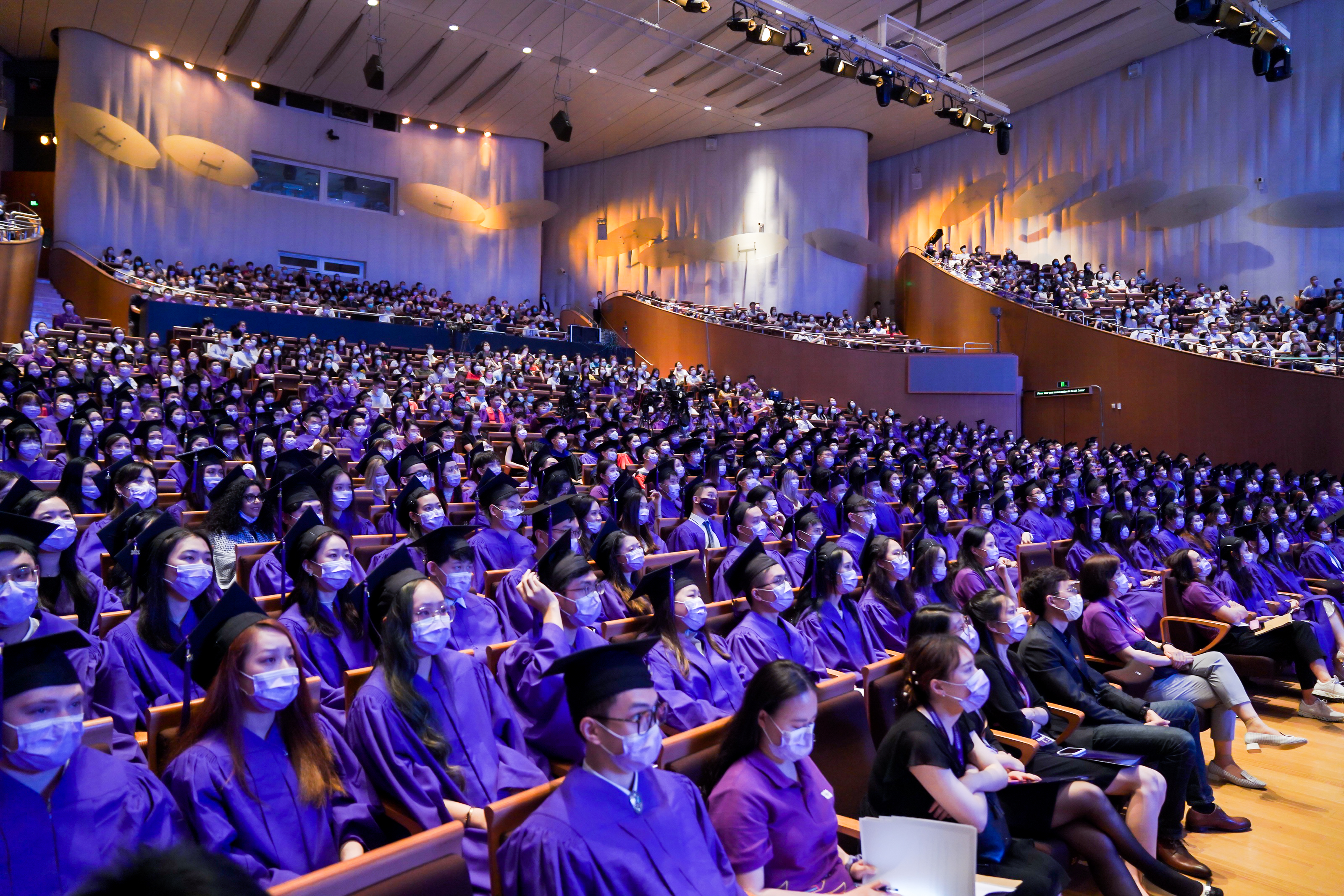 A sea of purple robes fills the Oriental Art Center for the first time since May 2019.
Inspired by a visit to Shanghai's iconic Yu Garden with its many zigzagging footbridges, and by the Rolling Stones' iconic song, "You Can't Always Get What You Want," Provost Joanna Waley-Cohen reflected on how unexpected twists and turns in the Class of 2021's journey may be a blessing in disguise. "Pathways that run in a straight line without any deviation may in the end be less productive than those that meander. ... What once was hidden from view may become visible, and what becomes visible may lead to fresh vistas or insights."
"...[Y]our dreams and ambitions may change, and that's ok.... Dear students, as you travel forwards through life, savor the twists and turns that fortune offers you, embrace the unexpected," Waley-Cohen urged graduates.
NYU President Andrew Hamilton and NYU Board of Trustees Chair William R. Berkley NYU '66 both congratulated the Class of 2021 graduates via pre-recorded video addresses filmed in New York.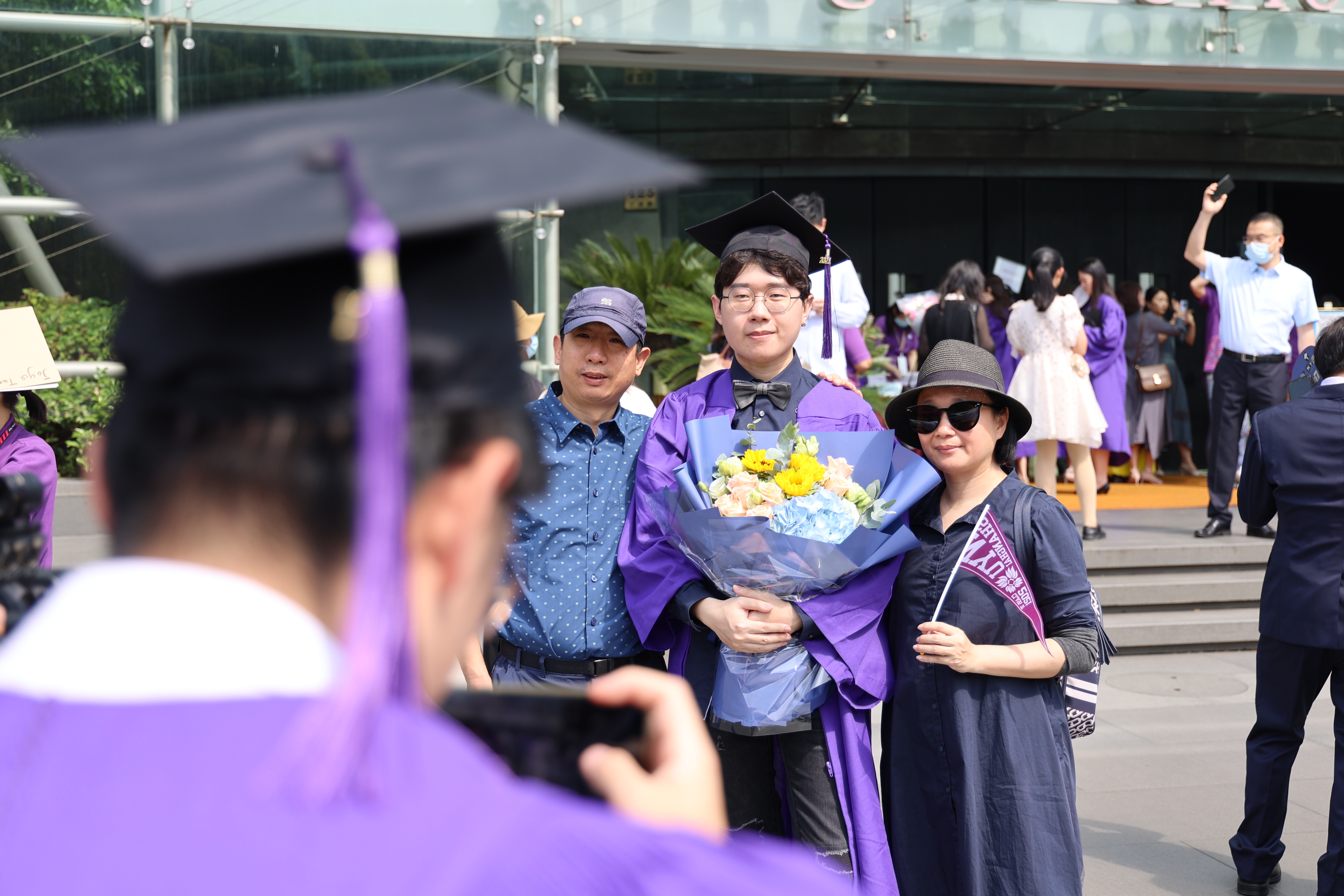 Families and friends of graduates were once again allowed to attend commencement this year, with each student allowed to invite two guests.
Student speakers Lancelot Zhang Qilin '21 of Xianyang, Shaanxi Province and Taylah Bland '21 of Sydney, Australia both shared their deep gratitude for their classmates' ability to support and care for each other in these most challenging and uncertain of times. Zhang took the Class of 2021 back to the fall of 2017, as they met each other for the first time and shared their first words of friendship.
"In those conversations, the map of the world expands in our minds and the path to the future widens at our feet. You, my fellow classmates, are the ones who showed me this world," Zhang said.
"Now ... [we] share each other's accent from language exchange. We incorporate more points of view from discussions and debates. We relate to the vulnerabilities and determinations from around the world, because places that were once only a name are now the homes of our family members. ... Even at times when we are physically apart, we benefit from each other's excellence and goodness through our bond."
Watch the tribute video and "The Moments" for the Class of 2021.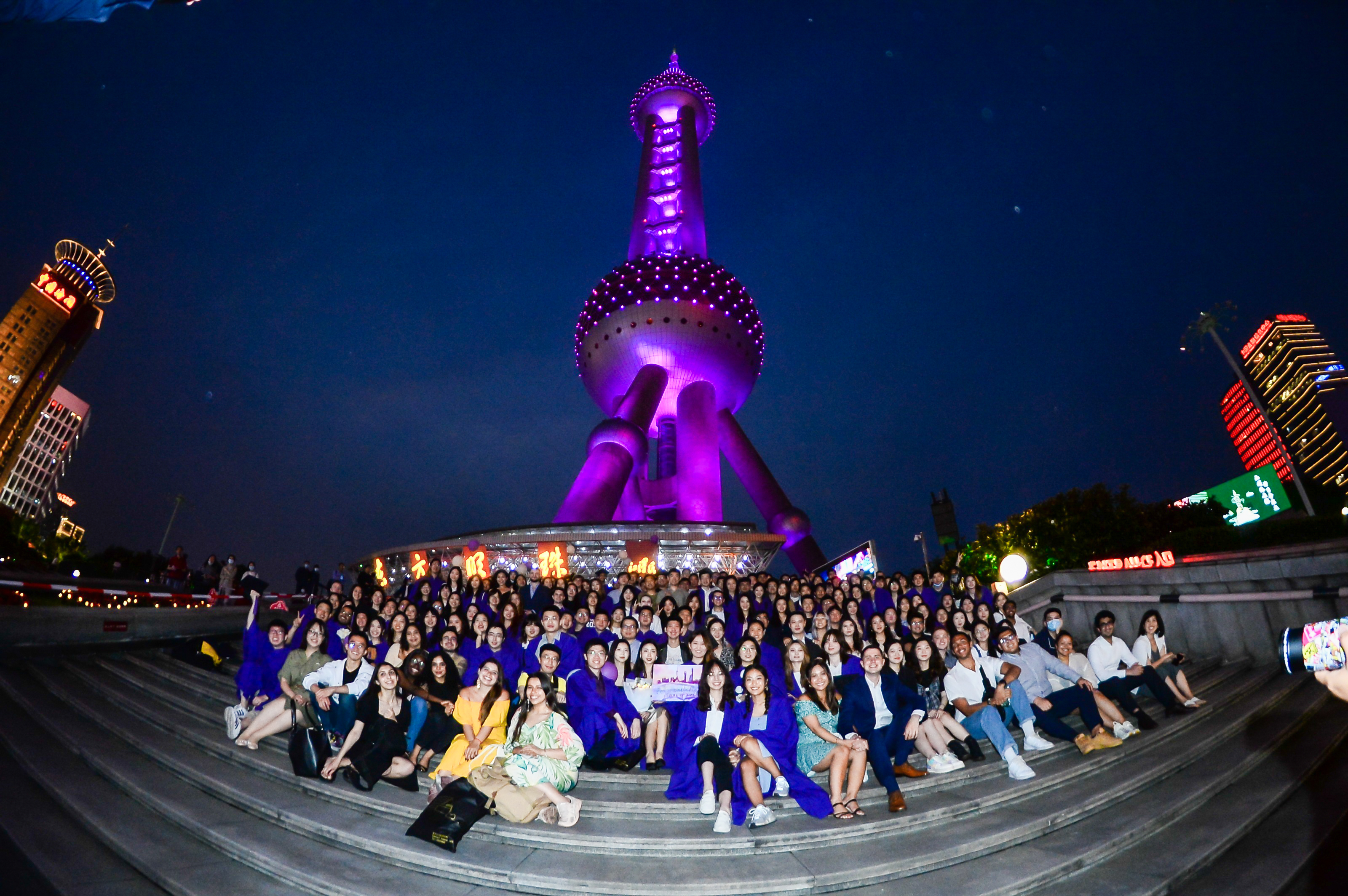 Members of the Class of 2021 gathered at the Oriental Pearl Tower as the Shanghai icon was illuminated in purple on May 24 to celebrate NYU Shanghai's commencement. Classmates who could not travel to Shanghai joined the celebration live on Instagram and other social media.
Bland, who delivered her address in English and Chinese via pre-recorded video filmed at NYU Sydney, exhorted graduates to go out into the world bearing the banner of their global community, founded on small acts of kindness that form a cross-cultural dialogue.
 "NYU Shanghai has given us all a platform to be the best version of ourselves that we could be. The sense of community at NYU Shanghai is so strong and so transformative, and each of you, by virtue of your actions, has played a part in shaping this legacy for all the underclassmen to come," Bland said.  
"My hope is that the Class of 2021 go forth as the global citizens and leaders they are destined to be. Each of you has the power to truly transform the future, take the opportunities that are presented to you and make a difference."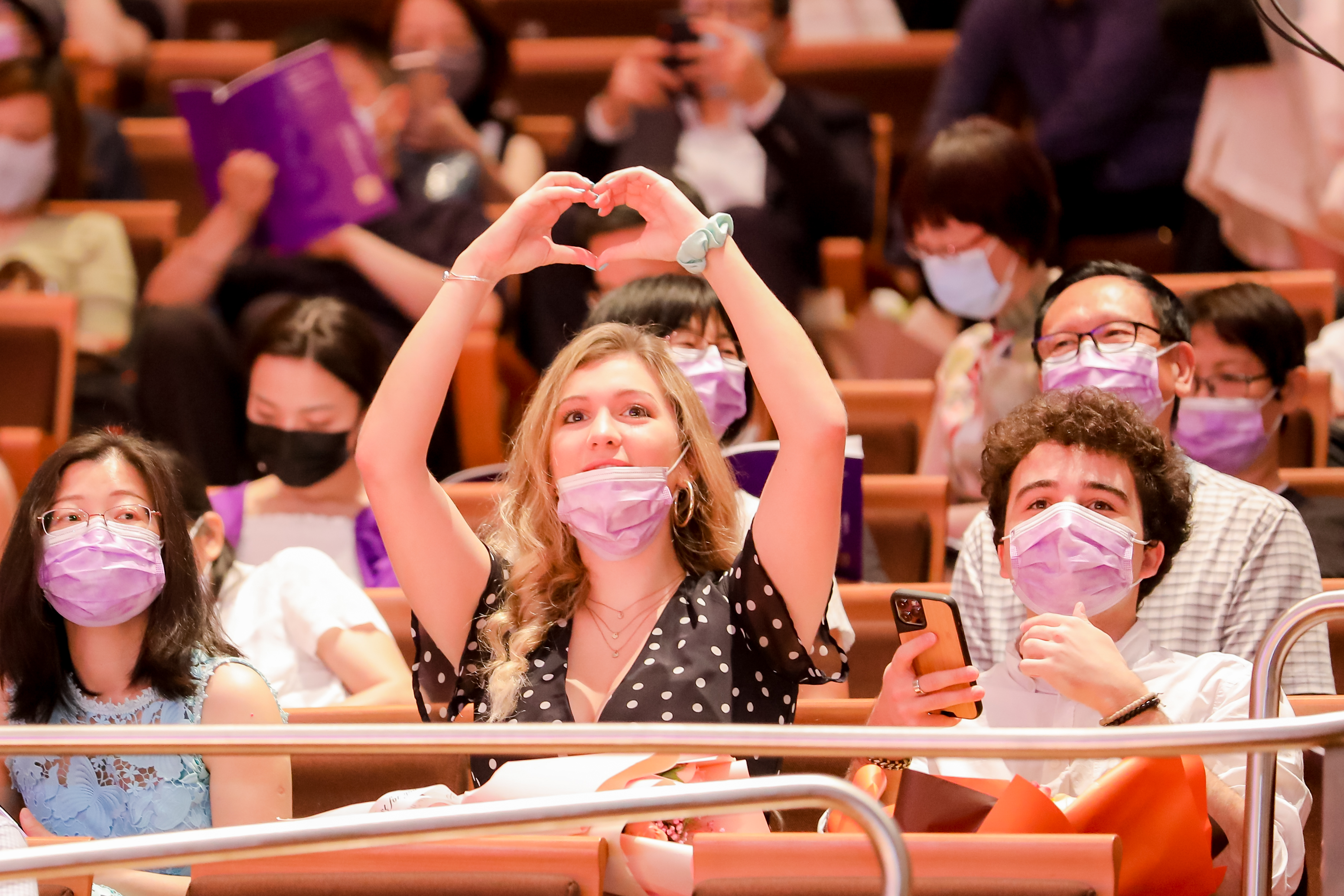 More Class of 2021 student stories:
Sydney Fontalvo '21: Transforming Exploration into Real Change
Kong Xiaoyan '21: Set on Making a Difference
Zane Fadul '21: Rising to the Occasion
Bruce Ma Jiaji '21: Running the Research Marathon
... and more at the Commencement website.
Watch the entirety of NYU Shanghai's 2020 Commencement Ceremony.