Seniors Awarded Schwarzman Scholars Fellowship to Tsinghua University
Dec 7 2020
Two NYU Shanghai seniors – Taylah Bland '21 of Sydney, Australia and Alex Liu Zhengyuan '21 of Zhengzhou, Henan Province – have been named Schwarzman Scholars, receiving full fellowships to pursue Master's degrees in Global Affairs at Tsinghua University's Schwarzman College. Bland and Liu are among 154 Scholars from 39 countries, selected from an applicant pool of over 3,600 young leaders ranging from college seniors to startup creators, researchers, film producers, and politicians.
A total of eight students from the NYU Global Network were selected as Schwarzman Scholars this year, comprising just over five percent of Schwarzman's Class of 2022. Bland and Liu will also be joined at Schwarzman College by NYU Abu Dhabi students and alumni Lujain Ibrahim '20, Matea Kocevska '20, Segun Omole '21, and Kefei Wu '17.
"Alex and Taylah are natural leaders with cosmopolitan visions, exactly the type of students that the Schwarzman Scholars program is looking for," said NYU Shanghai Vice Chancellor Jeff Lehman. "I am confident that their Schwarzman experience will reinforce their commitment to the kind of values that they have displayed during their time with us. 
Inspired by Oxford University's Rhodes Scholar Program, the Schwarzman program seeks to provide exemplary Chinese and international young leaders with an interdisciplinary understanding of China in order to meet the geopolitical challenges of the 21st century. Schwarzman Scholars learn from leading international faculty in the classroom and have access to unique internship and mentorship opportunities focused on real-world problem-solving and professional development.
Liu says he is particularly excited to take part in Schwarzman College's Deep Dive program, where students are able to work directly with local government administrators or state-linked businesses to get a first-hand look at the real process of governance, policymaking, and development. Liu, an Economics and Data Science double major, hopes to apply insights from global development practitioners at Schwarzman College to finding sustainable solutions to poverty in rural China and around the globe.
"The Schwarzman program is a highly future-oriented program in which the professors guide the Scholars to predict what the world will be like, rather than reacting to the status quo," says Liu. "That lets Scholars try to change the world for the better, and make really innovative change in the world."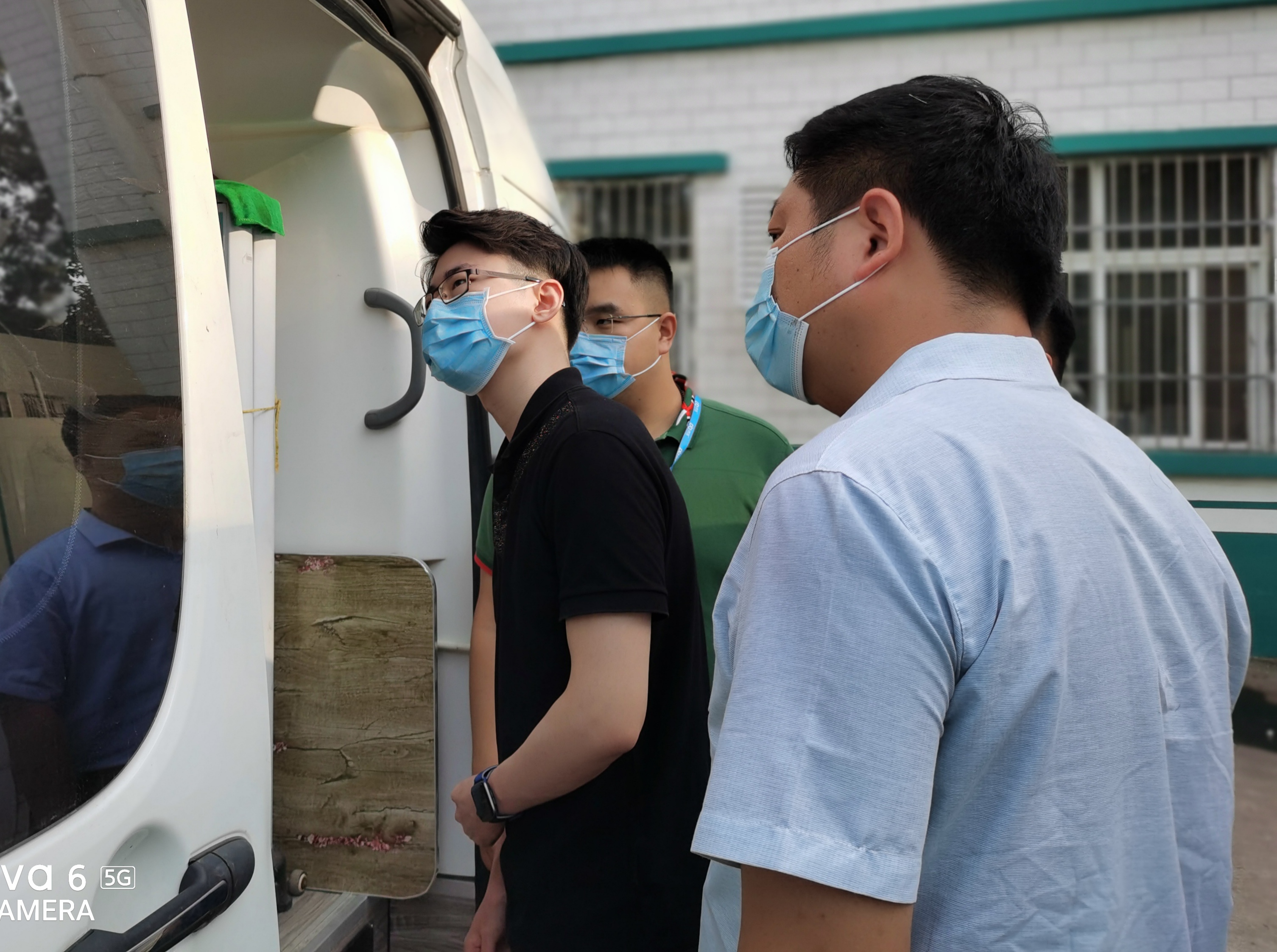 Liu visits a "mobile hospital" serving remote rural areas during his internship in the Jia County government in Henan Province, where he briefed the mayor daily on research into poverty alleviation's ties with education and the local manufacturing industry.
Bland, a Social Science major and Chinese minor who designed her own track in Comparative Law, says she is certain that the Schwarzman program's unique blend of immersion in China and opportunities for real-world exchange with global thought leaders will further her goal of improving relations between China and her home country, Australia.
"I think in preventing me from going back to China, COVID made me realize how much of an impact China makes on the rest of the world from a political, economic, and social standpoint. As a result, I knew my work in China wasn't done," said Bland. "I'm so excited that now that I have this strong foundation in understanding China from my time at NYU Shanghai, with Schwarzman I have the opportunity to really get into the nuances of China's domestic and foreign public policy -- identifying the issues that China and Australia share, how they can bridge divides individually within their own nations, and then being able to see where they overlap."
During their time at NYU Shanghai, Liu and Bland developed rich experience in research and leadership. Liu co-organized a nationwide futures trading simulation contest sponsored by the Zhengzhou Commodity Exchange, researched future paths for China's industrial internet at tech giant Tencent's Research Institute, and was one of 99 students presented with the 10th Chinese Youth Science and Technology Innovation Award by then-vice-premier Liu Yandong. Bland is the current Student Government President in addition to serving as the Global Vice Chair of the NYU Global Network's Student Government Assembly Executive Board, where she serves a constituency of over 55,000 students across 15 global sites.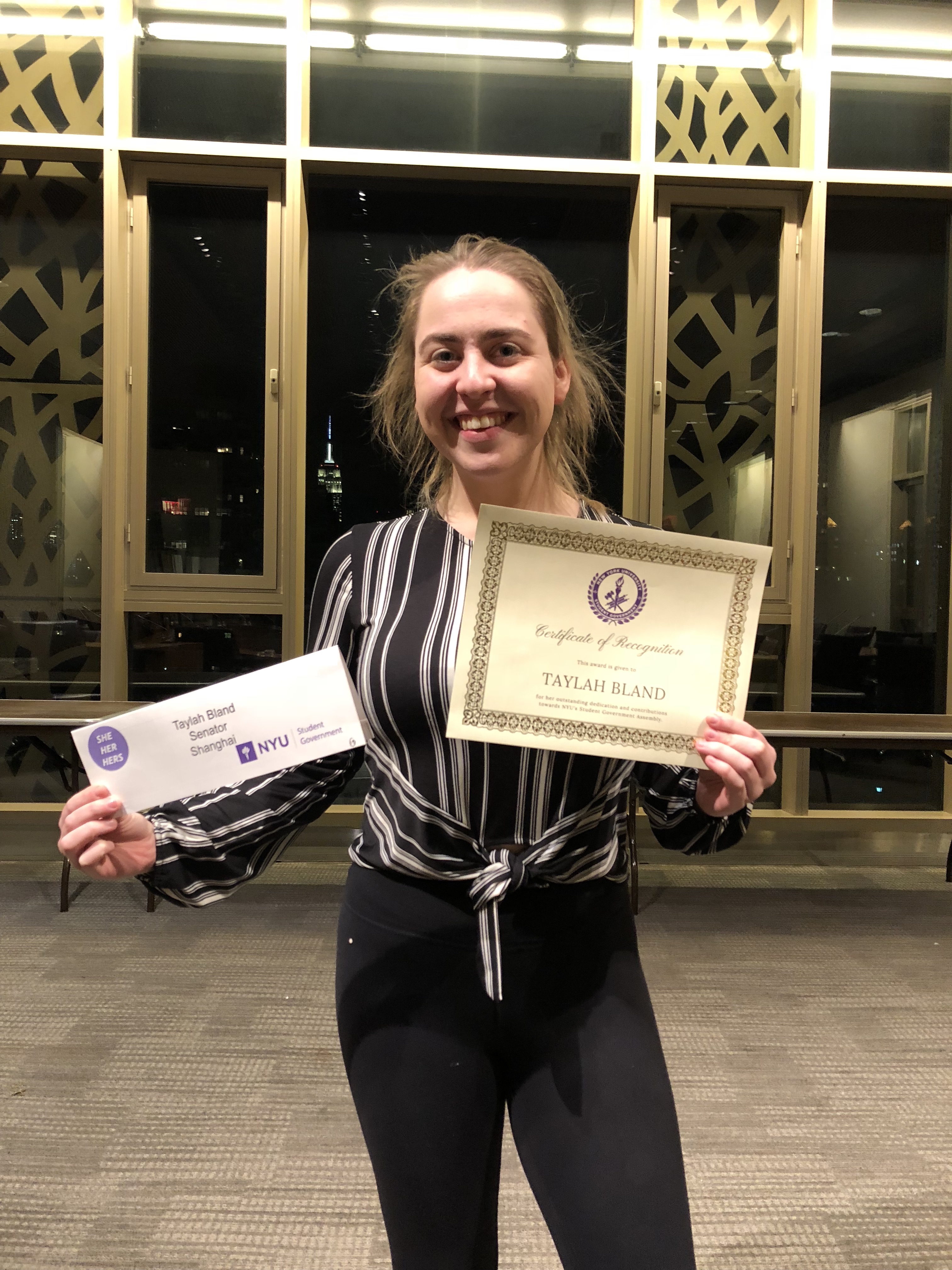 Bland in NYU's Student Government Assembly Room in Fall 2019, when she served as NYU Shanghai's Senator to New York.
"The Schwarzman application process really made me reflect on the impact that other people have had on my life and all the nurturing that NYU Shanghai has provided, in shaping me to get to this moment," Bland said. "There's just so much more behind the scenes, so I'm thankful for all the stakeholders that have been able to assist."
"Education can play an important role in combating the polarization of society by nurturing young people who, in the future, will lead their communities by serving them," said NYU Shanghai Chancellor Tong Shijun. "NYU Shanghai and Schwarzman Scholars share that vision, and I'm happy that together we can lead our students in that direction."
Previous NYU Shanghai winners of the Schwarzman Scholars Fellowship are:
Class of 2021 – Harry Zixin Wang '20, Frank Jiaqiao Xiang '20, and Owen Junan Zhang '20
Class of 2019 – Nofar Hamrany '18
Class of 2018 – Roxanne Roman '17 and Jacko Walz '17