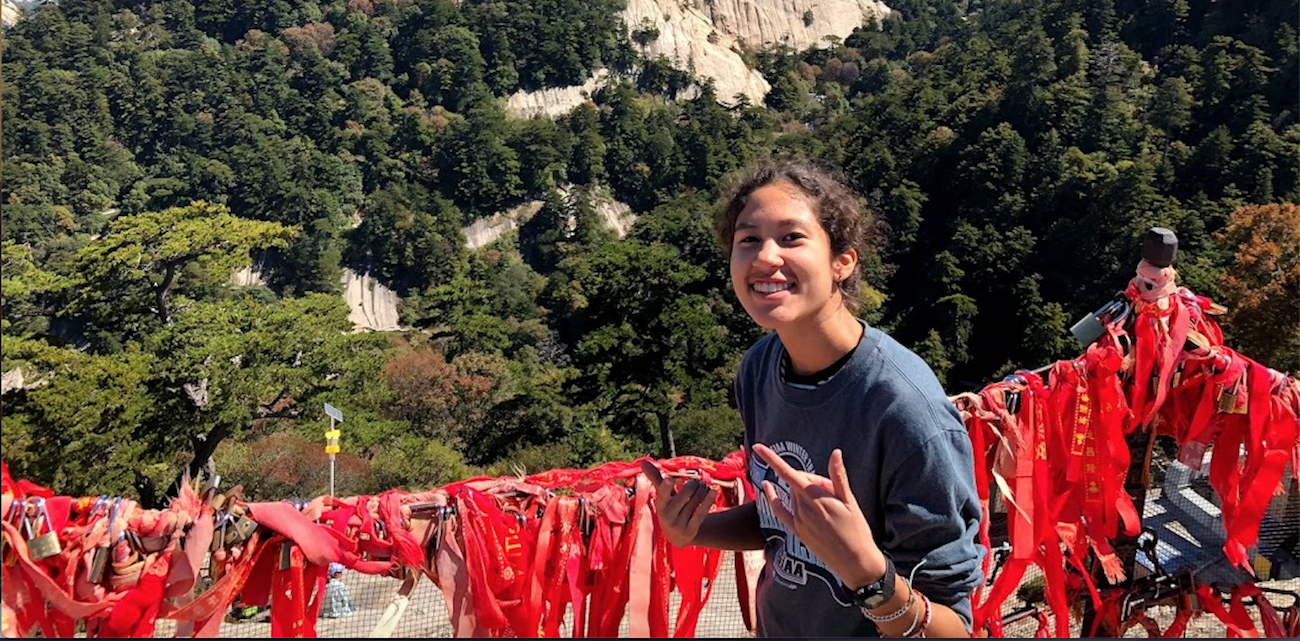 Hometown: Hasbrouck Heights, New Jersey
Major: Social Sciences, Global Health track
When Sydney Fontalvo '21 stepped off the plane from Shanghai at the end of her freshman year  and saw her family waiting for her at the airport, she couldn't help but cry.  "They were just asking so many questions, and I had so many stories to tell them -- I was talking the whole summer!" Fontalvo recalls. "I had learned so much in such a short period of time. It felt like I kind of outgrew my hometown."
Fontalvo had applied to NYU Shanghai on a whim after hearing about the campus on a tour in New York, and she wasn't counting on getting in. But when she opened her bilingual acceptance letter, she says she knew it was the beginning of an amazing adventure. "The moment I realized that I got accepted, I knew deep down -- even though I didn't want to admit it to anybody at first -- that I wanted to go, no matter what," Fontalvo says. "That's literally a once-in-a-lifetime opportunity. Why would I pass that up?" 
That first year was so packed full of new experiences that Fontalvo finds it hard to list them all. There was travel, to Beijing's Great Wall and to Nanjing's memorial to the victims of the 1937 Nanjing Massacre. There was the Diversity Initiatives program, where she learned about China's feminist movement and the deaf and hearing-impaired community ("Chinese sign language exists?!?! That is so cool!"). There was dance club, language exchanges, creative writing retreats ...
And then of course there was soccer. Fontalvo's whole family grew up playing soccer, and she had played competitively since she was five years old.  As a freshman, Fontalvo became co-captain of the women's soccer team, a multinational bunch with a broad range of experience, including Fontalvo's roommate Coco Deng Qing '21, who had never before played soccer competitively. The team pulled together to win the Shanghai Intercollegiate League in May 2018, securing NYU Shanghai's first-ever athletics championship.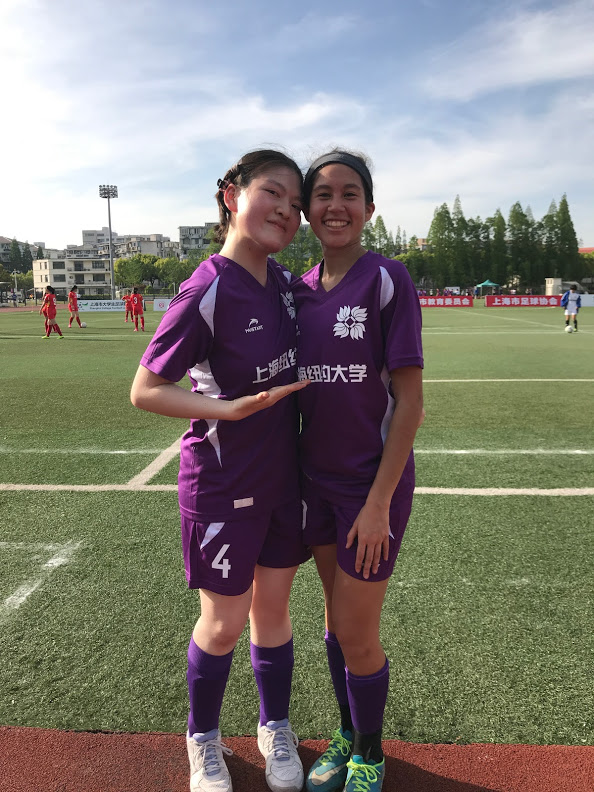 Fontalvo and her roommate/teammate Coco Deng Qing '21 pose together on the field after winning the Shanghai Intercollegiate League finals. Deng, who later became the first captain of NYU Shanghai's women's basketball team, is "one of the smartest people I know," Fontalvo says. Fontalvo also credits Deng with teaching her self-care habits that have made distance learning far more manageable.
Fontalvo also threw herself into learning Chinese. Her vocabulary when she arrived on Century Avenue was limited to "Hello (你好)" and "Thank you (谢谢)." But Fontalvo says she loved using Chinese to master Shanghai living, figuring out how to order her favorite bubble tea (she's addicted) or navigate the fine print at the bank. 
By spring of her first year, she was able to conduct interviews about LGBTQ+ rights in Chinese (with a little help from her boyfriend Justin Wang '21) for a project with Sam Ong '22.  Every semester, Fontalvo has made sure to take at least one language class, completing advanced courses in Chinese literature in her senior spring.  
"Sydney always bravely embraces the challenge of learning a new language and works very hard to maintain high language proficiency. She is really a student with a global vision," said Senior Language Lecturer of Chinese Song Ying.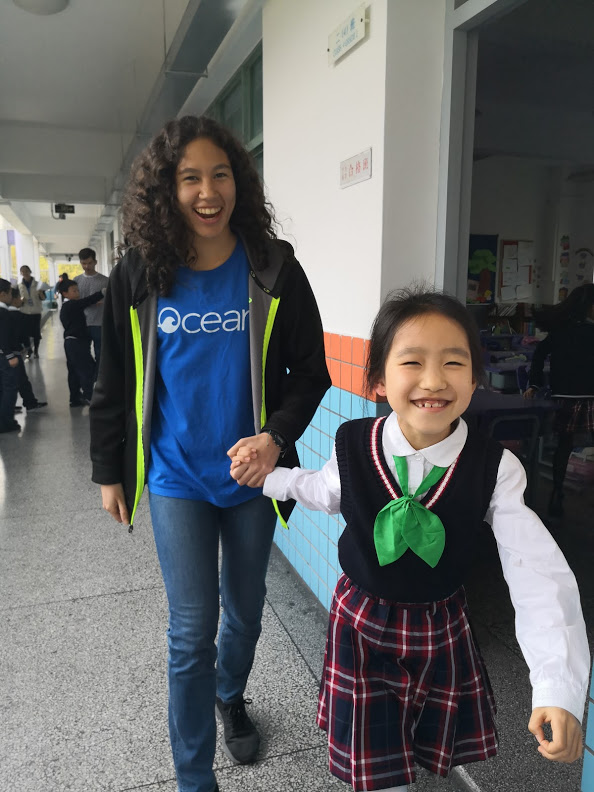 A Fushan Elementary School student leads Fontalvo on a tour of the school, where Fontalvo and students practiced reading in their second languages together.
As she dove deep into Chinese culture, Fontalvo found herself making a cultural connection she never expected to find in Shanghai: a closer bond with her Latina identity. Both of Fontalvo's parents immigrated to the U.S. from Colombia, but she rarely spoke Spanish with anyone outside her family. At NYU Shanghai, Fontalvo encountered a community of Spanish speakers from across Latin America and the United States, running the gamut of accents, vocabularies, and cultural backgrounds.
"Those friends are the ones who gave me the confidence to speak more frequently in Spanish, and I felt like I gained a lot more confidence to be proud of my heritage," Fontalvo says. "It wasn't until I actually got to NYU Shanghai that I felt like, 'This is who I am! I'm a Colombian-American!'"
That newfound confidence inspired Fontalvo to study away in Buenos Aires. She also became interested in the importance of multi-generational families in both Chinese and Latin American cultures. Like many Chinese people her age, Fontalvo couldn't remember a time when her grandma hadn't been there every day to take care of her. When her great-grandmother came to live with them for a year before passing away at age 98, Fontalvo's family had four generations living under one roof.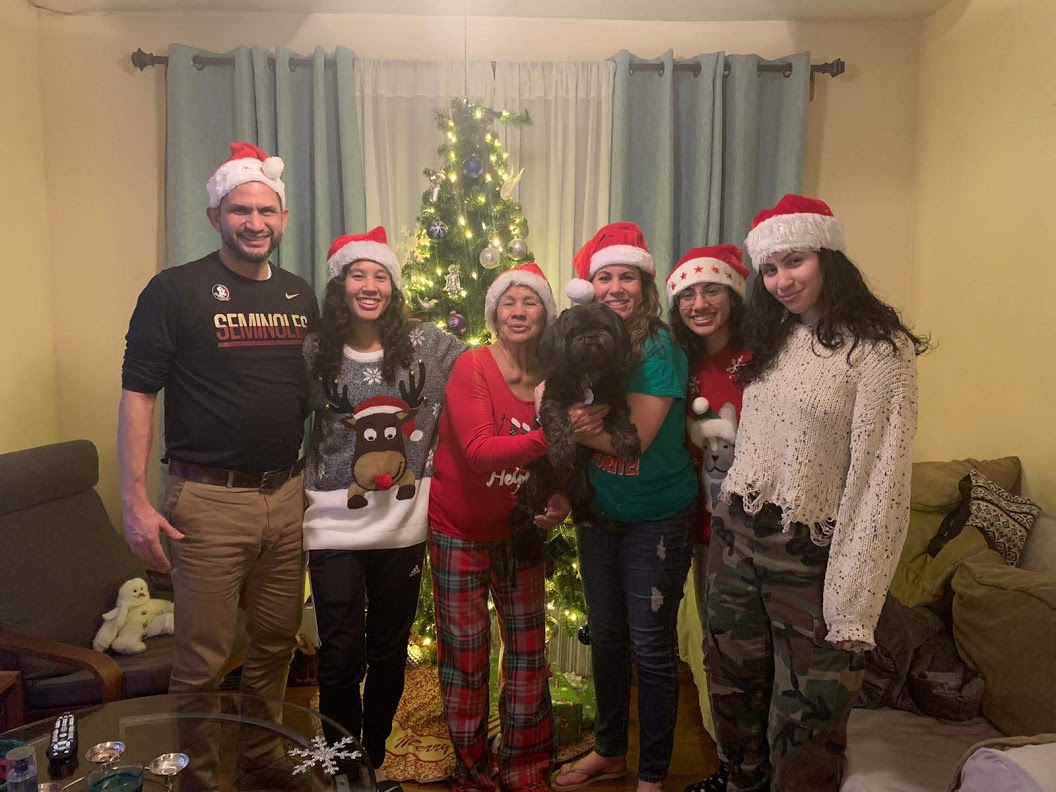 Fontalvo celebrates Christmas with her parents, grandma, and sisters at home in Hasbrouck Heights, New Jersey.
Fontalvo had planned to study Business and Marketing, but she quickly found herself gravitating toward Humanities or Social Science. Things finally clicked when she took a seminar on the socio-political context and consequences of chronic disease, gaining a wealth of new perspectives on the struggles she saw her family go through in caring for her great grandmother.
Global Health, Fontalvo realized, was the field she was looking for. It brought together all the disciplines and approaches she had been exploring -- from philosophy to anthropology to environmental sociology -- and it offered a clear path toward using academic research to make a real difference in the lives of people caring for aging loved ones.
"I always felt like if I had this opportunity to access higher education and do my own research, then the least I should do is help the community that built me up in the first place," Fontalvo says. "Studying global health can put me in a position where I can tell policymakers, 'This is what you need to be doing right now to help the most vulnerable populations.'"
When the COVID-19 pandemic began, Fontalvo found herself at NYU's New York campus studying epidemiology. During the height of the pandemic in the Northeastern U.S., Fontalvo worked in a COVID-testing lab near her home in New Jersey. The tests she processed each day showed her firsthand how minorities in the U.S. were disproportionately affected by the virus. It also opened her eyes to the challenge of communicating to real people the theories and ideas she had been learning in the classroom.
"I realized also that there are so many ways you can market public health information, and it's really important to do it in the right way and to make public health research easier to disseminate," Fontalvo says. 
This fall, Fontalvo will be attending Columbia University's Mailman School of Public Health, working toward a Master of Public Health (MPH) degree in Sociomedical Sciences. She is looking forward to studying the social implications of public health policy and practice, something that mirrors her Social Sciences studies at NYU Shanghai.
"You can't just look at things through one lens, one field, because you're never going to get anywhere unless you band together with other researchers and get the wider picture," Fontalvo says. "You want to constantly be challenging yourself, and constantly asking yourself, 'How can I use my place in this institution to give back?'"