NYU Shanghai Senior and Alum Named Yenching Scholars at Peking University
Apr 23 2021
NYU Shanghai senior Sarah Brooker '21 and graduate James Bromley '18 have won Yenching Scholarships that will fully fund two years of graduate study at Peking University. The two will join 115 scholars from 37 countries and regions in the university's interdisciplinary China Studies master's program this fall.
Established in 2014, the Yenching Academy of Peking University seeks to cultivate outstanding students with diverse backgrounds to think about China's past, present, and future from both Chinese and international perspectives.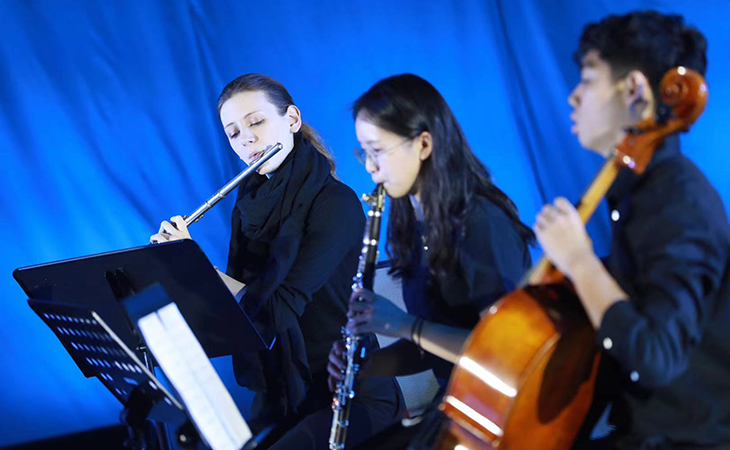 Sarah Brooker (on flute) performing at the 2019 Fall Dance Concert "Heavenly Body"
"I'm very excited to be joining such an amazing cohort," said Brooker, a Global China Studies major and Art History and Chinese language minor. "I'm really looking forward to the challenges and experiences that are to come."
A native of Tucson, Arizona, Brooker said she has been interested in China and Chinese history since her days as a high school student. So enrolling in NYU Shanghai and the Global China Studies program was a natural choice.
During her sophomore year, Brooker said she became fascinated by the carved seals in ancient documents and paintings she studied in the class "History of Silk Road" taught by NYU Shanghai Assistant Professor of Global China Studies Zhao Lu. "Some ancient seals contain lines from poems. Why did that person pick that particular poem? Did it mean something to them personally? That's just so awesome to me," she said.
 


A seal with the Chinese character for "Buddha" Sarah made out of sandalwood
"Sarah is one of the best students working on a topic that provides deep insights into the making and meaning of seals in premodern China," said Professor of History Tansen Sen. "She is the first student from NYU Shanghai who has so extensively focused on Chinese art history. Sarah will be an excellent addition to the Yenching Academy. She has the potential to develop into a leading scholar of Chinese art history in the future."
Brooker, who will continue her studies in History and Archaeology at the Yenching Academy, said she feels well-prepared by NYU Shanghai's Global China Studies faculty for her upcoming academic challenge in Beijing. She enjoyed the seminars sponsored by the Center for Global Asia, which not only broadened her views about China and Asia in general, but also enriched her own research.
"Yenching reminds me a lot of NYU Shanghai, and the way that they structure their courses and cohort. … I feel like there's a lot of room to explore at Yenching," Brooker said. 
Bromley, a social sciences major and Chinese language minor who graduated in 2018 as part of NYU Shanghai's second class of graduates, said he will spend his time at Yenching studying politics and international relations with a concentration on African studies. He plans to focus his research on the social benefits of Chinese investment into infrastructure projects in West Africa, as well as the implications of China's Belt & Road Initiatives on Africa.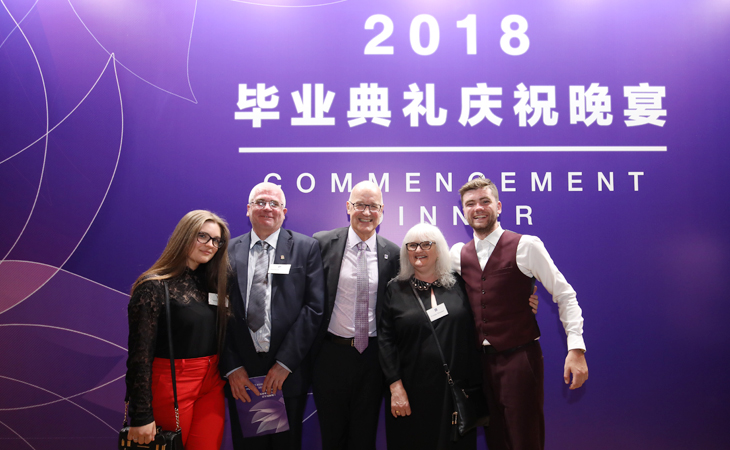 James Bromley with his family at the graduation dinner party
"I feel both incredibly humbled and fortunate to be able to continue my China adventure with the Yenching Academy," said Bromley, a native of Liverpool, U.K., who is currently working for V-Logic Limited, a logistics company based in Hong Kong, developing strategies for the company's China-Nigeria e-commerce business. 
Bromley said his time at NYU Shanghai, with its small classes and the opportunity he had to learn with classmates in a cross-cultural setting, prepared him well both for his job and his future academic pursuits in Beijing. "I'd like to thank everybody at NYU Shanghai who supported me throughout my time there and inspired me to always aim upwards and to pursue success."
In the next two years, he hopes to deepen his understanding of China's development from a Chinese perspective and to raise his Chinese language skills so that he can take courses in Chinese in other schools at Peking University.
"I hope to contribute to fostering a more reasoned and nuanced understanding of China in the West; bringing China and the rest of the world closer together has never felt more urgent," he said. 

Meet NYU Shanghai's previous Yenching Fellows:
Savannah Billman '19
Zoe Jordan '18 and Amit Gal-Or '18