Speech Highlights from NYU Shanghai Commencement 2019
Jun 3 2019
On May 30, 270 graduating seniors from the Class of 2019 received their bachelor's degrees from NYU and NYU Shanghai diplomas at the Shanghai Oriental Arts Center. Below are highlights from some of the speeches given at this year's ceremony.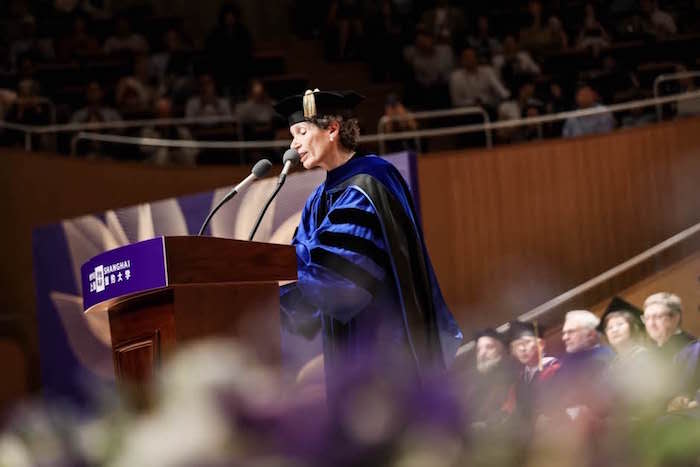 "Today marks the dreaded yet much anticipated end of your four years at NYU Shanghai, at the same time as it marks the dreaded yet much anticipated beginning of the next phase of your life. Mao and Keats, those two seeming opposites, understood the joy and the sadness you feel today and that we feel with you, and they will go with you as we will wherever you are and whatever you do. Congratulations, Class of 2019!"
- Provost Joanna Waley Cohen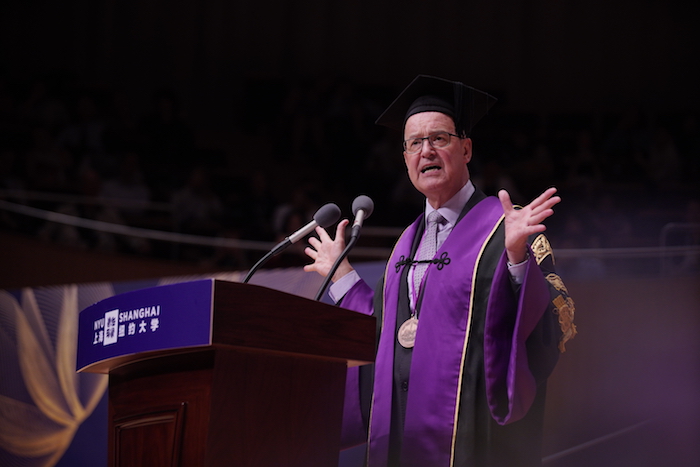 "Luckily, as NYU Shanghai students, you have had abundant opportunities to develop risk-taking, ambition, and creativity. You needed all three of those qualities to be admitted a student here, just as you needed all three of those qualities to succeed here. And you, every one of you, has succeeded brilliantly. And so, to the Class of 2019, wherever on the globe your life takes you, whatever that next step in your career may be, do know, that you take with you, the warmest, best wishes of my wife Jenny and of me, but you also take with you the congratulations of the entire NYU community. NYU Shanghai Class of 2019, congratulations to you all!"
- NYU President Andrew Hamilton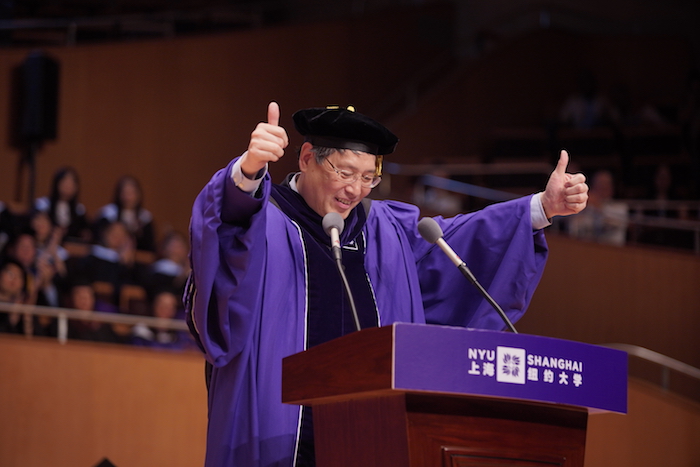 "Graduates, think back to 4 years ago, do you still remember my best wishes for you on your opening ceremony? Here I would like to repeat my words at that time: I hope all of you have a wonderful dream, to make every effort for your dreams and to connect your own dream with the dream of human beings and the dream of the world...Today, I could say for certain that you are now having a beautiful dream and you will make every effort for your dream. And what I would expect more from you is that you could connect your "dream" with the "dream of human beings" and the "dream" of the world. By doing so, you will make your own dream more meaningful and influential."
- Chancellor Yu Lizhong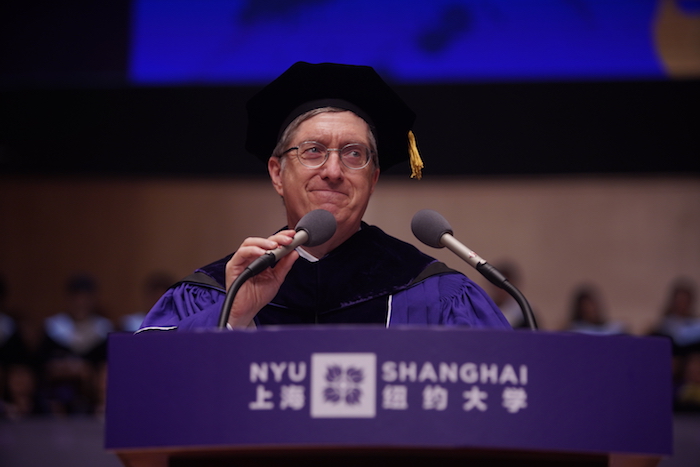 "Keep visiting other countries, at least once every two years. Keep reading tons of books, at least six each year, regardless of whether they are fiction or nonfiction, biography or fantasy. Keep on tasting the widest variety of experiences you can. Protect time for yourself to feel bored, to do things you are bad at, to do things that have no value for your resume...May you continue to travel frequently beyond the places that are comfortable and familiar, so that your appreciation for the miraculous diversity of life grows ever stronger. And may your steps lead you often back to Shanghai. Back to Pudong. For you will always be members of the NYU Shanghai family. And even after we have moved our campus to Qiantan, we will always be happy to welcome you home."
- Vice Chancellor Jeffrey Lehman

See full speech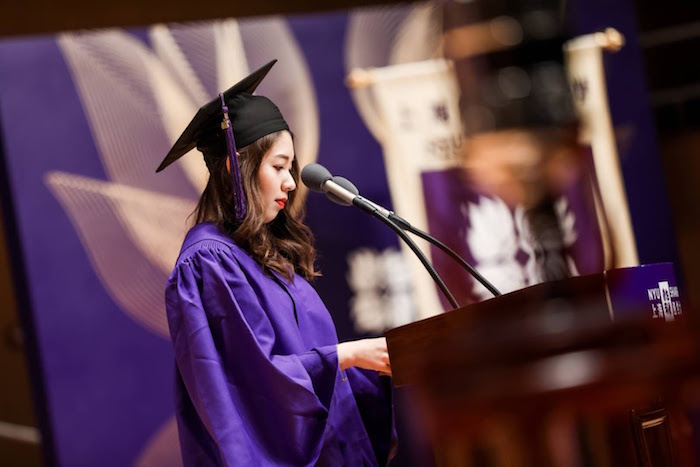 "I hope that in the days to come, when we look back on these four years, we will forget about the tiring schoolwork, the always crowded shuttle buses, and long queues for the hallal line during lunch. But instead, we will still remember the violet lights shining on the Century Avenue over the long nights we spent in the academic building, the laughter we shared at the BBQ stand and grilled fish restaurant outside the Jinqiao dormitories, and all of our classmates, friends, professors and staff who have supported and accompanied these last four years. For many of us, the four years spent in NYU Shanghai have been the most splendid four years in our life so far, but I also believe that we can continue to find splendor in our lives. We will take the shining lights of this school and this city with us, and use them to light way towards the future."

-Qu Jiayun '19, Student Speaker

See full speech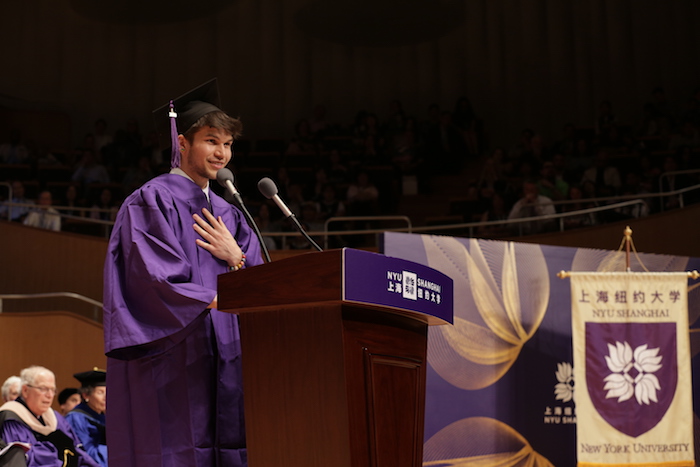 "We students are the evidence that engagement is worthwhile. We students navigate languages and worlds guided by our teachers of all kinds: 三人行,必有我师焉...We are bound to others. But as young adults, we must also know and face ourselves. Anthony Appiah reminds us: 'Your community shapes you; you help shape others; you help shape yourself'... In this glowing city here today, I propose an ideal for us young graduates: to find a golden mean between the individual and the collective; to carve for and out of ourselves a beautiful piece of jade, and to take the interpersonal connections of NYU Shanghai and let them guide us in becoming lifelong learners for ourselves, our nations, and the world."
-Anthony Comeau '19, Student Speaker

See full speech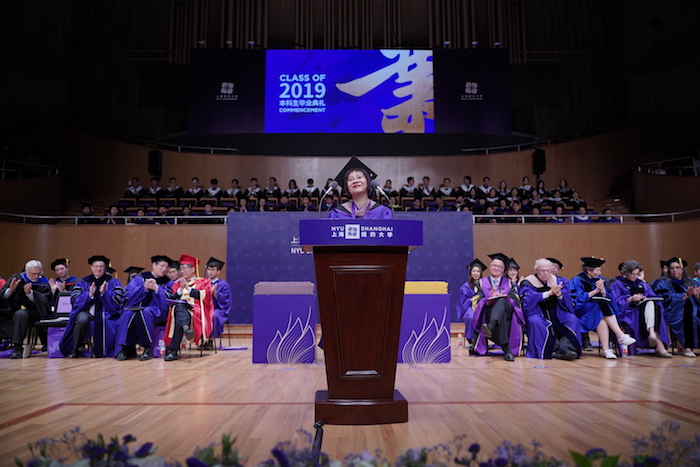 "There is an English expression that says 'Youth is wasted on the young.' But in my mind, youth is meant to be wasted by the young, so go ahead and waste your youth on meaningful things. Spend time wandering around, reading, observing, accumulating knowledge, and capabilities. Allow yourself to be confused and allow yourself to make mistakes."
- Peggy Yu Yu, Commencement Speaker
Video: Class of 2019 Tribute Video, behind the scenes at graduation, Congratulations, Class of 2019!
Photos: Commencement 2019 in photos
Read more: NYU Shanghai Celebrates Graduation of Class of 2019