Our priority this semester is everyone's health and safety.   We all have a responsibility to keep each other safe. This means that we must adjust our own behaviors, decisions, and actions to think about their impact on others. The City of Shanghai has been relatively successful in controlling the spread of COVID-19.   As of late August, there were fewer than 80 active cases under medical treatment, all of which were imported from abroad. 
This means that for the most part, daily life has returned to normal.  On the streets of Shanghai, people move freely, some with masks, many without, enjoying meals together, and not necessarily practicing physical distancing. 
In contrast, NYU Shanghai has taken a much more conservative approach. In light of the contagiousness of COVID-19 and our mutual interest in protecting students, faculty and staff, as well as the greater Shanghai community from any spread of the disease, NYU Shanghai has adopted a COVID-19 Code of Conduct that requires all community members to adhere to key public health guidelines including:
undergoing a body temperature check before entering campus
wearing masks whenever on campus
maintaining of physical distances of at least one meter
refraining from travel outside of Shanghai without advance permission
The full policy for students may be found here.  The policy for faculty and staff may be found here.  
These policies are rigorous because our goal is to ensure that we have no outbreaks of the virus on campus this year.  In other parts of the world, schools are unable to reconvene in-person, so please view this opportunity to attend live classes as a privilege. The collective success or failure of our community is a result of your action, and those around us holding each other accountable.   
COVID-19 HEALTH AND SAFETY ONLINE MODULE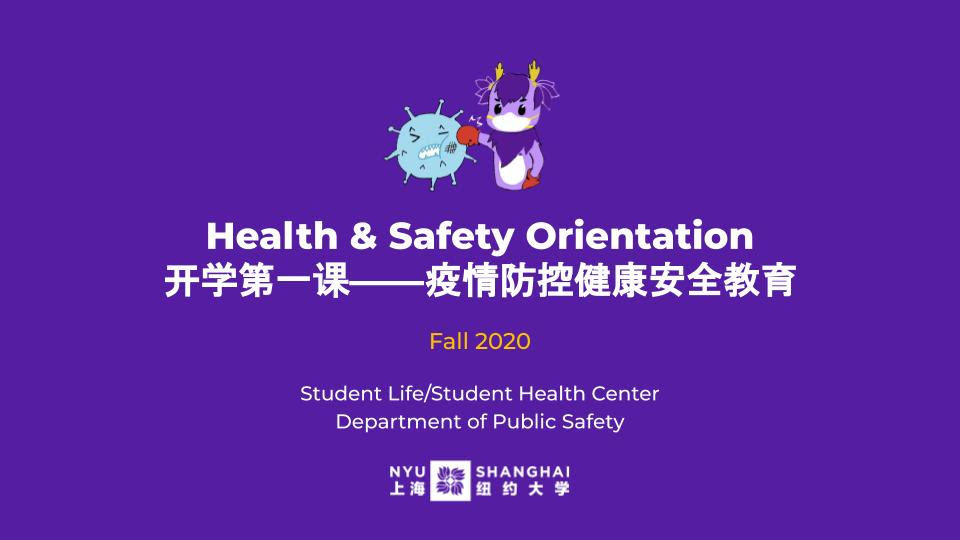 In order to gain access to the NYU Shanghai facilities, students must complete the Health and Safety online module. This module will take roughly 20 minutes from start to finish. You are encouraged to complete it in one login. This MUST be completed 3 days prior to your first entry to the university facilities.
*Safari may not work correctly, you are encouraged to try a different browser.
HEALTH DECLARATION
In order to gain access to the NYU Shanghai facilities, students must complete the Health Declaration form in WeChat or online.
If you are in Shanghai and will not be leaving Shanghai, you can submit it now.
If you have not arrived in Shanghai and will need to complete a Nucleic Acid Test, please wait until you receive your test results to submit.
This MUST be completed 3 days prior to your first entry to the NYU Shanghai facilities.
WeChat Option:
STEP 1: JOIN THE NYU SHANGHAI WECHAT ENTERPRISE ACCOUNT
STEP 2: SELECT "HEALTH DECLARATION"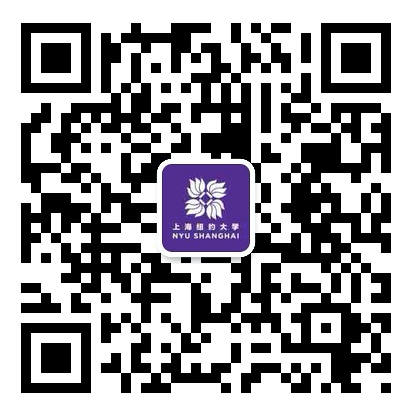 Questions and Answers
What measures are being taken to protect health and safety on campus, and to ensure that the air quality inside the building is safe?
This winter, in response to the pandemic, NYU Shanghai invested in upgrading to the latest, state of the art air filtration systems to meet the national health and safety standards for COVID-19. These filtering systems undergo extra cleaning and disinfection measures every evening.
Cleaners are deployed throughout the day to regularly disinfect high-touch surfaces such as elevators and tables. Every night, cleaners will conduct a deep clean and disinfection of all facilities.
However, we must always keep in mind that social distancing is still the best preventive measure. Masks must be worn at all times on campus. Library desks cafeteria tables will be limited to one per person, facing in the same direction. In class, students will sit according to a seating chart, well-spaced from each other.
What is the university's response plan if there is a COVID-19 outbreak during Fall Semester?
The University has contingency plans - approved by the Shanghai Municipal Education Commission - in place for any possible outbreak in any of our spaces. Generally, the infected community member(s)' close contacts will be tested for COVID-19 and required to quarantine for a period of time to ensure that they have not been infected. They will be required to take courses remotely during that time. All spaces that the infected community member(s) may have used or come into contact with - classrooms, libraries, and other facilities will be sanitized, and potentially closed for a period of time.
What food safety precautions are being taken in the cafeteria?
Just as with students, faculty, and staff, cafeteria workers will have their temperatures taken every day and must show green health codes to enter campus. Our food comes from vendors qualified and authenticated by the Shanghai Municipal Education Commission. If necessary, the supply chain can be traced step by step back to their original production sites.
Diners in the cafeteria are separated by clear plexiglass partitions on every table.