Documenting the Ordinary through Oral History
Sep 30 2022
Who deserves to be in the history books? Which stories are worthy of archiving? This past summer, under the guidance of Clinical Assistant Professor of History Shuang Wen, seven NYU Shanghai students embarked on a research journey to democratize history, using oral history methods to document and archive the lives of everyday people in their communities. 
This is the second year that Wen has led the Oral History Summer Apprenticeship, funded by NYU Shanghai's Humanities department. In the program's inaugural year, students documented aspects of the NYU Shanghai community to commemorate the University's 10th Anniversary celebration. This year, with a modest research stipend for each project, Wen encouraged students to broaden the scope of their research and document whatever sparked curiosity from within their communities. 
Wen's inspiration to lead the project was twofold. "I thought, how can I find a way to foster student interest in humanities?" she said. "What's the easiest and most accessible way to get students to become curious?"  She turned to documenting ordinary people's lives. "It's a way of democratizing history," she said, "of making history not just about elite white men but everyday people who lived through certain events."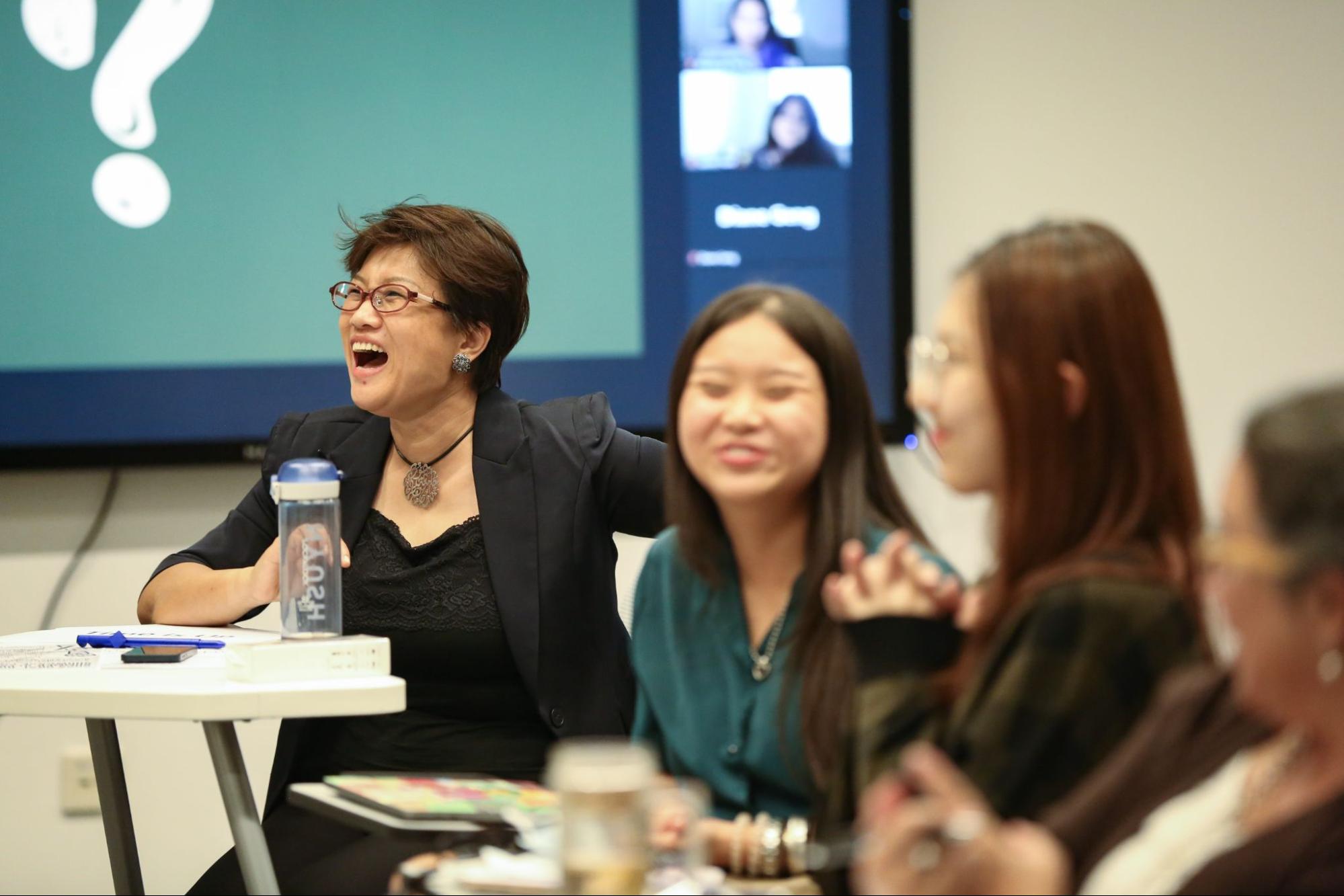 Professor Wen, left, watching her students' presentations at the 2022 Oral History Summer Apprenticeship Showcase. 
Student projects ranged from documenting Jewish people's stories in Kaifeng, Henan Province, to exploring Manchu self-identity in modern Shenyang, to interviewing elderly family members about how their educations were disrupted during the Cultural Revolution. 
Throughout the summer, Wen led the students through oral history methodology training, guiding them from proposal development, the research and interview process, analysis, and bi-weekly 1-1 meetings. The program culminated in a presentation showcase in which a winner was chosen for best project.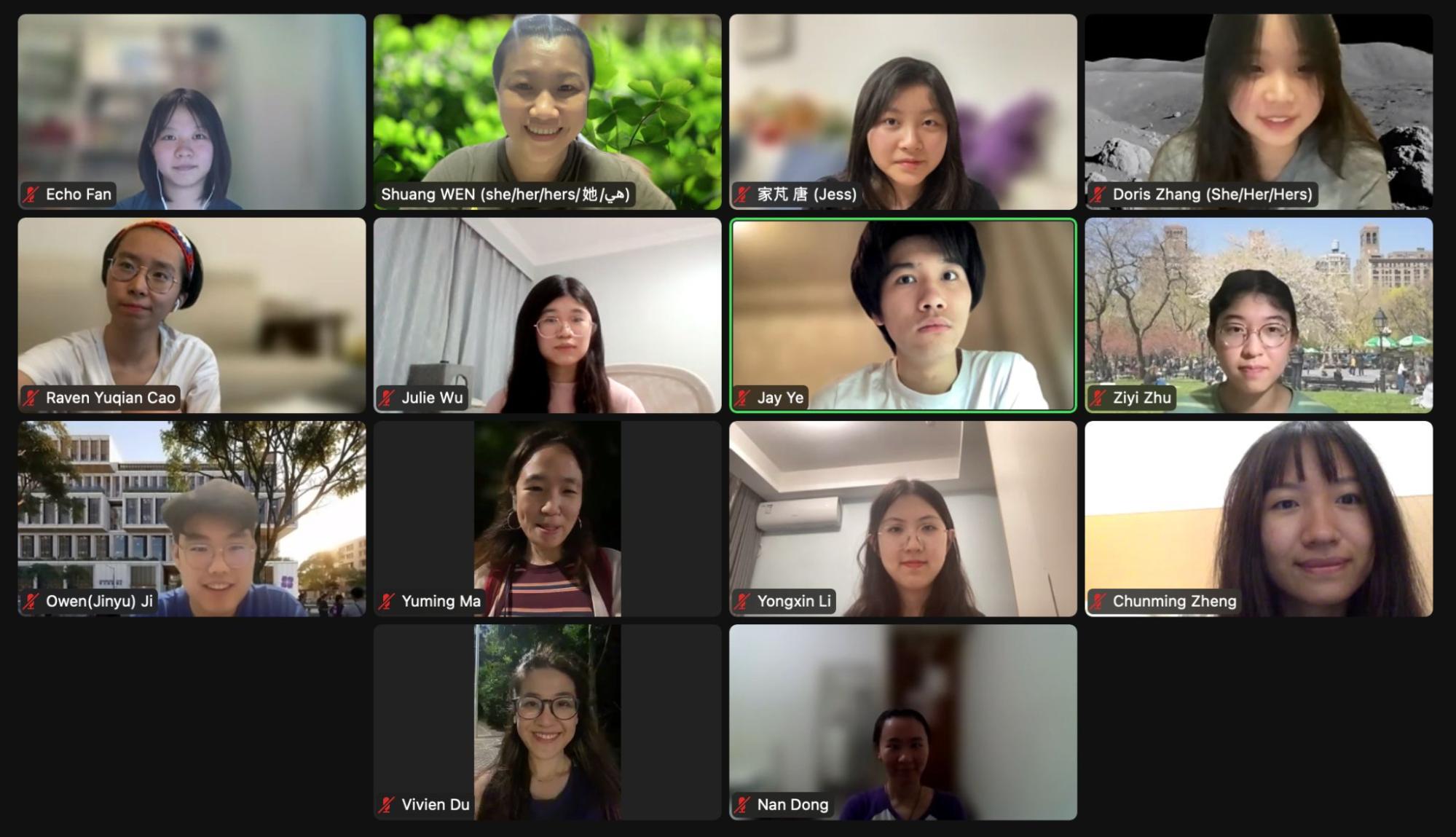 During the summer, the students met for five sessions of oral history methodology training. 
The showcase on September 21 was judged by three professors: Dean of Arts and Sciences and History Professor Maria Montoya, Area Head of Humanities and Associate Professor of Philosophy Brad Weslake, and Lauren Kata, an oral history archivist at NYU Abu Dhabi. After reading the papers and watching the presentations, the three judges voted on the best project, which went to Julie Wu '25 and Jay Ye '25 for their oral history on Shanghai's pastry culture.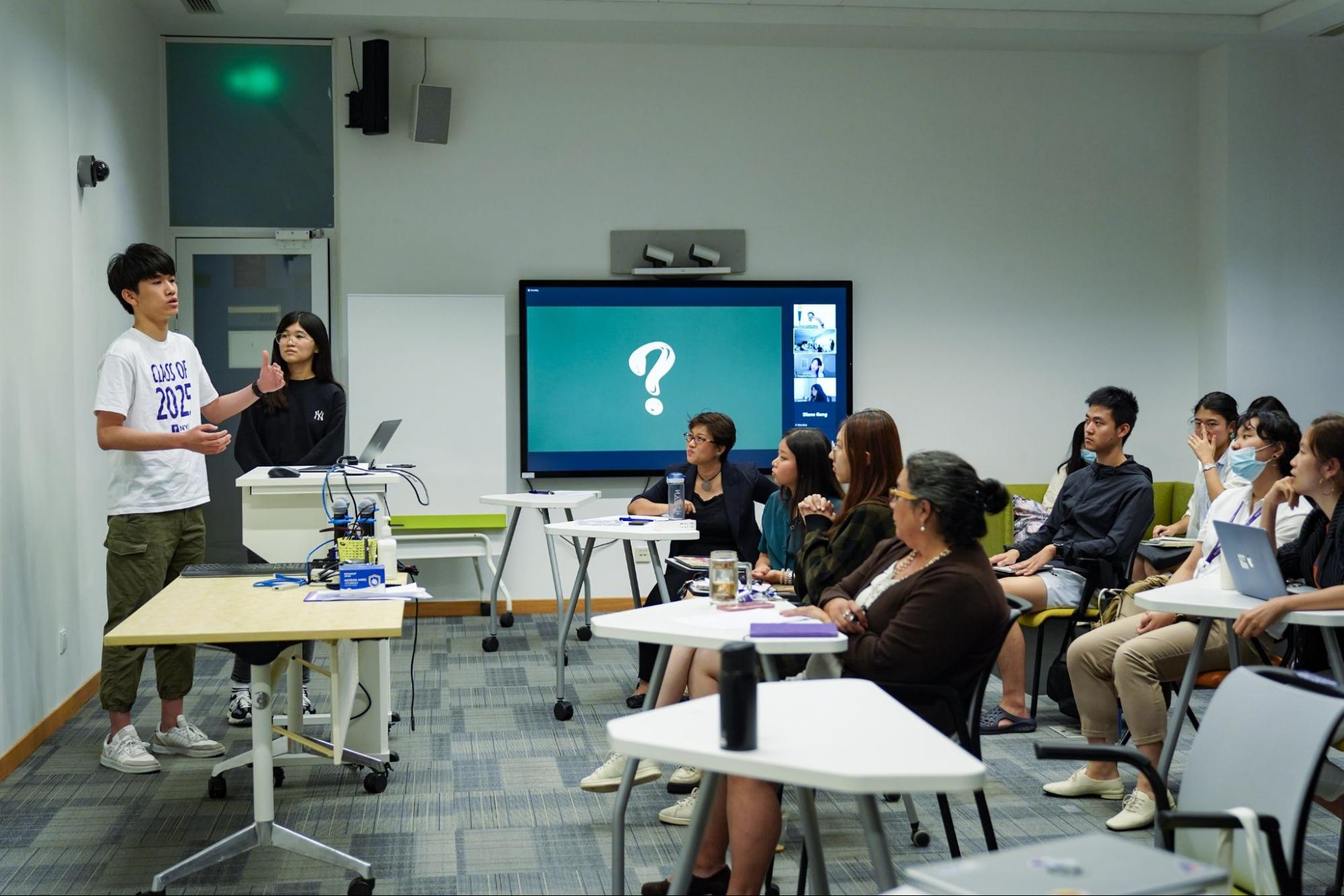 Jay Ye '25 left and Julie Wu '25 right present their project "Haipai Pastry in Shanghai."
Wu and Ye worked together to investigate the history of Haipai pastry, a baking style that fuses Chinese and Western characteristics. Haipai pastry culture is popularly considered a representation of western cultural imperialism, but the students' research aimed to combat that notion. Through interviews with pastry professionals, Wu and Ye argued that the rise of Haipai pastry was due to local chefs who modified traditional Western pastries to fit Shanghainese people's tastes.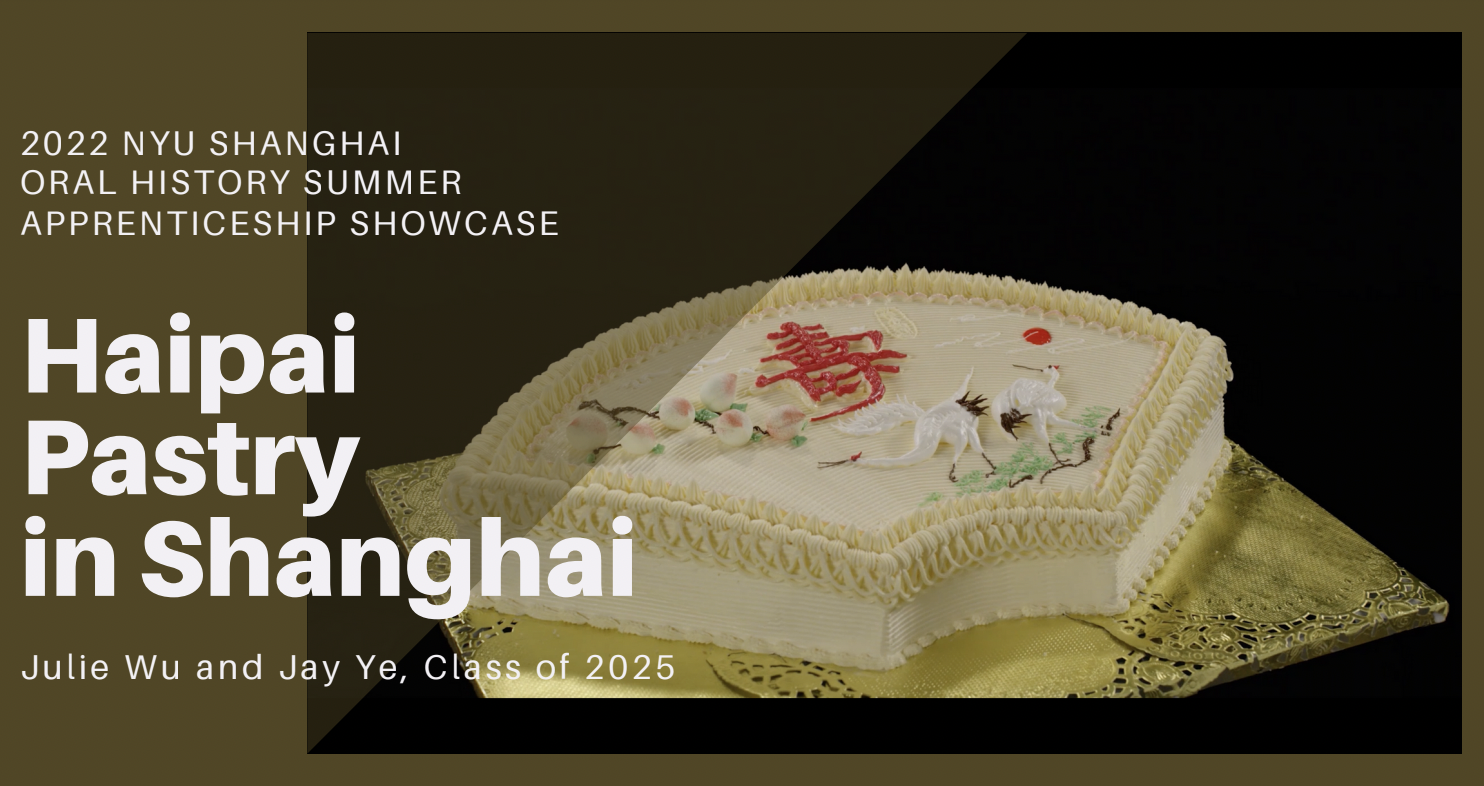 The two visited multiple pastry shops and factories, and ended up interviewing Fengping Chen, technical director of Kaisiling bakery, and Yifeng Chen, the General Manager of the Shanghai Harbin Foodstuff factory. They also created a 15-minute video documentary to accompany their presentation.
"The oral history apprenticeship program is important because it offers students a chance to gain focused and hands-on research experience oriented around a particular method of historical inquiry," said Weslake, one of the judges. "It's a fantastic program." 
In her project, Doris Zhang '25 documented the impact of environmental protection on the lives of Yangtze fisherpeople. Through speaking to local fishermen and fisherwomen living in her hometown of Nanjing, Zhang captured the complex consequences that a ten-year fishing embargo on the Yangtze River had on people who relied on fishing for their livelihood.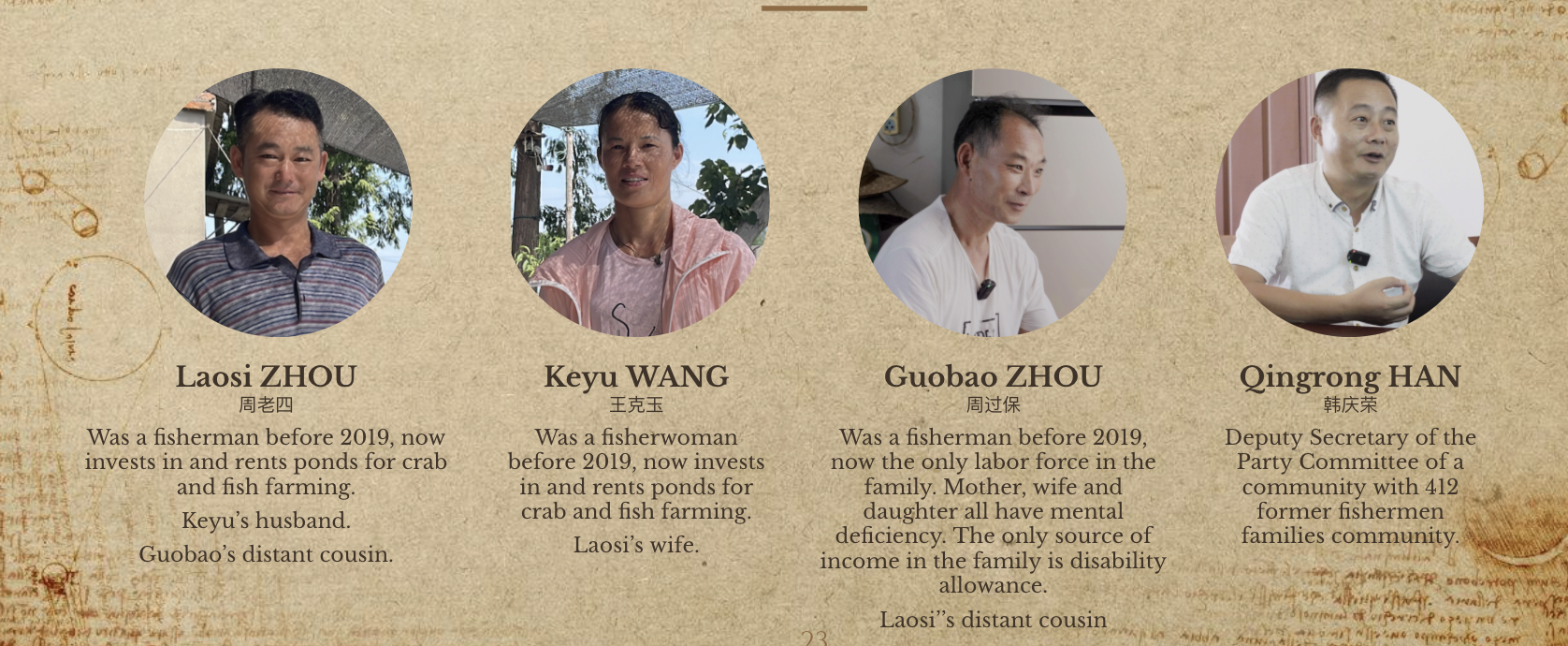 Zhang's interviewees. 
"One of the most meaningful parts of oral history is to make the narration of history accessible to everyone - because history is not something far away from us thousands of years ago, it is what's happening to you and me right now," said Zhang. "In this sense, we were just intermediaries voicing common people up."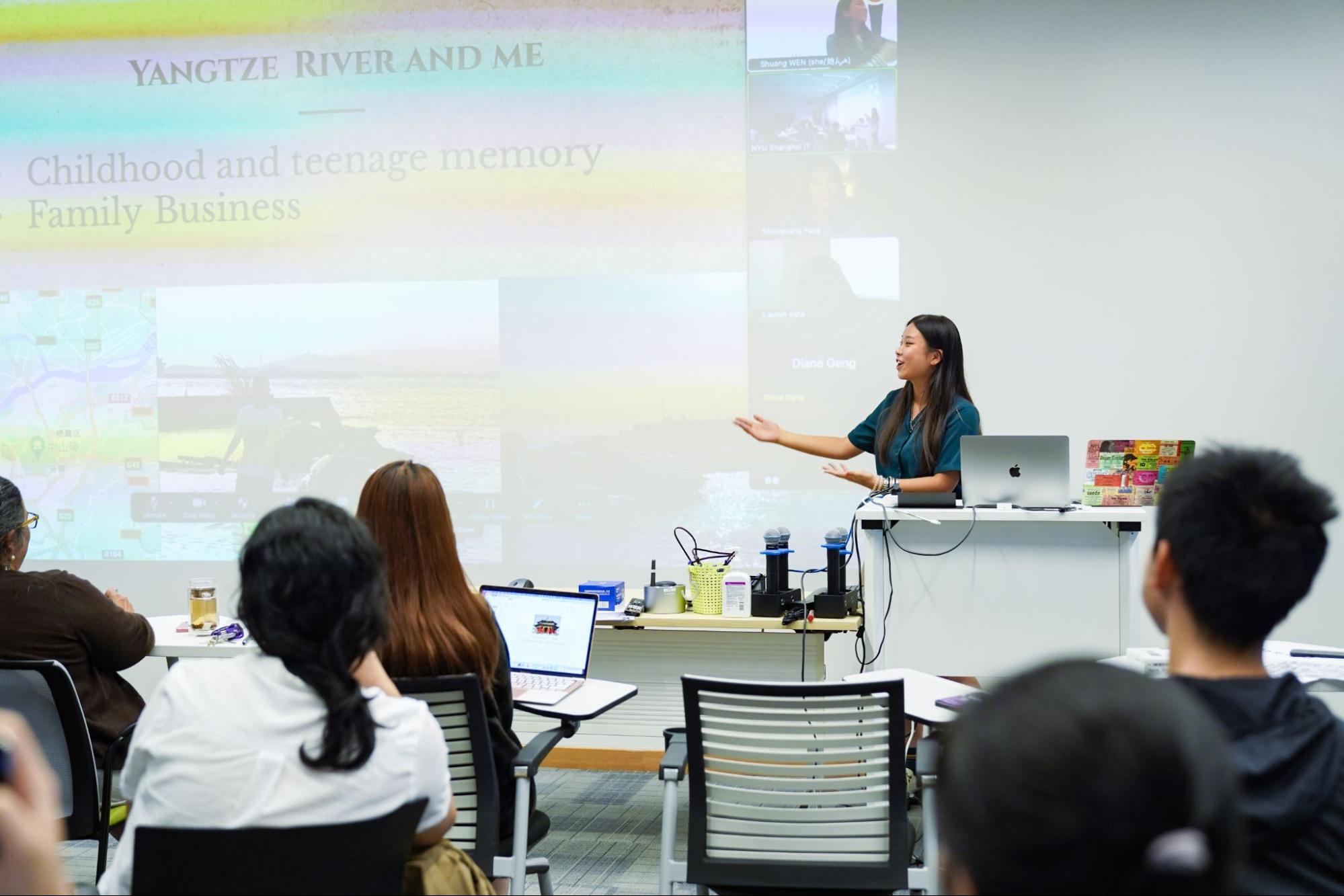 Zhang presenting on her topic "Fishing Embargo in Yangtze River."
Next summer, Wen hopes to continue this project as a four-credit summer school course. In the future, she hopes to add this collection of oral histories and last year's NYU Shanghai oral histories to an official NYU Shanghai Oral History Special Collection.