Students Unearth NYU Shanghai Stories in Oral History Summer Apprenticeship
Sep 30 2021
As NYU Shanghai gears up to celebrate its 10th anniversary, how might members of the community look back on this decade? Oral history—a method of recording people's personal recollections of historical events—can uncover so many experiences that traditional historical documents don't record, breathing new life into the past. This summer, four NYU Shanghai students and one former "Go Local" program student conducted their own original historical research by collecting oral histories of NYU Shanghai and of the Chinese diaspora in Abu Dhabi as part of the inaugural Oral History Summer Apprenticeship. 
The program, led by Clinical Assistant Professor of History Wen Shuang and backed by funding from NYU Shanghai's division of Humanities, culminated in a project showcase on September 23, where students presented the maps, videos, interviews, and conclusions they developed from their research. They also reflected on the process of collecting these oral histories, and how these stories can bring new perspectives to the communities by which we define ourselves. 
The apprenticeship was the first time some of the students had encountered oral history. "Before, when I thought about history, I thought it was mostly written by people in the past, or shown in objects discovered by archaeologists," said Jia Yue '24, who talked to admissions officers, high school students, and Chinese college students attending different universities to find out how the image of NYU Shanghai had changed over the years. "Now I feel oral history is a new way to record history: by talking to people."
Prior to embarking on their research, the students learned about the history of the methodology and the process of collecting oral histories through a series of 4 bilingual lectures. Speakers in the lecture series included Lauren Kata—an oral history archivist at NYU Abu Dhabi who coordinated the NYUAD Memory Project, collecting oral histories for the NYUAD 10th anniversary celebration—as well as Zhang Yu from the Evergreen Education Foundation, a non-profit organization that has trained Chinese high school teachers in oral history methods. 
Wen then helped students identify questions they had about NYU Shanghai and their communities that they could explore through oral history research. In the process, they developed new connections with their communities. "When I heard of this apprenticeship opportunity and how it used oral history to investigate our relationship to China, I was definitely interested in getting to know about the relationship between humans and food, how food can inform our present and our past," said Tan Shu Min NYUAD '24, who conducted a project on Chinese restaurants in Abu Dhabi. "I'm not a big talker, but I like to listen to stories, and a lot of what my interviewees talked about just ended up being their experiences of moving abroad that led them to run a restaurant."
For Global China Studies major Tracey Lan '22, the only senior in the program, the process of collecting these oral histories allowed her to reflect on her time at NYU Shanghai. Lan conducted her project on Global Perspectives on Society, the foundational humanities course that starts off every NYU Shanghai student's academic journey. "The things my interviewees mentioned, that the course bonds the community in the first semester and teaches us to pursue difficult questions about China and the world, actually played out in my experience of taking the course," she said. "It was really interesting to see how this has worked as a foundation for me to thrive in a very multicultural academic environment like NYU Shanghai."
The summer apprenticeship has also inspired Lan to incorporate oral history interviews into her capstone research on Spanish restaurants in Shanghai. "I realized that the oral histories are not just about collecting other people's experiences with GPS, but also more importantly, about what I think about GPS," she said. "It's the same with my capstone, I have to learn about the existing academic debates in my topic of interest and think about where I can contribute."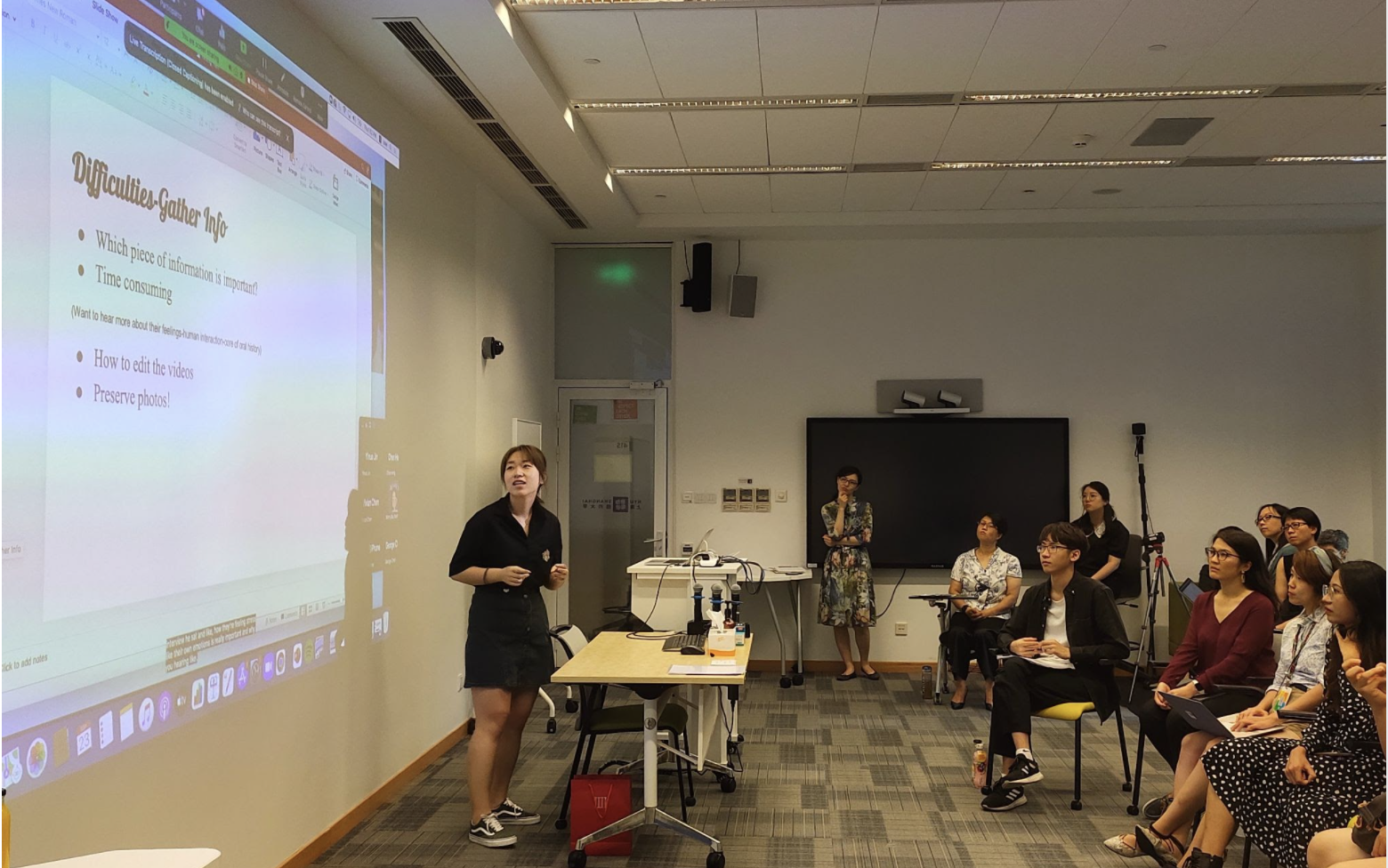 Yan Yining '24 shares her process and conclusions from her research on NYU Shanghai's Academic Resource Center.
Learning to conduct these oral history interviews has also helped the students, such as Business and Finance major Tang Junyi '24, develop skills they can use elsewhere. "Before this, I was an introvert, and I found it a bit challenging to reach out to the interviewees, but I found that as long as I start talking to someone, I will become excited and talkative," he said. "Whether I am studying history or business, I have to talk to people, so this is a very important skill I've learned."
Tang interviewed Assistant Professor of Practice in Accounting Tao Jiao to investigate the relationship between faculty, students and the university. The hour-long conversation led to his conclusion that both students and professors had equal parts to play in creating the academic culture of the school. For Tang, the project provided a new perspective on NYU Shanghai which he wanted to share with his peers, and he reached out to the student-run WeChat channel LIVE in Shanghai to publish the interview.
Projects like this give students a new way to approach history and answer questions they have about their communities, Wen asserts. "The students were very enthusiastic. At the end of this practice, they have all grown and their thinking has improved," said Wen, who worked closely with the students throughout the summer to refine their projects. "History is something very close to us and we can use the skills gained as historians to relate to others. Now, when thinking about the history of NYU Shanghai, the students are not just thinking about what year it was built. Rather, they are asking, 'What makes NYU Shanghai unique?'"
Now that NYU Shanghai is approaching its 10th anniversary, the projects can play an important part in creating an institutional archive. "Doing this research on NYU Shanghai is really about what's happening now," said Yan Yining '24, whose project explored the role of the Academic Resource Center on campus. "In 50 years it can be some sort of history, so it's really important to record it. I'm curious about what people 50 years from now will think about us."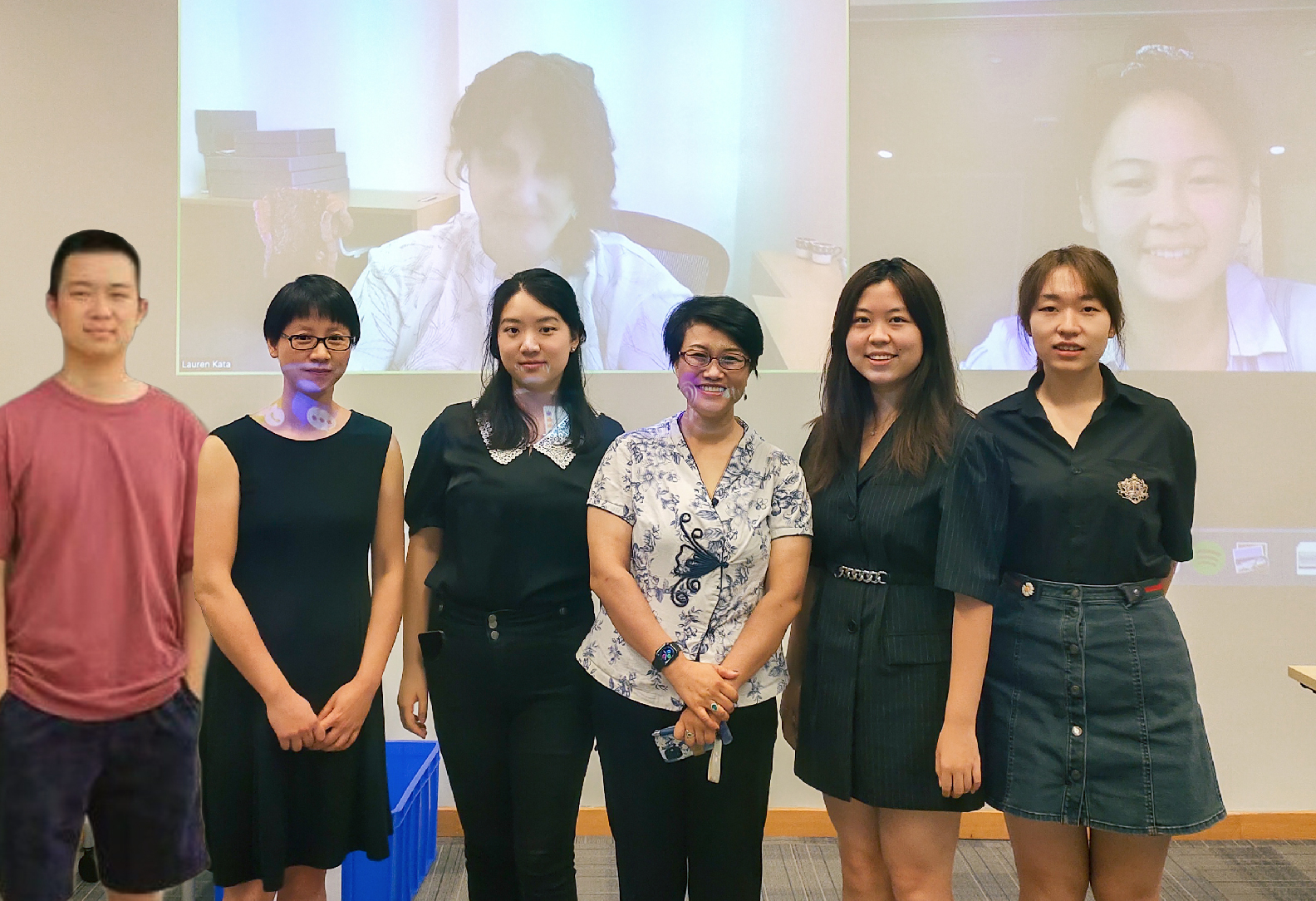 Student researchers gather with their mentors for a group photo after the project showcase on September 23. From left to right, Tang Junyi '24, Zhang Yu of Evergreen Education Foundation, Tracey Lan '22, Clinical Asst Professor of History Wen Shuang, Jia Yue '24, and Yan Yining '24. In the background on screen are NYU Abu Dhabi librarian Lauren Kata and Tan Shu Min NYUAD' 24, who joined the event remotely.