Hometown: Shanghai, China.
Major: Data Science, and Business and Finance​
When Tim Wu Guangyu '20 was considering where to apply for college during his senior year in high school, NYU Shanghai was just three years old—and had not yet graduated its first class. Wu's school counselor was doubtful about such a new university, but Wu decided to give it a shot. 
"I liked that you didn't have to choose a major right away, and that you had the freedom to explore your interests," says Wu. "The Business and Finance and Interactive Media Arts (IMA) programs also attracted me." 
Four years after accepting his offer of admission, Wu says he has no regrets. He's been able to discover his true passions—for data science, and for tackling education inequality. Now Wu plans to further these interests this fall as a master's candidate in Data Science at Columbia University. 
Exploring Academic Interests
When he arrived, Wu knew he would be signing up for classes in Business and IMA. But before long, he found more interests. The elective course Interaction Lab, taught by Clinical Instructor of Arts Jung Hyun Moon, introduced him to computer programming, planting the seeds of an interest in data science. Moon has been a key influence ever since. "I'm a senior now, and Professor Moon is still mentoring me and giving me guidance about my project for my Virtual and Augmented Reality class. "
Microeconomics and Foundations of Finance, taught by Assistant Professor of Practice of Economics Offer Shapir, who used dynamic tools such as mobile phone voting and group exercises to promote classroom interaction and deepen conceptual understanding, also lead Wu closer to a major in data science.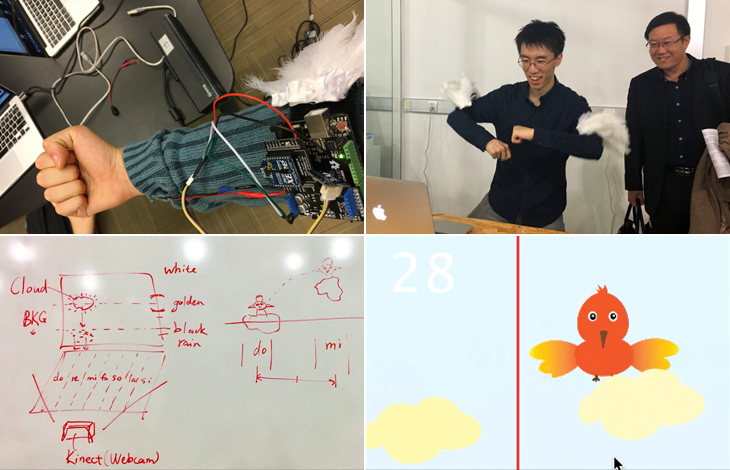 For his "Interaction Lab" class, Wu and his partner designed a game with human-computer interaction. An accelerometer installed underneath the feathers and a depth-sensing rangefinder next to the computer allows the wearer of the feathers to control the movement of avatars in the game by "flapping their wings."
But it was a class that took him out of his comfort zone that helped him grow even more. Freshman year, Wu signed up for a dance elective, Choreography & Performance. The class, taught by Associate Arts Professor Aly Rose, showed him a brand new way of learning, and helped him adapt to the international culture at NYU Shanghai. "It also encouraged me to be more courageous and innovative in my choices, both academic and personal."

Left: Wu (on the right, in yellow first on the right side) poses with classmates in Rose's class. Right: Wu (in the middle) performing in the end of semester show. 
 
Applying Academics to Social Causes
Service has also been a big part of Wu's college career. Through the Dean's Service Scholars program, Wu taught English at a high school in Huaihua City, a less affluent community in Hunan province, during his freshman spring break. The five short days in Huaihua made a deep impression. "We went from strangers to people who trusted each other in days," says Wu, who has kept in touch with the students he met there. "It was such a joy, and it gave me a new perspective on service, education, and working between cultures with my international classmates. I began thinking about inequalities in education."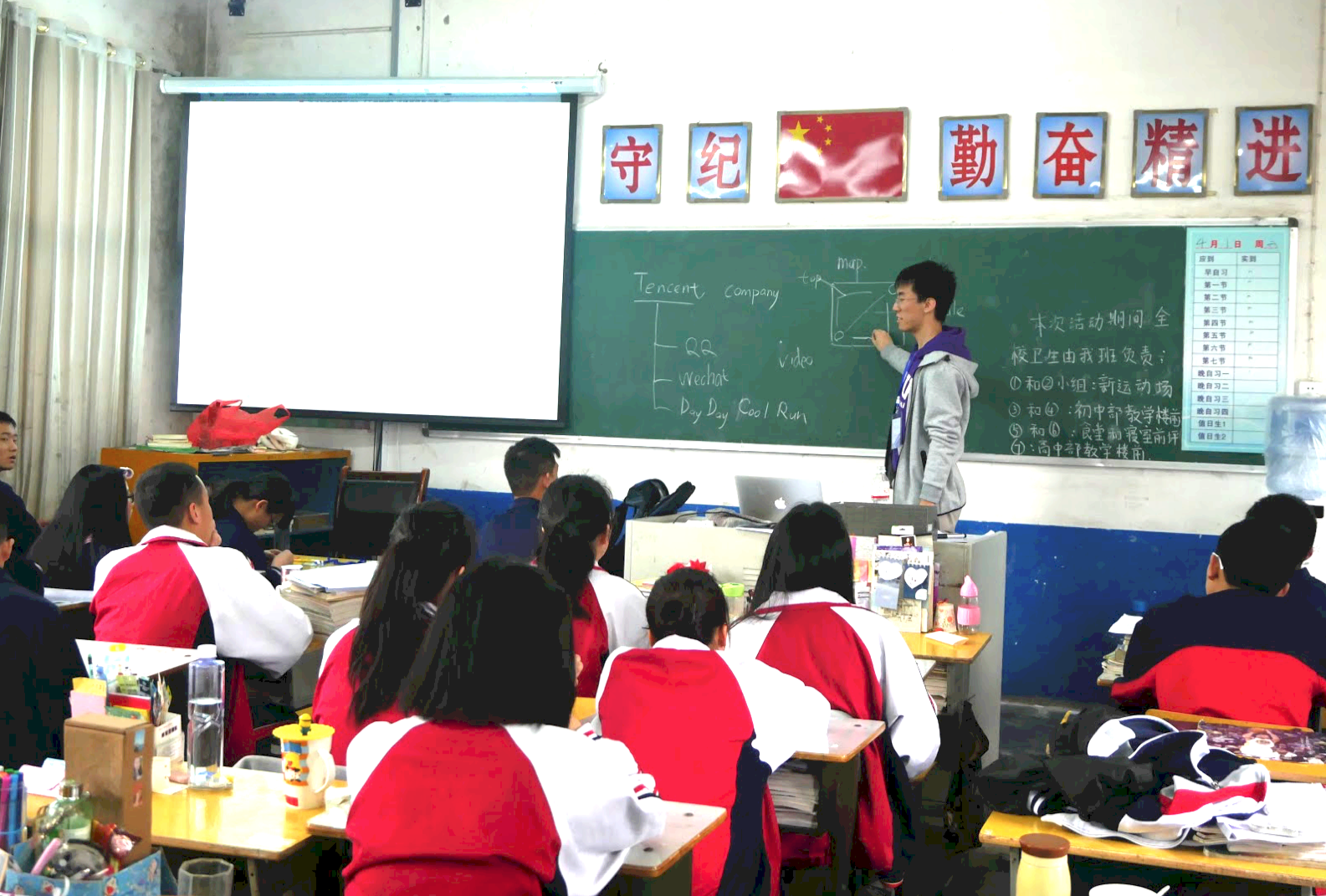 Wu teaching students at a high school in Huaihua City, Hunan Province
"Volunteering and service isn't a simple, isolated action. It's something you have to keep learning about, and understanding. You have to think about the impact of your actions from every perspective," says Wu. 
During his sophomore year, Wu reached out to Diane Geng, Associate Dean for Academic Affairs and founder of the Community Engaged Learning office, who connected him to a primary school in the mountainous regions of Sichuan Province that was seeking volunteer teachers for a summer camp. Wu and Wang Zixin '20 designed a curriculum focusing on English lessons, computer skills and astronomy, and recruited 12 undergraduate volunteers. After four months of preparation, the students traveled to Sichuan to hold a 10-day summer camp for more than 60 students.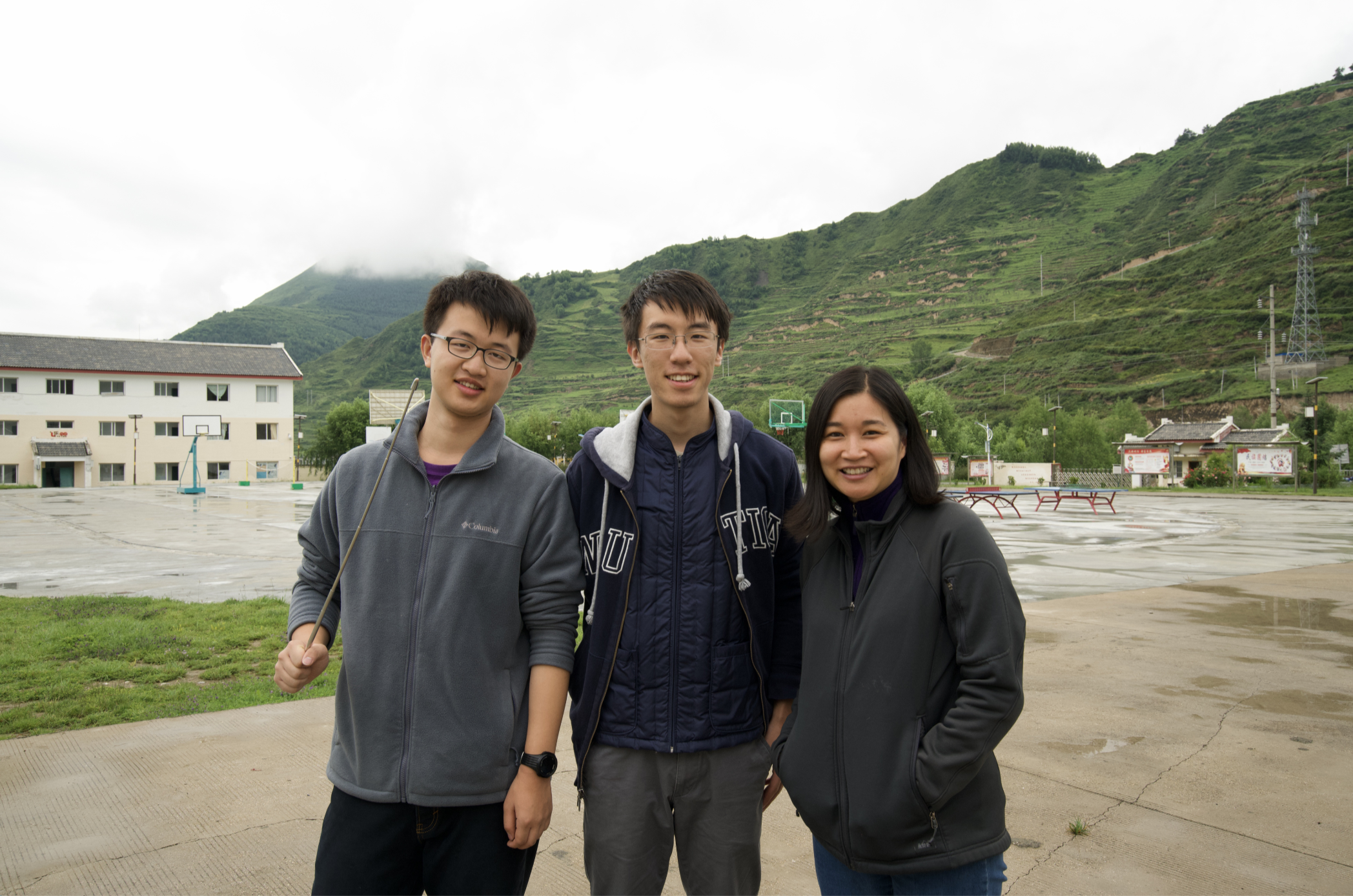 Tim Wu Guangyu (in the middle), Wang Zixin '20 (left) and Diane Geng (right) in Sichuan where they were volunteer teaching.
"This project made me realize that there are so many ways to apply my knowledge and create value," Wu says. "This massively impacted my long-term plans, because it gave me the determination to devote myself to solving problems of inequity in education." 
After that summer, Wu shifted to a double major in data science and business. "I want to begin from a research perspective, to find the root to the problem of education inequities, thus to optimize the way of teaching and solve social problems. I want to help improve the data science literacy rate in regions lacking educational resources," Wu says. "But I'm still taking IMA classes because I love them."
The United Nations and Beyond
While Wu was studying away in New York, NYU Shanghai gained observer status at the United Nations. Wu was one of the first students from NYU Shanghai to attend a briefing at UN headquarters."I was able to participate in fora on sustainable development, and spoke to young leaders from around the world about balancing the development of education," Wu says. Back in China, Wu also joined the Pre-conference Event in Support of the 68th United Nations Civil Society Conference in Chengdu, where attendees explored the role of Chinese non-profit organizations in advancing the 2030 UN Sustainable Development Goals. All these experiences helped bolster his commitment to development and education.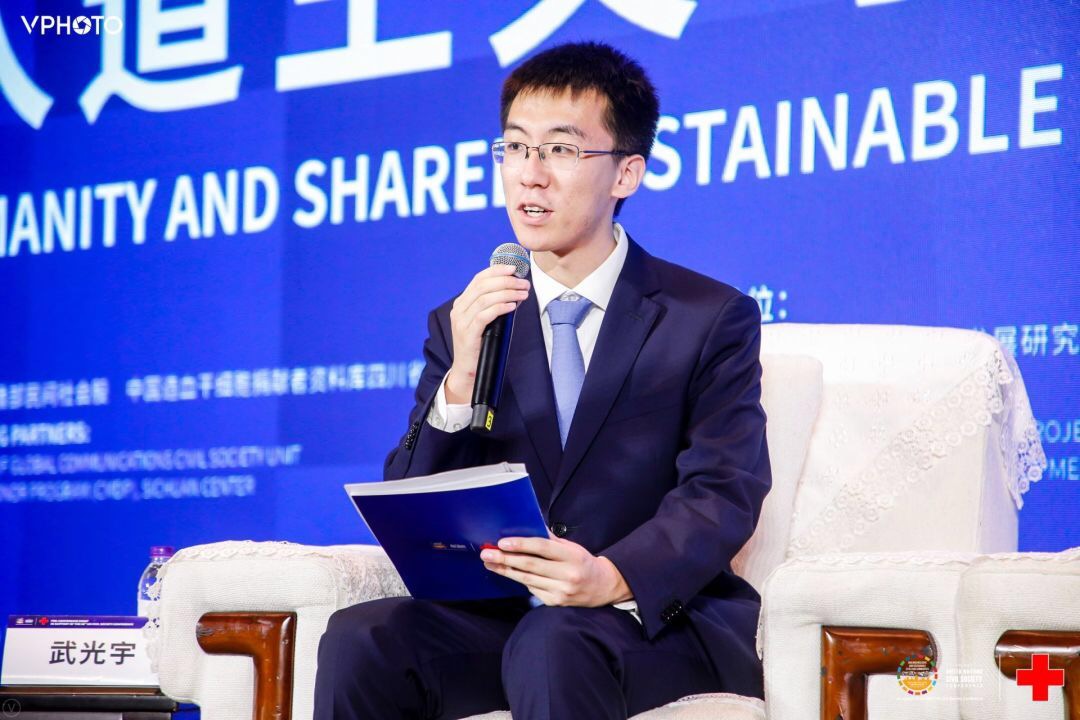 Wu speaks at a preparatory meeting of the UN General Assembly in China
This year, Wu has turned his focus to research. Under the guidance of Assistant Professor Ratan Dey, Wu completed his thesis entitled "Sentiment Prediction of Chinese Stock Message Board Posts with Recurrent Neural Network." Working with Jace Hargis, Director of the NYU Shanghai Teaching & Learning Center, Wu conducted data analysis on NYU Shanghai's remote teaching and learning initiative during the COVID-19 epidemic. Wu also worked with Assistant Arts Professor Yuan Yanyue, applying data visualization to an analysis of how MOOCs related to design thinking are developing and localizing in China.
"Guangyu's candidness and self-confidence stood out to me," Yuan says. "I've seldom encountered a student like him—so capable with data, yet so passionate about education research."
The admiration is mutual, Wu says, since so many faculty have influenced his growth. "Their love of their subjects is infectious in the classroom, and I and my fellow classmates were often drawn into new subjects because of their passion."
Wu says he's excited to begin his next chapter at Columbia University, where he will pursue a Master's degree in data science and then apply for doctorate programs in the humanities or social sciences. He hopes one day to develop AI tools to address education inequality. 
"Guangyu stands out for his self-directed pursuit of challenging learning experiences linked with real-world problems," Geng says. "I have every confidence in his ability to utilize his interests, talents, and strong work ethic to make a positive difference for society in the future."