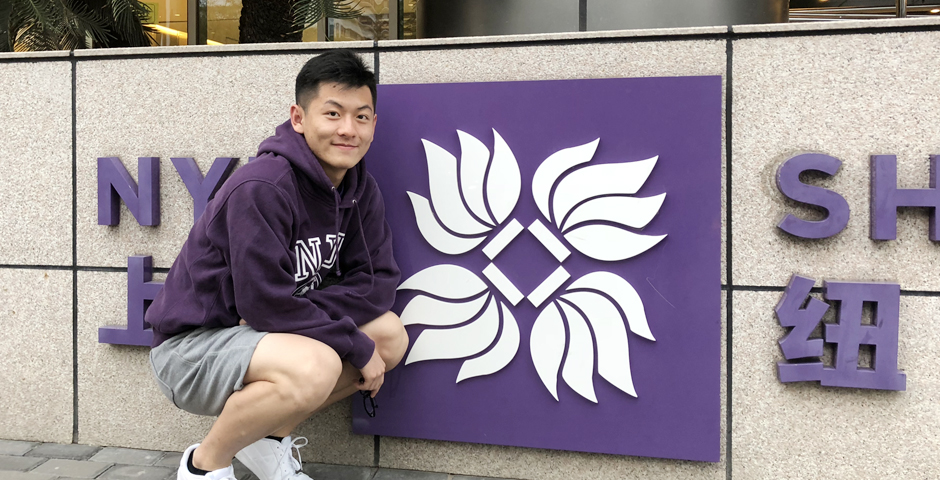 Hometown: Liaoning, China
Major: Finance and Social Science (International Relations) 
Last fall, Steve Jingyuan Cai '22 decided to do something a little unusual for a senior: Enroll in Professor Emily Tsiang's Life Design class, a 100-level course, designed to help students (often younger students) map out their years at NYU Shanghai and beyond. 
Cai thought he'd take the class to help him reflect on his last few years of college and think about what he wanted beyond Century Avenue. One of the initial assignments was a "prototype" conversation, asking students to write down three interests and what they wanted in the future, and then to go and seek out people who could tell them more about those potential paths. "My first thought was, 'I want to become a bridge, sort of like an intermediary person' and the first person that came to my mind was our Vice Chancellor Jeff Lehman," he said. "So I wrote him an email asking if he would want to have this conversation with me, and he replied within five minutes!" 
"In the conversation, Vice Chancellor Lehman gave me a copy of his book, An Optimistic Heart, and gave me the advice to try to go through life by empathetically engaging,' that is to understand what everyone else's position is; trying to look at their perspective from their shoes."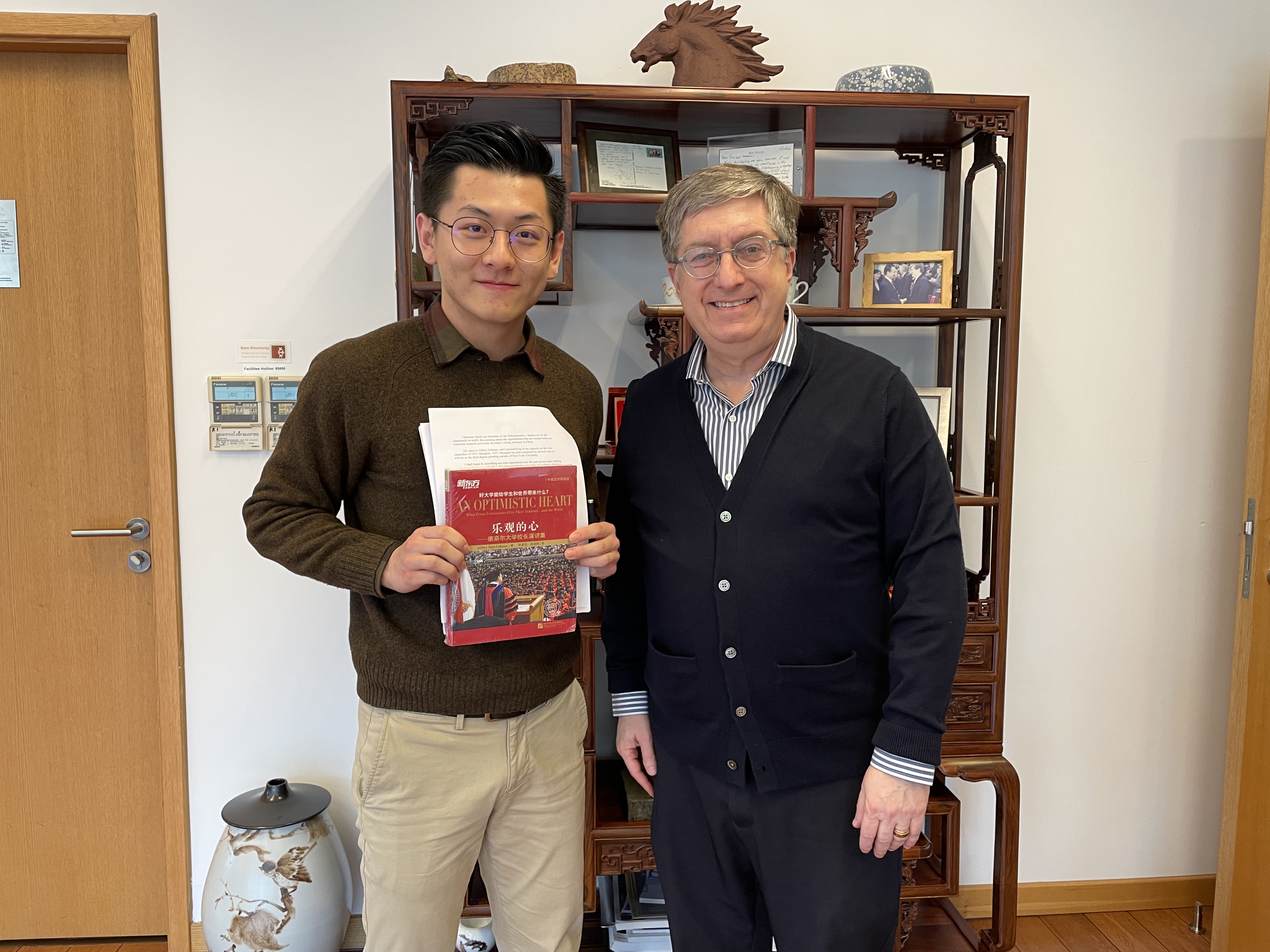 Cai with Vice Chancellor Lehman, during an interview for the "prototype conversation" assignment, holding Lehman's book, An Optimistic Heart. 
Even before his conversation with Lehman, Cai seems to have practiced "empathetic engagement" throughout his time at NYU Shanghai. Whether it was discussing politics with classmates and professors, captaining a diverse basketball team, or serving  internships in the public and private sector, Cai has worked to bridge cultures and understand differences. 
When he was applying to college, Cai says his high school teachers and family members didn't understand why he wanted to attend NYU Shanghai. "Why not just attend a top Chinese university with a future of 'guaranteed success?" they asked. But Cai knew he wanted to explore many fields before settling on a major, and he knew that NYU Shanghai was the place to do it.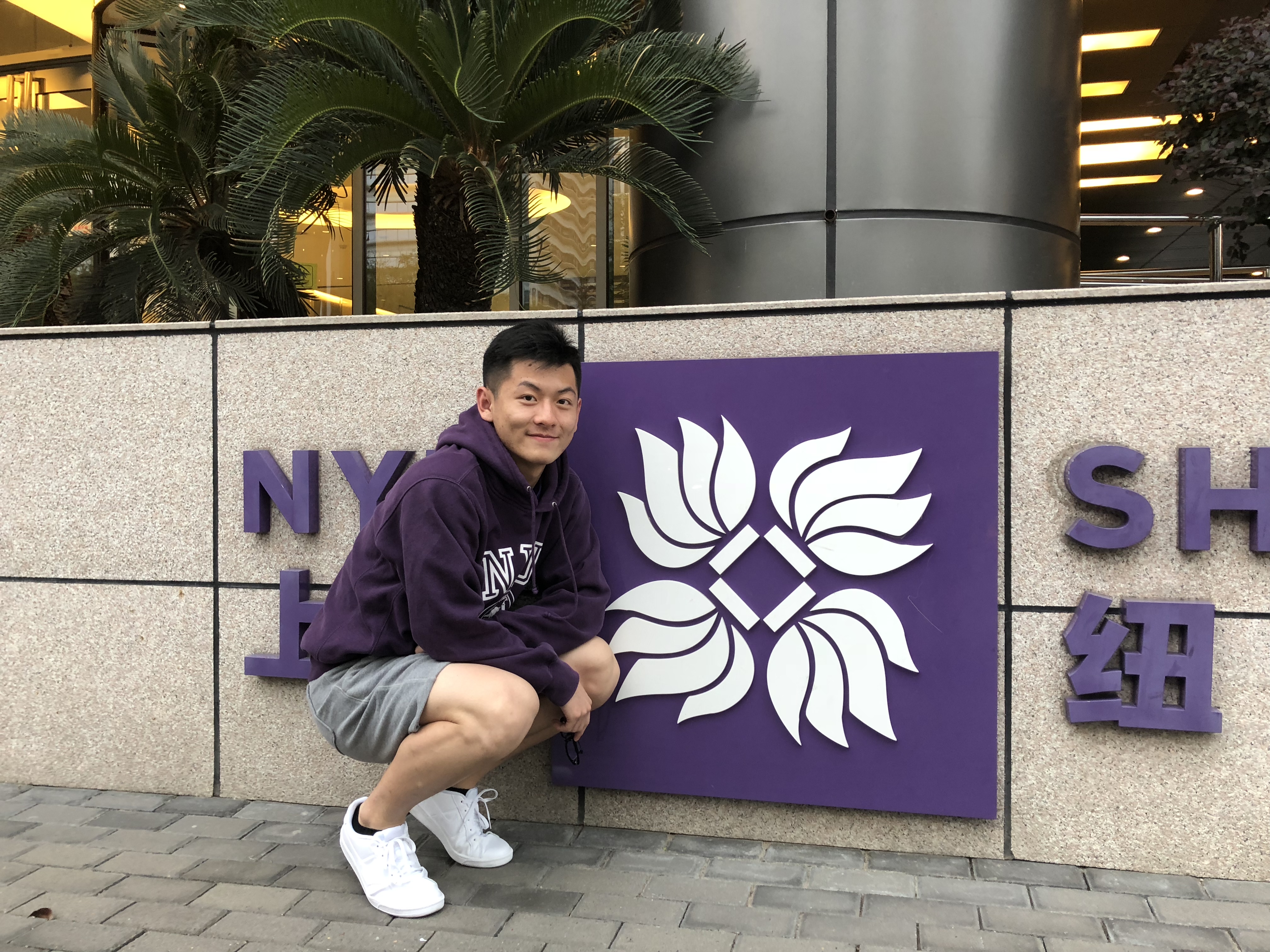 Cai during his first semester at NYU Shanghai in 2018. 
During high school, Cai visited friends at NYU Shanghai a few times. "I met a lot of students here and I noticed the way they think, the way they talk is something that I wanted to have in the future," he says. "They also told me how open-minded NYU Shanghai is and how they encourage people to discuss all kinds of issues, and how there's not only one correct answer." 
Though he was set on studying politics and international relations when he arrived, he still wanted  to take other classes and consider other majors. "When I first came here, I also had the idea of becoming an investment banker - a very typical dream for college students, and so I decided to major in finance," he says. "But in the first year when I took all these liberal arts courses, for example, Writing As Inquiry and GPS, in addition to  international relations, I noticed how closely related finance and politics are. I realized that the two majors do not necessarily conflict with each other." Cai decided to bridge his interests in finance and politics.  
Professor of Practice of Law Stephen Harder's International Investment in Developing Countries: China and Africa gave Cai the opportunity to practice both disciplines. "When we analyze international investment, we have to understand the macro and political conditions that could be potential deal breakers. Also, we have to come back to the ground and look at details in very specific projects. I feel like understanding and switching between the two perspectives equipped me with a more full scale analysis tool." 
Cai also had the chance to explore international relations outside the classroom. After taking Assistant Professor of Practice in Political Science Ivan Rasmussen's Introduction to International Politics class his first year, Rasmussen hired him as his research assistant. "Right away, I could tell Steve was motivated and quite sharp. He picked up on key concepts quickly including theories of international relations and the relevance of a range of social science methods," Rasmussen says. "But it was not just Steve's natural abilities and curiosity that made me want to hire him as a research assistant but also his willingness to know his own limits and push himself to improve." Cai helped Rasmussen look at China's Belt and Road Initiative, analyzing which countries would be more likely to join. Cai also reached out to Assistant Professor of Interactive Media Business Wang Jing. "I found Professor Wang's research about the humanitarian side of FinTech to be really interesting, so I reached out to her, asking if there was anything I could do," he says. Wang asked Cai to read through all articles about FinTech in Wired magazine to understand how mainstream technology media looked at FinTech. Cai says the research experience reminded him of the importance of understanding multiple perspectives.
"Professor Wang also helped me learn how to look at scholarly works more critically and showed me the difference between an undergraduate student and graduate student's work," he said.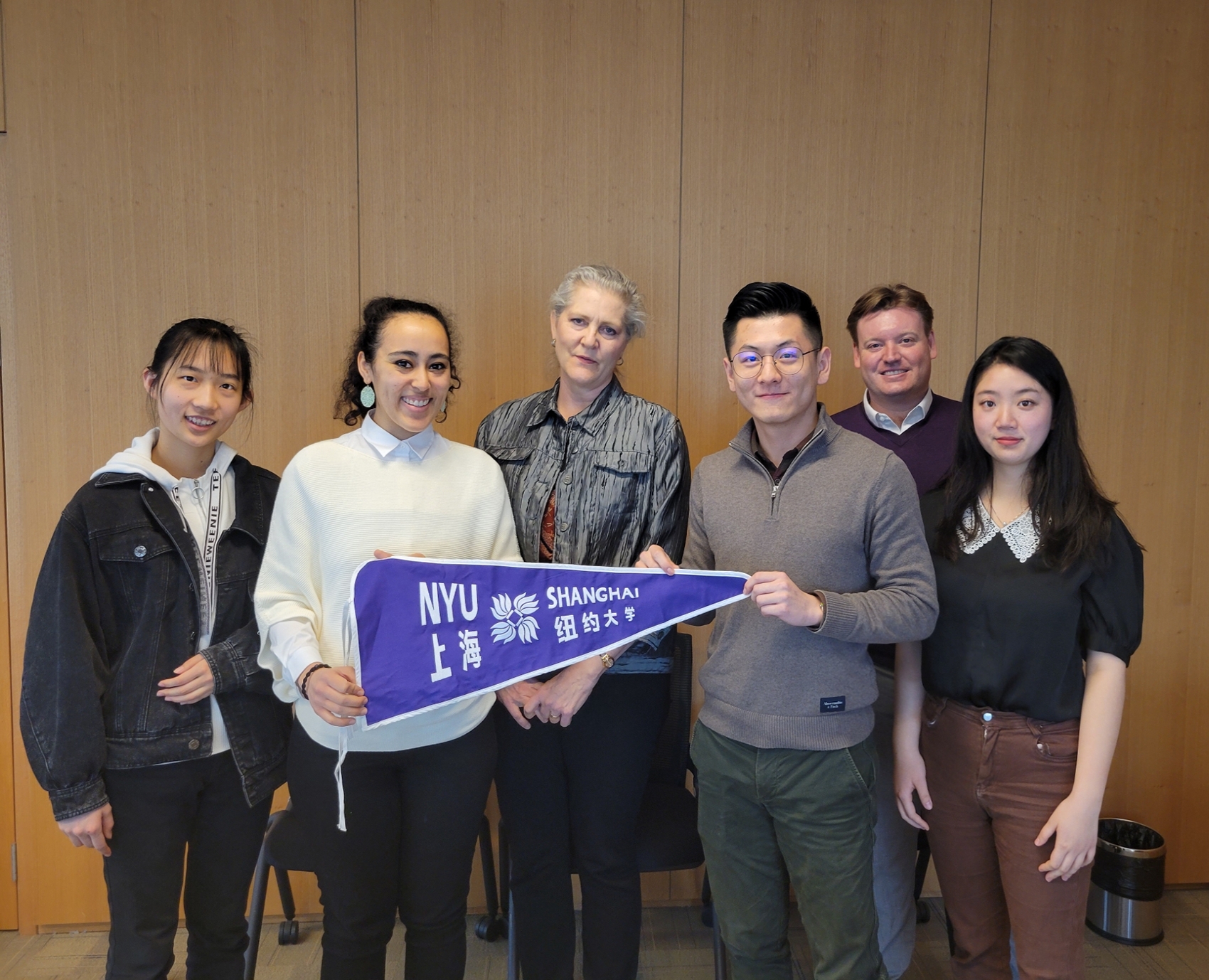 Cai (third from right) with Professor Ivan Rasmussen(second from right) with a group of students as they welcomed Bettina Malone, Minister Counselor for Public Affairs at the US Embassy in Beijing in 2022. 
Next year, Cai will be pursuing a Masters Degree at Columbia University's School of International and Public Affairs (SIPA) and he credits both Wang and Rasmussen with helping prepare him for his graduate studies. After working as Rasmussen's research assistant, Cai  conducted his own research with a Deans' Undergraduate Research Fund (DURF) grant to examine how US academia has looked at Sino-US relations and what role the scholarly consensus plays in shaping US foreign policy.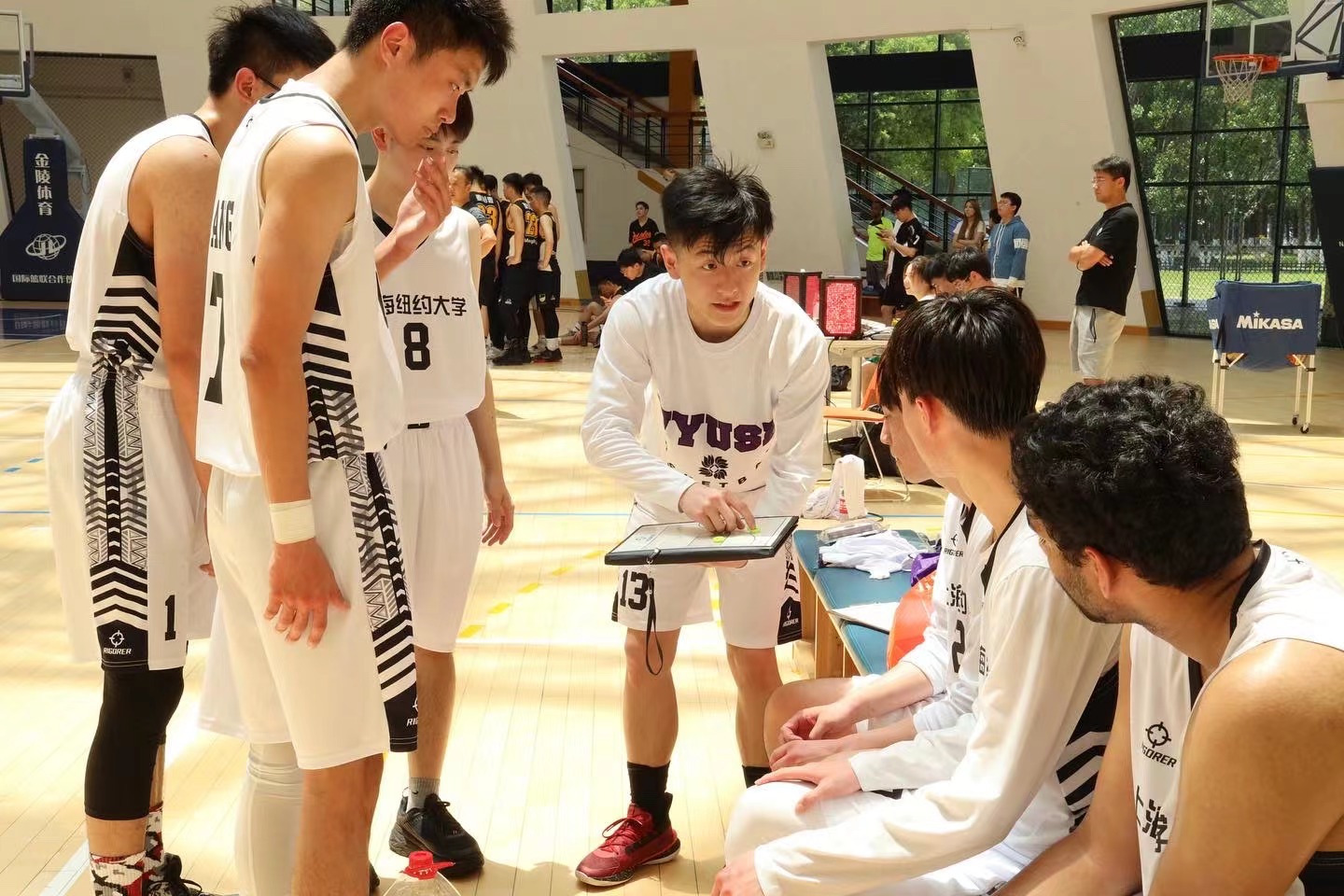 Cai (middle) coaching his teammates during a basketball game. 
Outside of the classroom, Cai played for four years on NYU Shanghai's varsity basketball team, three as the captain. The basketball court, Cai says, is where he first learned to bridge that cultural gap between nationalities. "We had players from six or seven different countries, and we all learned to play basketball differently. In China, we may view something as a foul, but in the United States, the same play might not be called foul, and vice versa" he says. "When I became captain of the team, it was a big challenge taking on how to engage everyone from different backgrounds onto the team. We all had the same goal: to win as many basketball games as possible and build a strong team, but during the process, everyone had different ideas on how to do it." 
"Life is definitely more than just basketball, so as captain, I tried to know what was going on in my teammate's lives off the court, which helped me understand how they interpreted basketball. On the court, I tried to create a shared value, highlighting our similarities, and not trying to eliminate our differences, but making sure that everyone understands and respects them."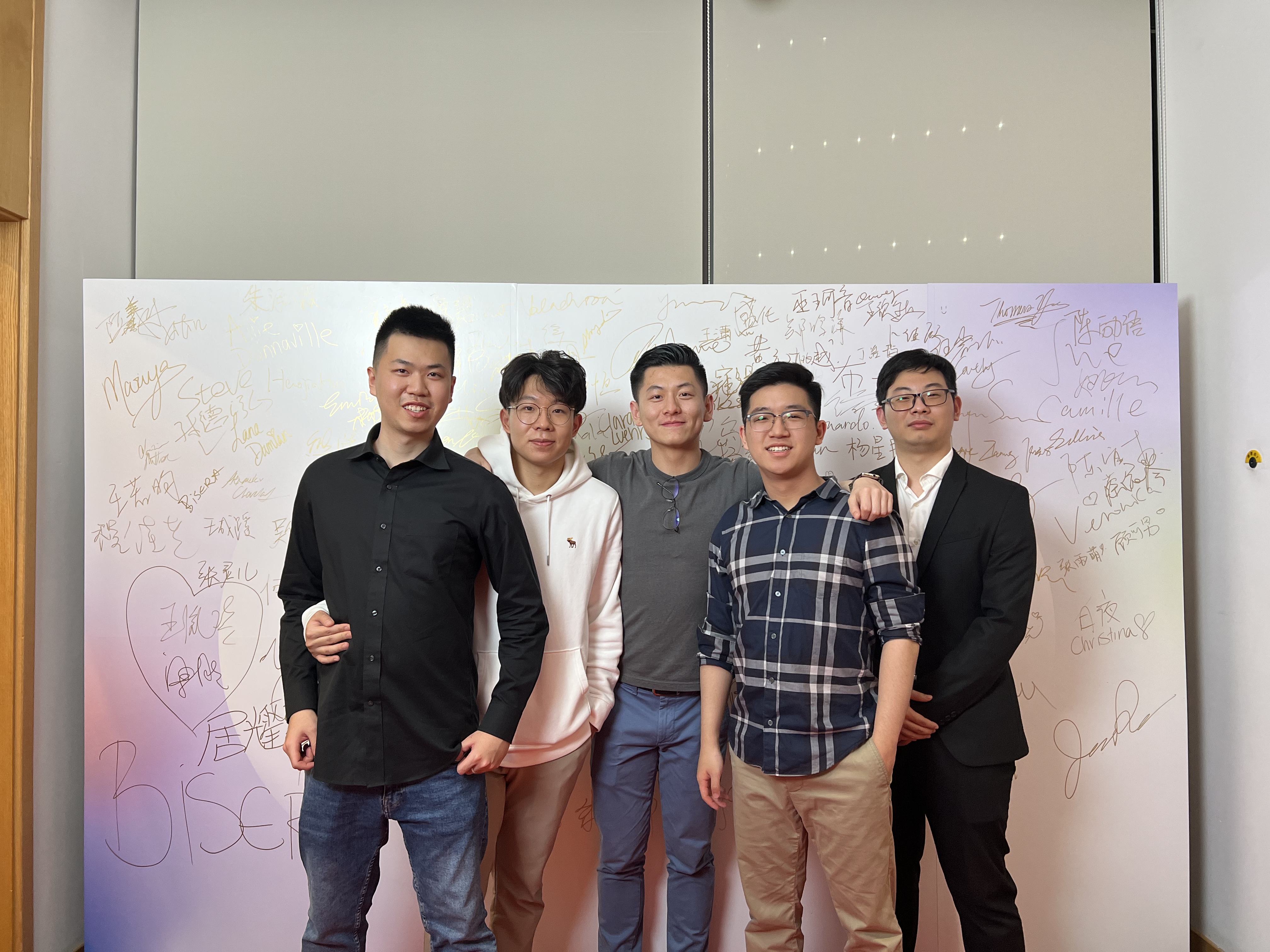 Cai (center) with his friends at the Class of 2022's 88 Day Countdown Celebration in March.
Now, with graduation just weeks away, Cai says living, learning, and playing with his classmates from different backgrounds were some of his favorite times. "My first two years, I lived with students from the United States. We talked about a lot of stuff like the NBA, we also talked about very controversial political issues, but we love talking about it, sharing different perspectives, even though sometimes we both experienced culture shock," he says "I will miss my professors who never told me I was wrong and always encouraged me to speak out, and my classmates, who argued with me over everything. Although our campus is so small, for me it's the biggest university you can find because it's so diverse. There are so many different cultures, people are from all kinds of backgrounds and it's such an inclusive environment that to me, it will always feel like the biggest university."
Undergraduate Admissions Summary
Cai talks about his time as a research assistant, basketball captain, and his goal to bridge cultures and differences.