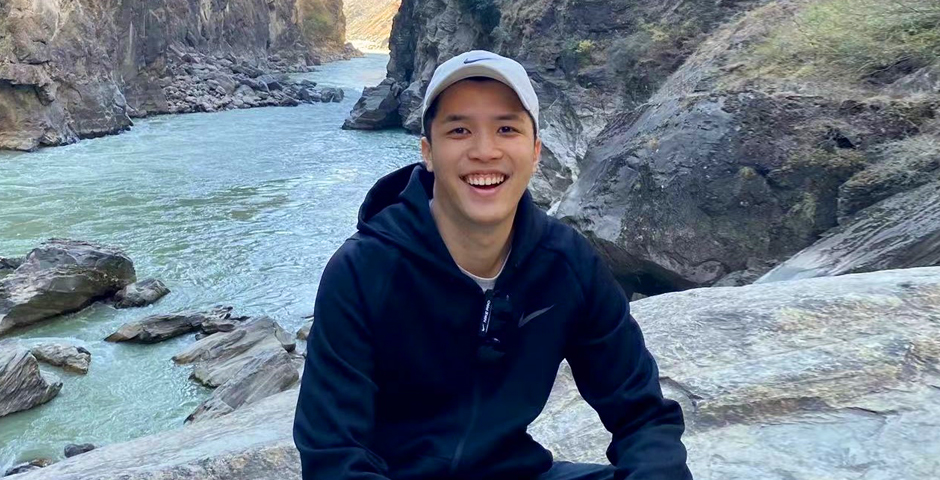 For Move-In Day 2018, Sam Ong '22 says he and his parents took different flights to Shanghai from his hometown of Singapore. "My parents told me I had to learn a lesson on responsibility and asked me to book my own ticket here," Ong recalls. "I ended up booking my ticket extremely late and had to come in through Guangzhou."
That solo flight to China was just the first of many ways coming to NYU Shanghai has catalyzed Ong's journey toward greater responsibility and individuality. "The Singapore education system doesn't really allow you to have an openness towards asking questions and asks you to downplay yourself," says Ong. "Coming to NYU Shanghai, it was very intimidating because everyone was asking questions, and I wasn't, because I was afraid to ask stupid questions. But after these four years, if I have a question, I am just going to ask. Realizing I had a voice helped me to find my own individuality."
Ong credits this shift in his thinking to Associate Arts Professor of Interactive Media and Business Emily Tsiang's Life Design course. "The class was a really good way for me to restructure how I was about to plan my life and explore my different interests through prototyping. After the class I had a much better sense of who I was," says Ong.
The course had such an impact on him that he served as the teaching assistant for the course in his junior year, and then as lead facilitator for Tsiang's first-year course Design Your NYU Shanghai. More recently, he has been assisting Tsiang in the design of her new course Think, Experience, Design.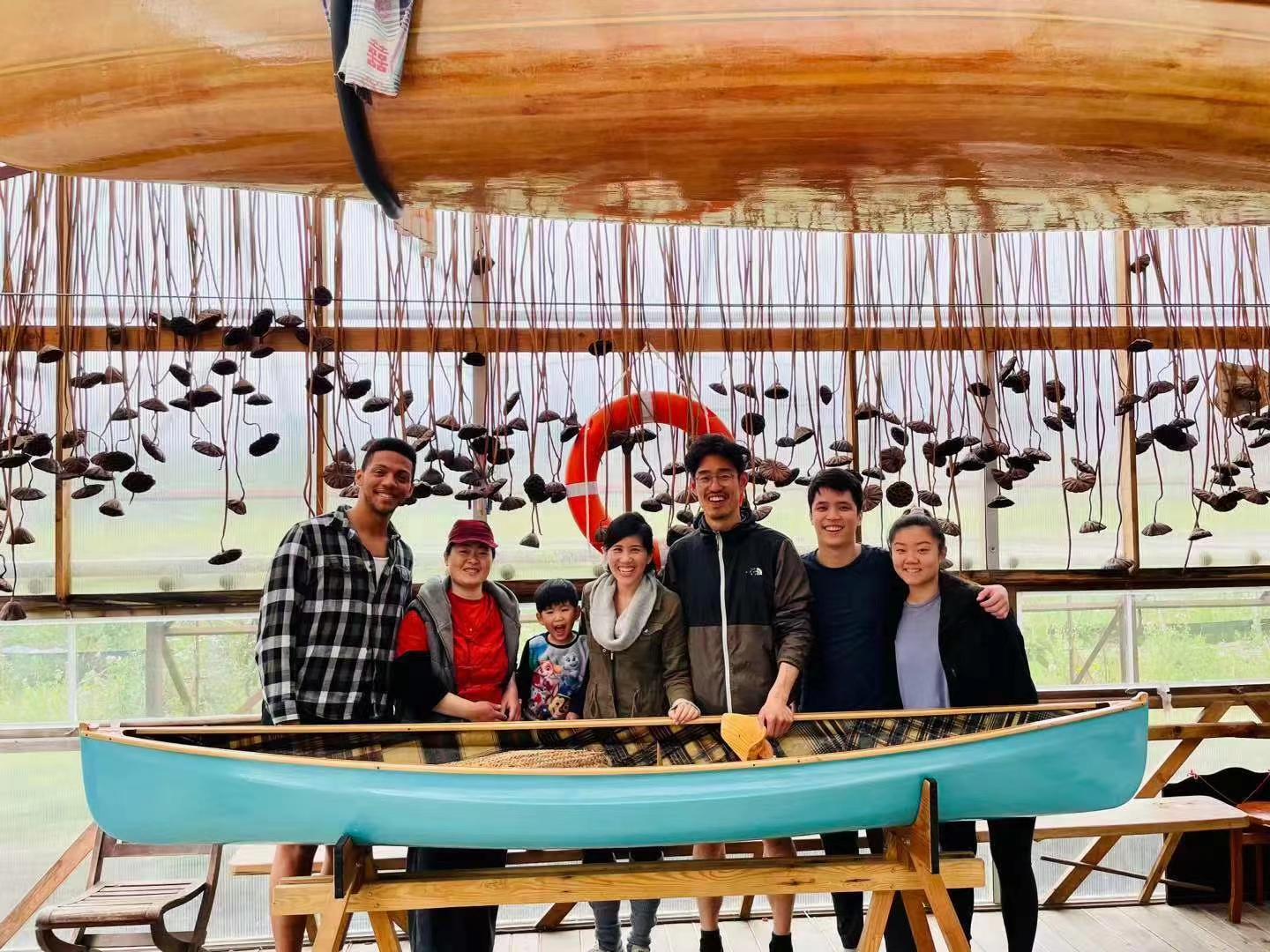 Ong (second to right) with Associate Arts Professor Emily Tsiang (center) on a visit to Chongming Island as part of the planning and design for her new course Think, Experience, Design
"A constant thread I've witnessed in Sam is that he is very intentional about the types of learning opportunities he chooses to engage in," says Tsiang. "Whether it was choosing his major or landing his internships, he always does his due diligence which allows him to create amazing opportunities for himself." Ong ended up majoring in Social Science on the Political Economy track, and has managed to apply his coursework toward his career goals.
"When I was growing up, I spent a lot of time on the internet, which exposed me to points of view that were not common around me and led me to think about the power of the media. I really wanted to study politics because I wanted to understand the factors that affect public opinion," says Ong. In 2020, Ong was awarded a TAMID Fellowship, which enabled him to  spend a summer interning and conducting market research at an Israeli startup. It was his first exposure to the world of business.  "The fellowship helped me understand what I could offer as a social science major in terms of research skills," says Ong. "I didn't know anything about business, but using these skills in market research helped me kickstart my experience within it."
While the COVID-19 pandemic forced his Israeli internship online, Ong managed to study  away at NYU Tel Aviv during the Spring semester of his sophomore year. His experiences in Israel led to a minor in Hebrew and Judaic Studies. "When I went to Tel Aviv, I really wanted to understand the entrepreneurial environment and business landscape," says Ong. "The classes I took were very helpful for helping me understand the Middle East."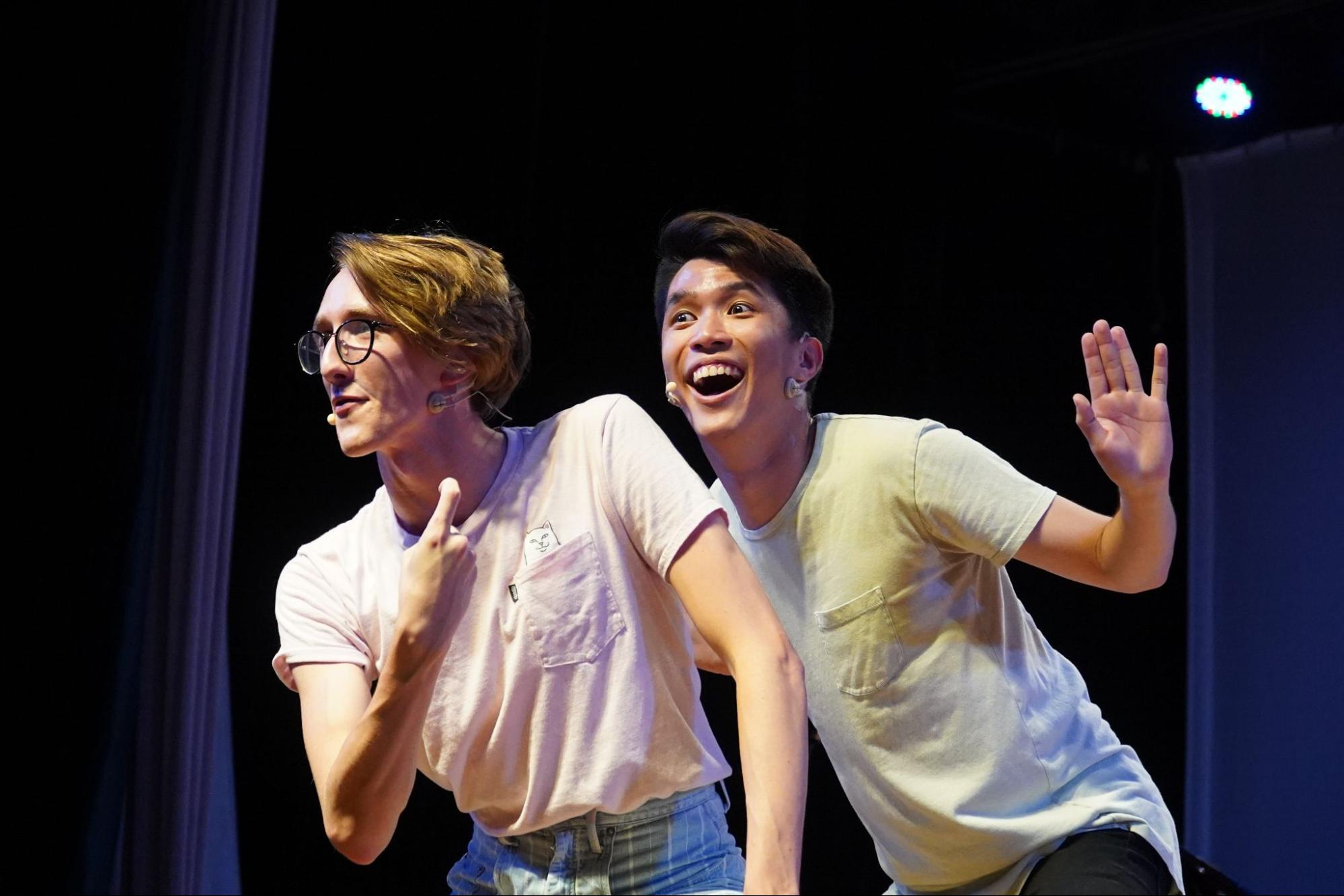 Ong and Ryan Hoover '22 in the Reality Show in 2019
Ong also spent time on the New York campus the summer after his freshman year as part of the Reality Show cast. "It was an eye opening experience being in New York as I really had the time to reflect on myself and my experiences," says Ong. "The exposure to global experiences has been super important to me. It's made me more cognizant of different cultures and I've become more open to new experiences."
Ong's experiences in the Reality Show and his participation in the Diversity Initiatives' LEAD Program set him up for how he approached his post-graduate job search. "LEAD and the Reality Show emphasized the importance of intersectionality, and it played a large part in how I found a workplace. For me, a company that was a good fit would share these values," says Ong. "I was able to be more empathetic to different perspectives."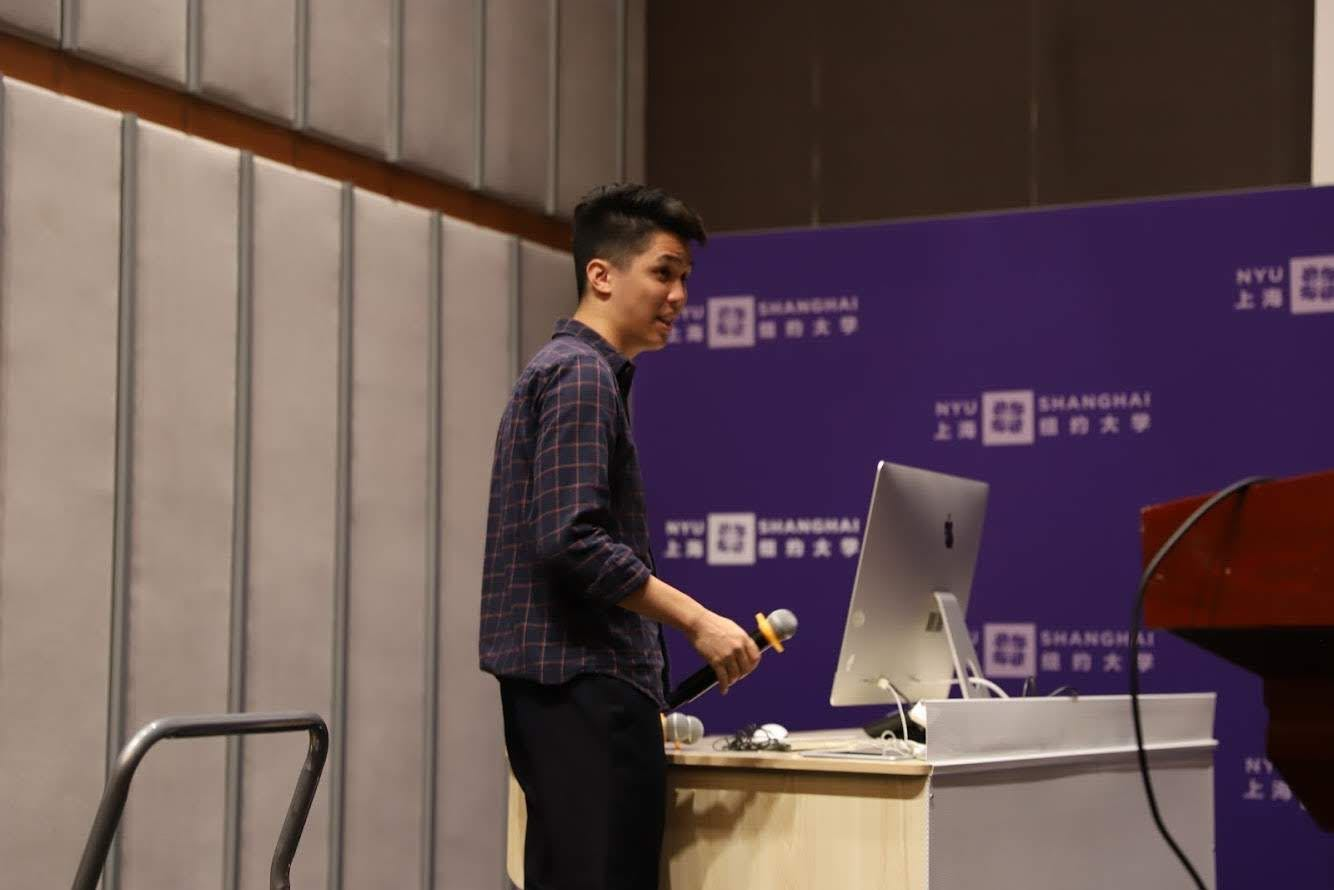 Ong was the Chief of Staff at the NYU Shanghai Model United Nations Conference in 2019. "Model UN was something I really wanted to try coming into college," says Ong. "It was really cool because it was such a large event. I was able to work with a lot of people and tailor my approach to working with different members of the team."
After graduating, Ong plans to stay in Shanghai, working in the operations team at one of the biggest internet companies in China. He found the role through a referral from Ploy Pholpipattanaphong '22, which he describes as just one of the many ways his peers and professors have contributed to his success. "It's super cool to have people in the community that are really supportive, not just personally, but also in terms of your career, and these bonds are so valuable," he says.
"The people shape a lot of NYU Shanghai, like being around friends who have been a great support group. I'll miss the conversations we've had about our value systems and different experiences. And it's not just friends - it's also professors. I will miss being able to drop by their offices any time. I've had a lot of conversations with professors about life, and it's really helped me get a better sense of self. My entire college experience has been so reflective. I don't know where life will take me, but one of the biggest things I've learnt is to really just trust the process."
Undergraduate Admissions Summary
"I don't know where life will take me, but one of the biggest things I've learned is to really just trust the process."