NYU Shanghai Pledges to Cut Food-Related Greenhouse Gas Emissions by 25 percent by 2030
Oct 16 2020
NYU Shanghai this week joined NYU and NYU Abu Dhabi along with 30 other organizations around the world who serve more than 800 million meals annually in signing onto the Cool Food Pledge, a public commitment to reduce food-related greenhouse gas emissions 25 percent by 2030. 
All 23 of NYU's dining halls and catering operations across Manhattan, Brooklyn, Shanghai, and Abu Dhabi will gradually shift to more sustainable food products through a combination of enhanced plant-based offerings and educational outreach.
NYU Shanghai has been working with dining service provider Sproutworks since May 2018. The caterer has already implemented many significant sustainable dining practices around campus.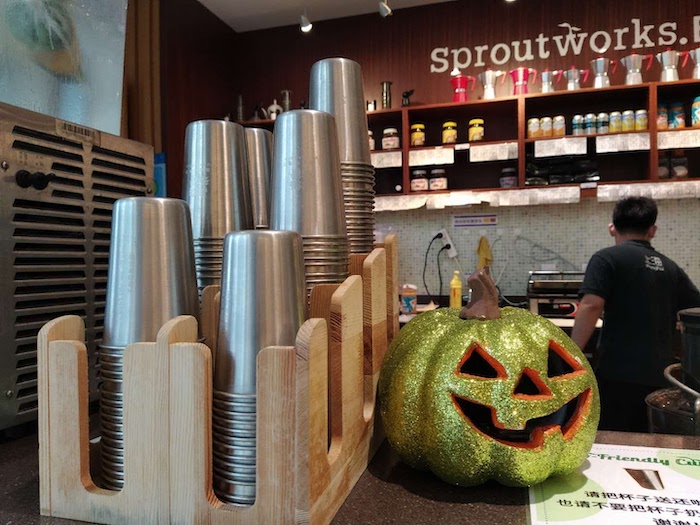 Our on-campus initiatives include: eco-friendly, NYU Shanghai-branded metal cups used for all 2F Cafe beverages, 5rmb discounts for bringing your own reusable cup, providing paper straws and paper take-away containers by request, and a trash-sorting initiative.
"From collaborating with student organizations on food sustainability to introducing reusable cups and paper straws before it was even regulated or a practice in the U.S. and other parts of the world, NYU Shanghai is proud of our ongoing efforts with Sproutworks to minimize our carbon footprint," said Dean of Students David Pe.  
In 2019, 53 percent of NYU Shanghai's lunch options were vegetarian and vegan friendly. This year, due to stricter COVID-prevention governmental guidelines prohibiting the service of raw foods such as salads, the vegetarian and vegan lunch offerings are about 42 percent.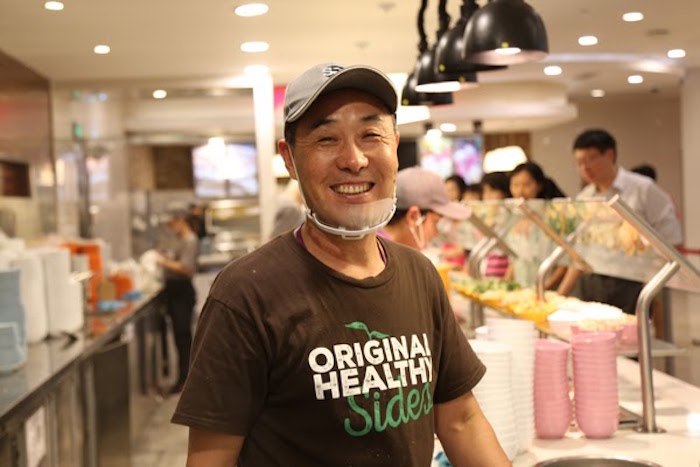 "I'm proud that Sproutworks is able to commit to NYU Shanghai's initiative to drive change to benefit the environment with the Cool Food Pledge," said Sproutworks Operating Partner Kelley Lee. "Sustainability and slow food have always been a part of our brand. We are even more committed today to driving our food program towards a more sustainable future by reducing waste, increasing plant-based foods as well as localizing much of what we consume to achieve 25 percent reduction by 2030."
Each signatory to the Cool Food Pledge will receive an annual report showing greenhouse gas emissions by food type, trends year-over-year, and comparison to overall performance. 
Joining the food pledge is only the latest in NYU Shanghai's efforts to proactively build a more sustainable campus and community. In accordance with the city of Shanghai's regulations, all recyclable materials and food waste are sorted from campus trash. The new Qiantan campus opening in fall 2022 will be built to LEED certification standards. The student-led initiative, GoGreen Week, every year brings talks, challenges, workshops and screenings to spread awareness and increase engagement surrounding issues of the environment and sustainability.  


See highlights from GoGreen Week 2019

Students can also join their peers and professors to harvest hand-planted vegetables from NYU Shanghai's back-garden urban farm. 
"What we eat matters," NYU President Andrew Hamilton said. "Global food systems account for about a quarter of greenhouse gas emissions, and it's well documented that animal-based products on the whole can have a greater impact than legumes, vegetables, and fruit. When fully operational, NYU's dining halls serve over 6 million meals each year, which means that addressing the environmental footprint of food is a powerful addition to NYU's …efforts to curb climate change."