NYU Shanghai Celebrates the Class of 2023's Graduation
May 22 2023
On Monday, May 22, NYU Shanghai's Class of 2023 walked across the stage at the Oriental Arts Center in the University's seventh commencement ceremony. 397 graduating seniors (including six study away students from the New York campus) hailing from 36 countries, including 223 Chinese students from 23 provinces across China, received bachelor's degrees from NYU, along with NYU Shanghai diplomas.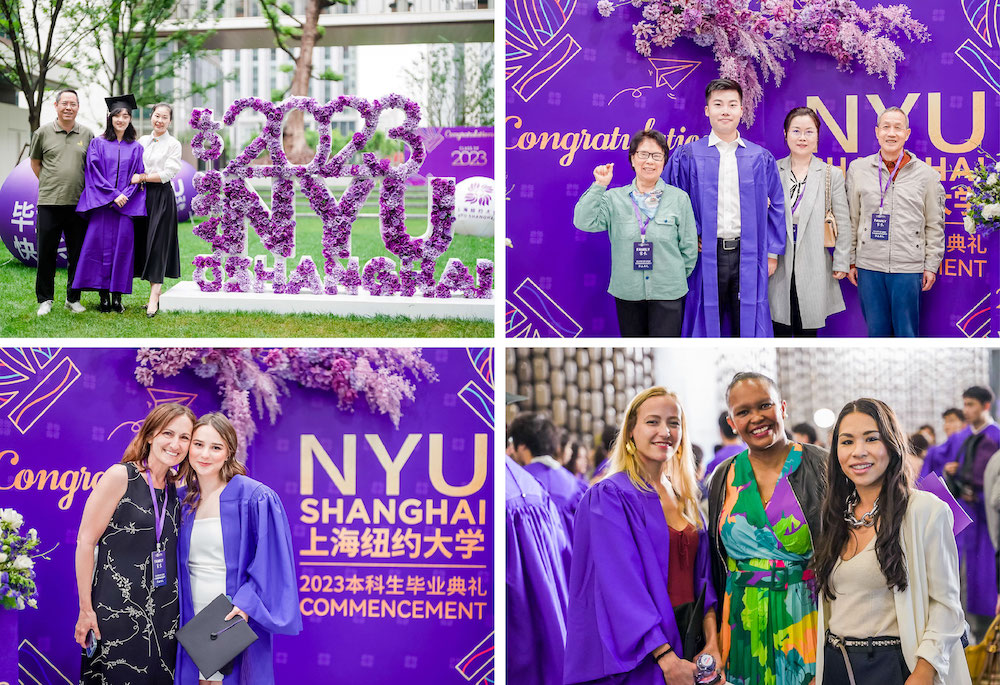 The graduates in Shanghai were joined by over 1,000 family members, including some 300 family members of international students who flew in from over 20 countries. Due to COVID-related travel restrictions over the last few years, this marked the first NYU Shanghai commencement since 2019 where international families were able to attend in person, and their presence made for a vibrant and exciting day for many.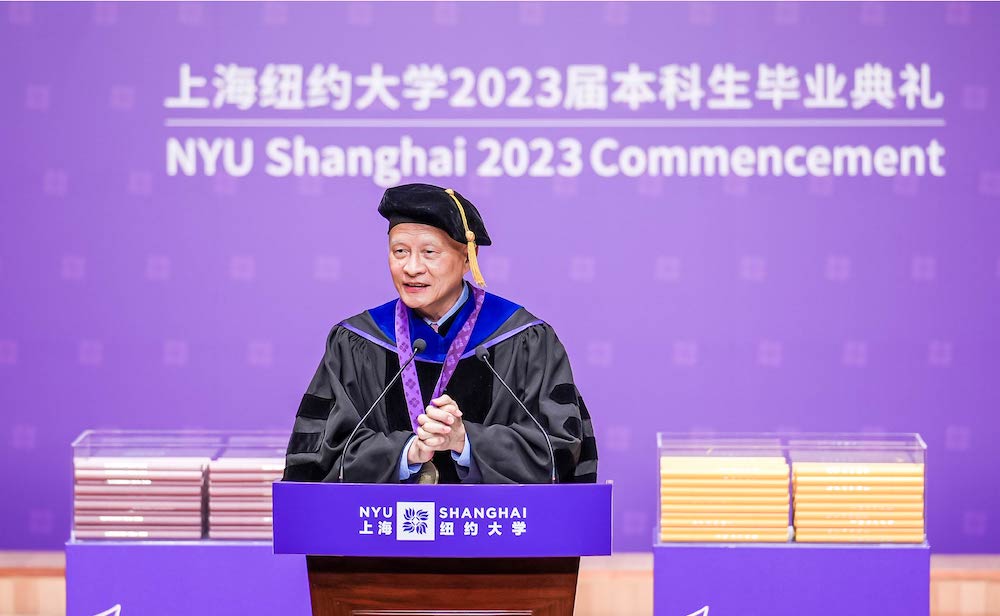 Esteemed Chinese diplomat Cui Tiankai, China's longest-serving ambassador to the United States, served as this year's Commencement Speaker. NYU Shanghai Chancellor Tong Shijun presented Ambassador Cui with NYU Shanghai's Chancellor Medal of Honor. In his talk, Ambassador Cui spoke about his own life experiences and the value of being a global citizen. 
"We are living in a world with diverse cultures, and like trees, we must first be deeply rooted in understanding our own country, our own nation, our own people, and our own culture. This is where our roots lie," he said. "Only when we're deep-rooted in this, our lives can flourish. On this basis, of course, we have to learn to understand different cultures and countries with an open mind." He encouraged the graduates to continue engaging with cross-cultural exchange.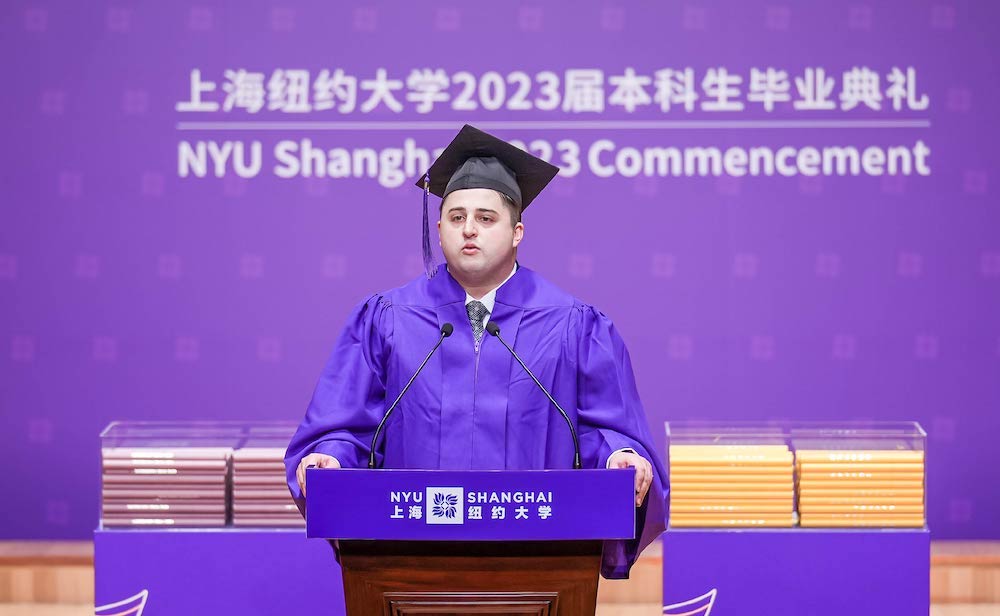 International student representative William Dreesen '23, of Saint Louis, Missouri (USA),  who graduated with a degree in social science (international relations track) and advanced global China studies with minors in both Chinese language and philosophy, referenced Tang dynasty poetry and the Analects of Confucius in his speech in Chinese. 
Dreeson said that as the graduating class prepares to go their separate ways, he hopes those connections will remain strong. "We are about to be a network of magnolia flowers scattered across the world, following the paths of destiny, and although we may have left the tree, we all know where we came from," Dreesen said. "That is NYU Shanghai."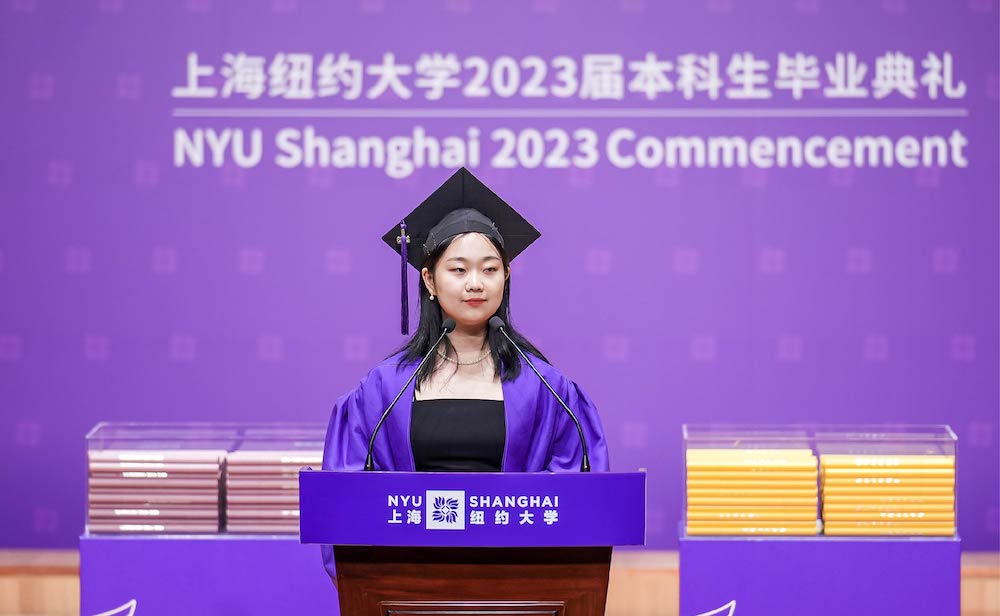 Chinese student representative Sun Yunzhe '23, who hails from Beijing and Hunan Province, spoke about how attending NYU Shanghai allowed her to grow as a person and cultivate her interests, while pursuing her academic goals. 
A neuroscience major with a minor in data science and a focus on artificial intelligence, Sun said that what she gained from NYU Shanghai was more than just a degree. "It was at NYU Shanghai where I experienced that love can truly eliminate the difference between genders, ages, countries, races, religions, and cultures," she said. "No matter what I pick as my career, no matter what kind of life I lead in the future, I will always keep the value of love in mind."
Speeches from NYU Shanghai leadership praised the graduates for their resilience, and expressed their hope that the experience of overcoming adversity will equip them well for the future.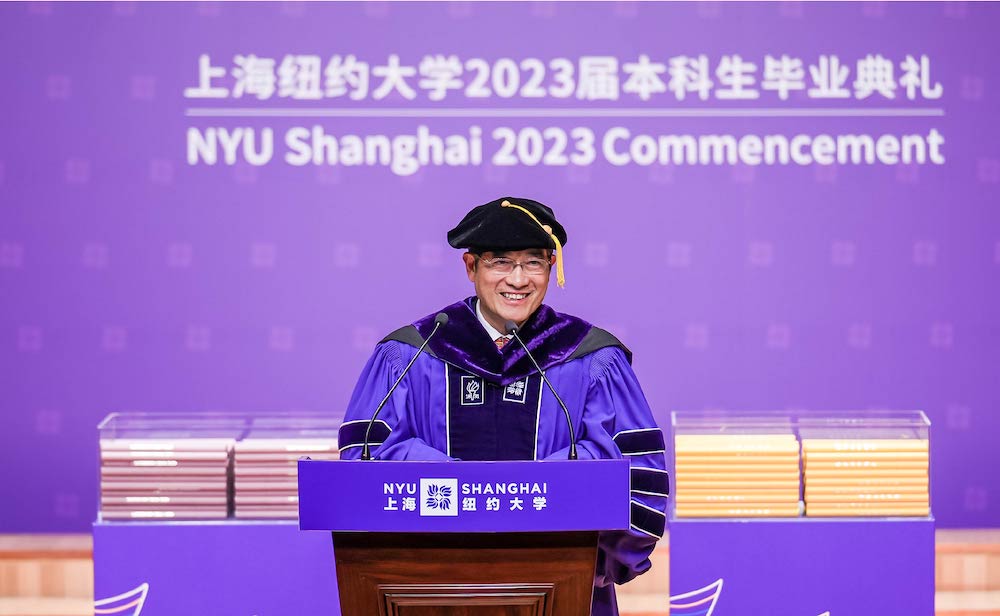 Chancellor Tong Shijun congratulated the Class of 2023, reminding them that a love of learning should be a life-long pursuit. He reminded the NYU Shanghai community that not only the students, but also the faculty and administrators, are all "learning together," from and with each other. He told the graduates that among all the amazing resources offered by NYU Shanghai, the most important is the students themselves. "Your unlimited potential for personal development you brought to us when you entered NYU Shanghai… has made the job of your professors…so meaningful and so honorable," he said.
He exhorted the graduates to continue to promote learning and thus prove the value of their degree from NYU Shanghai. "We can never exaggerate the importance of a school like NYU Shanghai as an international learning center and a group of people like NYU Shanghai graduates as both the beneficiaries and the promoters of human learning at the international level," he said.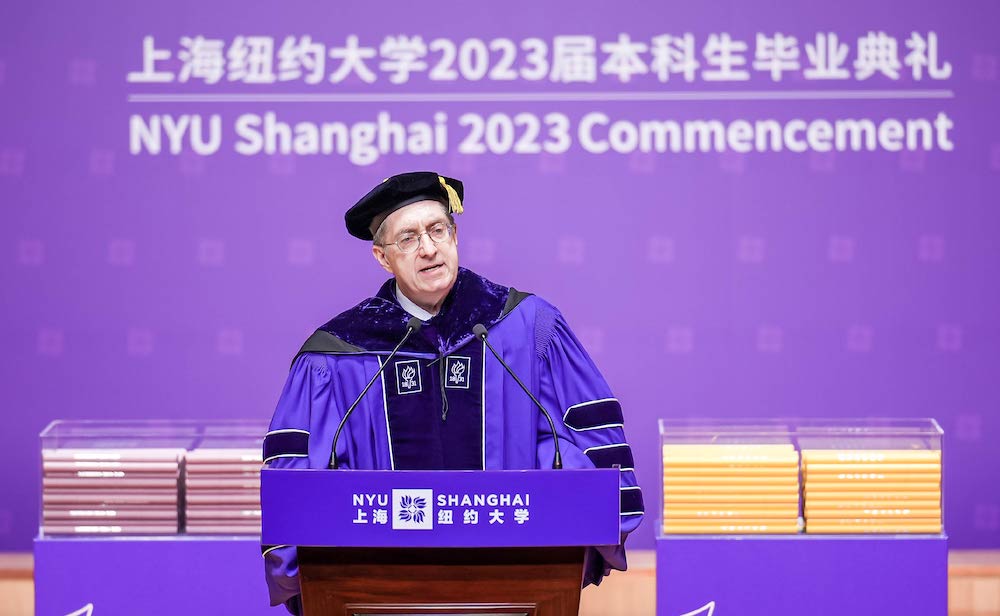 Vice Chancellor Jeffrey Lehman reminded the graduates to look back on their four years at NYU Shanghai and remind themselves of the experiences that have changed them, including "the classes you took, the books you read, and most importantly, the classmates you got to know who had grown up in different cultures from the one you grew up in."
Lehman took the opportunity to promote the power of "conditional optimism" as a useful attitude towards life. "It reminds us that we have the agency to innovate, and it reinforces the hope that our innovation can be a force for good," he said. He encouraged graduates to maintain resilience in the face of difficulties they may come upon in their lives.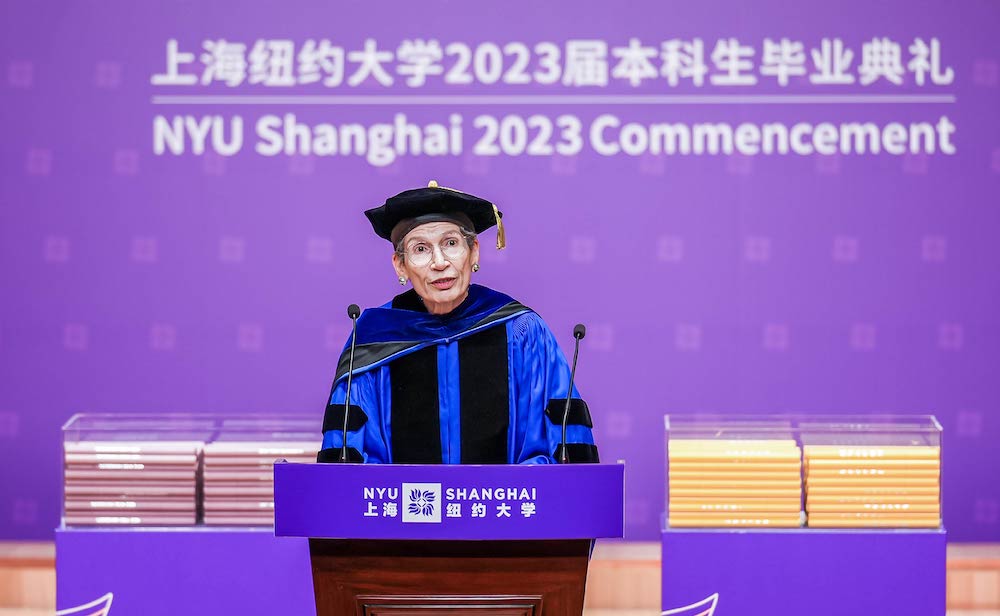 Provost Joanna Waley-Cohen used the story of the hundred-year old tree that has been relocated to the center of the New Bund Campus to remind the graduating class of the value of building and sustaining "connections." "We can help others in ways seen and unseen, and about the inspirational possibilities that come from what we don't know, but might if we let ourselves be able to imagine," she said.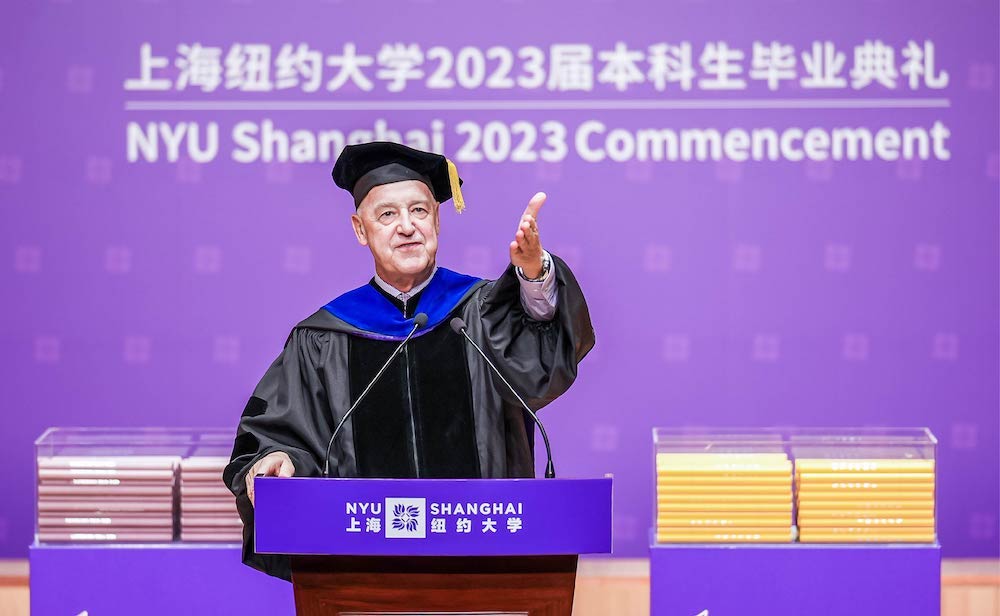 NYU President Andrew Hamilton flew in for what was his penultimate NYU commencement addressing graduates as NYU's president. He congratulated NYU Shanghai for reaching a new milestone by opening the new campus and praised faculty members and students' academic achievements.
"At the heart of it all is you, our students," he said. "I know you will draw on your talent and drive, as well as on the strength of the NYU Shanghai community, to make a difference wherever your path leads you next." Just like the Class of 2023, Hamilton will be "moving on," as he prepares to leave his post as president of NYU and return to teaching and research in the next phase of his life.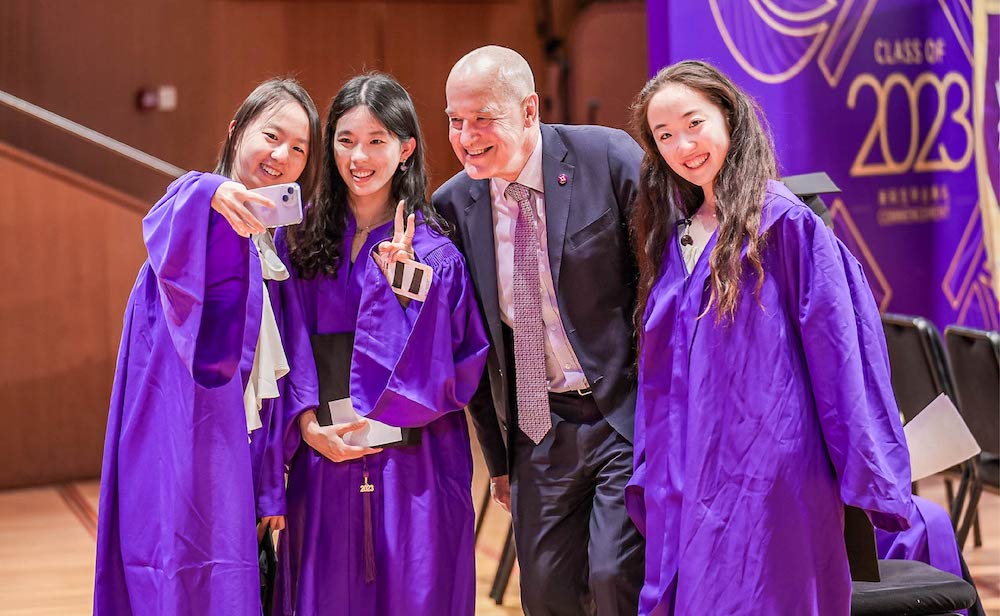 As the Class of 2023 take their first steps into the "real world," many will continue their studies at educational institutions all around the world. They have won highly-competitive scholarships such as the Erasmus Mundus Scholarship and the Fulbright Scholarship. Others will join the workforce as they begin their careers at multinational companies such as JPMorgan, McKinsey, L'Oreal, Amazon, Bloomberg, Intel, and governmental organizations such as the US Department of State.