When Adib El Ounani '23 first arrived at NYU Shanghai, both English and Chinese felt like foreign languages to him. A native speaker of Arabic, he learned French as a second language from a young age — like many of his classmates in Morocco — and only began studying English in high school. Life in Shanghai proved difficult to navigate, resulting in small mishaps such as taking the train in the wrong direction and eating spicy food at restaurants because he didn't know how to request the milder option.
Still, the linguistic barrier did not dishearten El Ounani. Though he could have remained in a familiar community with other Arabic and French speakers at NYU Shanghai, he preferred to challenge himself instead. "I tried to stay out of my comfort zone by speaking English and Chinese as much as possible," he says. Four years later, the change is evident. He can confidently hold conversations with taxi drivers around Shanghai and he and his friends often speak to each other in 'Chinglish,' which he describes as English with the occasional Chinese word added in.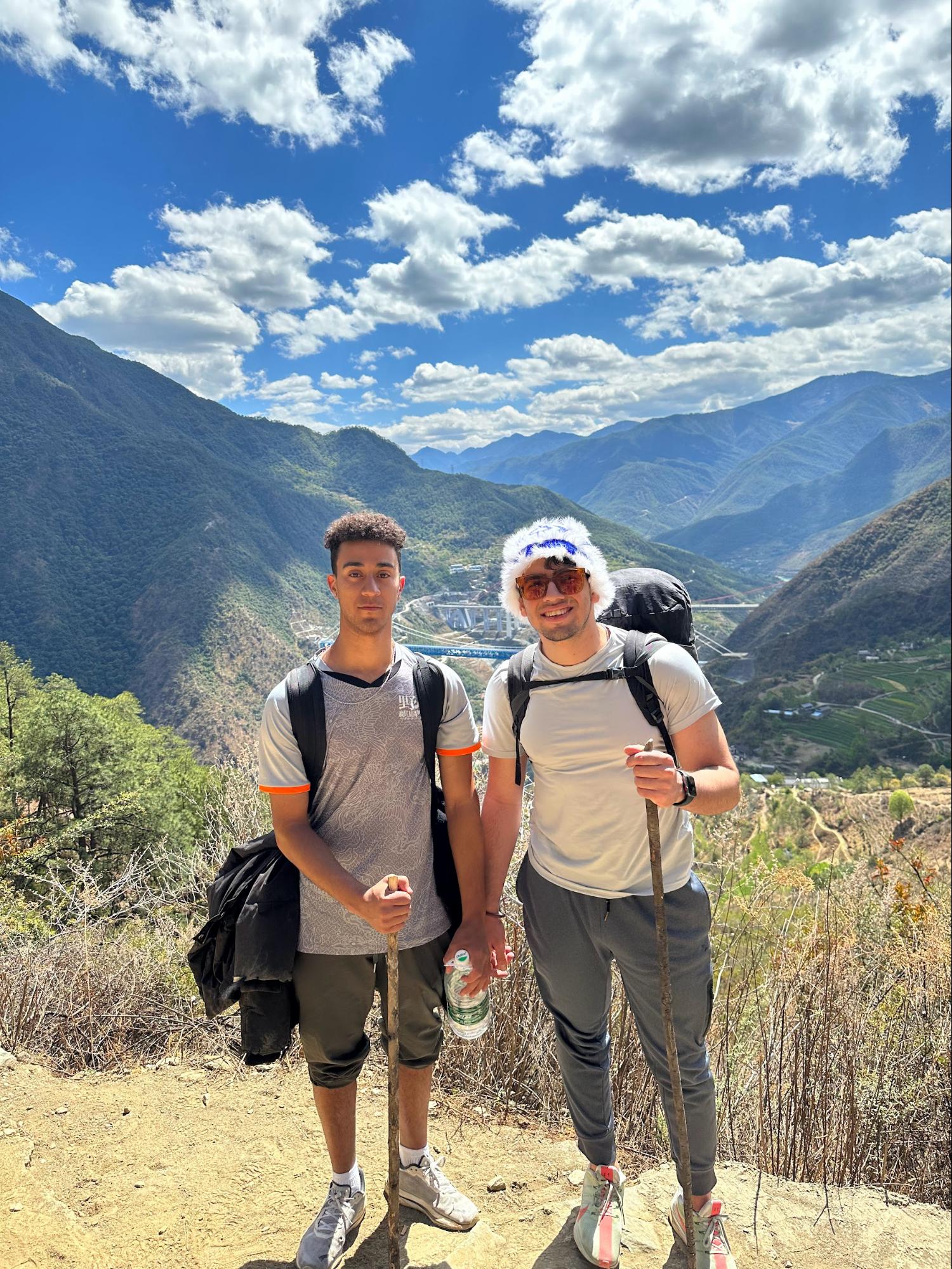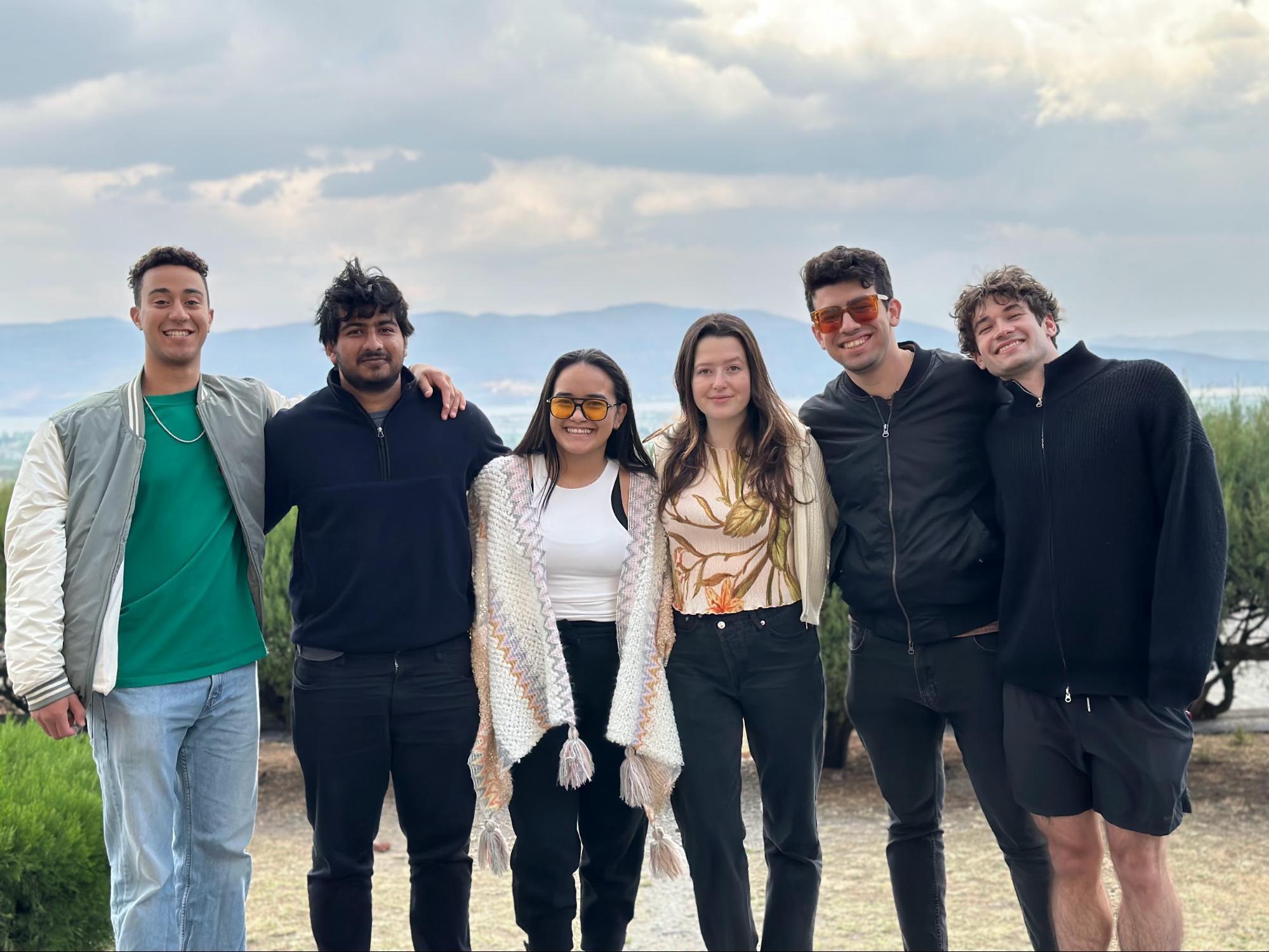 El Ounani and friends on a hike in Yunnan province.
China's status as a fast-developing tech hub made NYU Shanghai an attractive option for El Ounani, who is a computer science major and mathematics minor. He has long been interested in engineering, and in high school he enjoyed woodworking on the weekends. In computer science, he finds even greater freedom to build and create. "For other kinds of engineering, you need capital and big tools," he says. "But with software engineering, you have so much power on just one computer."
Not content to limit his studies to only STEM fields, El Ounani has taken full advantage of the liberal arts curriculum at NYU Shanghai. El Ounani says Ilaf Elard's course on global economic history hit close to home due to its focus on developing countries, and Roderick Hills's Land and Law class reshaped how he sees human interaction.
El Ounani says that Interactive Media Arts (IMA) courses left a strong impression on him, complementing his computer science studies and allowing him to develop products in an innovative manner. "It seems hard to theorize creativity, but IMA classes have all these frameworks to do so," he says. "They allow you to see how creativity works behind the scenes, so you can understand it better."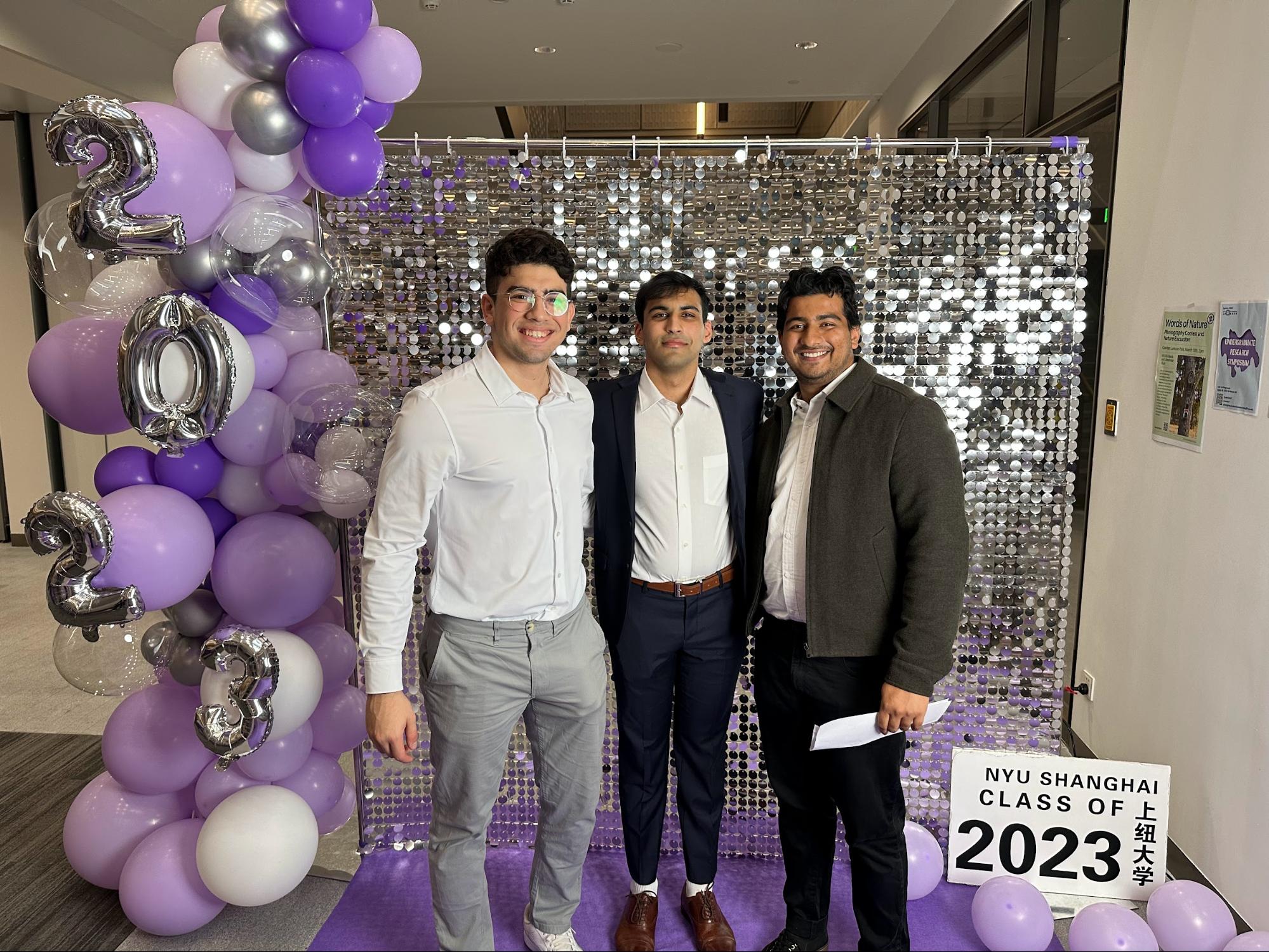 El Ounani and friends at the 88-Day Countdown event this year.
In the summer after his sophomore year, El Ounani began a year-long internship with David Yu, who is the Chairman of China Aviation Valuation Advisors in addition to being a professor at NYU Shanghai. Under Yu's guidance, he conducted research on aircraft valuation — an experience which later inspired his own capstone project. "Adib exhibited many great attributes for an intern and research assistant. He was not only diligent with his tasks, but he was also a combination of inquisitive and cheerful," says Yu.
While studying away at NYU New York, El Ounani was able to complete another internship with humanID, a nonprofit that provides an alternative to popular sign-in options for websites and apps — the majority of which tend to store user data. humanID, by contrast, retains the function of blocking spam and robots while also protecting user privacy. "It was really great to be in a startup like that," he says. "Being on the nonprofit side shaped me a lot. To see everyone volunteering and devoting their time made me more hopeful for the future."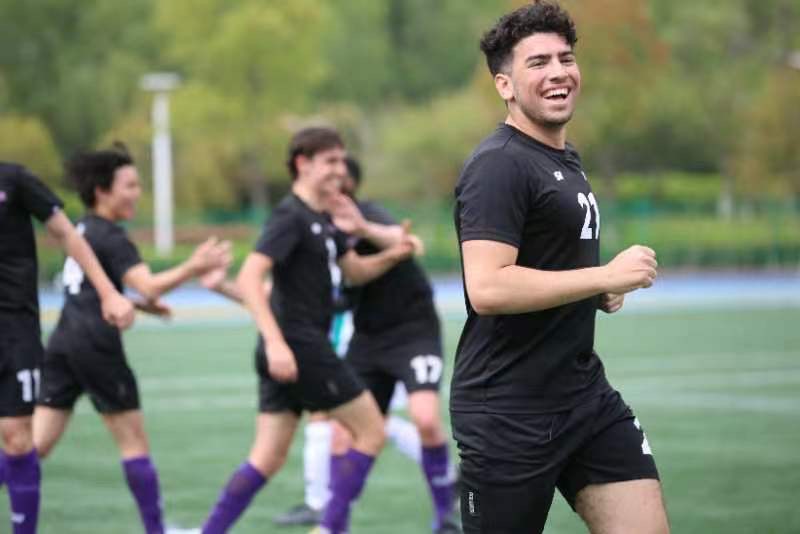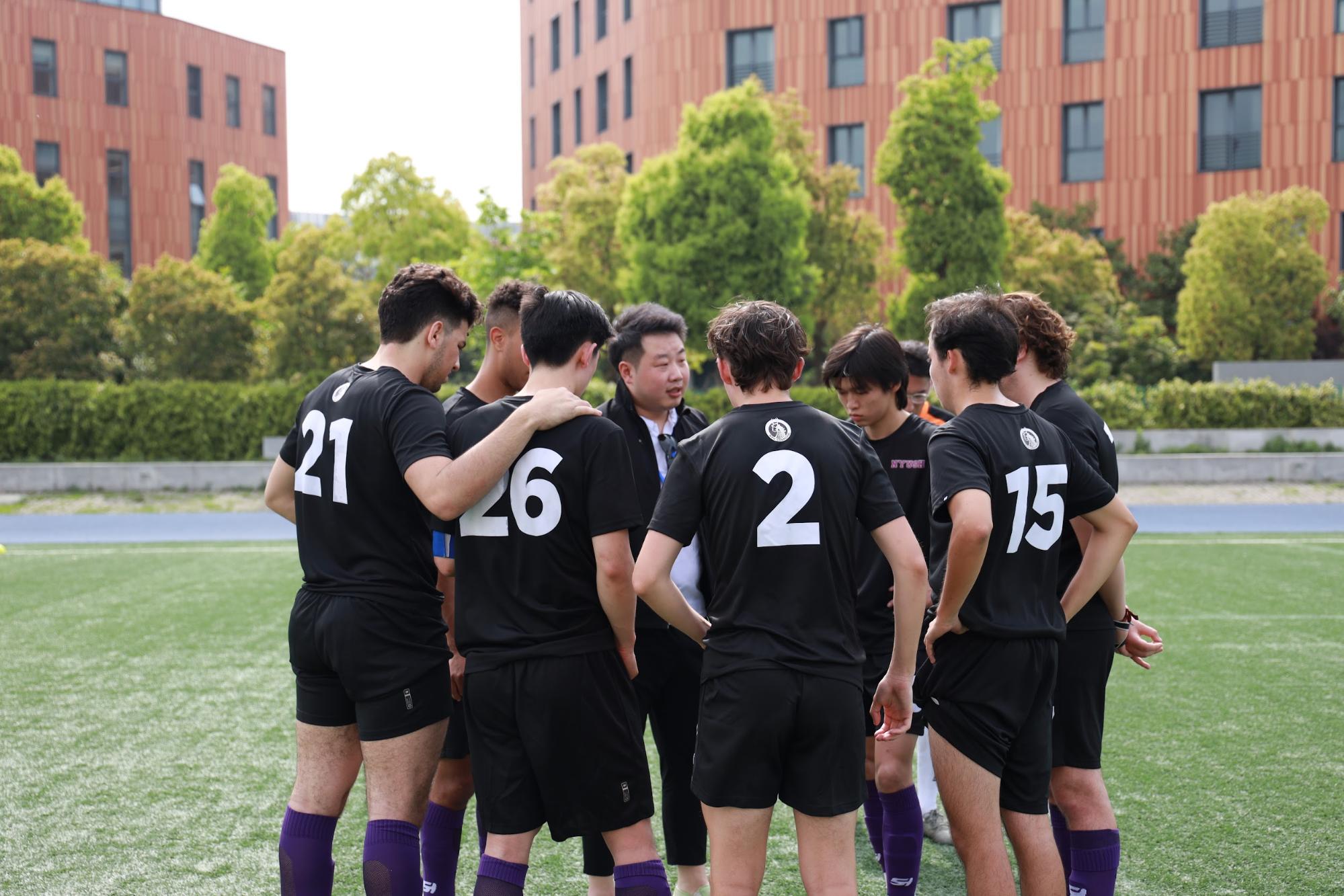 Left: El Ounani on the soccer field. Right: The NYU Shanghai men's soccer team (El Ounani is on the left).
Sports have been an important aspect of El Ounani's life throughout his four years at NYU Shanghai. In his first year, he joined the men's soccer team as a central midfielder, and he says that he made most of his friends through the team. He also plays on a team outside of the university, which has allowed him to expand his circle of friends in Shanghai.
After graduation, El Ounani hopes to stay in Shanghai, gaining more industry experience in software engineering and continuing his Chinese studies. He says his experience at NYU Shanghai has opened his eyes to the world. "It's a very diverse student body, but at the same time we all understand each other because we're in the same boat," he says. "Sometimes you talk to someone, and you're not able to relate to them, but then you realize that you just come from different backgrounds. That aspect of being at NYU Shanghai has made me way more open-minded about other ways of living."