When he stepped onto the Century Avenue Campus in the Fall 2019, Dennis Hu Shiyi '23 was convinced that NYU Shanghai was the university of his dreams but he was still nervous. Now four years later as he prepares to walk the stage at commencement, he recalls the expectations and anxieties he felt in his first year on Move-In Day.
"It took me, an introvert, more time to settle down in such a diverse university life," Hu says. "I had some self-doubt and tried to meet more people. But it is always the first step that is the hardest."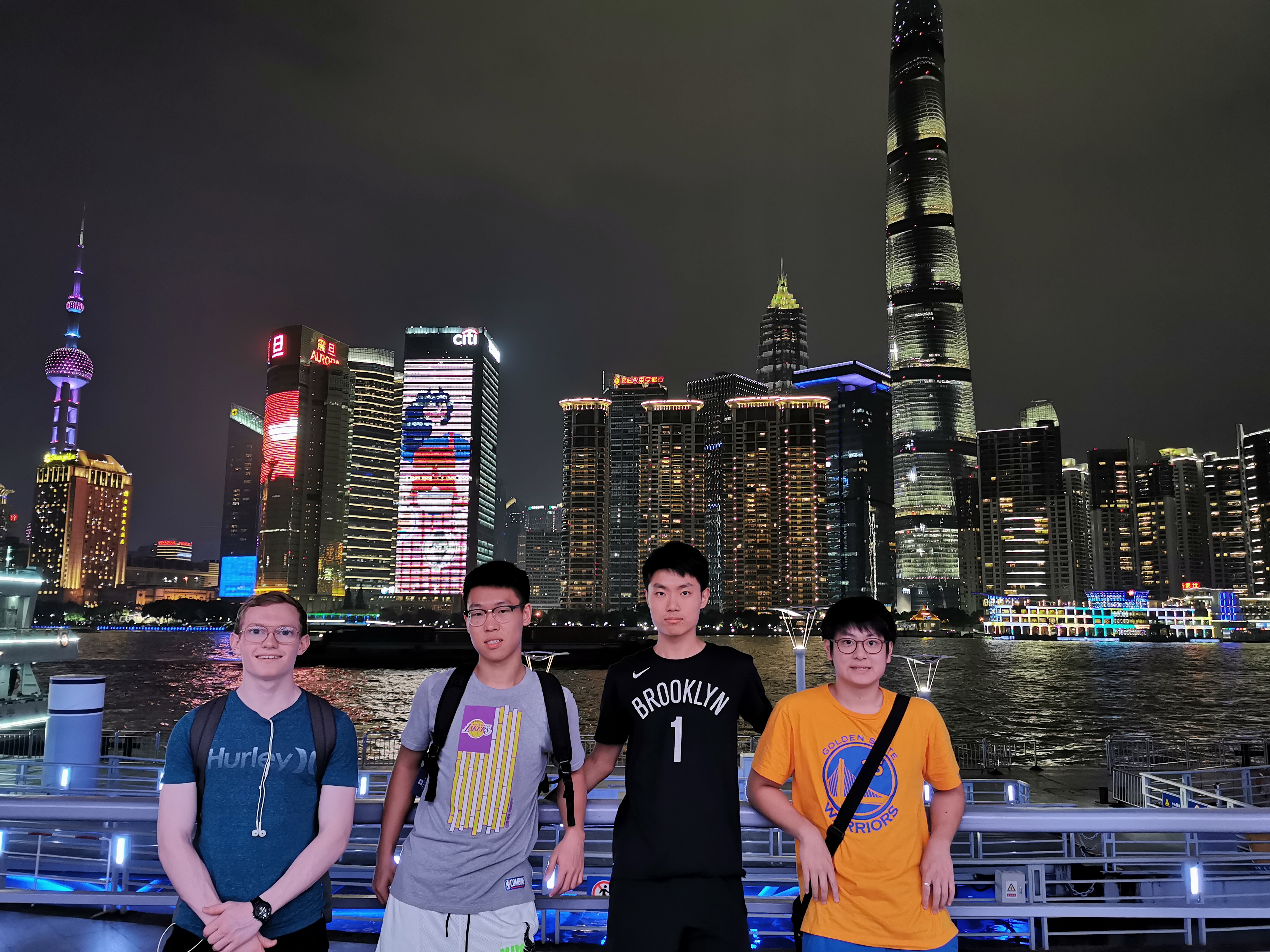 Hu (second from left) went to the Bund with his international roommates and friends in the first semester. 
After joining every Major Exploration Panel session and dropping by the Econ faculty's regular engagement hours, Hu decided to double major in Data Science and Economics. Those close interactions with faculty were hugely helpful, Hu says, prominent in classes like 'Blockchain, Cryptocurrency, and Money' taught by Ilaf Elard. "The whole class was like a round-table discussion," he says. "It made the course more intriguing and thought-provoking."
Hu was selected to the NYU Shanghai's Business and Economics Honors Program due to his outstanding academic performance. In this program, he conducted independent research under the supervision of Prof. Simon Bowmaker from NYU Stern, attended a customized series of honors seminars and worked closely with distinguished faculty members from NYU Global Network throughout a year-long development of a thesis. "This program connected me with a leading expert whose research area is in line with my research interests and ideas," he says, adding that he valued the individualized research experience he obtained from the program. In his individual research project "Competitive Balance in Professional Sports Leagues," Hu focused on competitive balance in sports based on data collected through machine learning algorithms. His other capstone project of Data Science is a collaborative research project with two classmates titled "Popularity Bias and Fairness in Music Recommendations."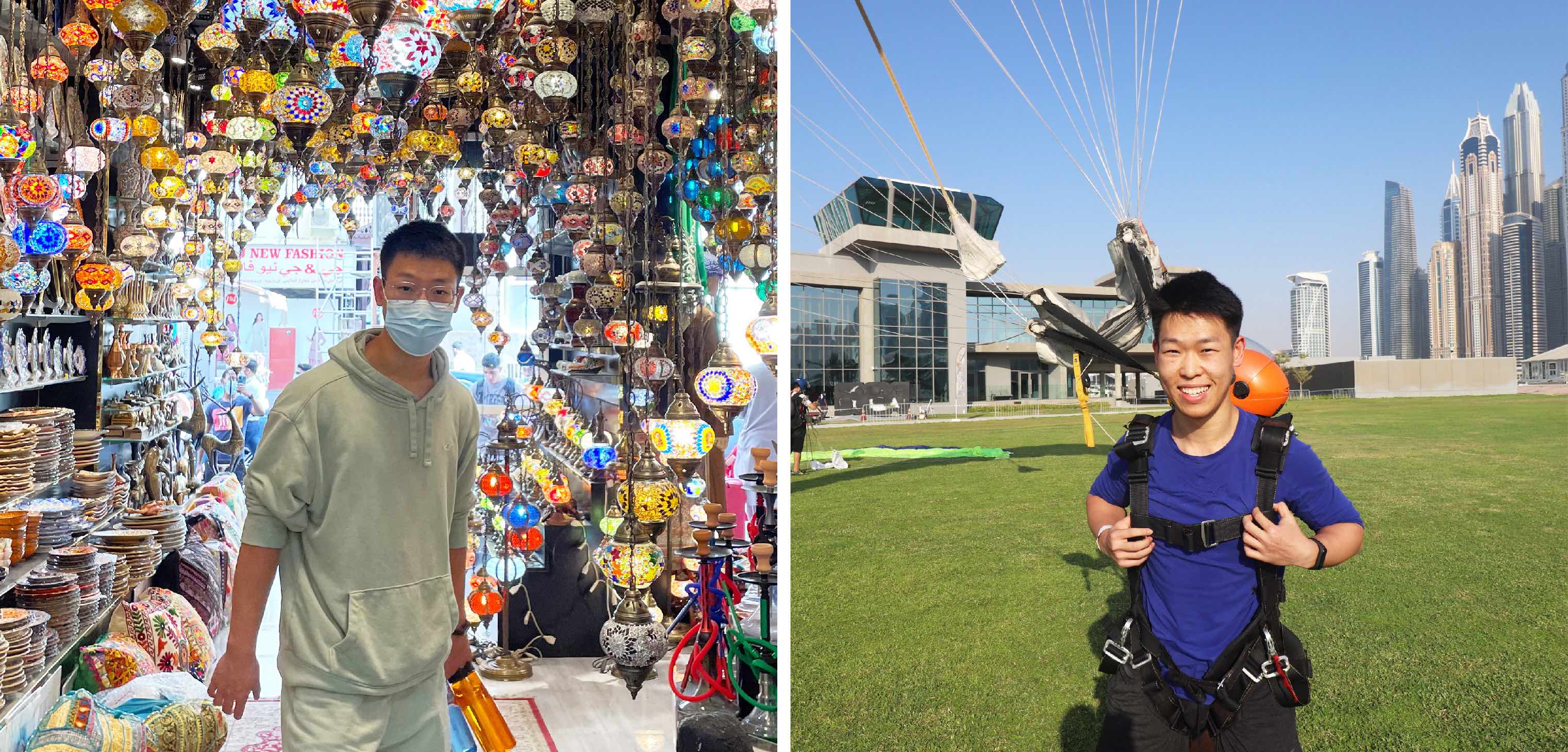 Left: Going on school-arranged trips to Dubai Creek
Right: Skydiving in Dubai during study away semester in Abu Dhabi
Hu says classes like "Global Perspectives on Society (GPS)", "Writing as Inquiry (WAI)", and "Perspectives on the Humanities (PoH)" contained some of his favorite moments at NYU Shanghai. He especially enjoys reading up on the humanities, and considers it a good balance with his rigorous science curriculum. Outside of class, Hu worked as a Writing and Speaking Learning Assistant (WSLA) at Academic Resource Center (ARC) at NYU Shanghai for around two years, tutoring over 100 students on their writing and presentations. Isabelle St Clair, his WLSA mentor, says it was a joy to work with him. "I watched Dennis hone his tutoring skills and grow as a critical thinker, problem solver, and educator," she says. "Already an amazing writer, he always voiced astute observations and offered sound advice to his peers."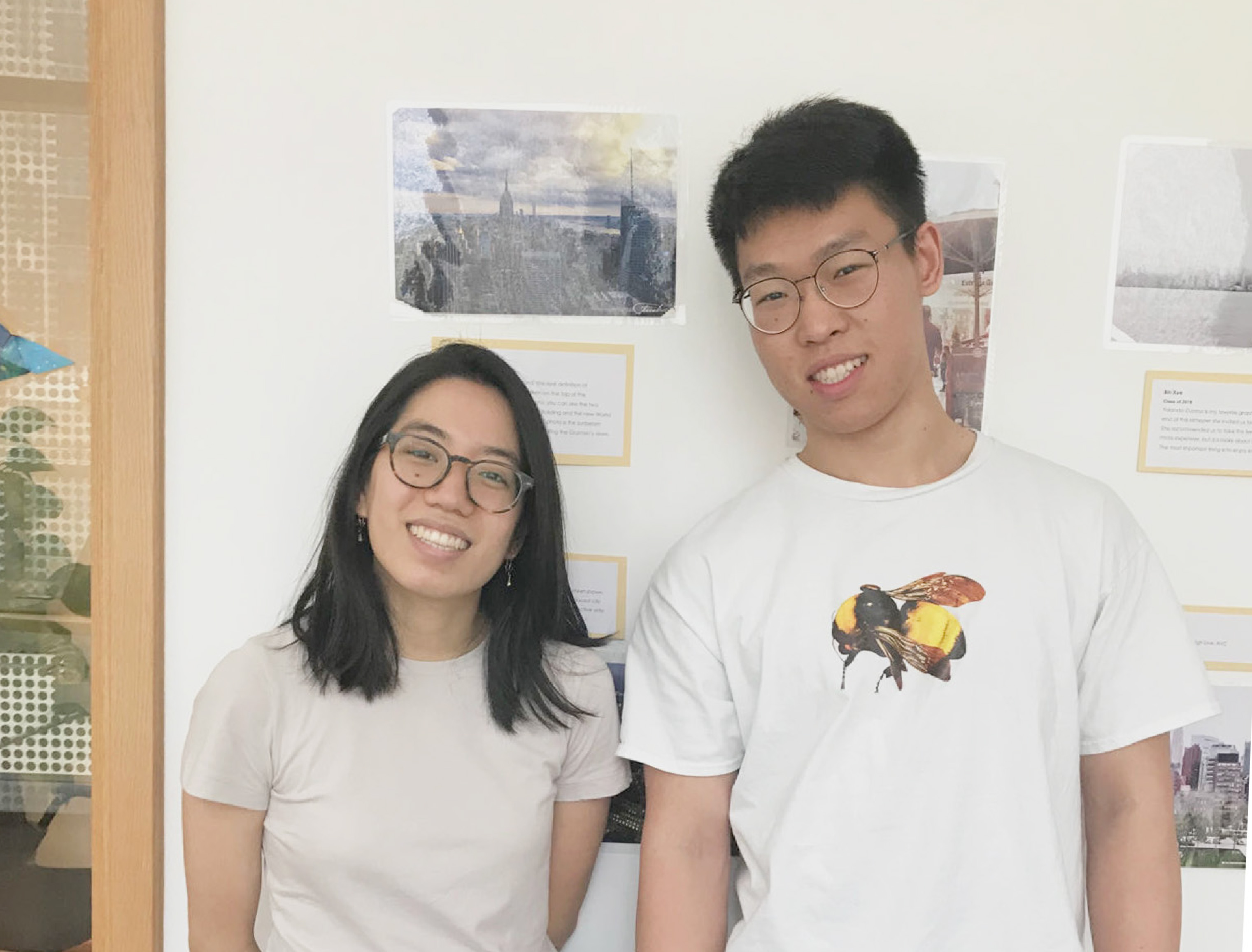 Hu (right) and his mentor, Isabelle St Clair
A sports enthusiast, Hu tried out for the men's basketball team but failed to make the draft twice. During the spring semester of his senior year, he tried once more and gave it his all. "I was on cloud nine when I finally made the team," he says, adding that it was even more exciting for him than getting offers from UC Berkeley and Carnegie Mellon the week before. "This hit home harder for me, as I strove for it and failed time after time again," he says. "It really was a 'heart over height' moment for me." Hu has been able to live out his dream, representing NYU Shanghai on the court at the Xi'an Jiaotong Liverpool University (XJTLU) Sports Cup in mid-April where the men's basketball team came in third place.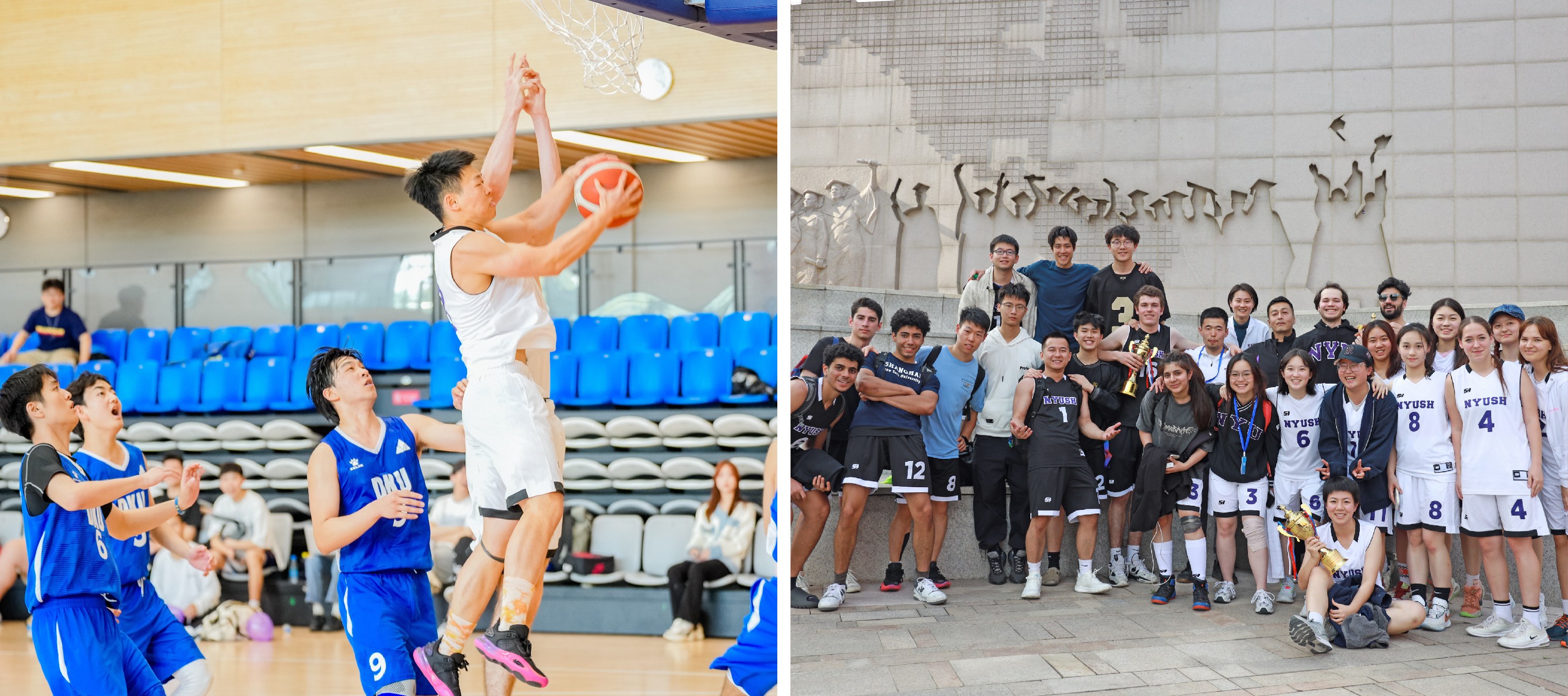 Left: Hu (in white) represented NYU Shanghai Men's Basketball Team in the 4th XJTLU Cup Tournament.
Right: NYU Shanghai's basketball team after their first competition at the XJTLU Cup in April, 2023
His experience in data science also led to more professional opportunities. One summer, Hu volunteered at the United Nations World Food Programme (WFP) and managed data for engagement number analytics projects. He also worked at Shanghai General Hospital as a research analyst intern in his second year. Both experiences helped him realize his interest in pursuing an interdisciplinary field of healthcare and data science. His efforts on these projects earned him the 2022 NYU Shanghai Recognition Award, a distinction granted to students with outstanding academic and professional achievements.
Hu says one of the highlights of his senior year has been serving as a Residential Assistant (RA). "I got to know new students and hear their unique experiences," he says. That experience also allowed him to reflect on his own personal growth over the past four years, from anxious first-year student to more matured senior. "My mindset has changed a lot," he says. "I'm still introspective but understand that it's about not only the thing or event but also the people behind it."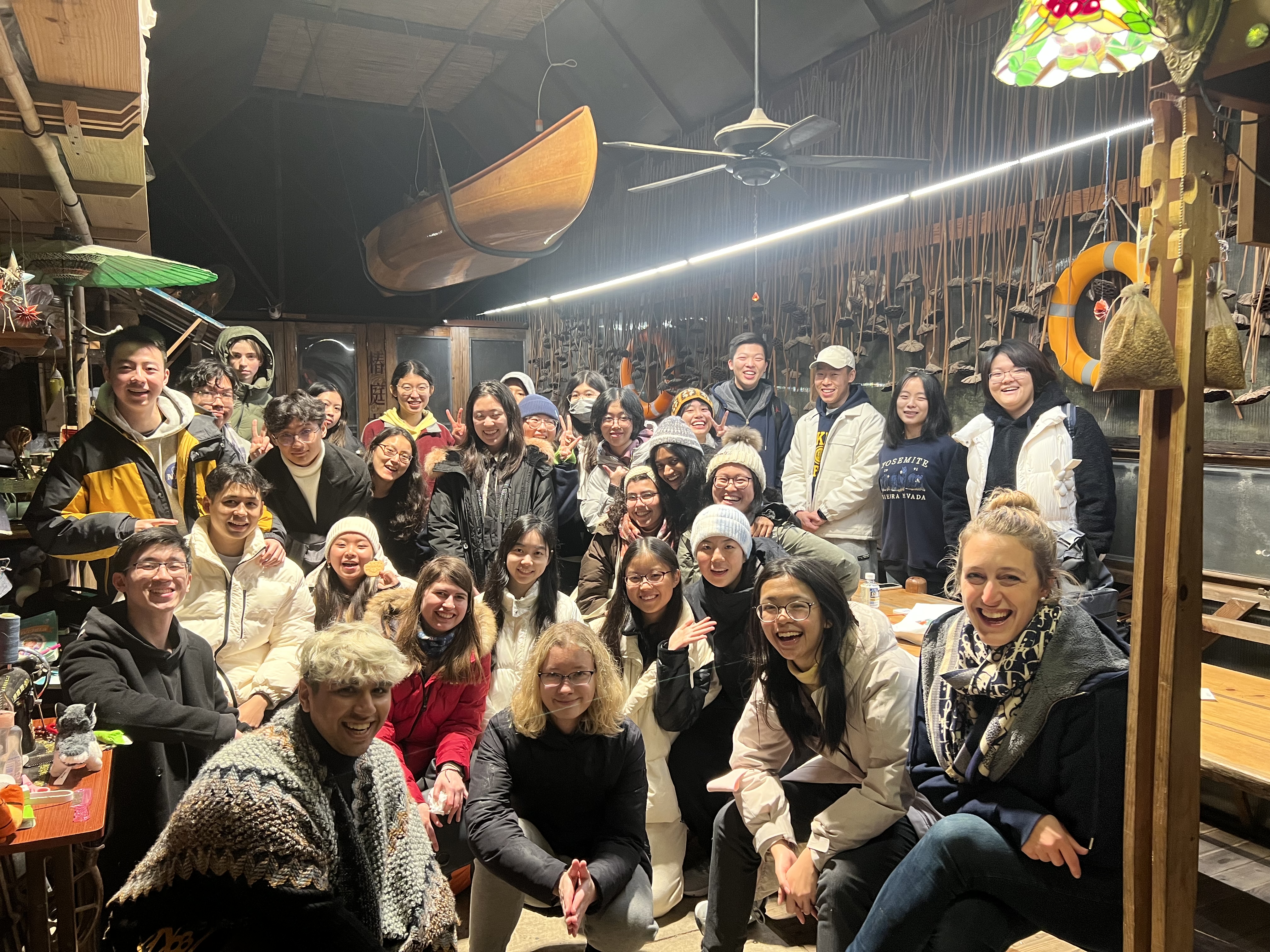 Hu (third from the right from the back) went to Chongming Island as a senior panelist in the 2022 Charting Your Path retreat, organized by the Office of Global Awards to guide motivated sophomores to think about mapping out their future.
Hu will continue his studies at the Center of Data Science of NYU, and learn to harness artificial intelligence tools for the disadvantaged. "I prefer following my heart to following suit when it comes to the decision of pursuing further studies," he says. He hopes to explore more ways to improve real human lives behind the algorithms."NYU Shanghai taught me that the real benefit of every experience is getting to know people," he says. "I am more inclined to meet different people and have a chat now, seizing this kind of opportunity instead of letting it go."